How to spend 10 amazing days in morocco?
From sandy beaches perfect for surfing, snow-capped mountains for hiking, sandy deserts for star gazing and history cities for exploring, Morocco has plenty to see and do. You could easily spend a month exploring this North-African country and still not see it all.
Of course, most people don't get a month of vacation time. But don't worry, you can still see and do lots in Morocco in a shorter amount of time, especially if you book a Morocco private guided tour.
Here's how to spend 10 days in Morocco.
Days 1: Marrakech
Chances are you will start and end your Morocco trip in Marrakech. It's the perfect place to start your adventures and get a taste of what to expect over the upcoming 10 days in Morocco. Check into a local riad before exploring the city's souks where you will find everything from colourful scarves to ornate lamps, piles of spices and teas, and typical souvenirs like magnets and postcards. Don't shop yet though, save picking up souvenirs until the end.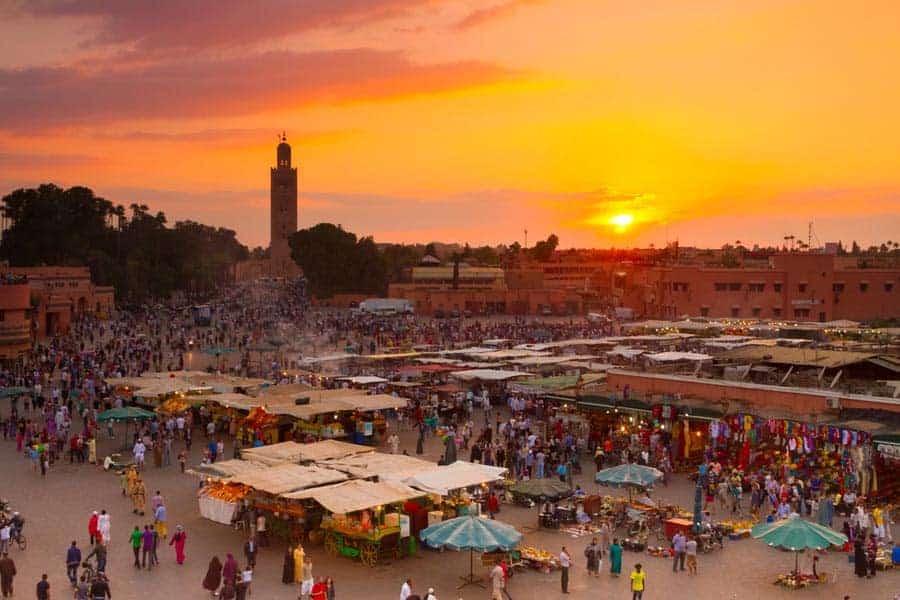 If you have the energy after your long flight, consider visiting one or two of Marrakech's top attractions such as the Jardin Majorelle and Musée Yves Saint Laurent or the Bahia Palace. Or, if you prefer just explore the area by foot. Don't worry, you'll have more time in Marrakech at the end of this itinerary to see anything you miss.
Days 2-5: Sahara Desert Tour
An absolute must-do when planning to spend 10 days in Morocco is a Sahara Desert Tour. These are normally 3-day tours that allow you to experience the Sahara Desert and spend a night in a desert camp under the stars. There is a lot of driving involved but the scenery along the way is beautiful.
To make the most of your time, choose a Morocco custom tour which will allow you to start in Marrakech and end in Fes. Plus, with a Morocco private tour, you can stop and see some of the highlights of Morocco along the way including Todra Gorge, cedar forests and their resident monkeys, and Ait Ben Haddou; a famous movie set location which you may recognize in films and tv shows such as Game of Thrones and Gladiator.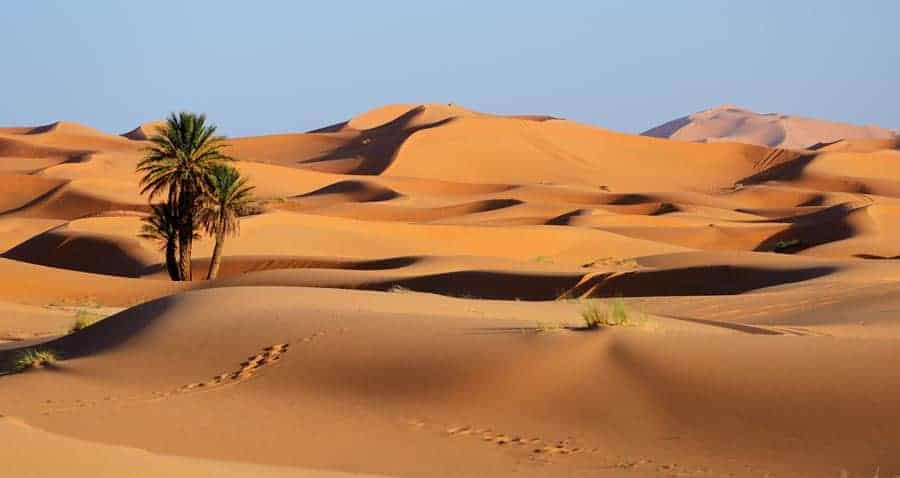 Of course, the scenic stops you take to and from the Sahara Desert are a great way to break up the long ride but the real highlight is the Sahara Desert itself. If you are booking a luxury Morocco tour you can enjoy an elegant glamping type experience at a desert camp. You'll ride camels to watch the sunset over the sand dunes then make your way to your home for the night. Local food will be served and music played as you gaze into the desert sky and the millions of visible stars. A Sahara Desert camping experience really is a must-do when in Morocco
Days 5-8: Fez & Chefchaoueun
Finish your Sahara Desert tour in Fez, one of the most beautiful and fascinating cities in Morocco.
Fez is known for its tannery (the largest in Africa) and leather production as well as its local artisans meaning it is a great place to do some shopping and pick up some souvenirs. However, with more than 9000 streets, it's definitely beneficial to have a private guide to show you around this Moroccan city.
It's also ideal to do a custom private tour in Fez because of all the incredible madrasas and mosques that can be found throughout the heart of the city. With so many shops and restaurants and alleyways, they can be hard to miss. But trust me when I say you will regret not stepping into buildings like the Bou Anania Madrasa which is one of the most stunning architectural sites in the city.
Other highlights to see in Fez include the famous Blue Gate, the Merenid Tombs (which offers a beautiful panoramic view over the city), and of course the giant golden doors in front of the Royal Palace.
You can easily spend a few days getting lost wandering the streets and the Fez Medina, but I suggest you take one of your days here and use it to visit Chefchaouen on a day trip.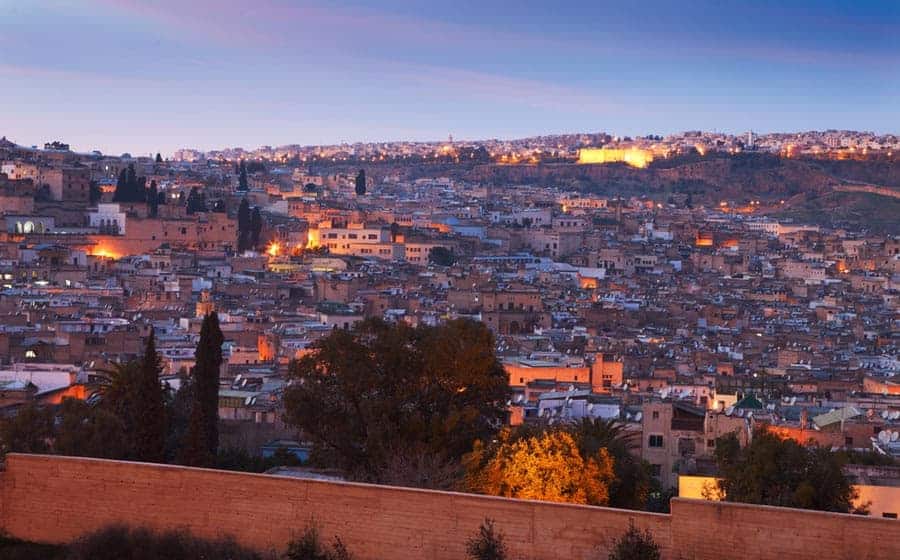 Chefchaoeun is known as the Blue City and if you have seen photos you no doubt no why. This little Moroccan town is painted in shades of blue making it a favourite among photographers and instagrammers. However, it is quite far from Morocco's other main cities. However, if you book a Morocco private tour, then it can be added into your schedule as a day trip.
Chefchaoeun doesn't have a ton to do from a typical tourist perspective. The charm here is the city itself so wear comfortable walking shoes and make sure to bring your camera!
Day 8-10: Marrakech and Essaouira
As your Morocco visit starts so wind down, head back to Marrakech. If you didn't get to do much site-seeing your first day, now is the time to do so. You can also use this time to pick up some last-minute souvenirs or gifts in the Medina.
I also suggest taking another day trip. This time to Essaouira, a small fishing village on the coast. Essaouira is a really cute and picturesque town that has a very different feel than Morocco's bigger cities. It's more laid back and here you can enjoy the beaches or cute cafes and restaurants. Take a stroll down to the port and see the traditional fishing boats and fish market and walk the ramparts for ocean views. It's a relaxing place to spend a day as your time in Morocco comes to a close.
If You Have More Time
I've shared my top highlights of Morocco above for a 10-day itinerary, however, if you do have more time then you can consider spending a night in either (or both) Chefchaouen and Essaouira. Or, if you don't mind adding some more travel time to your Morocco itinerary, consider visiting Casablanca or Rabat as well.
Casablanca isn't typically a big tourist city but it is home to one of the most stunning sites in the entire country: the Hassan II Mosque. It's one of the few mosques in the country that non-Muslims can visit. Guided tours are available throughout the day and last about 45 minutes, but you'll also want to make sure you have extra time to explore the exterior of the mosque as well. Other things to see and do in Casablanca include the Old Medina, Rick's Café (from the movie, Casablanca) and, if it's a hot sunny day, you can visit La Corniche which has pools, beach access, and lots of restaurants.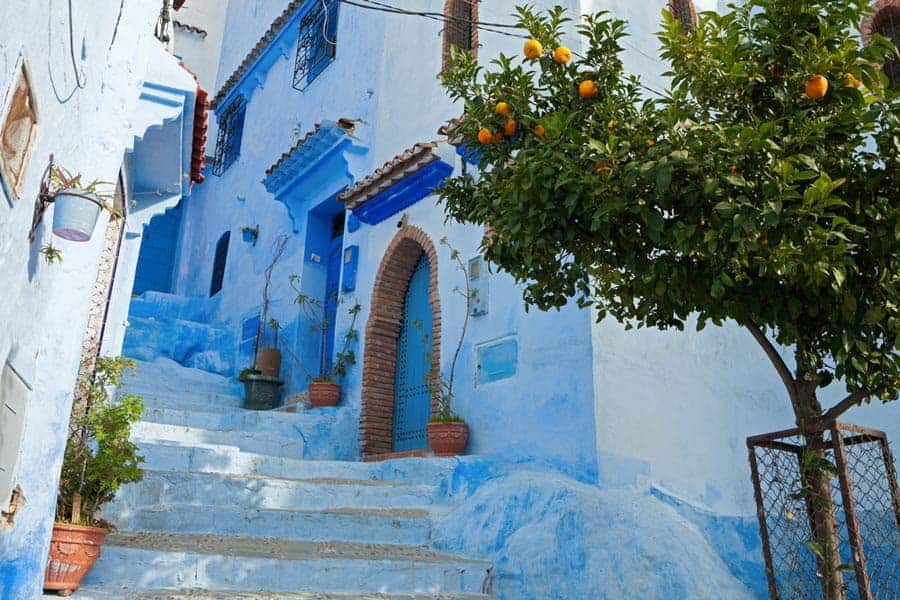 Another Moroccan city to consider adding to your itinerary is Rabat. Rabat is actually the capital of Morocco but don't let that fool you, it's known to be one of the most laid back places in the country. The culture here isn't quite as pushy as it is in Marrakech and Fez which some tourists find a little more relaxing. There are several sites to see as well as beaches to be enjoyed, especially if you are a surfer.
Ready to Go to Morocco?
At Osiris Tours, we offer Morocco luxury tours to ensure you get to see the best of this beautiful country. Get in touch with our team to find out more.