Morocco has a lot to offer but one of the biggest highlights in this African country is the Sahara Desert. The Sahara Desert is the largest hot desert in the world and is a bucket-list destination for many. The idea of spending a night in a camp under millions of stars and climbing sand dunes to watch the sunset is definitely an attractive one.
So, what can you expect from a Sahara Desert tour in Morocco? Here's what you need to know.
What You Need to Know About Taking a Sahara Desert Tour
One of the first things you need to realize when planning your Morocco custom tour is that the Sahara Desert cannot be visited as a day trip. The Sahara Desert is quite far from the main cities of Morocco including Marrakech and Fez and requires at least a three-day trip.
Unsurprisingly, there is a lot of driving involved to get to the Sahara Desert from either Marrakech or Fez which means you will spend plenty of time sitting in a vehicle. For this reason, it's important to make sure you have a reputable guide and go with a reputable company. You want to make sure that you are comfortable and have a bit of space. You don't want to be squashed in like a sardine.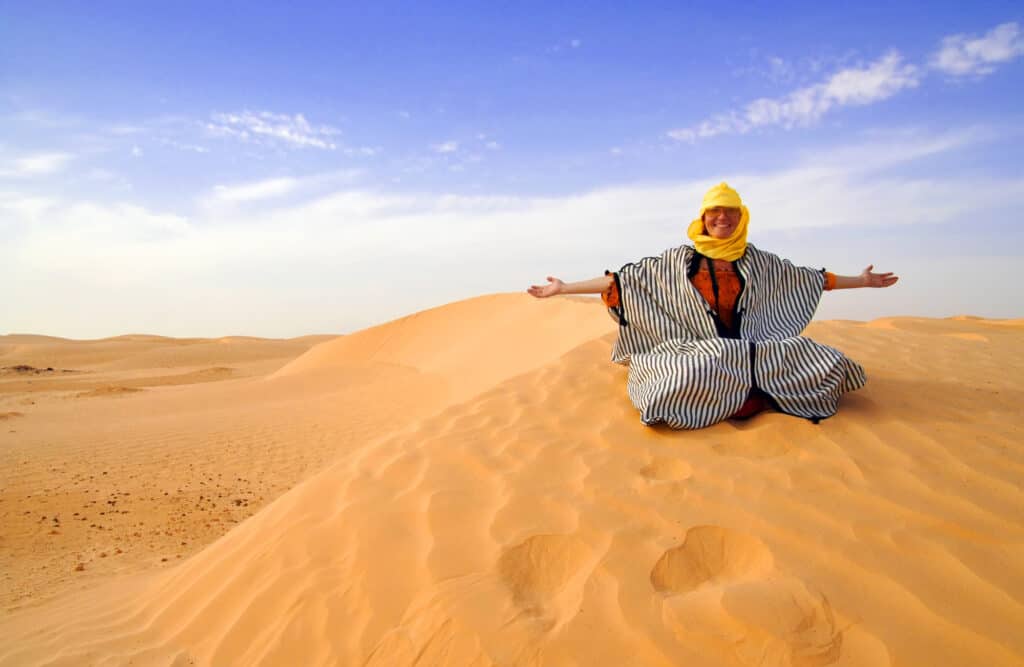 While the idea of spending a large chunk of your vacation stuck in a car driving isn't ideal, the good news is that the scenery along the way is absolutely beautiful. From snow-capped mountains to flower-covered hills, and even some forests with resident monkeys. You can nap if you want to, but trust me when I say that you will enjoy looking out the window.
Don't worry, you will also make plenty of photo stops along the way. You will even have extended stops at a few places to give you the time to explore some of the region's most beautiful places. These include Todra Gorge and Ait Ben Haddou which is a UNESCO World Heritage site that you may recognize from films including Gladiator, The Mummy, Prince of Persia, and Game of Thrones.
Insider tip: Since this is such a long trip with so much driving, it's in your best interests to make it worth your while. Many Sahara Desert tours start and end in the same destination, but if you take a private Morocco guided tour, then you can customize it a bit. To make the most out of your trip choose to start in Marrakech and end in Fez (or vice versa) so you don't end up backtracking. This way you will also get to see more of the countryside as you will obviously take different routes to/from the desert itself.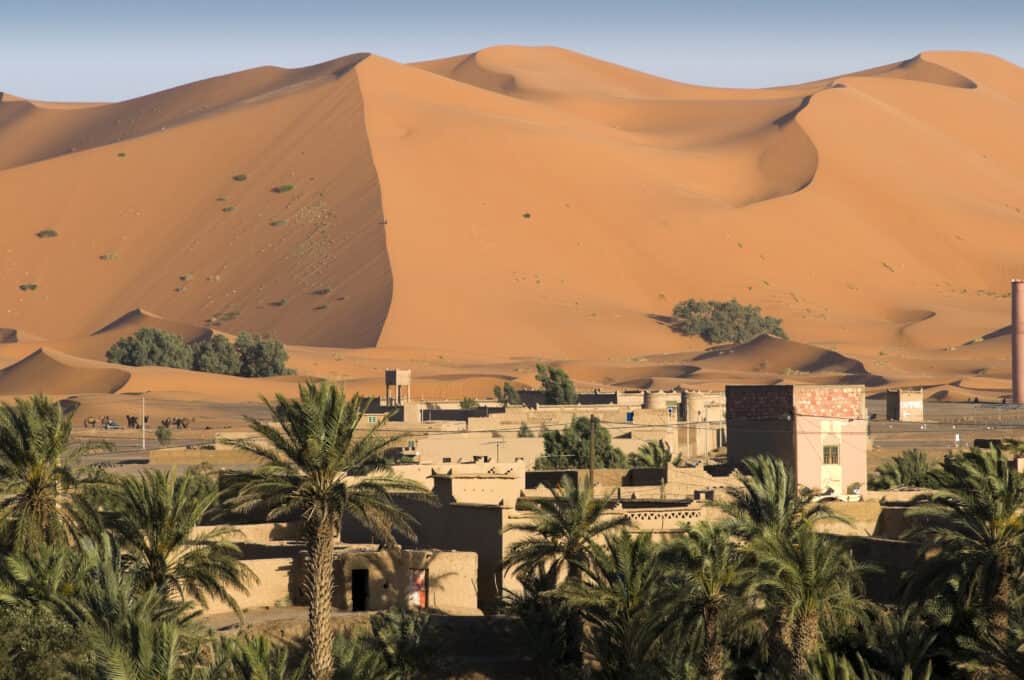 What is a Sahara Desert Camp Like?
There are all kinds of Sahara Desert camps available depending on the company you choose and your budget. It is absolutely worth your while to spend a little more and do a luxury Morocco Tour so ensure that you get the get a top-quality desert camp. This is for a couple of different reasons.
Firstly, chances are this is a once in a lifetime experience so you'll want to make it memorable. It's worth the splurge, especially after spending so much time in a vehicle you will want your own comfortable space.
Secondly, cheaper Sahara Desert camps have a reputation for being dirty and having bedbugs which is not something you want to have to deal with during your Morocco tour. So, do yourself a favor and spend the extra money on this part of your trip.
With the higher end Sahara Desert camps, you will have a private tent which has its own toilet and shower. Dinner and breakfast will be served in a larger tent as more of a family-style event. After dinner, there will be a campfire with live music.
The morning will be an early start, very early if you choose to get up for sunrise in the desert. While the early wakeup call might not be ideal for a vacation, sunrise in the desert is worth getting up for.
If you do a 3-day desert tour, note that you will only be spending 1 night in the Sahara Desert itself. Your second night will be at a modern hotel in a city en-route to help break up the drive.
What to Pack for A Sahara Desert Tour
So, what do you need for a Sahara Desert tour? Nothing really special, but there are a couple of things that might be handy.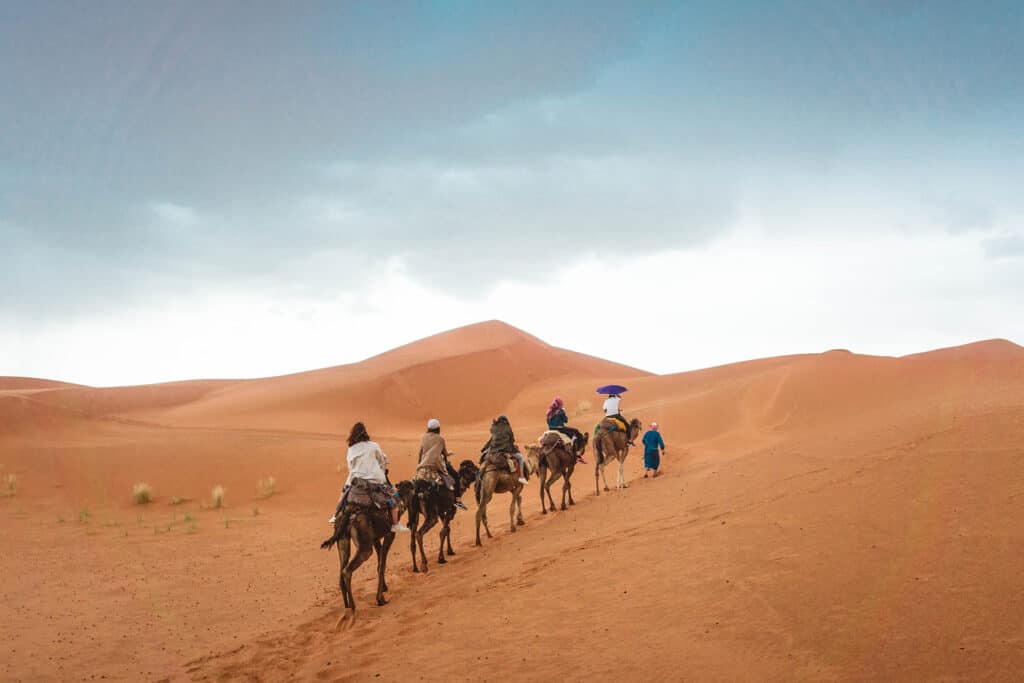 The biggest thing is layers. It will be hot in the desert during the day but the nights and early morning is cool. So have a t-shirt but a sweater and even a jacket to layer over top.
A lightweight scarf is also a good idea to bring. Your guide, or one of the men from the camp, will likely offer to wrap it on your head in the typical desert-style which will a) protect you from the heat and b) protect you from blowing sand.
Sunscreen is a definite must as are sunglasses. You will probably also want to make sure you have closed-toe shoes (a tennis shoe is fine) as the desert sand can be quite hot and it's easier for climbing sand dunes.
If you are a photographer make sure to bring a tripod to photograph the stars. They are truly stunning in this part of the world. Check out our post for the packing tips for women heading to morocco here.
What if I Don't Have Enough Time?
As I mentioned earlier, the Sahara Desert has to be at least a 3-day trip to get to the true Sahara Desert. It's too far to explore in less time. However, if you don't have 3 days to spare, you can still have some fun desert experiences including camel riding or 4×4 adventures. They won't take place in the Sahara itself, but there are desert-type areas closeby to Marrakech that allow you to do these types of things as a day trip. Just speak to your Morocco luxury tour operator to set something up.
Ready to book your Morrocco tour? Get in touch with our team here at Osiris Tours and we'll help you plan your perfect Morocco vacation.