We create an unforgettable travel experience
What Sets Osiris Tours Apart?
We believe that every traveler is different, and that a truly memorable vacation is much more than just the sum of its parts. Travel with Osiris Toursand we'll design a vacation tailored especially for you, so that the moments between the monuments are as enduring as the legendary splendors themselves. Osiris Tours offers bespoke, luxury tours to Egypt, as well as excursions to Morocco, Jordan, Turkey, and Dubai. Whether you want to stroll in the shade of the Great Sphinx or meander through the markets in Marrakech, we'll provide the service, comfort, and security that add up to an unforgettable travel experience.
Come lose yourself in the land of the pharaohs and get immersed in the discovery of the treasures around you — we'll handle all the details. For the duration of your trip, you'll be escorted from one incredible experience to another in your own private vehicle, driven by one of our dedicated local guides. Want the story on a certain artifact or have a question about an architectural curiosity? All of our guides at Osiris Tours have degrees in ancient Egyptian history.Hungry for a special foodie tour of Cairo? We know all the hot spots dishing out the best local fare. Need to get around the crowds at a popular site? We can get you in. And at the end of each day of exploration, you'll rest easy in historic and palatial five-star accommodations.
See what our guests have to say about traveling with us, have a look at some sample itineraries, and please feel free to get in touch with Mahmoud Gebril, president and founder of Osiris Tours.
We look forward to traveling with you!
About Our Founder
Mahmoud Gebril founded Osiris Tours in 2015 with the goal of providing travel experiences that change people's lives for the better. A born-and-raised Egyptian native, Mahmoud attended El Minia University and earned a bachelor's in ancient Egyptian history and tourism management. After spending ten years guiding hundreds of tours in Luxor, he emigrated to the United States in 2013 to pursue his dream of starting his own travel company. He earned a Masters in Business and Management and excitedly opened Osiris Tours.
Now with almost fifteen years of tourism experience, Mahmoud is thrilled to offer his passionate, hand-crafted approach to tourism. Working closely with his clients, he has never run the same trip twice. Mahmoud works only with providers he knows and trusts, using the connections he has built over the years, to ensure an uncommonly personal level of quality and reliability.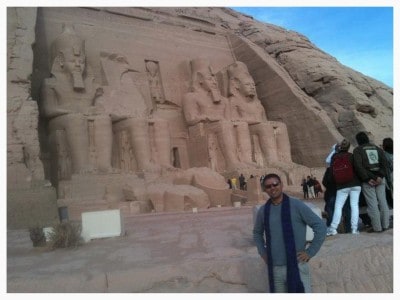 Mahmoud Gebril, Founder of Osiris Tours
Testimonials From Happy Travelers
My husband and I just got back from a 10 day trip in Egypt with Osiris Tours and had a fantastic time. We were looking for a custom, private tour and are so grateful that we found Osiris Tours. All company staff was incredibly professional, friendly, punctual and knowledgeable
I found Osiris on TripAdvisor after looking at another company with mixed success.
I am so glad I found this priceless gem of a tour! I'm fairly well traveled but Egypt was like nowhere I've ever been.
Our group 12 friends had high expectations for this trip -- a trip of a lifetime. Our expectations were met and exceeded! Starting in the Cairo airport, Osiris representatives took care of all visas and brought us to our hotel where we met our guide for our journey. We can't say enough wonderful things about our guide.
We had an amazing trip to Egypt. It was even more amazing than I had envisioned. The tombs and temples in Luxor were unbelievable. It wouldn't have been nearly as fabulous without Sam our tour guide who was with us from start to finish.