Rabat, Casablanca,
Fes & Marrakech
Morocco Custom Tour with Expert Private Tour Guides
Experience the magic and beauty of Morocco on a customized tour with your private guide and driver. Our Morocco private tour will take you from Rabat and Fes's amazing sights to the beauty of Casablanca and Marrakesh with its local souks.
Immerse yourself with a camel ride in the Moroccan Sahara Desert and watch the sunset over the dunes.
With its vast stretches of desert wilderness, high peaks, and chiseled coastline, Morocco is among the most diverse African continent countries.
The winding valleys of ancient Medina cities and souks, the huge variety of language and culture from city to city make Morocco a must-see tour on your next visit to the Middle East.
Contact us for a customized tour of Morocco that suits your budget and interests. Let us take the hassle out of your next trip to Dubai with one of our experienced and highly qualified custom tour guides.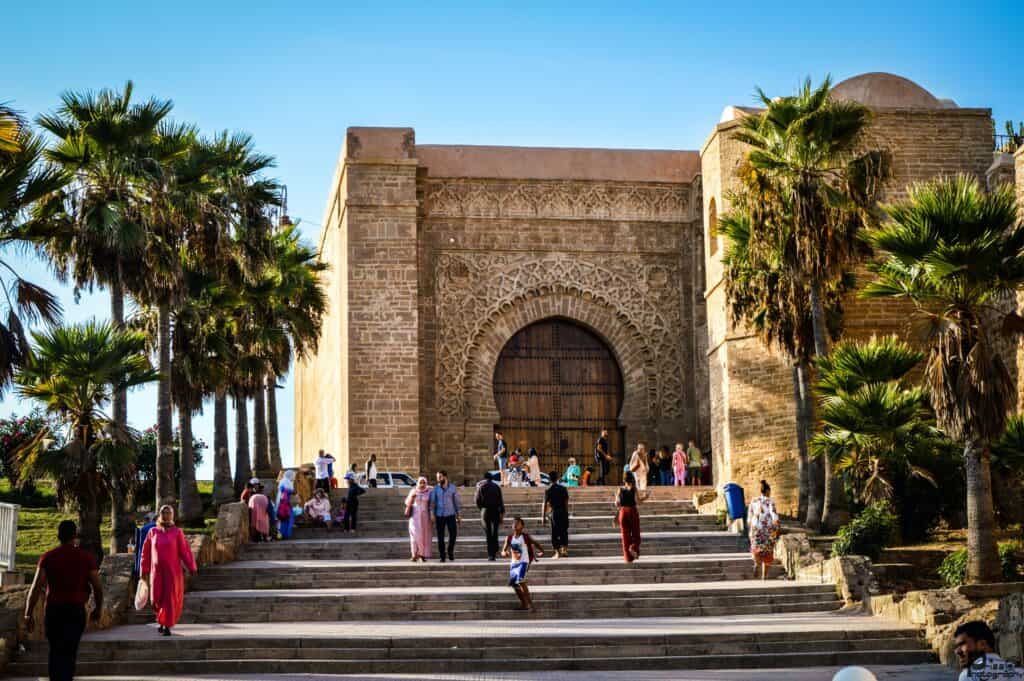 Rabat – Photo by Meliani Idriss
Osiris Tours Advantages
Travel to Morocco on a personalized tour with a private guide, driver, and traditional Moroccan cuisine. Your tour will be customized for you and will suit your needs and your schedules.
Avoid the crowds with your own private guide & private vehicle during your luxury tour around Casablanca.
Visit Morocco and learn about the history of the Imperial Cities on a private custom tour to Fes.
Spend a private evening exploring Marrakech and its local souks.
Stay in historic and luxurious Riad hotels, including Riad Kalaa, Riad Salam, and Riad Amina.
Get the best value for your dollar travel in our Morocco vacation package.
Tour Overview
Morocco is bordered by the Sahara Desert and serves as a barrier between the Mediterranean Sea and the Atlantic Ocean. For hundreds of years, Morocco's unique location has shaped its history and culture, and it retains much of its original history and culture.
Morocco is a country to savor. With our Morocco luxury tour offers, you will discover the country's unique artistry and rich history on a private custom tour that takes you from Casablanca and its combination of modern, art deco, and traditional architecture to Rabat.
Osiris custom tours in Morocco allow you to explore the Moroccan heritage in a private guided tour from Fes to Marrakech. There, experience El-Bahia Palace and Koutoubia Mosque and visit the mosque's beautiful minaret, which dominates the skyline of Marrakech.
Traveling to Morocco with Osiris Tours, you will uncover the unique combination of art and design infused with different cultures such as Arab, Andalusian, and North African flavors, making Morocco tours distinct in detail and ambiance.
Our customized tour packages to Morocco include all accommodations, private guide, private vehicle, private driver, entrance fees, taxes, and much more! Please choose one of our Morocco vacation packages or customize your own and create it from scratch at no additional cost for your Morocco vacation packages' best experience.
All of our tour packages to Morocco are private-guided and customized to your style, schedule, and budget. Relax during your trip with our 24/7 support and expert local guidance.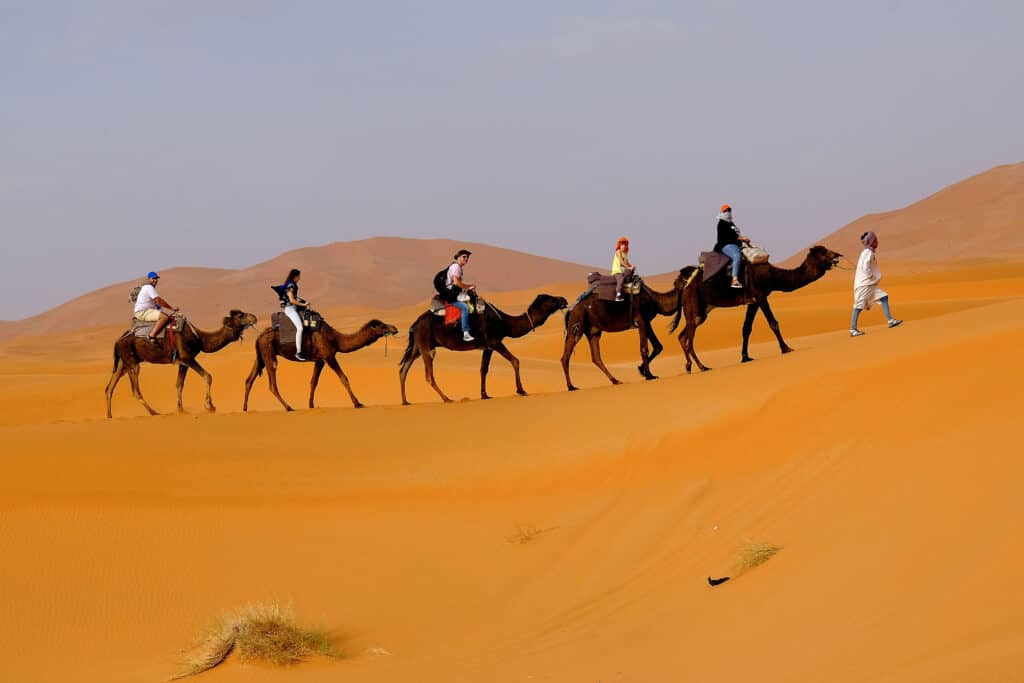 Merzouga – Photo by Duane Storey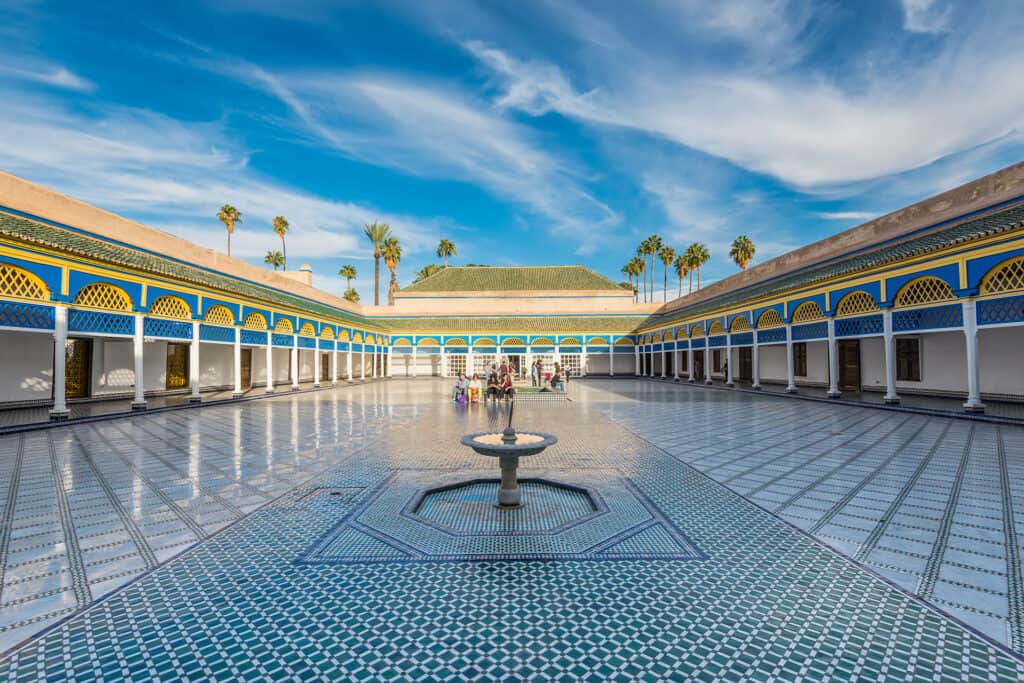 Bahia palace, Marrakesh – Image by Val Traveler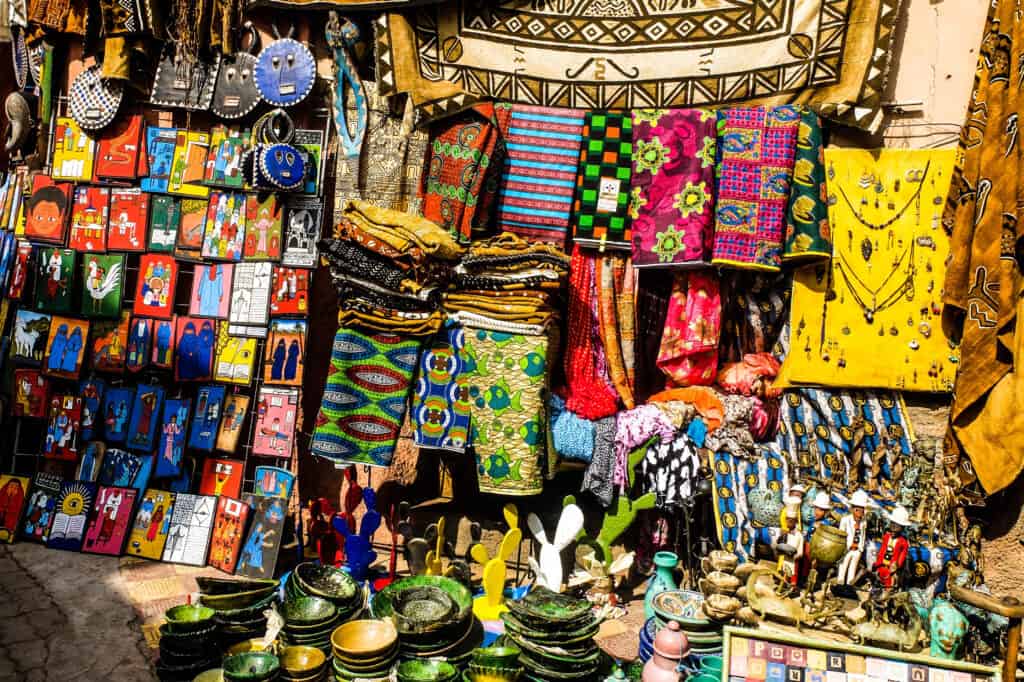 Market in Marrakesh – Photo by Max Brown
Itinerary
Day 1: Arrival Casablanca
A local representative will meet you at the airport.
Upon arrival, you will enjoy a private tour of Casablanca and visit its most renowned monuments, including La Corniche on the oceanfront and the beautiful Hassan II Mosque. After touring Casablanca, you will be transferred to Rabat in a private vehicle with English speaking driver. Casablanca is the main business center in Morocco, which was established as a commercial center by the French.
Accommodation: Riad Kalaa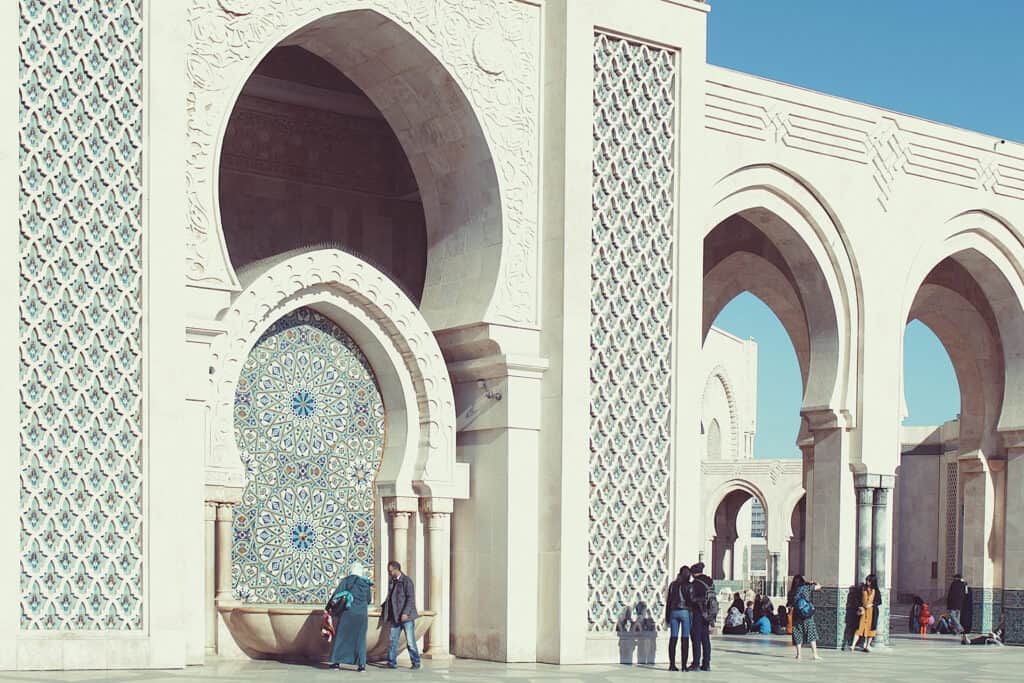 Hassan II Mosque, Casablanca – Photo by Antonio Pires
Day 2: Rabat – Fes
With your qualified, private tour guide and private driver, start your Moroccan custom tour from Rabat to Fes. Make a stop at the Roman ruins of Volubilis and Moulay Idriss I's sacred town, the burial town of the first Moroccan kingdom founder.
Enjoy local Moroccan lunch, then to Meknes, known as "the Moroccan Versailles," founded at the end of the 17th Century by Moulay Ismail. Highlights will include Bab Mansour, Hari Souani, and the old medina. Continue to Fes. Arrival, check-in, dinner, and overnight stay at the Riad
Accommodation: Riad Salam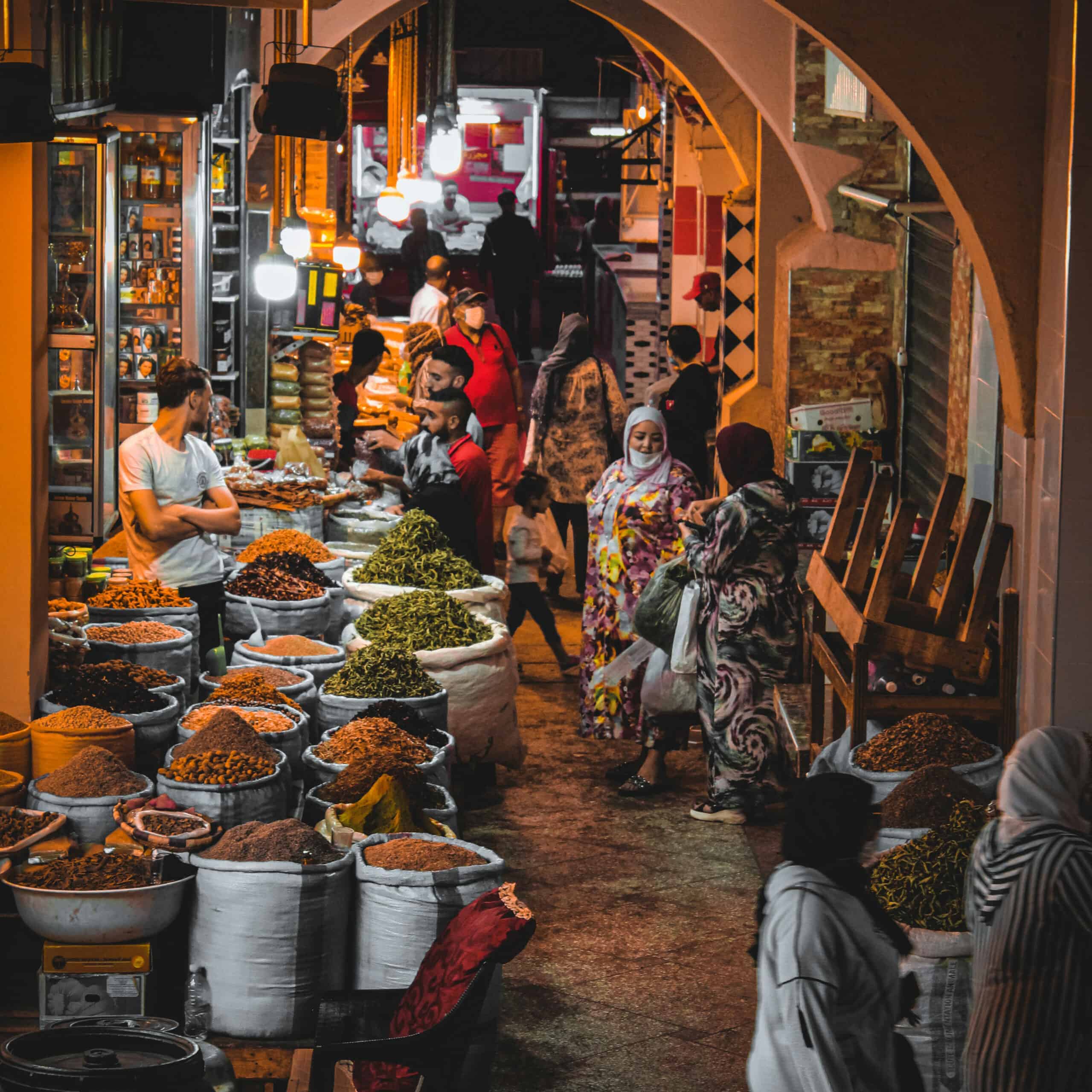 Meknes – Photo by Adil Diless
Day 3: Fes
Explore Fes in a luxury custom tour with your private tour guide and your private vehicle. The whole day will be devoted to Fes's sightseeing, the oldest cultural and spiritual imperial city of Morocco, which was founded in 790 AD by Moulay Idriss II. Highlights will include the Medieval Medina, the Medersas, the tanneries, and the sumptuous Nejjarine fountain. After lunch, we will visit the Arabian House to observe various artisans performing their work reminiscent of ancient techniques.
Accommodation: Riad Salam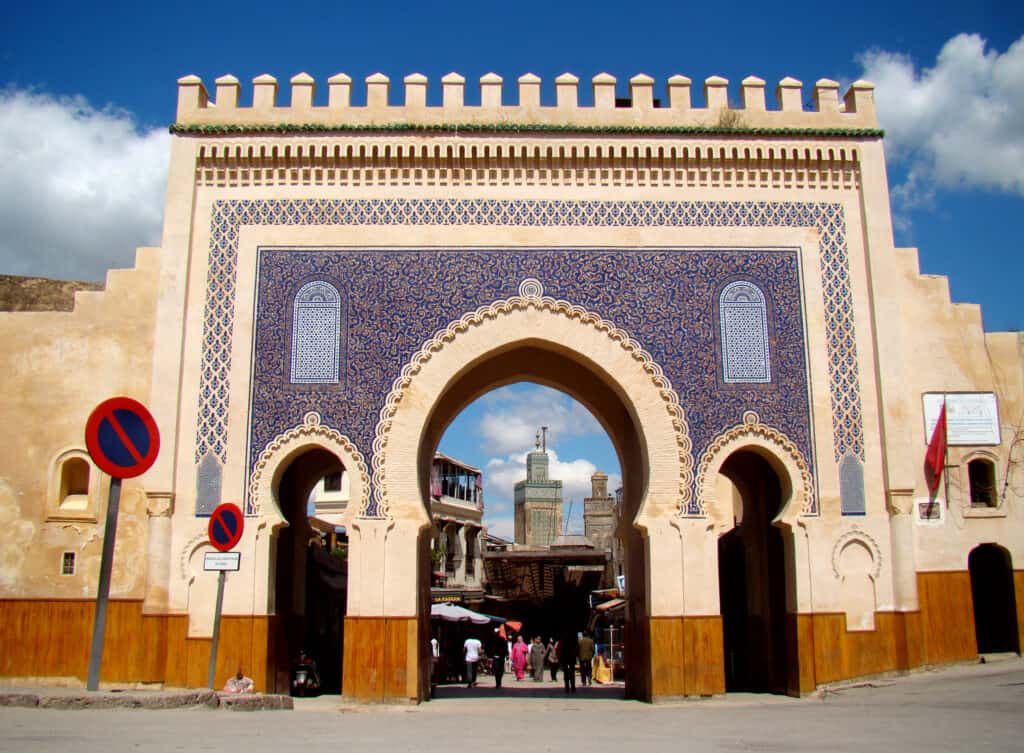 The Blue Gate to Fes – Image by Bjørn Christian Tørrissen
Day 4: Fes
With your private guide and private vehicle, enjoy an afternoon's guided tour of the labyrinthine souks of the city. Highlights of the tour will be observing the vast tanneries from a family home for this unique view, and the spice market, the most vibrant in Fes, El Attarine. Also, the henna and woodworking souks are located in the Nejjarine neighborhood, and the scent of cedarwood is noticeable. Various natural products derived from henna are sold in this market.
Accommodation: Riad Salam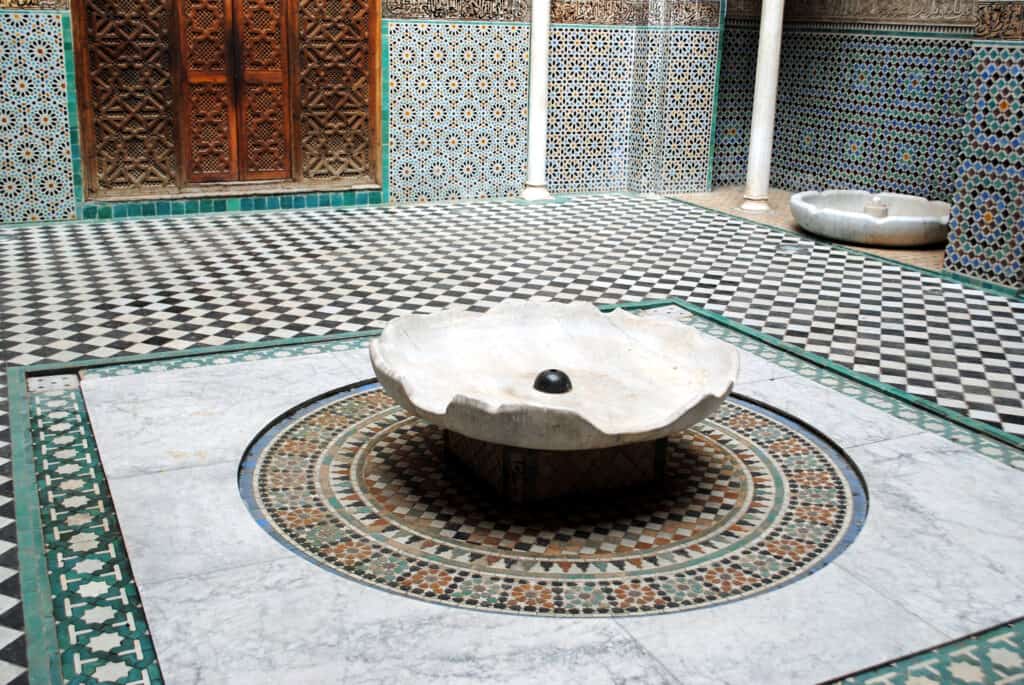 Al-Attarine Madrasa, Fes
Day 5: Fes – Marrakech
Start your day with one of the best Morocco tours from Fes to Marrakech. The private custom tour will include lunch en-route at a local Moroccan restaurant. You will pass by Immouzer Kander, Ifrane, and Azrou, a Berber village known for its handicrafts cooperative. Continue this scenic drive through the lovely wooded mountainous region of the mid-Atlas range.
Accommodation: Riad Amina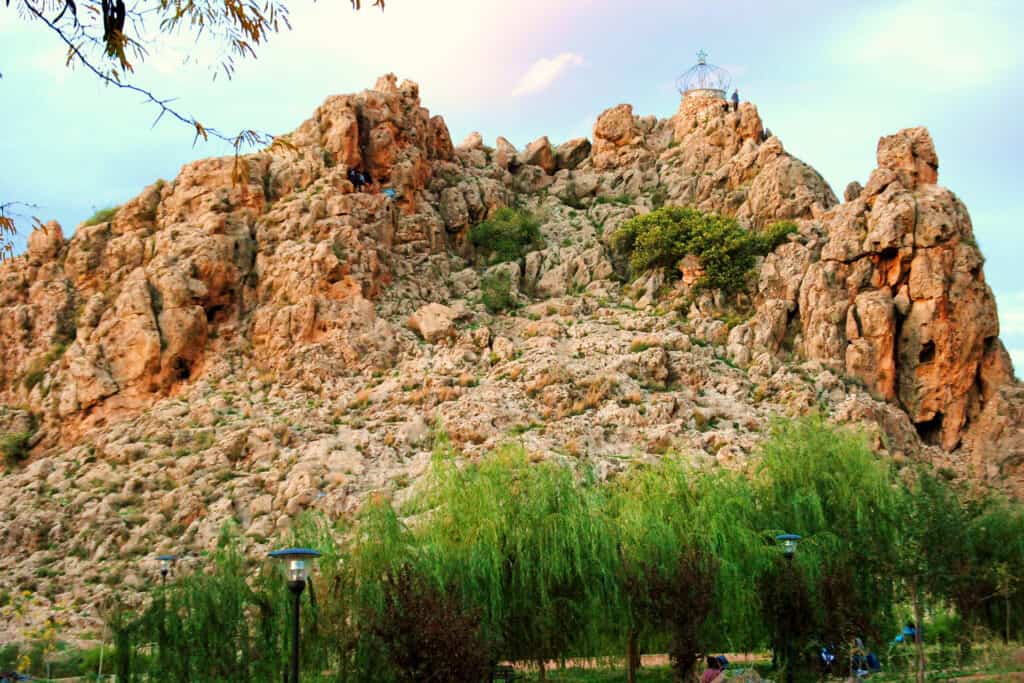 The Rock of Azrou – Image by M. Rais
Day 6: Marrakech
Explore Marrakech on a luxury tour with your private guide & vehicle. The morning will be devoted to Marrakech's sightseeing, the second oldest imperial city known as the "Pearl of the South" and home to the Saadian tombs, the Koutoubia Mosque, the Bahia Palace, and the Menara Gardens.
Start your private custom tour by visiting the Koutoubia mosque; this mosque's beautiful minaret dominates the skyline of Marrakech and can be seen from almost every approach to the city, thanks to a long-standing planning ordinance that forbids any other building in the old city to rise above the height of a palm tree.
Enjoy lunch at a local Moroccan restaurant. The afternoon will then be spent exploring the souk and the world's famous Djemaa el Fna place with its various entertainments (storytellers, acrobats, snake-charmers, magicians, etc.). Your luxury custom tour includes a Diffa Fantasia dinner under caidal tents at the famed "Chez Ali" restaurant. Enjoy the fantasia spectacle that features camel and horse shows, folkloric troops from different Moroccan regions, and belly dancers.
Accommodation: Riad Amina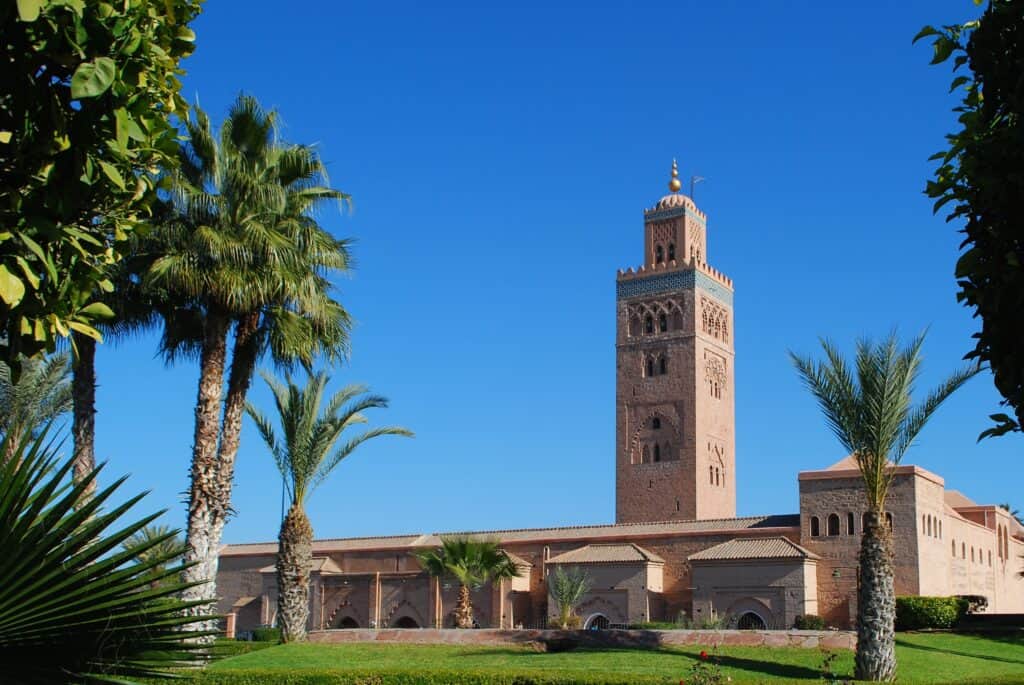 Koutoubia Mosque Marrakech – Photo by Kate Nevens (CC BY 2.0)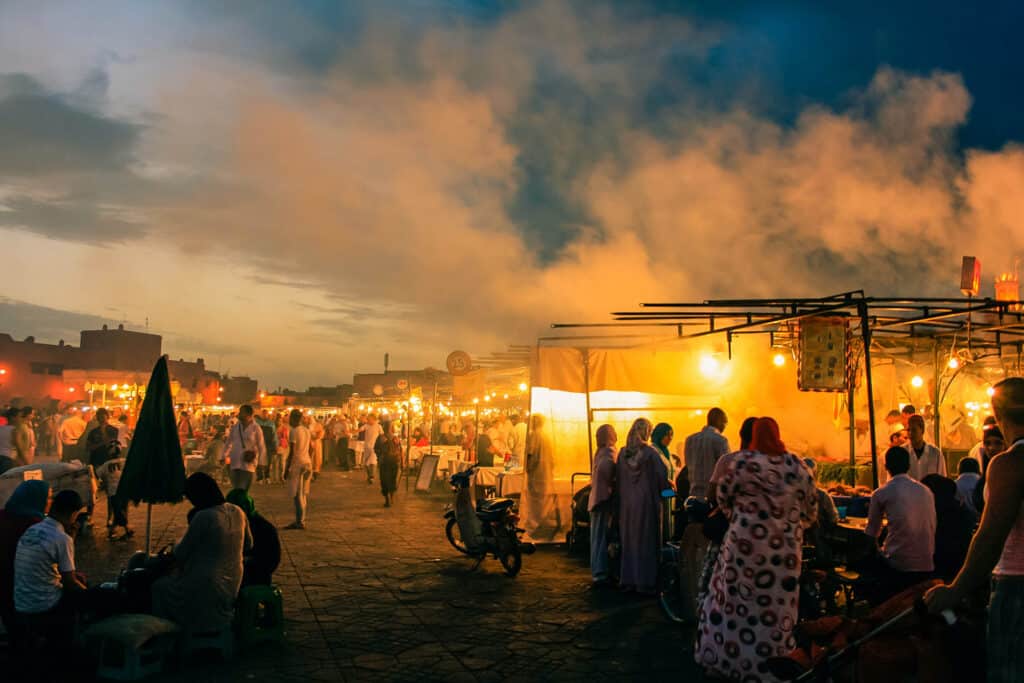 Djemaa el Fna, Marrakech – Photo by Juan ignacio Tapia
Day 7: Marrakech
Enjoy time at leisure in Marrakech. Marrakech is home to a wide variety of activities while visiting Morocco. Explore the city on your own or sign up for a tour with us. Marrakech's local attractions include hot air balloon ride, 4×4 riding, cooking class, wine tasting, camelback ride, white water rafting, zip-lining, biking, walking, garden, and historical tours.
Accommodation: Riad Amina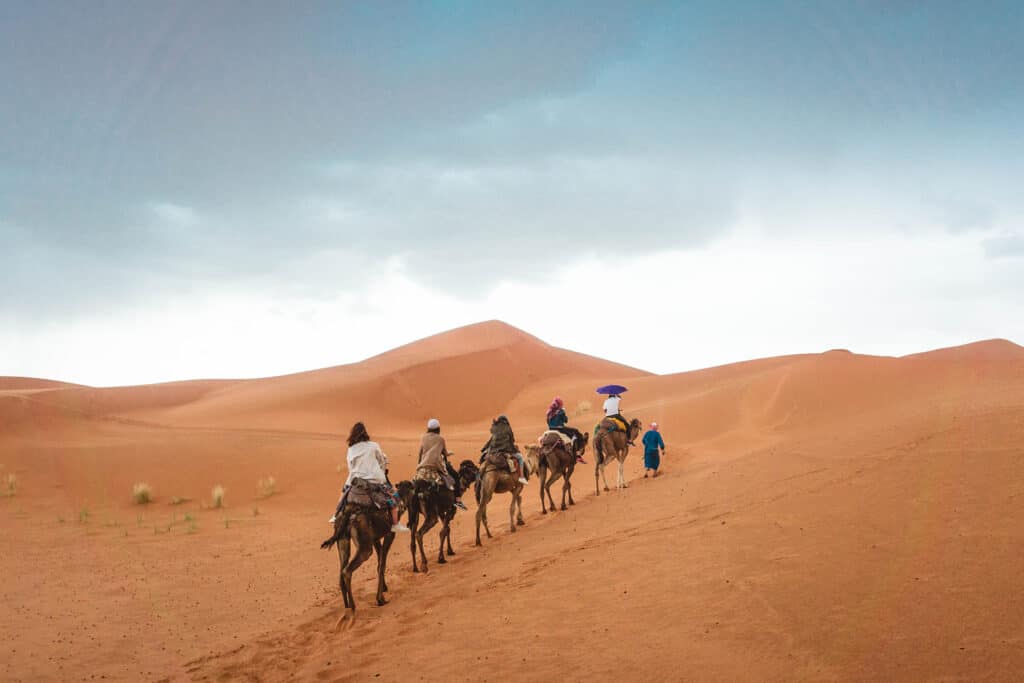 Camelback ride – Photo by Yeo Khee
Hotels
The Riad Kalaa in Rabat
The Riad Kalaa was built in 1815 in the heart of the medina's ramparts, only a few steps away from the ocean. This Kasbah converted into a hotel and has undergone a thorough and lengthy restoration, using artisan workmanship traditional to Morocco.
This Riad Kalaa features 9 rooms (2 standard rooms, 4 deluxe rooms, 2 junior suites, and 1 suite). Each room has its own personality as a thread with major cities of the Kingdom: Fez and the zellige, African decoration of Tan-Tan and Tarfaya, ocher colors of the room Marrakech and sands of the Zagora.
The terrace of Riad Kalaa 2 offers a panoramic view over the rooftops of the medina, where you can enjoy the tranquility, colors, fragrances, but also the incredible daylight of Rabat.
The Riad Salam in Fes
Riad Slam was built at the beginning of the 20th century and was recently restored by craftsmen who managed to recapture its jaw-dropping interiors' glory. Riad Salam Fes is conveniently located next to Batha square and other historical sites of Fez city. Riad Salam is beautifully atmospheric, with some of the finest zellij, plasterwork, carved wood, and brass work that you can see outside of the tourist attractions.
The Riad Amina in Marrakech
Riad Amina invites you to discover the welcoming atmosphere of an authentic aristocratic household. A veritable haven of peace and tranquility deep inside the vibrant old city of Marrakech, this luxury guesthouse keeps alive all the traditional style, warmth, and comfort for which the great houses of Marrakech were once so famous. True to its centuries of history, and in keeping with the way of life of the rich and noble families who used to inhabit it, Riad Amina continues to combine modern luxury with a traditional atmosphere.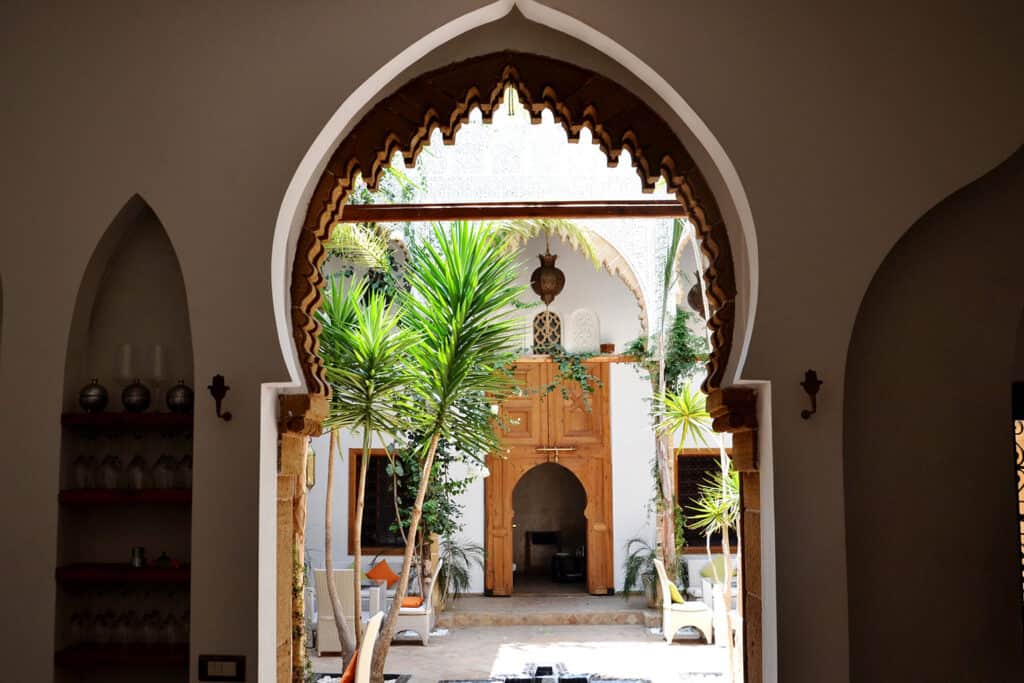 The Riad Kalaa in Rabat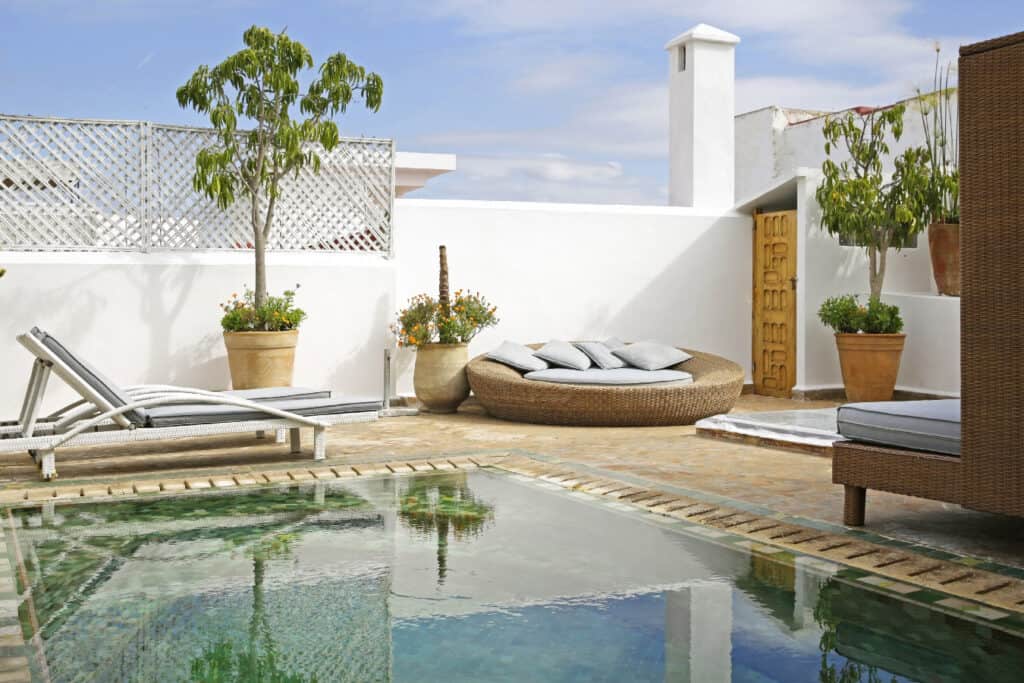 The Riad Kalaa in Rabat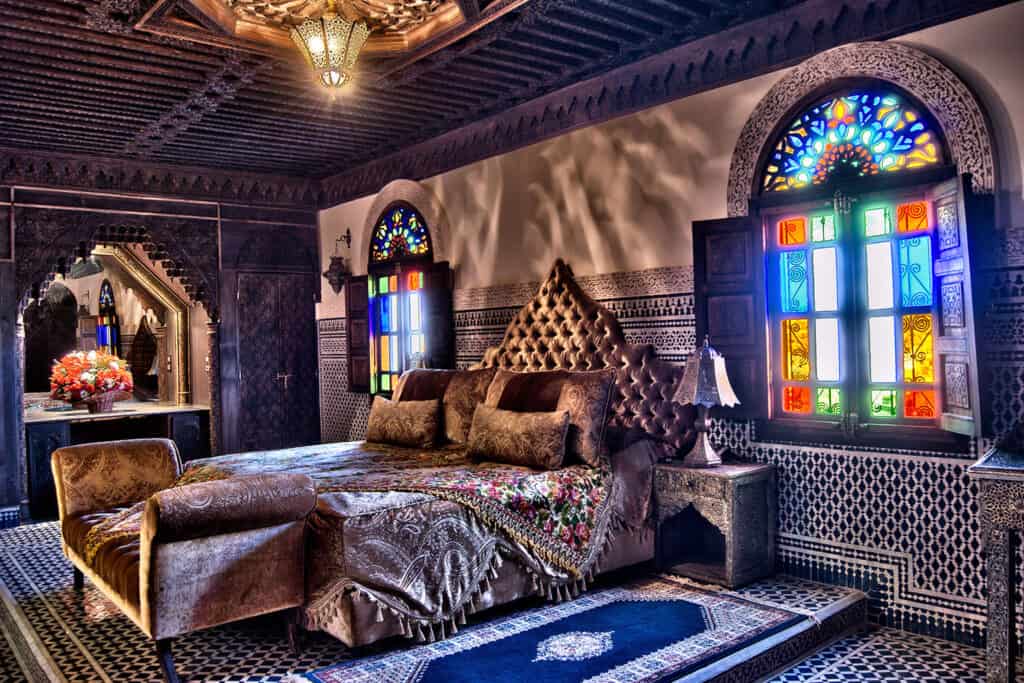 The Riad Salam in Fes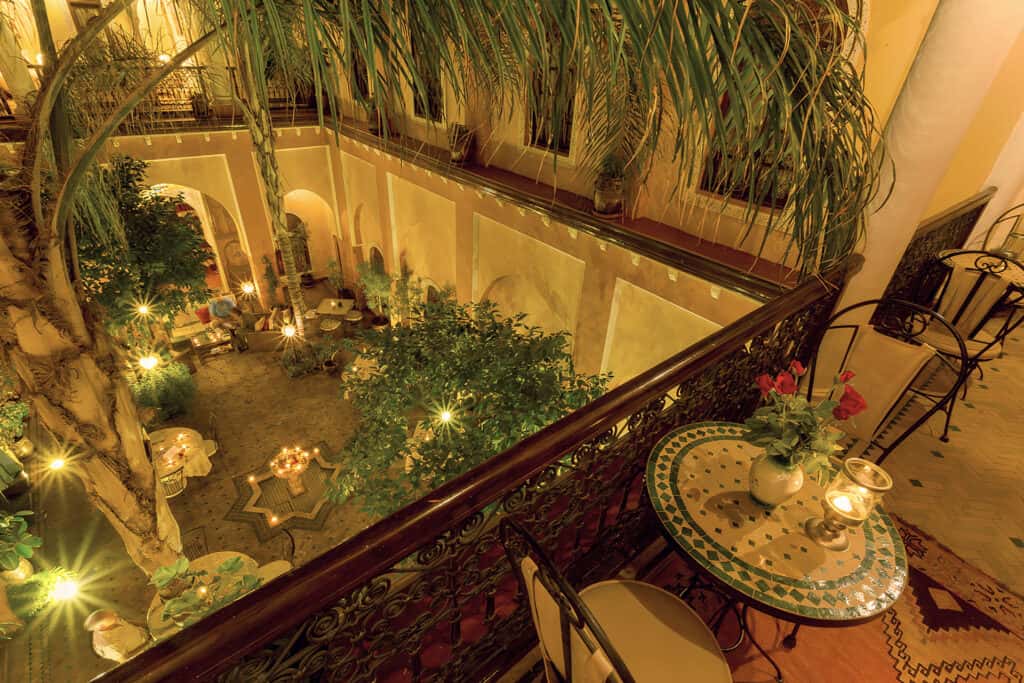 The Riad Amina in Marrakech