Dubai,
United Arab Emirates
Dubai Custom Tour with Expert Private Tour Guides
Immerse yourself in the Middle Eastern culture and learn about one of the most famous cities in the United Arab Emirates on a Dubai custom private tour. Dubai is famous for its amazing skyline rising from the desert.
Witness the cosmopolitan glamour of a wilderness turned into an oasis in the middle east. View a skyline that can be seen from the astounding sands of the Arabian Gulf.
With its sophisticated modern engineering and almost unlimited oil wealth resources, Dubai of the United Arab Emirates has a reputation of being a first-class destination that delivers a unique experience to each visitor and world traveler.
Contact us for a customized tour of Dubai that suits your budget and interests. Let us take the hassle out of your next trip to Dubai with one of our experienced and highly qualified custom tour guides.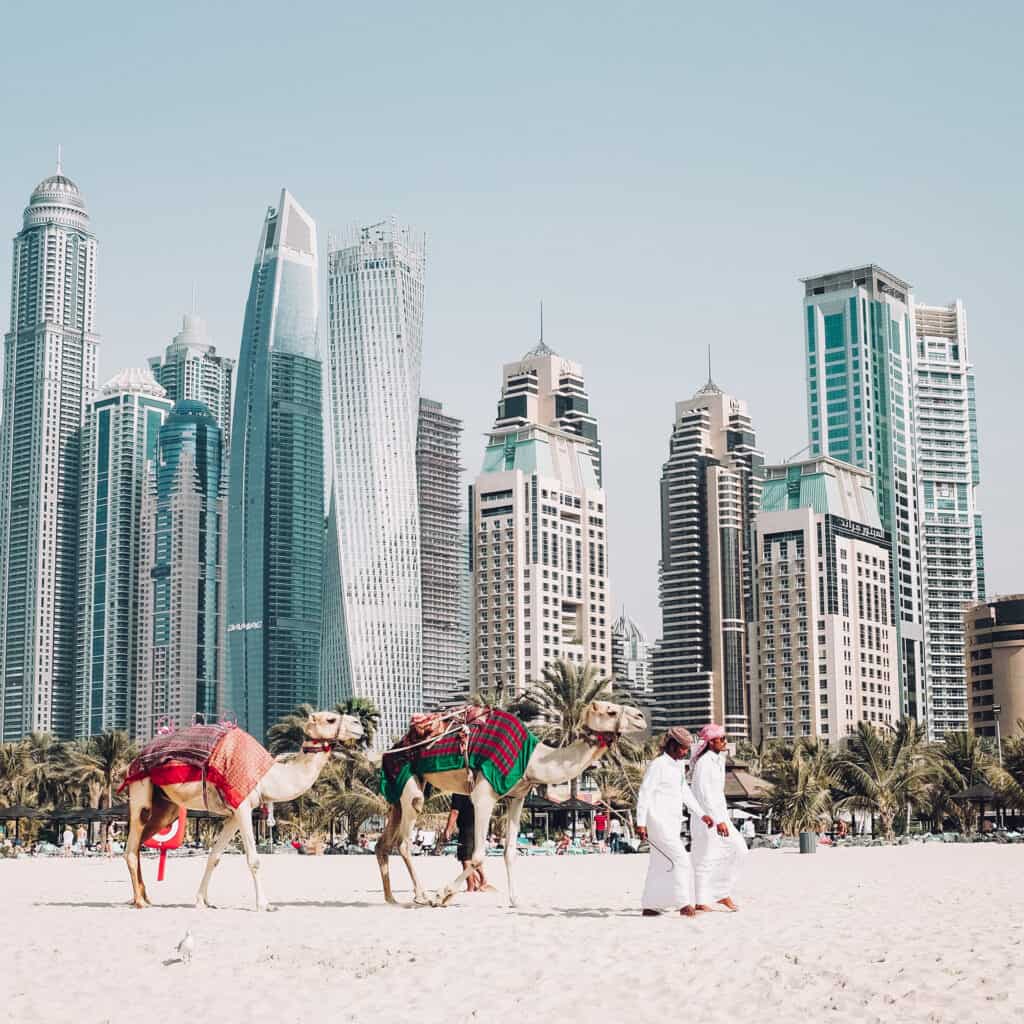 Dubai, United Arab Emirates – Photo by Fredrik Öhlander
Osiris Tours Advantages
Enjoy personalized assistance in Dubai airport through a special fast track clearance and visa process.
Discover Middle Eastern customs and traditions with your own private guide & private vehicle.
Explore Sharjah city on a private guided tour and learn about its landmarks.
Spend an evening dining at a traditional Middle Eastern restaurant.
Stay in the luxurious Manzil Downtown Hotel.
Tour Overview
Dubai may be the most popular destination for luxury travel in the United Arab Emirates, but it is by no means the only reason to visit. For over 20 years, the whole world has seen Dubai change from a kindler, simpler town into a megacity and one of the world's most popular tourist destinations. Dubai's rich history, coupled with the more recent architecture, provides fascinating sightseeing opportunities for everyone.
Osiris Tours insider access, local knowledge, and firsthand connections with local suppliers of the region's best properties, from an underwater resort to Bedouin-inspired villas, make us the first choice for luxury custom tours in the United Arab Emirates.
Our Dubai tours let you explore Middle Eastern culture and tradition through the innovative city of Dubai. During our Dubai tours, you will be introduced to the Sahara Desert, the tile-covered mosques, the Dubai Museum, an abra (water taxi) ride on Dubai Creek. The unbelievable shopping experience in Dubai's most luxurious malls is not to be missed.
Most Dubai luxury tours include a visit to the beautiful city of Sharjah, where you will appreciate its brightly colored souks filled with vegetables, meat, fish, aromatic fruits, and much more. There are so many options for your private custom tour to the United Arab Emirates, and our team's firsthand local knowledge of the region will translate into a unique travel experience.
Osiris customized tour packages to Dubai include all accommodations, private guide, private vehicle, entry visa fees, museums & parks entrance fees, taxes, and much more.
Choose this itinerary or customize your own and create it from scratch at no additional cost. All our Dubai tours are private and can be customized to your own style, schedule, and budget.
Relax during your trip with our 24/7 support and expert local guidance. Check the itinerary to learn more about this tour.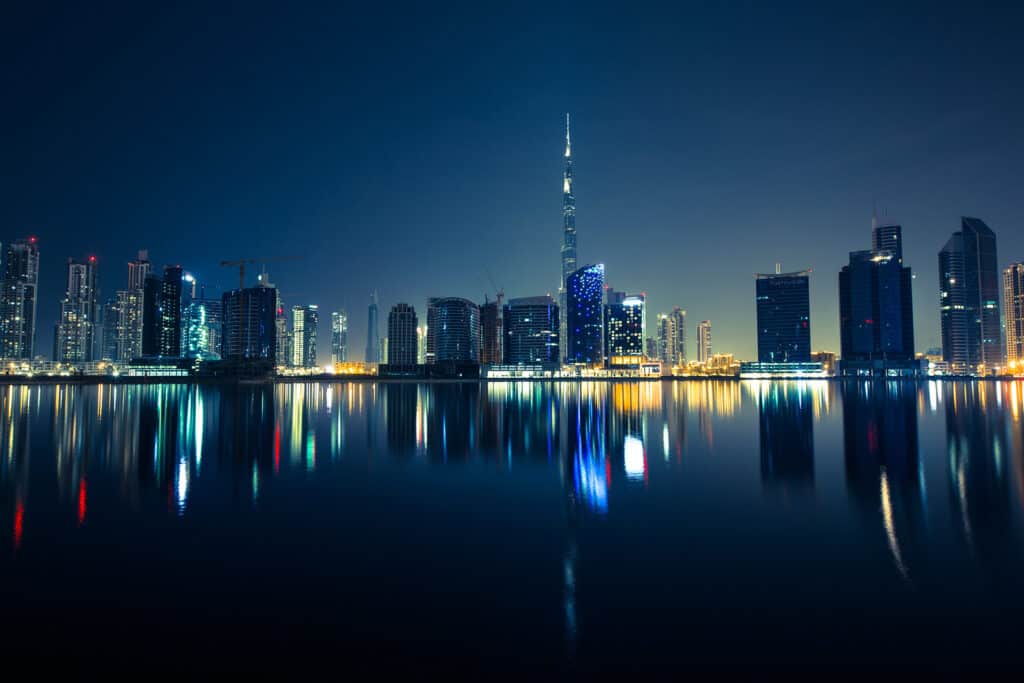 Downtown Dubai – Photo by Robert Bock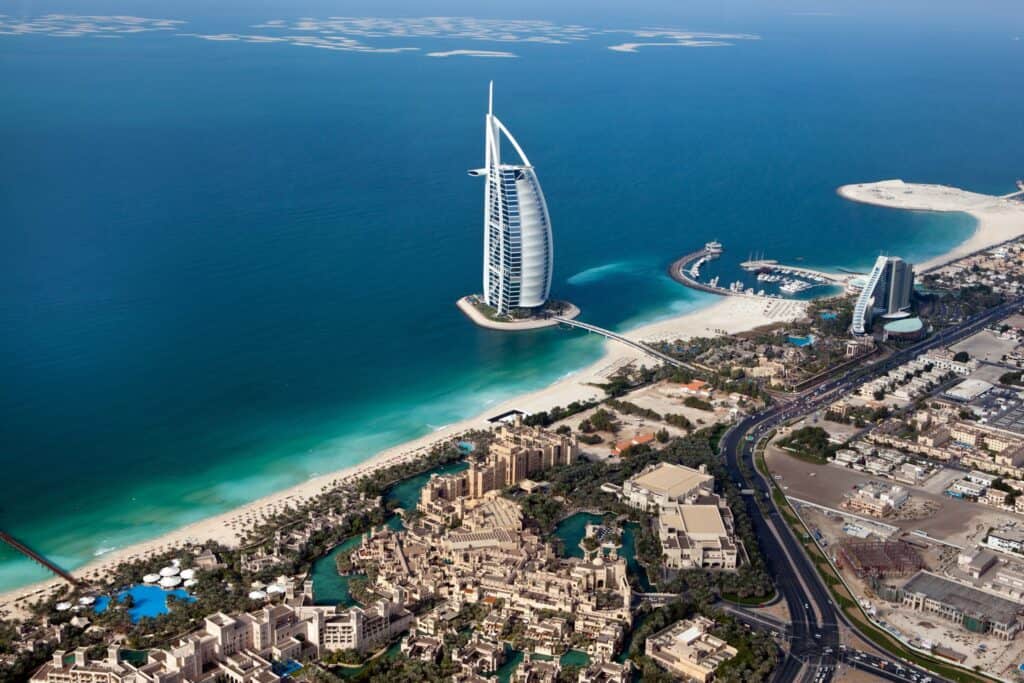 Burj Al Arab Hotel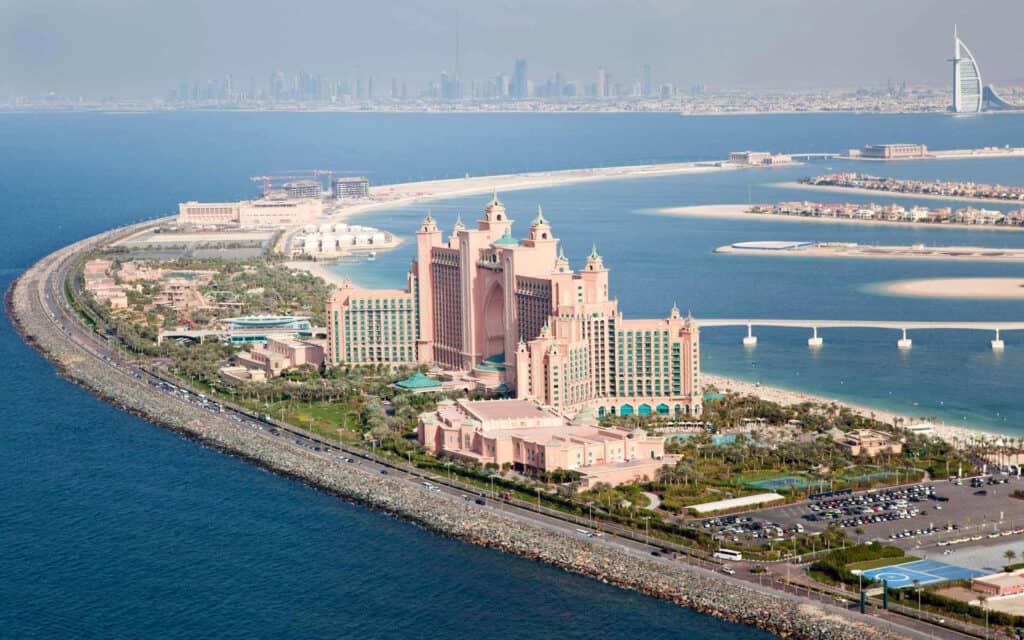 Atlantis in Dubai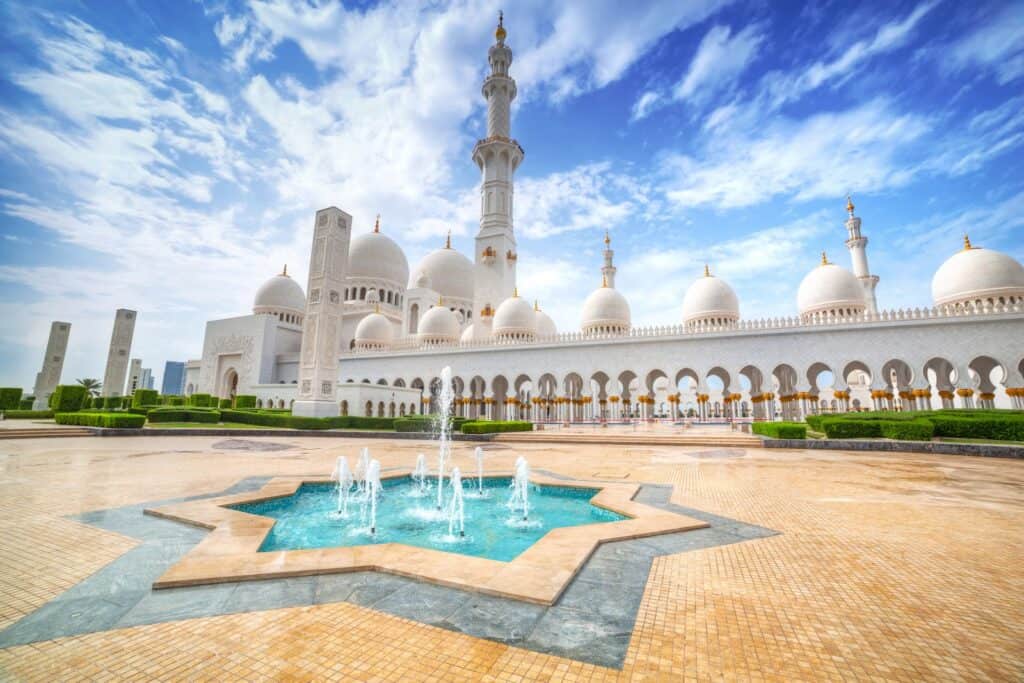 Sharjah City
Itinerary
Day 1: Arrival in Dubai
An airport representative who will facilitate the visa process and escort you through customs and immigration will meet you in the tunnel. Continue to the baggage claim hall and finally to the passenger pick up. Here, connect with the Osiris Tours representative associate who will arrange your private airport transfer to your hotel.
Accommodation: Manzil Downtown (5*)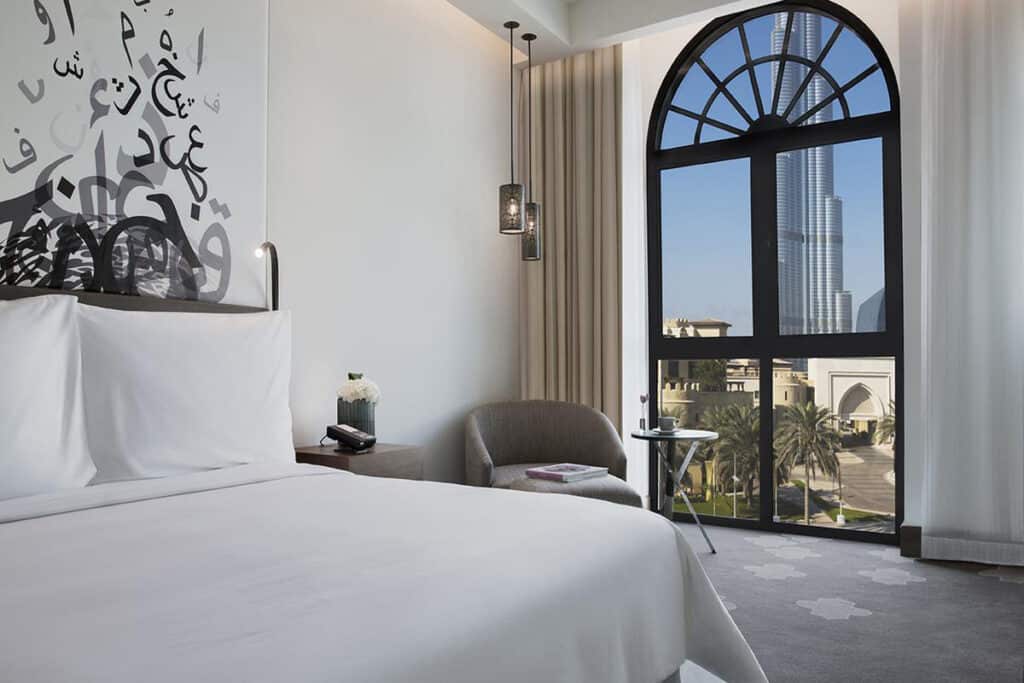 Manzil Downtown
Day 2: Dubai
Take a desert safari to explore the golden sand of the Arabian Desert on a 4WD Jeep. Visit a Bedouin camp where you can take camel rides in the local desert while learning about Middle Eastern culture and tradition.
The tour includes a BBQ dinner with Arabic music and a belly dancing show.
Accommodation: Manzil Downtown (5*)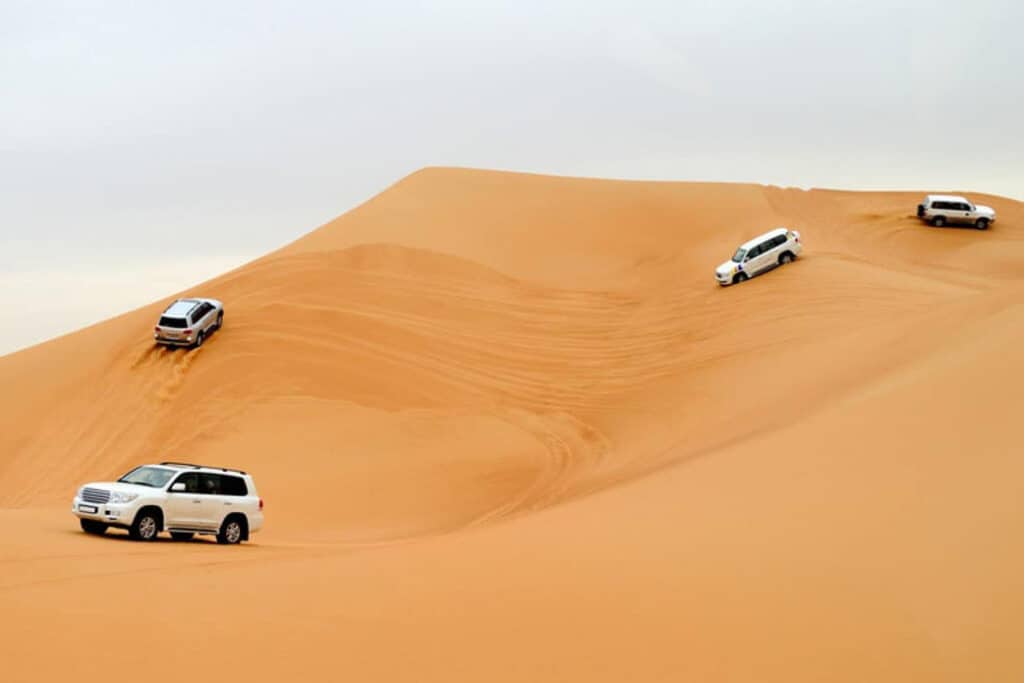 Arabian Desert on a 4WD Jeep, Dubai
Day 3: Dubai
Start by visiting the world's tallest building, Burj Khalifa, located right next to the world's largest shopping malls. Then, visit the aquarium and experience the exotic wonders of aquatic life through wonderful views.
Afterward, you will head to Dubai Marina to take photographs of the world's largest human-made island, Palm Jumeirah.
Then you will enjoy a unique experience having a special tea at the only 7-star, world-famous hotel, Burj Al Arab.
Your private driver will pick you up for a 2-hour cruise along the Dubai Creek onboard the local Dhow in the evening. Here you will delight in Arabic music and a buffet dinner that includes traditional Middle Eastern dishes.
Accommodation: Manzil Downtown (5*)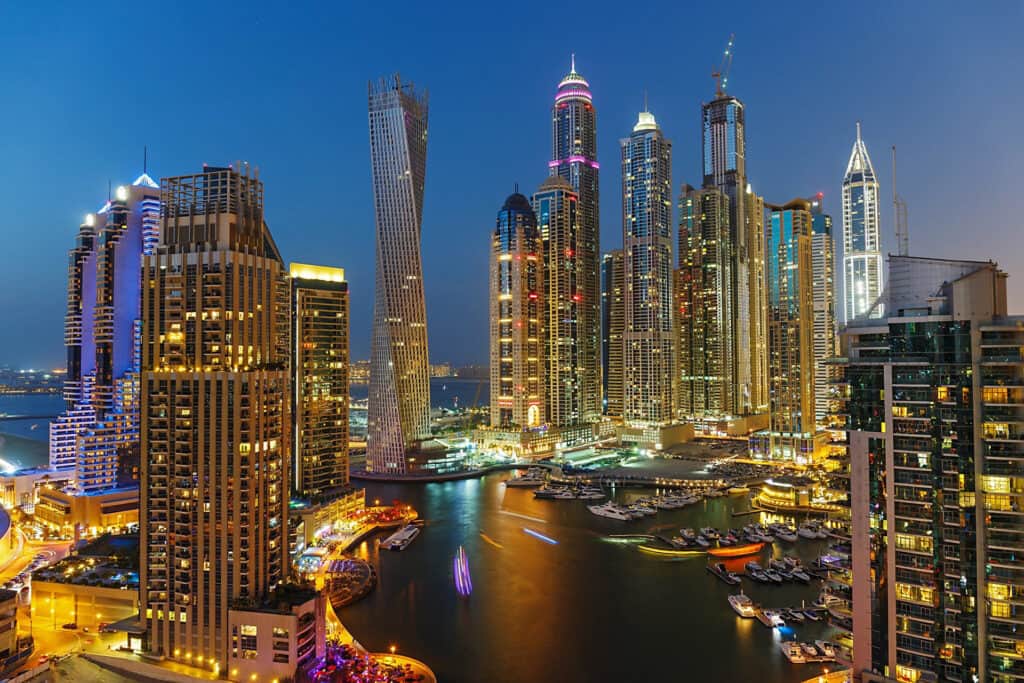 Dubai Cityscape
Day 4: Dubai
Visit the beautiful city of Sharjah, where you will appreciate its brightly colored souks filled with vegetables, meat, fish, and aromatic fruits. After visiting Sharjah, you will head to the fort of Ajman where you will further enjoy Middle Eastern Heritage.
Accommodation: Manzil Downtown (5*)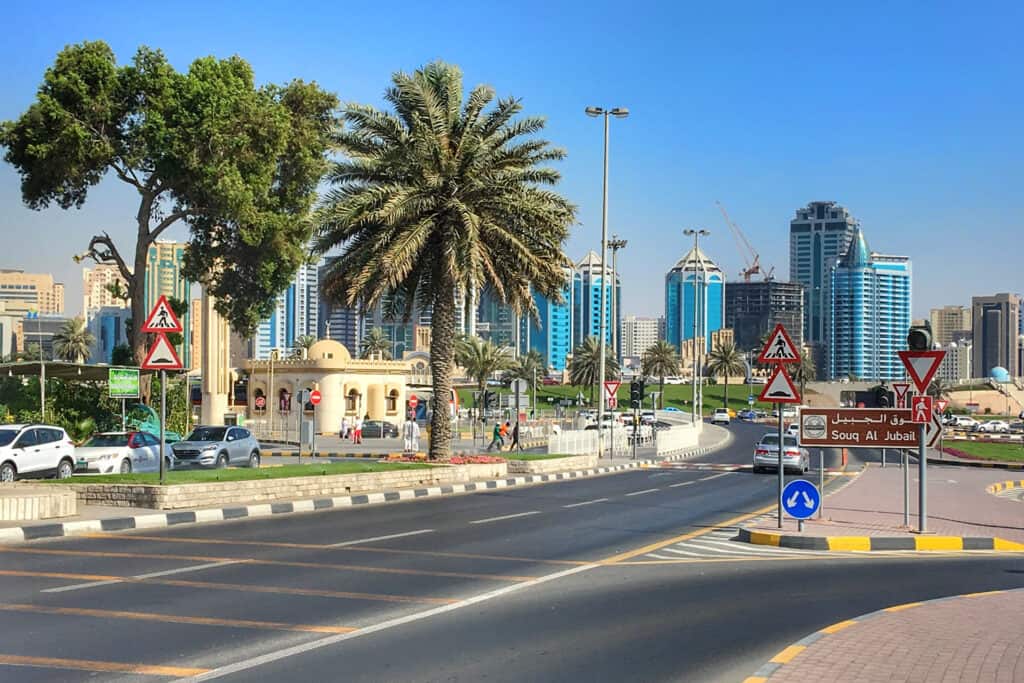 Sharjah, United Arab Emirates – Photo by Ainur Kamaev
Day 5: Dubai
Today's five-hour tour will allow you to continue discovering Abu Dhabi's unique blend of cultural traditions with your private guide and private vehicle.
This tour includes visits to the Heritage village, Grand Mosque, Al Hosn Fort, and the Dates Market.
Accommodation: Manzil Downtown (5*)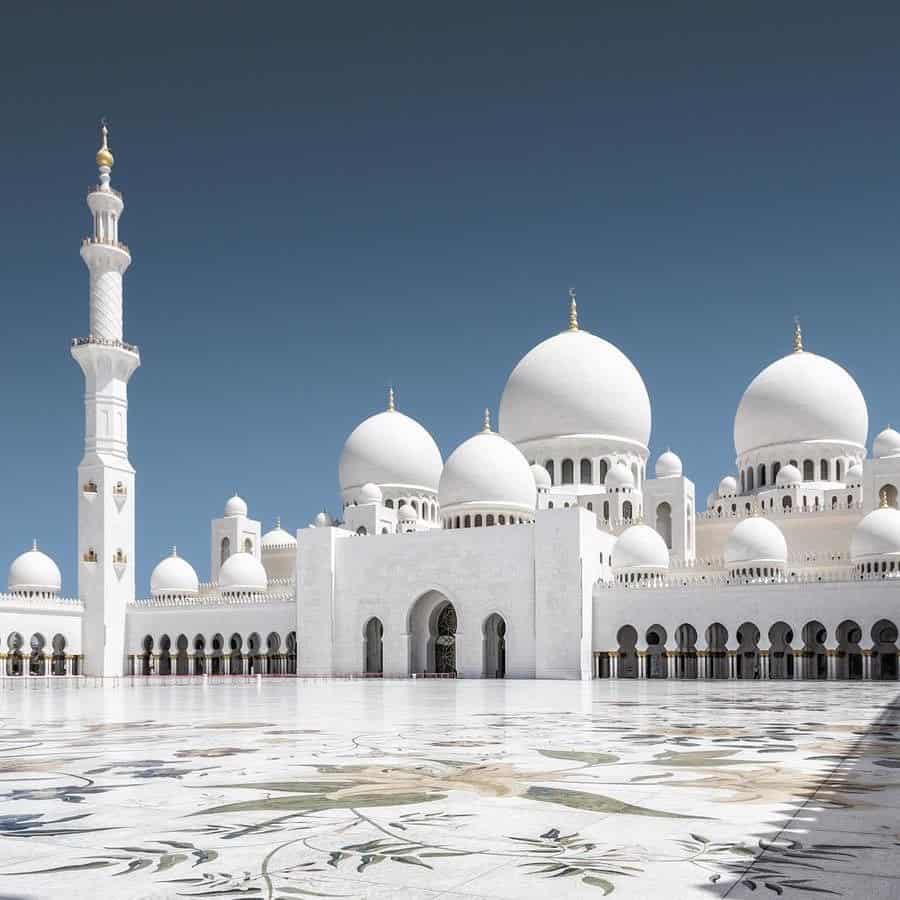 Sheikh Zayed Mosque (Grand Mosque), Dubai
Day 6: Dubai
Visit the shopping malls such as Deira City Center (Dubai's largest shopping mall with more than 300 shops), BurJuman, and Al Ghurair. Then visit Al Fahidi Street, also called the Electronics Street and the Naif souk, with an abundance of textiles that adds color to the trip and tests your bargaining skills. You may also stop at Dubai Gold Souk, where you can purchase some of the finest and purest gold at competitive prices, with a dazzling array of international designs attracting your attention.
The shopping tour includes a private standard bus for transfers between malls, pick up and drop off at the hotel, and an English Speaking Guide.
Accommodation: Manzil Downtown (5*)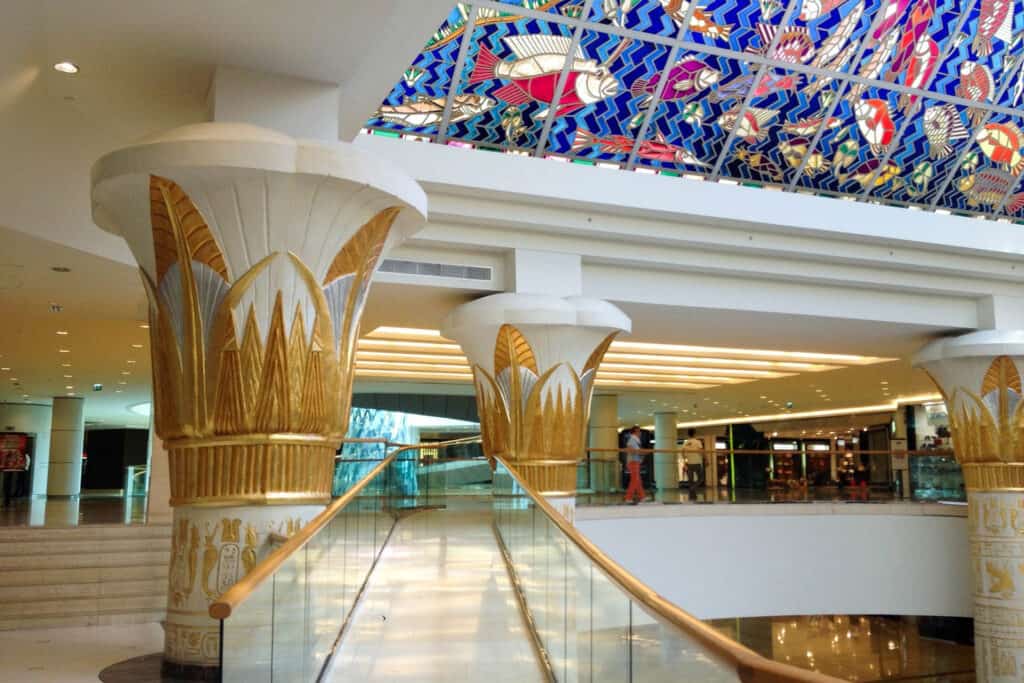 Wafi Mall, Dubai
Day 7: Dubai
Transfer in private vehicle between your hotel and Dubai airport is provided.
Hotels
Manzil Downtown (5*)
Manzil hotel is located a few minutes away from Burj Khalifa, and it is Dubai's premier five-star hotel with a new invigorating and innovative vibe.
Whether traveling to Dubai on business or leisure, The Address Downtown is the premier all-around destination for this vibrant and energetic city. The hotel's spacious and bright rooms offer a dynamic sense of style and a striking design that appeals to all tastes across the international travel market.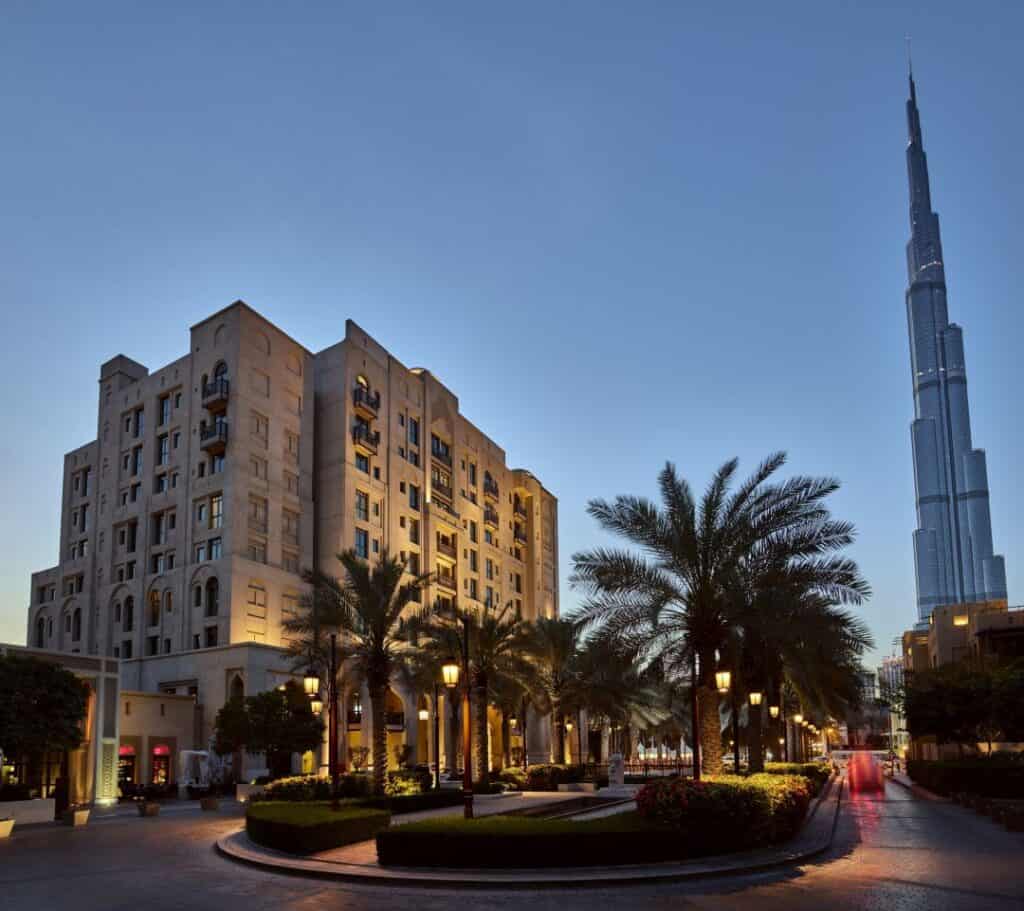 Manzil Downtown