Amman, Petra, Wadi Rum
& Dead Sea
Jordan Custom Tour with Expert Private Tour Guides
Explore the world of red desert sands, wander around the capital city of Amman, and discover hidden Petra treasures on your customized tour of Jordan.
Our personalized Jordan tour package includes a private guide and driver. Your tour includes a private dessert safari in Wadi Rum and a private adventure in the Dead Sea's therapeutic water.
Jordan is a modern country with a rich history. The landscape includes rugged mountains and winding valleys dotted with small villages and desert sands. Jordan is home to traditional people, the nomadic Bedouin.
From city sidewalk cafes in Amman, the tranquility of Dana's slopes, and the historic treasures of Madaba and Petra, Jordan is a unique and memorable place to visit.
Contact us for a customized tour of Jordan that suits your budget and interests. Let us take the hassle out of your next trip to Dubai with one of our experienced and highly qualified custom tour guides.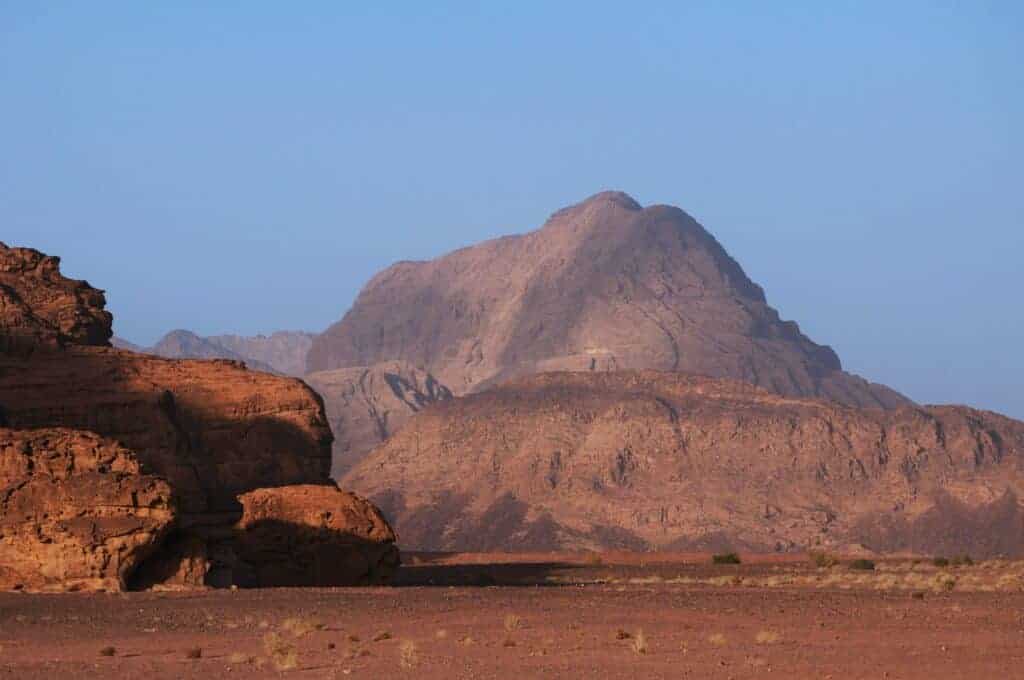 Wadi Rum, Aqaba, Jordan – Photo by Juli Kosolapova
Osiris Tours Advantages
Enjoy a personalized luxury tour with a private guide, driver, and traditional Jordanian cuisine. We customize your tour for you, and it will suit your needs and your schedules.
Discover Amman city in a luxury custom tour and enjoy its historic and geographic wonders.
Avoid the crowds with your own private guide around Petra and its amazing treasures.
Discover Wadi Rum with your private four-wheel-drive excursion & private driver.
Stay in a beautiful resort that is hugging the Dead Sea.
Tour Overview
Osiris Tours invites you to discover the golden heritage and golden sands on a luxury tour of Jordan. This custom private tour takes you from Amman, the Biblical sites of Mt. Nebo, Madaba, to Wadi Rum with a desert safari experience. Yet Jordan maintains its great reputation as one of the most modern and liberal nations in the Middle East.
All of our Jordan luxury tours include a stop at Petra, the ancient Nabataean city that is one of the New Seven Wonders of the World in 2007. During your Jordan private tour, you will explore the city carved into the red rock by the Nabataeans more than two thousand years ago. You may recognize some of these locations in Petra from the Indiana Jones and the Last Crusade movie.
Explore Wadi Rum on a private guided four-wheel excursion along the pink desert sands and red mountain vistas.
Head to the lowest point on earth and visit the Dead Sea, where John the Baptist baptized Jesus.
Osiris Tours has firsthand destination experience and local knowledge that translates into unforgettable experiences in Jordan. We take your safety seriously, and our private guides and drivers are available around the clock.
We invite you to take the Luxury Jordan Tour and customize it to your specifications. Enjoy flexibility, so you control the pace of the tour.
During your luxury Jordan vacation, you will sample dishes from all over the Middle East, including favorite local bites such as hummus, kubbeh, Falafel, and tabbouleh. We know all the most interesting places and have all the local knowledge you need to enjoy a luxury tour to Jordan.
Osiris custom tours and Jordan tour packages include a private qualified guide, a private chauffeured car, accommodations, all fees, and taxes. You can go with our sample tour package, or you can create your own. Simply tell us what you want to see and do, and we will put together a fantastic custom tour of a lifetime for you.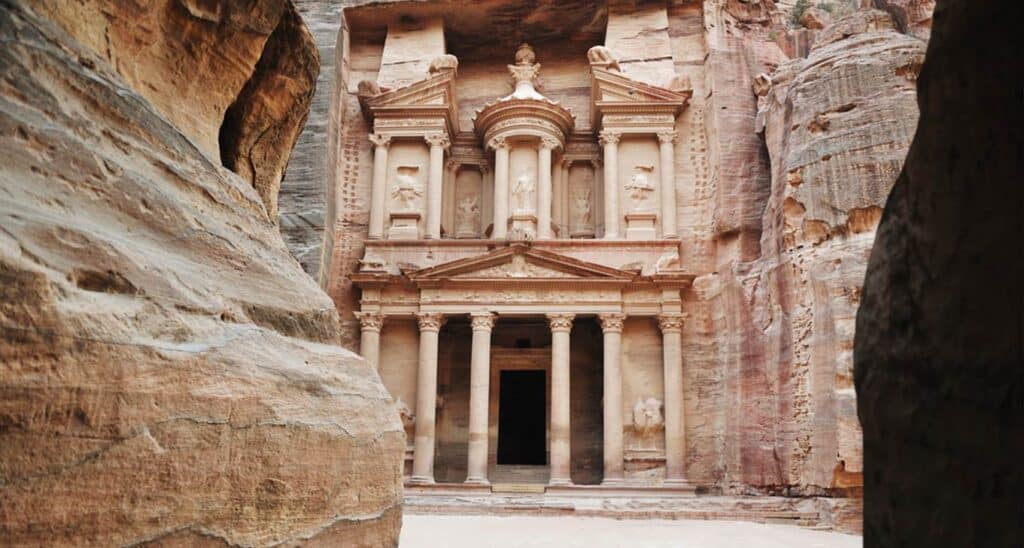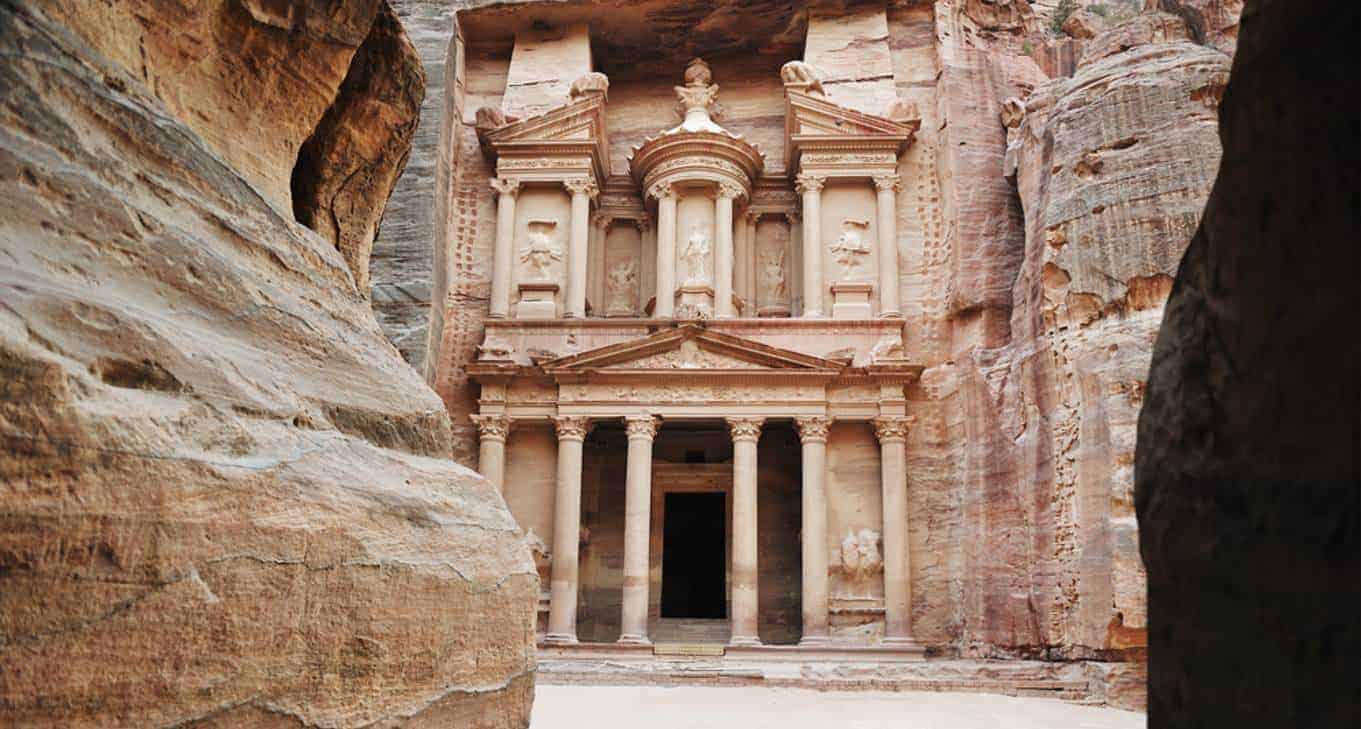 Al Khazneh – The treasury of the ancient city Petra in Jordan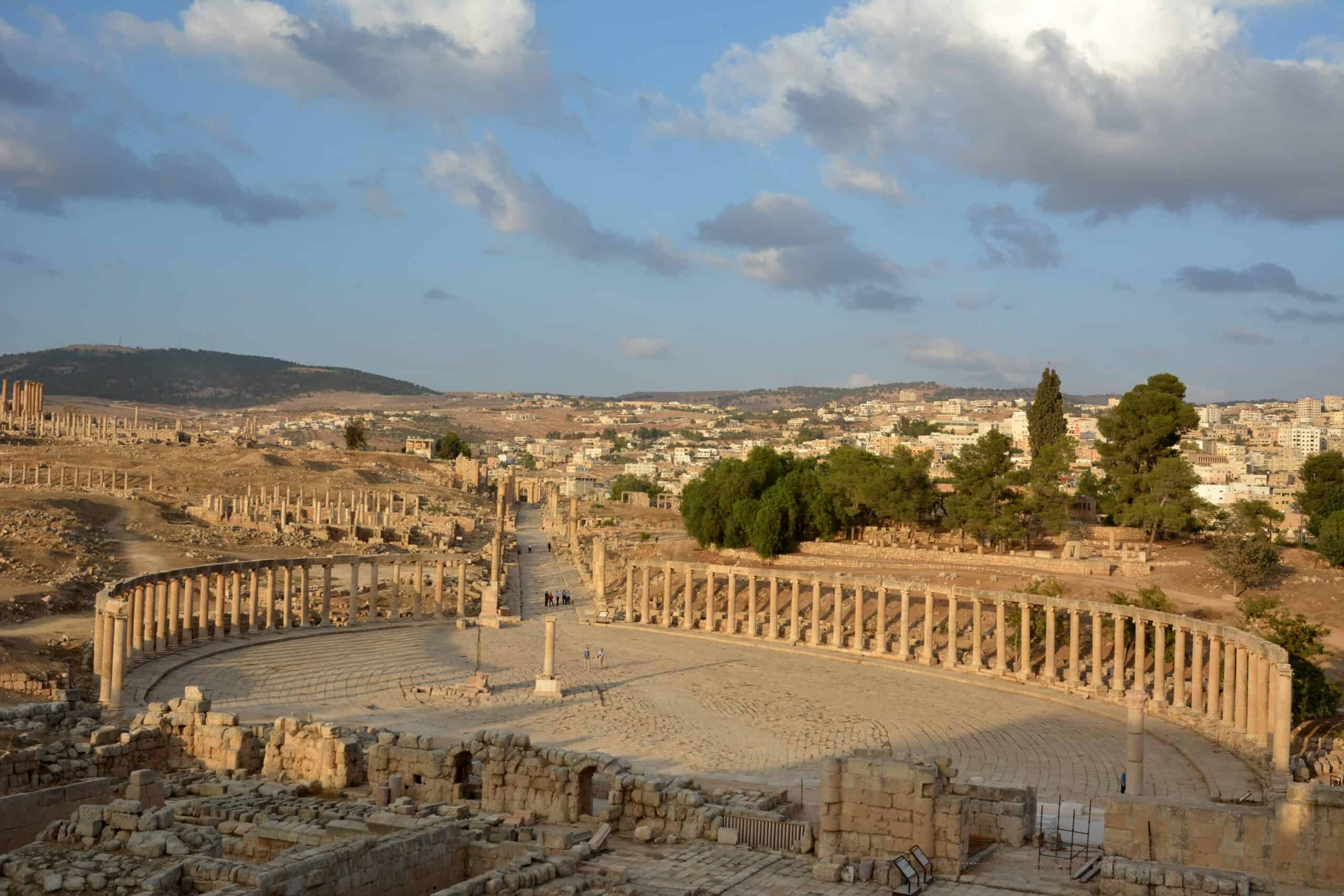 The Oval Forum and Cardo Maximus in ancient Jerash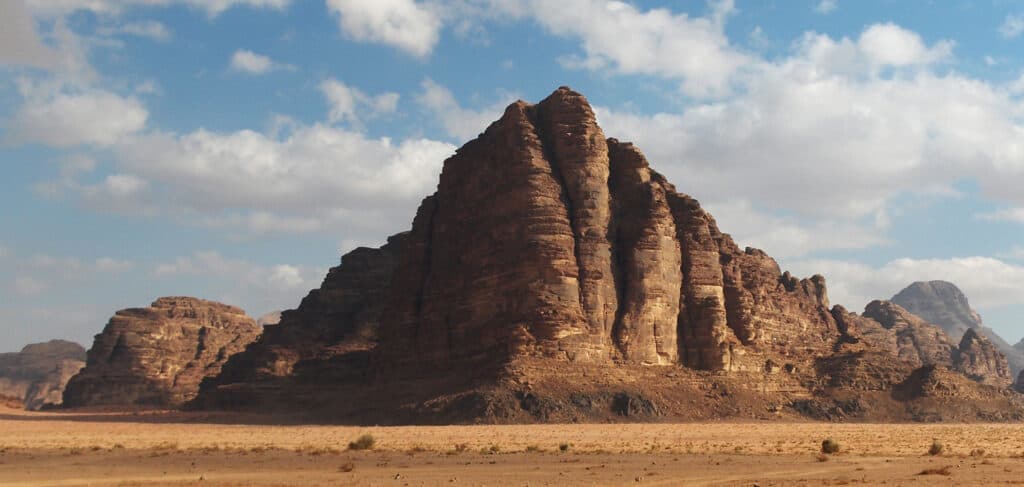 The Seven Pillars of Wisdom rock formation in Wadi Rum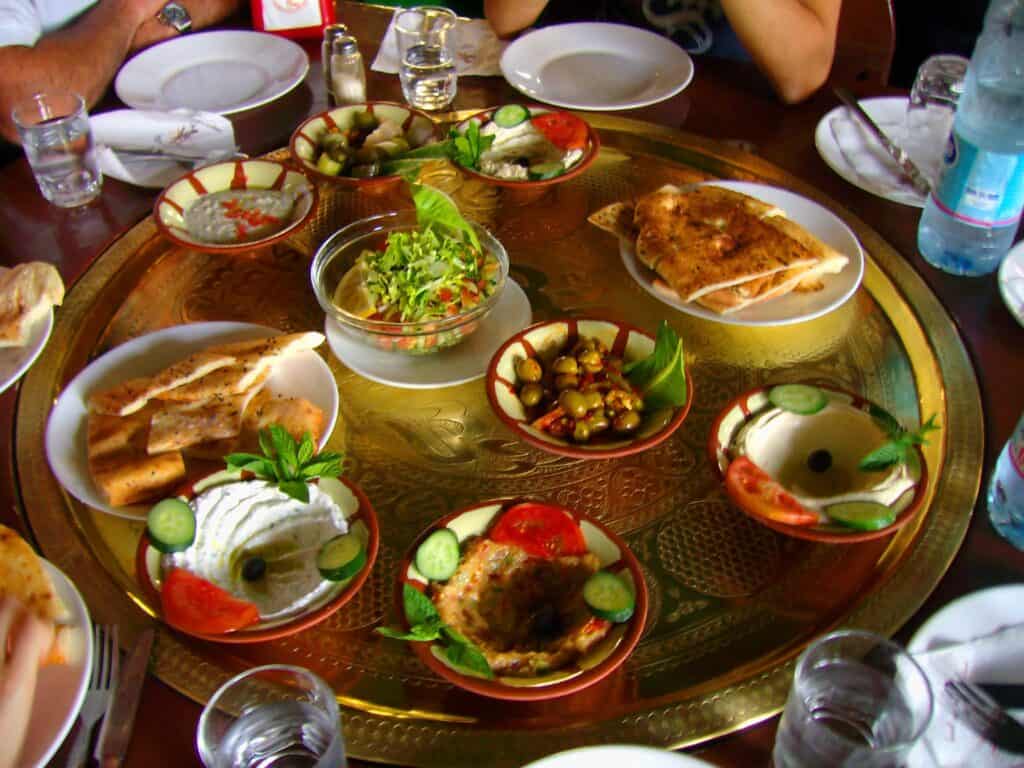 A large plate of Mezes (Metzes) in Petra
Itinerary
Day 1: Arrival in Amman
An Osiris Tours representative will meet with you upon arrival at the Queen Alia Airport, Amman, to facilitate the visa process and escort you through customs and immigration. Continue to the baggage claim hall and finally to the passenger pick up. Meet with your private guide and driver to transfer to your hotel.
Accommodation: Grand Hyatt Amman (5*)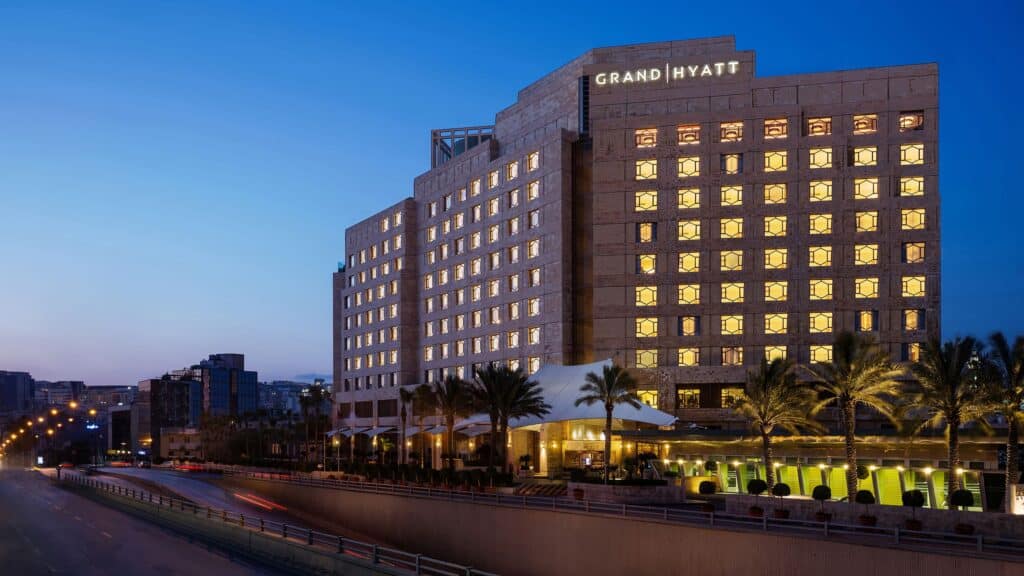 Grand Hyatt Amman
Day 2: Amman
Today's luxury tour to Ajlun will include a private vehicle, a driver, and a trained, certified guide. There, enjoy climbing the narrow staircases and walking through endless hallways, taking you back to a time of chivalry and faith, where you can almost imagine the sounds of battling Iron and the sight of the raging battlefield.
After visiting Ajlun, enjoy a short private ride to Jerash. Jerash is one of the best-preserved Roman provincial towns in the world. Jerash reveals a fine example of the grand, formal provincial Roman urbanism found throughout the Middle East, comprising paved and colonnaded streets, soaring hilltop temples, handsome theatres, spacious public squares and plazas, baths, fountains, and city walls pierced by towers and gates. After visiting Jerash, head back to Amman for a private city tour.
The private custom tour of Amman will include the fascinating Roman Theater and Nymphaeum that reflect the historic legacy of the city and the enchanting Citadel, which has stood since the ancient times of the Ammonites. For a more exotic and traditional experience, you will walk around in the old-downtown, also known as the local market in Amman "Souq," and take in the traditional sights and smells of the spice market. During this custom tour to Amman, you will have the opportunity to shop for authentic souvenirs. Enjoy a Falafel snack with the locals at famous restaurants, eat Arabic Sweets (Knafeh), and drink fruit cocktails at a local fruit stand.
Accommodation: Grand Hyatt Amman (5*)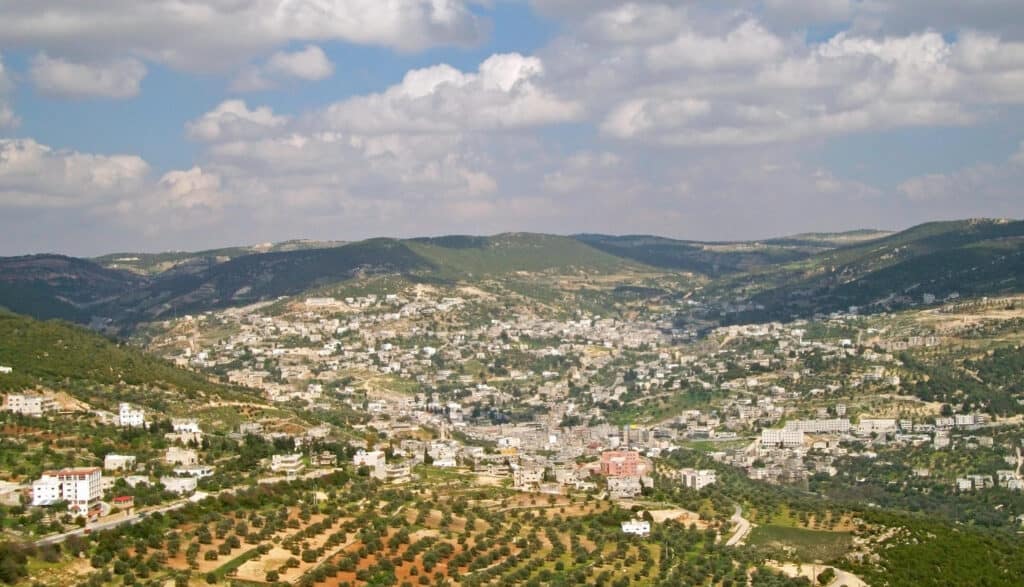 Ajlun, Jordan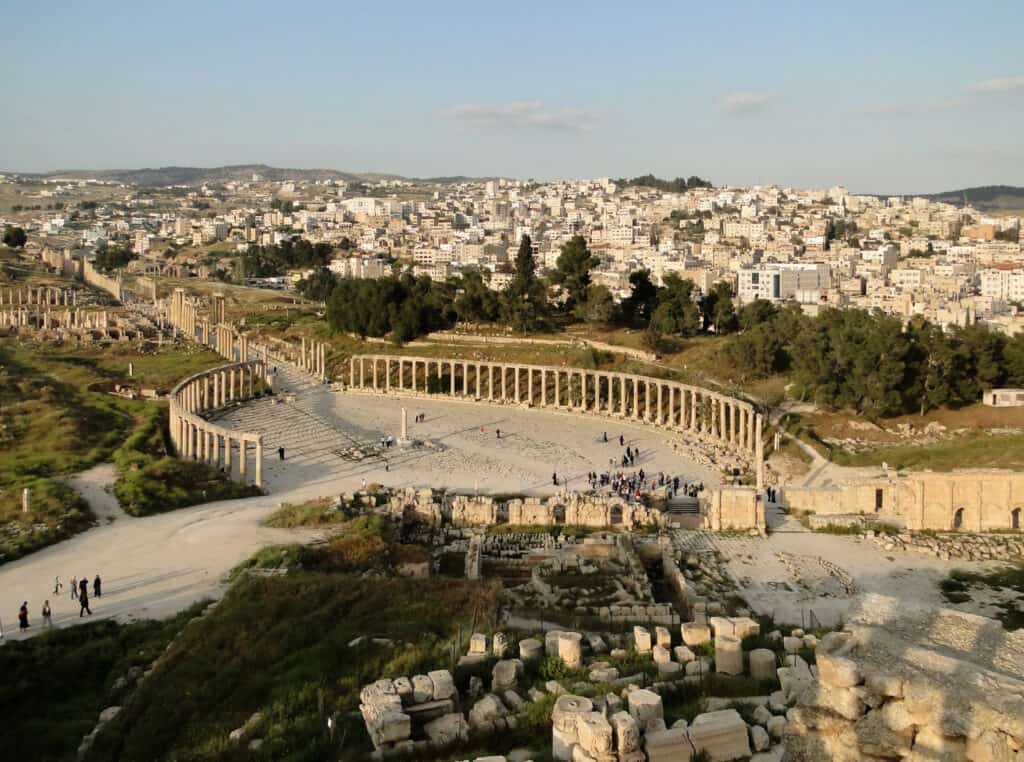 The Greco-Roman city of Gerasa and the modern Jerash in the background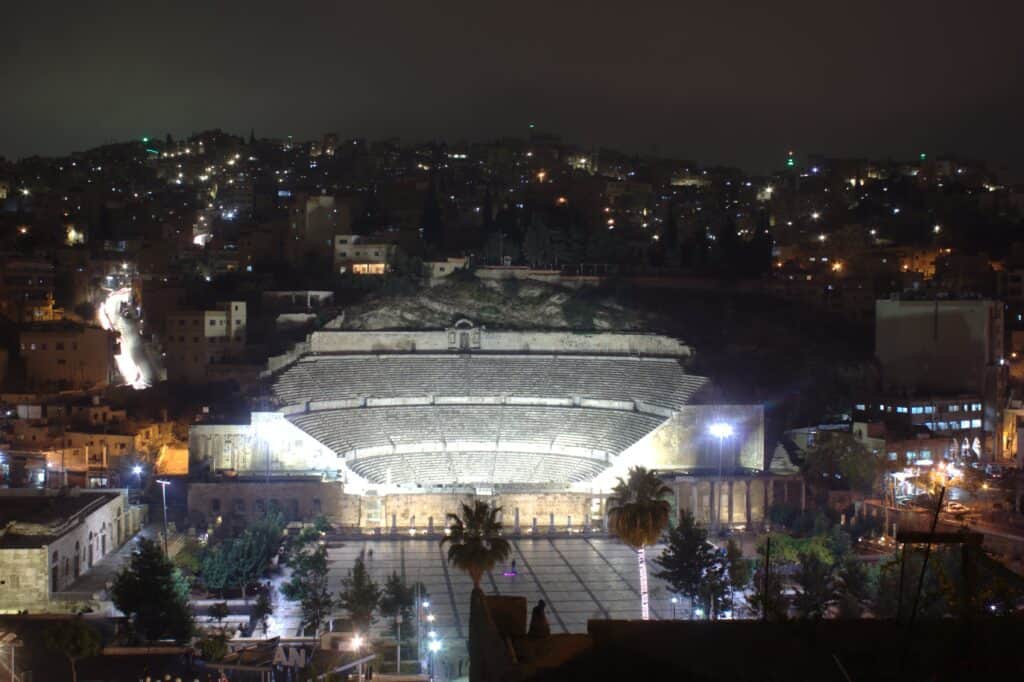 The Roman Theatre in Amman at night
Day 3: Madaba – Nebo – Petra
Today enjoy a private custom tour to Madaba. Madaba is known for its spectacular Byzantine and Umayyad mosaics. Madaba is home to the famous 6th century Mosaic Map of Jerusalem and the Holy Land. With two million pieces of vividly colored local stone, it depicts hills and valleys, villages and towns as far as the Nile Delta. The Madaba Mosaic Map covers the floor of the Greek Orthodox Church of St. George, which is located northwest of the city center. The church was built in 1896 AD, over the remains of a much earlier 6th century Byzantine church. The mosaic panel enclosing the Map was originally around 15.6 X 6m, 94 square meters, only about a quarter of which is preserved.
After enjoying Madaba and its incredible history, continue to Mount Nebo (15 minutes drive from Madaba). According to both the Jewish and the Christian traditions, Moses was buried in this mountain by God. However, his final resting place is unknown and shall remain so according to the Jewish and Christian tradition. Scholars continue to dispute whether the mountain currently known as Nebo is the same as the mountain referred to in the Torah. However, archaeologists worldwide have conducted endless searches for this cave and have not found a trace of its existence.
Afterward, located 10 minutes north of Petra, explore The Siq Al-Barid (Little Petra) and its temple, the miniature Siq.
After visiting Mount Nebo, we continue to Petra (a 4-hr drive from Mount Nebo) – Drive beyond Umm Sayhun, a short distance north of Petra. The road runs between wild and beautiful outcrops of rock, the color of pale honey. It is called al-Beidha in Arabic, 'the white one.' Al-Beidha was one of Petra's main commercial areas, the entry and exit point for the trade routes to the north and north-west.
Later in the evening, enjoy the Petra Kitchen, which is a delightful way to round out your Jordan travel experience. Like any home kitchen, the Petra Kitchen is a relaxed, informal atmosphere where you will gather to prepare an evening meal, working alongside local women under our chef's supervision. Each evening meal includes soup, cold and hot mezza and salads, and the main course, all typical Jordanian dishes. You will have the chance to get an inside glimpse of the secrets behind the famous regional cuisine of the Levant.
Accommodation: Mövenpick Petra (5*)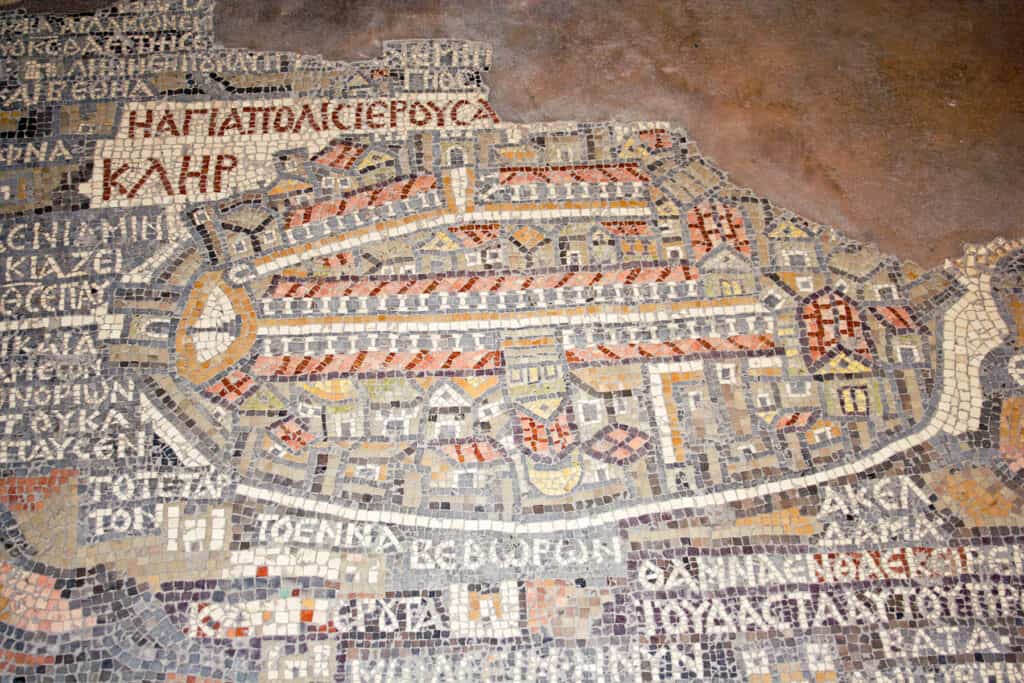 A 6th-century mosaic map of Jerusalem in the Madaba Map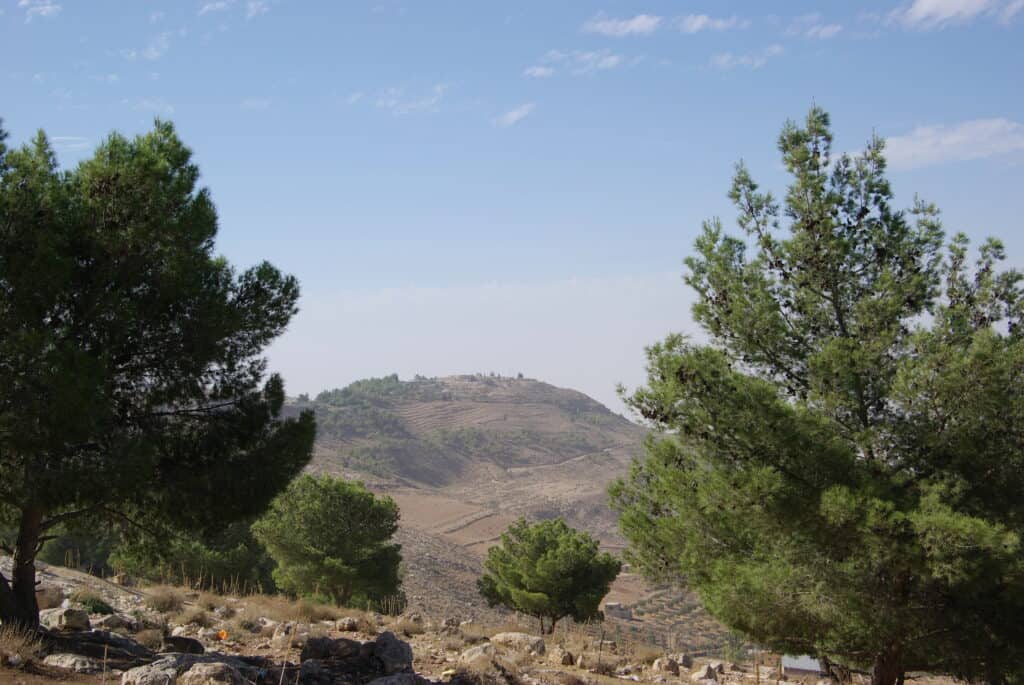 Mount Nebo, Jordan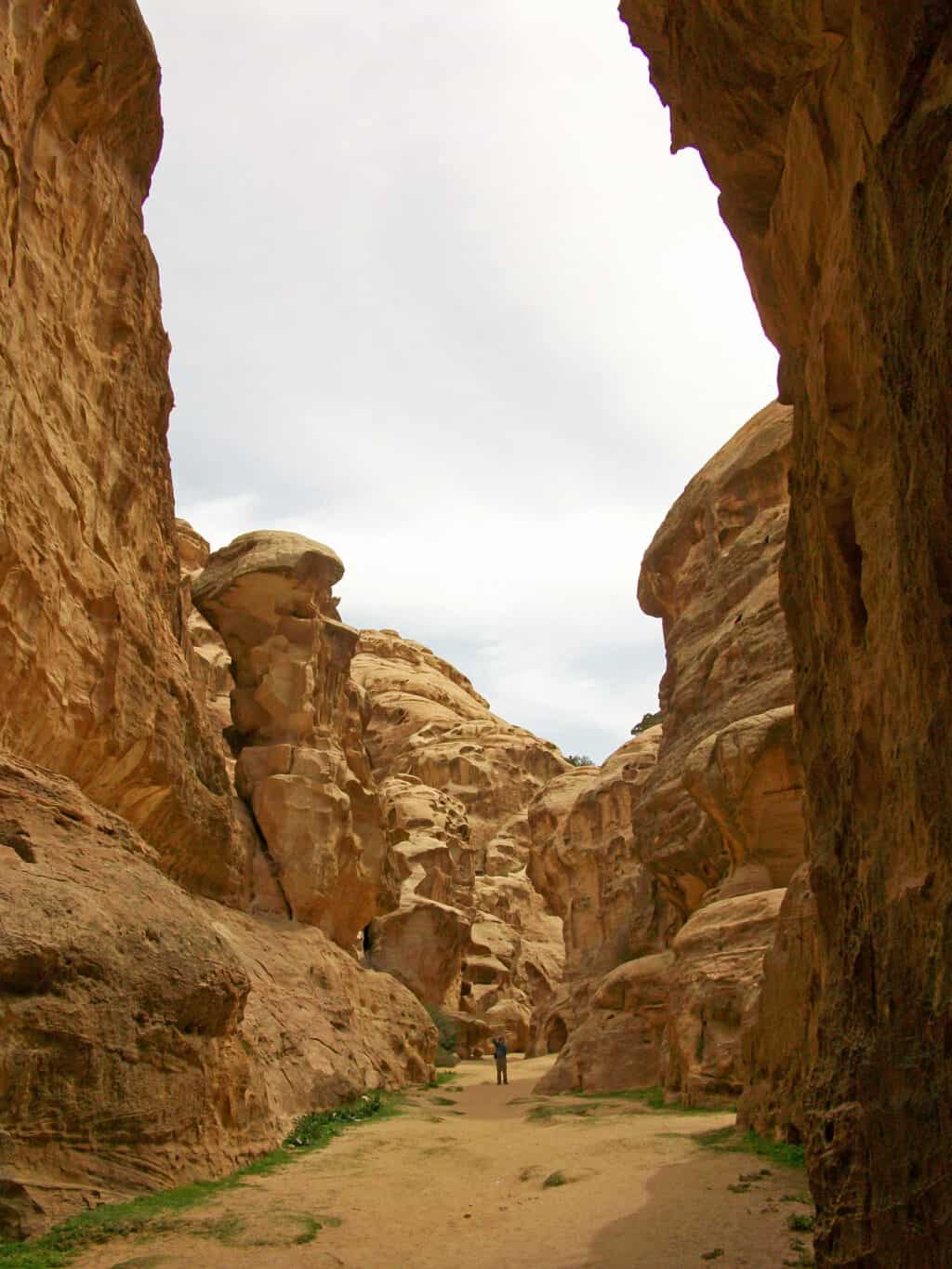 Siiq al-bariid (Cold Canyon) – The entrance to Little Petra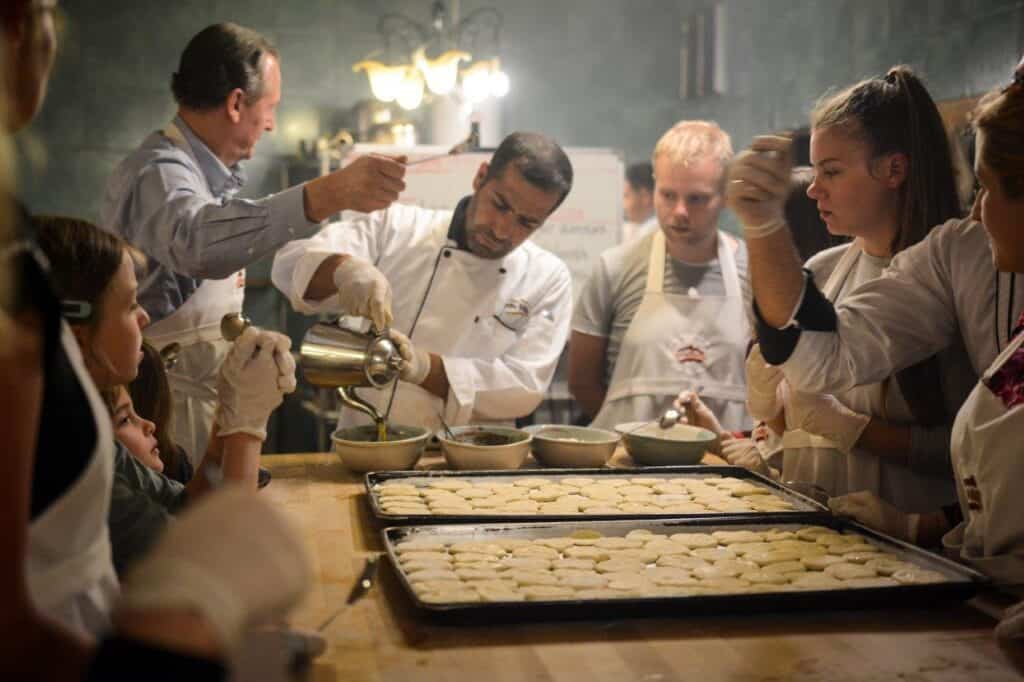 Petra Kitchen
Day 4: Petra – Wadi Rum
Start your day with your private guide and private vehicle visiting Petra, the treasure of the ancient world, and the rock-carved rose-red city, which was "designed to strike wonder into all who entered it." Petra is the legacy of the Nabataeans who settled in southern Jordan more than 2,000 years ago. Explore its refined culture and unbelievable architecture.
After visiting Petra, drive to Wadi Rum (about a 1.5-hour drive). This is a stupendous, timeless place, virtually untouched by humanity and its destructive forces.
During this custom tour, you will explore Wadi Rum with your private four-wheel excursion and your private certified tour guide. Here you will explore the uniquely shaped massive mountains that rise vertically out of the pink desert sand in the magnificent Jordanian desert. After enjoying Wadi Rum, head back with your private car and driver to Petra.
Accommodation: Mövenpick Petra (5*)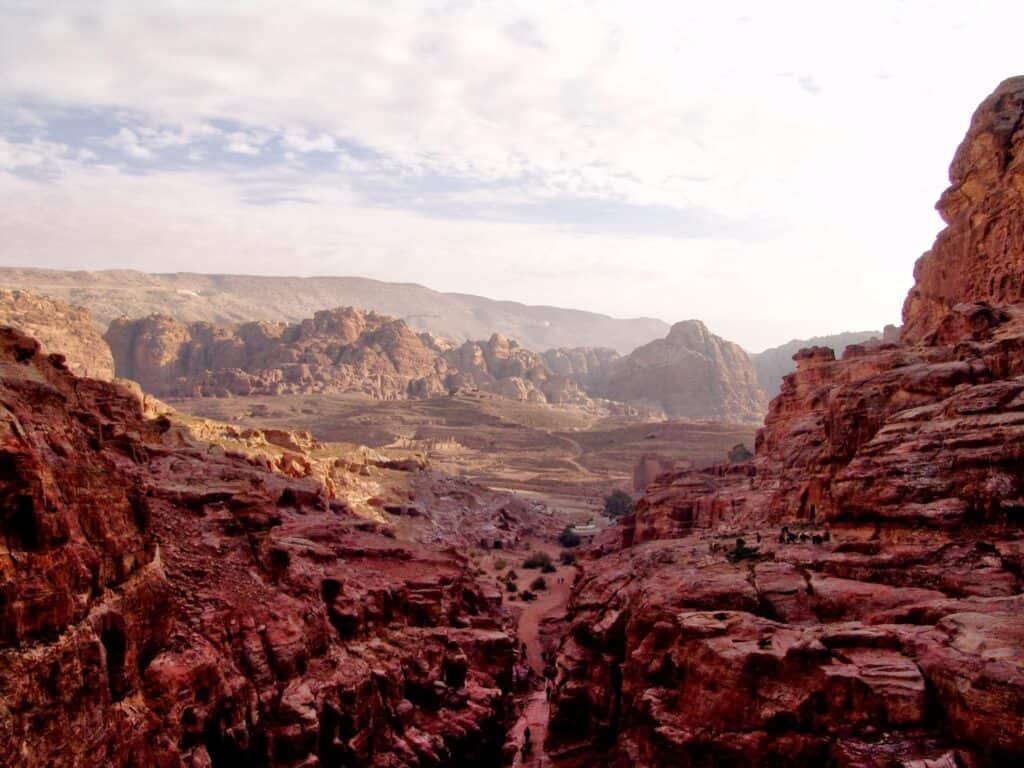 General view of Petra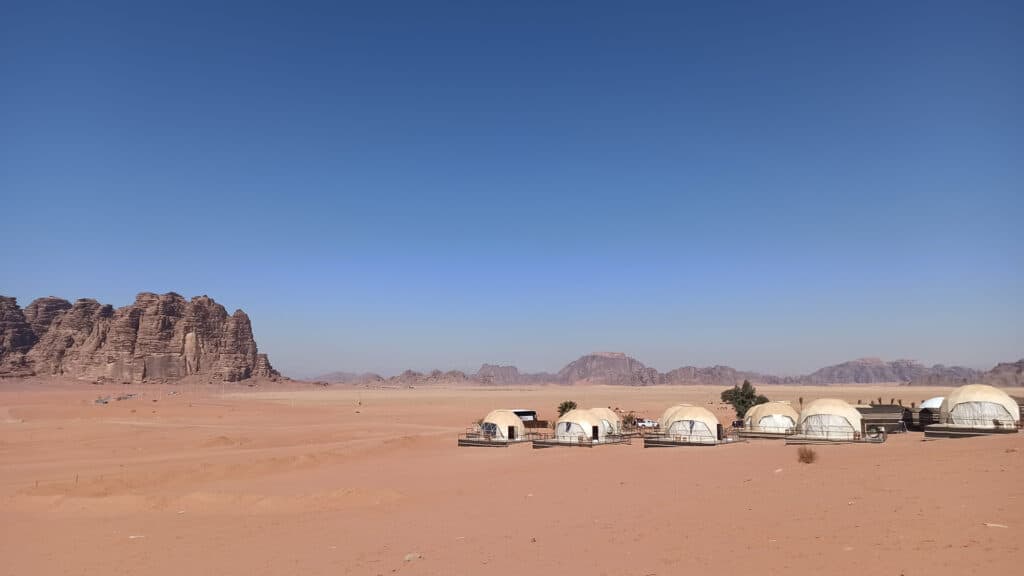 Desert camp in Wadi Rum
Day 5: Petra – Dead Sea
Start your day with a private transfer to the Dead Sea. Visit the Dead Sea Panorama Complex. Perched at the edge of the Zara mountain range, between hot springs and the Dead Sea basin, the Dead Sea Panoramic Complex offers some of the most spectacular views in the Kingdom. From the observation terrace, you can absorb breathtaking vistas over the Jordan Rift Valley and the Dead Sea basin and watch the sunset over the Holy Land's mountains. There is also a large and fascinating museum devoted to the Dead Sea's natural and cultural history, a Nature Shop, and a range of other attractions and activities suitable for both adults and children. Head to the lowest point on earth, the Dead Sea, and enjoy visiting John the Baptist's site, where Jesus was baptized according to the Bible and medieval texts.
Accommodation: Mövenpick Dead Sea (5*)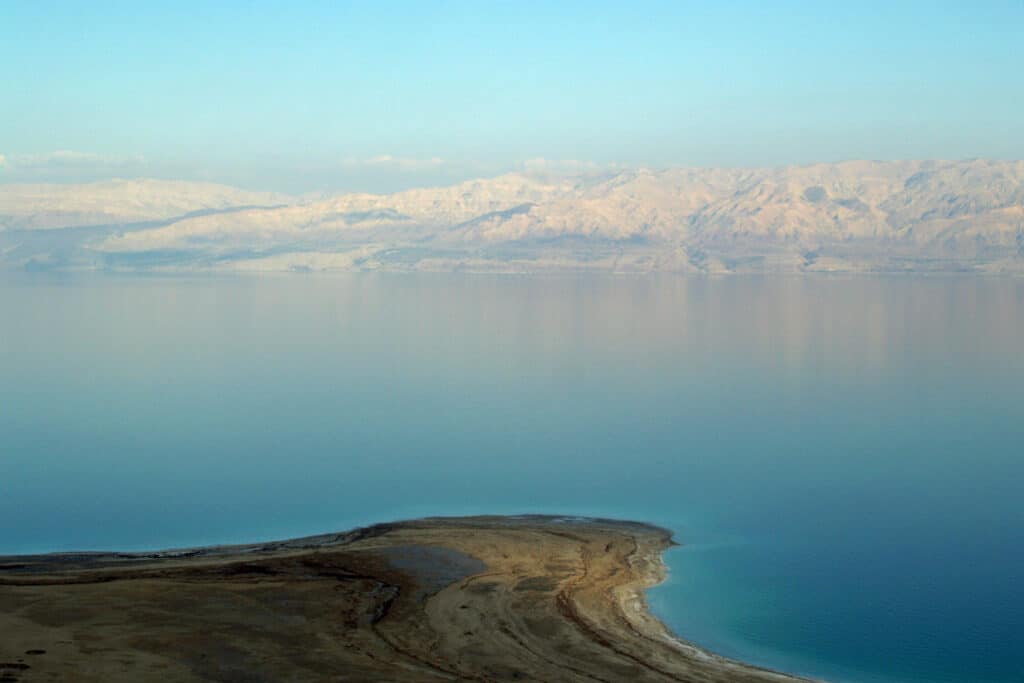 The Dead Sea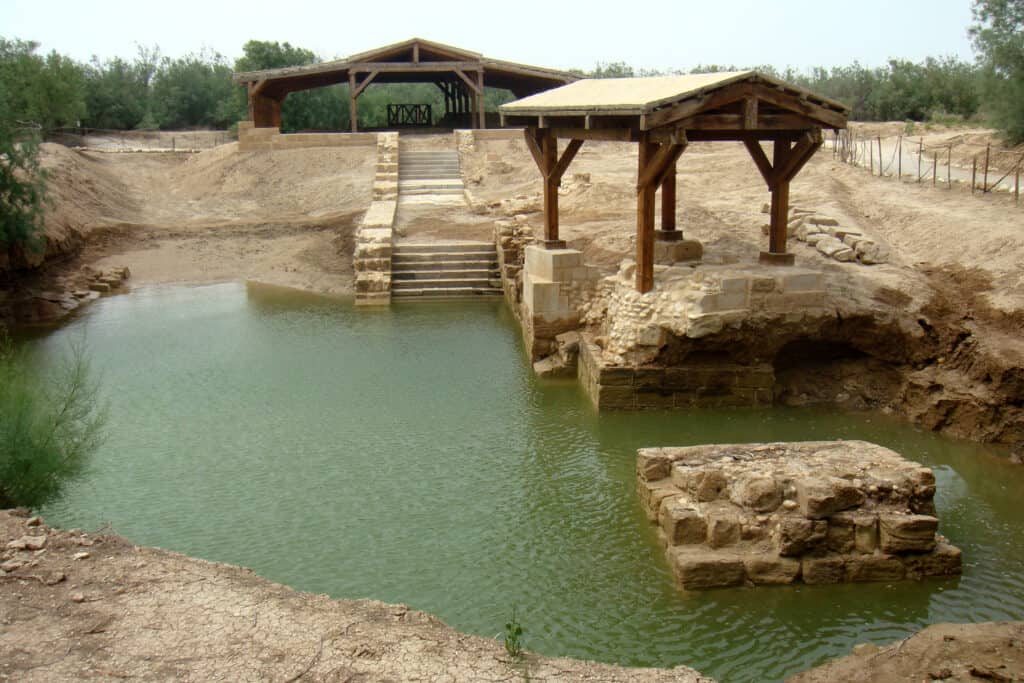 Excavation at the Baptism Site "Bethany Beyond the Jordan" (Al-Maghtas)
Day 6: Dead Sea
Full free day at leisure (enjoy Hotel facilities, Beach, and Spa).
Accommodation: Mövenpick Dead Sea (5*)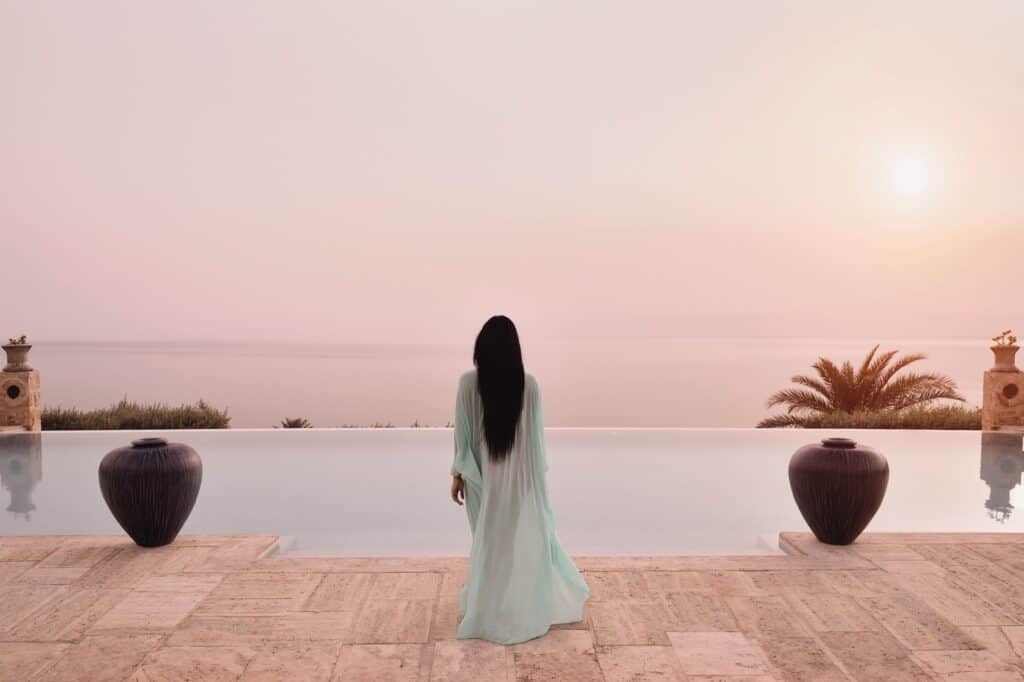 Zara Spa at the Mövenpick Resort & Spa Dead Sea
Day 7: Dead Sea – Amman
Transfer in private vehicle between your hotel and Amman airport is provided.
Hotels
Grand Hyatt Amman (5*)
The Grand Hyatt in Amman is located in the heart of the city, where it offers central access to the city's main landmarks. Grand Hyatt's rooms are well-appointed, with many options on style, size, and luxury with arabesque decor. Friendly and professional service is promised to all guests.
Dining is an occasion to be enjoyed, with delicious international and local specialties served in all fashions. Try the local chefs' specialties using seafood, Mulwarra beef, or spices from across the country.
Mövenpick Petra (5*)
The Mövenpick Resort Petra is located directly at the entrance to the historic Jordanian city of Petra. This resort with an oriental flair features an exciting combination of natural stone, handcrafted wood, and Middle Eastern fabrics and textures.
With 183 newly renovated rooms and suites and a wide variety of restaurants for your culinary cravings, the Mövenpick Resort Petra will certainly provide long lasting memories. Enjoy your time spent in one of the world's most extraordinary destinations.
Mövenpick Dead Sea (5*)
It is located on the Dead Sea's northern shores at the lowest point on Earth. The Mövenpick Dead Sea deluxe resort is built in a traditional village style and offers luxurious rooms.
The resort has a total of 358 rooms, of which over two-thirds are smoking; there are non-smoking rooms on several floors and blocks. All rooms have either a balcony or a terrace; interconnecting rooms and rooms for the physically challenged are also available.
With about ten different room categories to choose from, you can choose a room in the main building, the village or the beachfront with a mountain, garden or sea view. The rooms also vary in size, decor, and furnishing.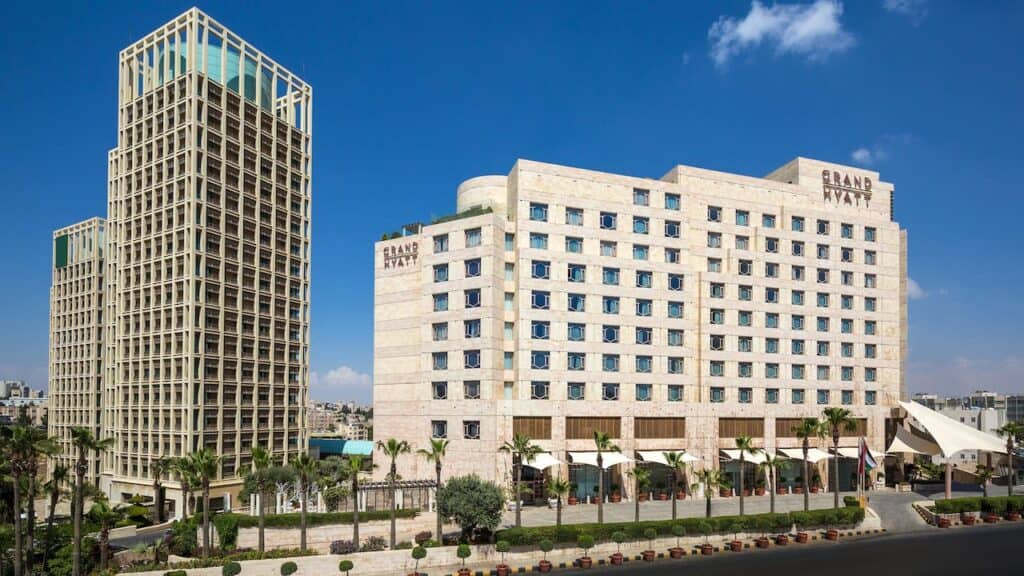 Grand Hyatt Amman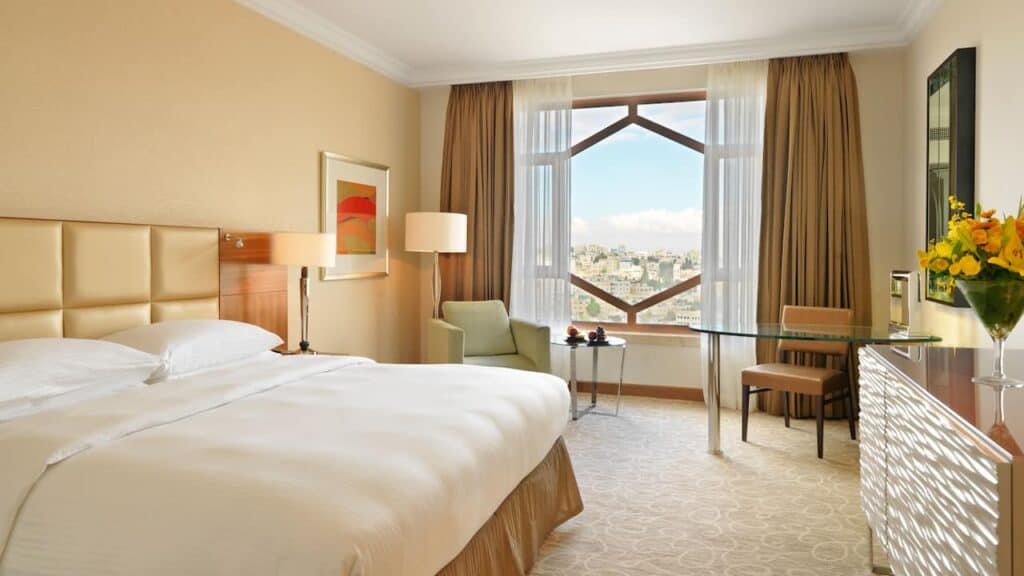 Grand Hyatt Amman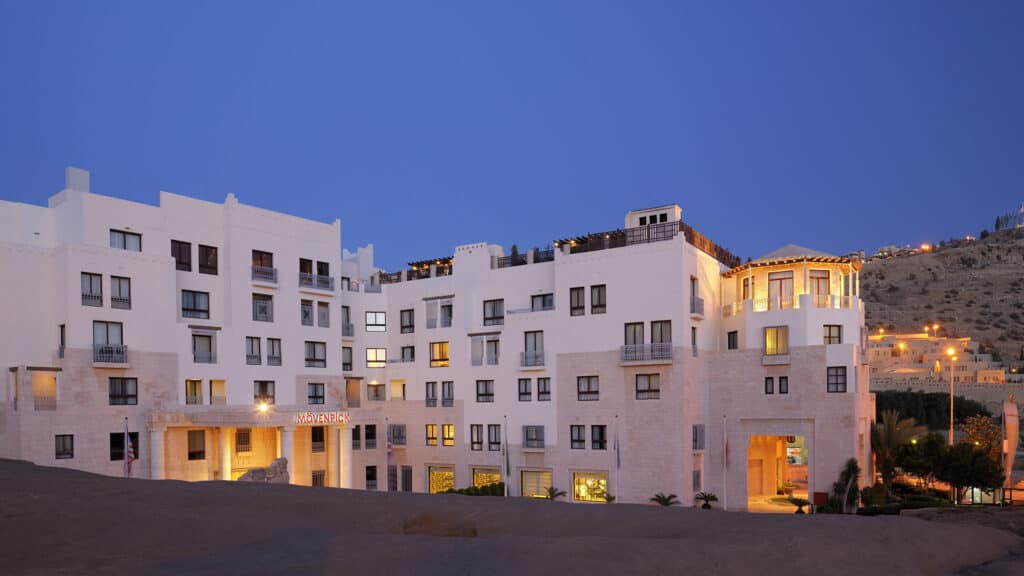 Mövenpick Resort Petra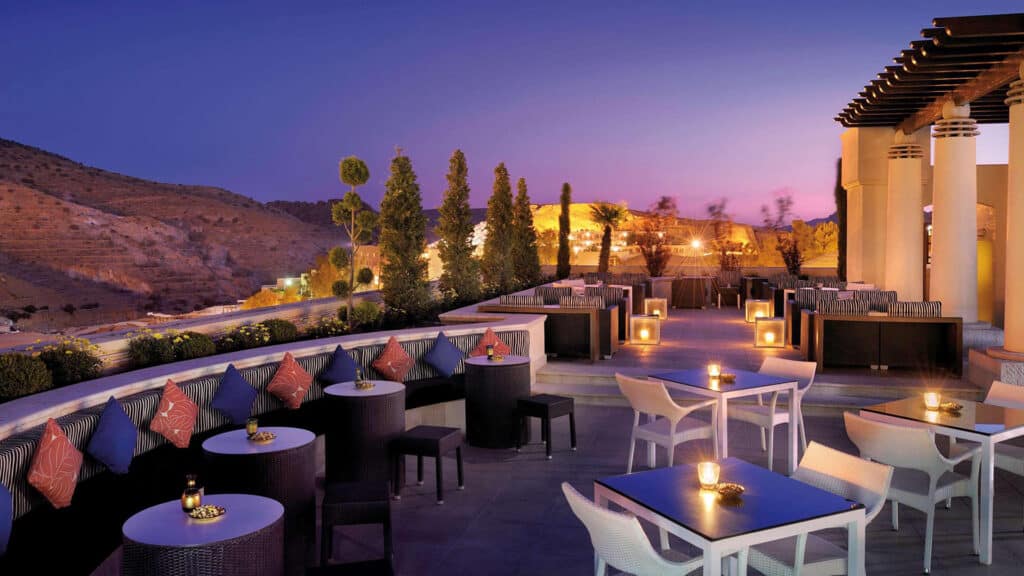 Mövenpick Resort Petra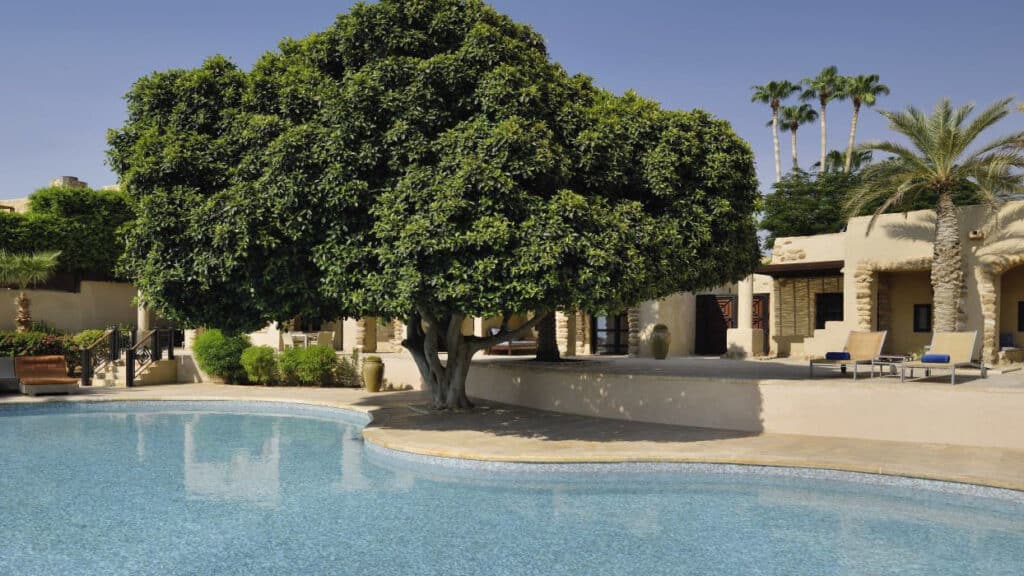 Mövenpick Resort & Spa Dead Sea