One week in Jordan may sound like enough time to explore this small kingdom, but with the country's rich history, numerous attractions, and friendly people, seven days seem to fly by. We recommend a Jordan tailor-made tour with two nights each in Amman, Petra, and the Dead Sea, and one night in Wadi Rum. If you plan to spend one week in the country, this guide highlights the most compelling sights as well as restaurants and hotels in each area of Jordan.
Two Nights in Amman
A metropolis of both old and new, Amman is the country's capital. With that title comes plenty to see and do, especially for travelers interested in history, art, culture, the culinary scene, and shopping.
What to Do in Amman
Visit Citadel Hill
Since one can't miss Citadel Hill, all luxury Jordan tours should include a visit to this legendary landmark perched on Jebel al Q'ala', a peak reaching 850 meters above sea level. The Temple of Hercules houses pieces of Roman civilization, including a remnant of the Roman hero's hand. Presenting a trove of fragmented structures from the Byzantine Empire, the Umayyad Palace dates to the eighth century.
Explore Al Balad
Set aside a few hours to explore the downtown district, brimming with shops and casual eateries. Browse the produce stands and hunt for souvenirs to carry home, all while soaking up the local culture of Amman.
Hang out in Jabal Al Weibdeh
About a 20-minute walk from the Citadel, this hip neighborhood brims with galleries, cafés, and boutiques. Spend an afternoon wandering, sipping a cup of coffee, seeing the colorful murals on display, while absorbing the Bohemian spirit of Amman.
Immerse Yourself in Art at Jordan's Museums
Start your tour with Daraat Al Funun, a museum dedicated to art and artists from Jordan and the Arab world. But don't skip the Jordan Museum, a stunning modern structure housing an impressive collection of archaeological finds.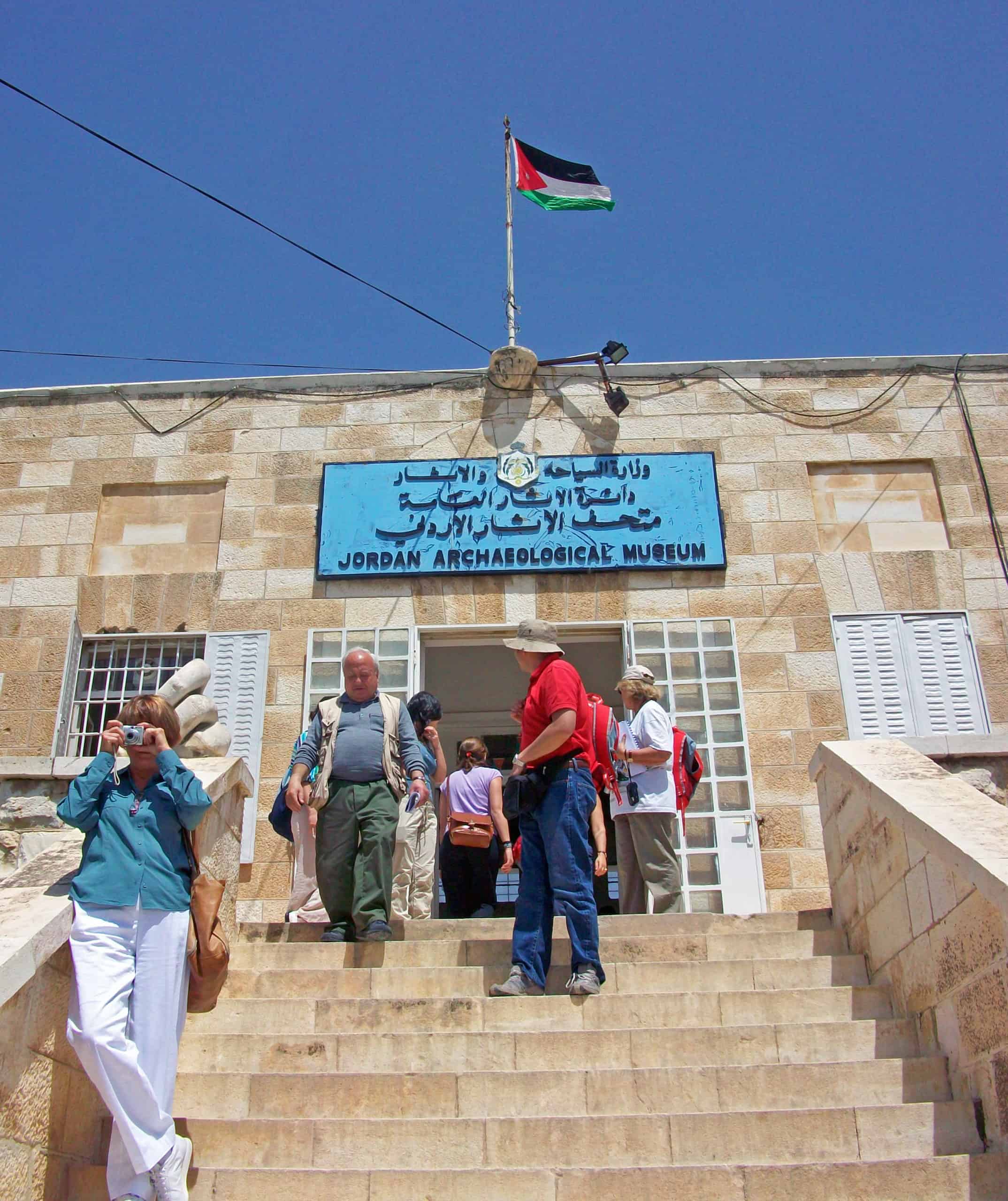 Contemporary art lovers should spend a few hours perusing the Jordan National Gallery of Fine Arts, a stockpile of art from the developing world. Whether or not you're a car enthusiast, chances are you'll enjoy visiting the Royal Automobile Museum, an exhibition space highlighting rare cars, motorcycles, and jeeps owned by the royal family.
See the Roman Amphitheatre
Where spectators once attended the theatre, this ancient archaeological gem seats 6,000 people and is still used today for theatrical performances and concerts. The Amphitheatre also houses two museums worth seeing: The Jordan Folklore Museum and The Jordanian Museum of Popular Traditions.
Shop at the Souk
Amman features a host of souks, ideal for travelers who love to shop. One of the oldest in Amman, souk Al Bukharieh –– named after immigrant sellers from Bukhara, Uzbekistan –– is the market for antiques, jewelry, hanging lanterns, and other tcotchkes.
Visit the King Abdullah Mosque
You won't be able to ignore the cerulean blue mosaic dome of this mosque built by King Hussein in the 1980s. Tourists of all faiths are welcome to visit this magnificent house of worship but must remove their shoes before entering. Men should wear long pants, and women should cover their heads, arms, and legs.
Where to Stay in Amman
For unparalleled views of the city, choose the Four Seasons Amman. Revel in luxury with uber-comfy beds, an intimate spa and outstanding hospitality. The Grand Hyatt Amman offers all you'd expect in an upscale big city hotel including concierge, room service, an indoor-outdoor pool, and a beauty shop on the premises.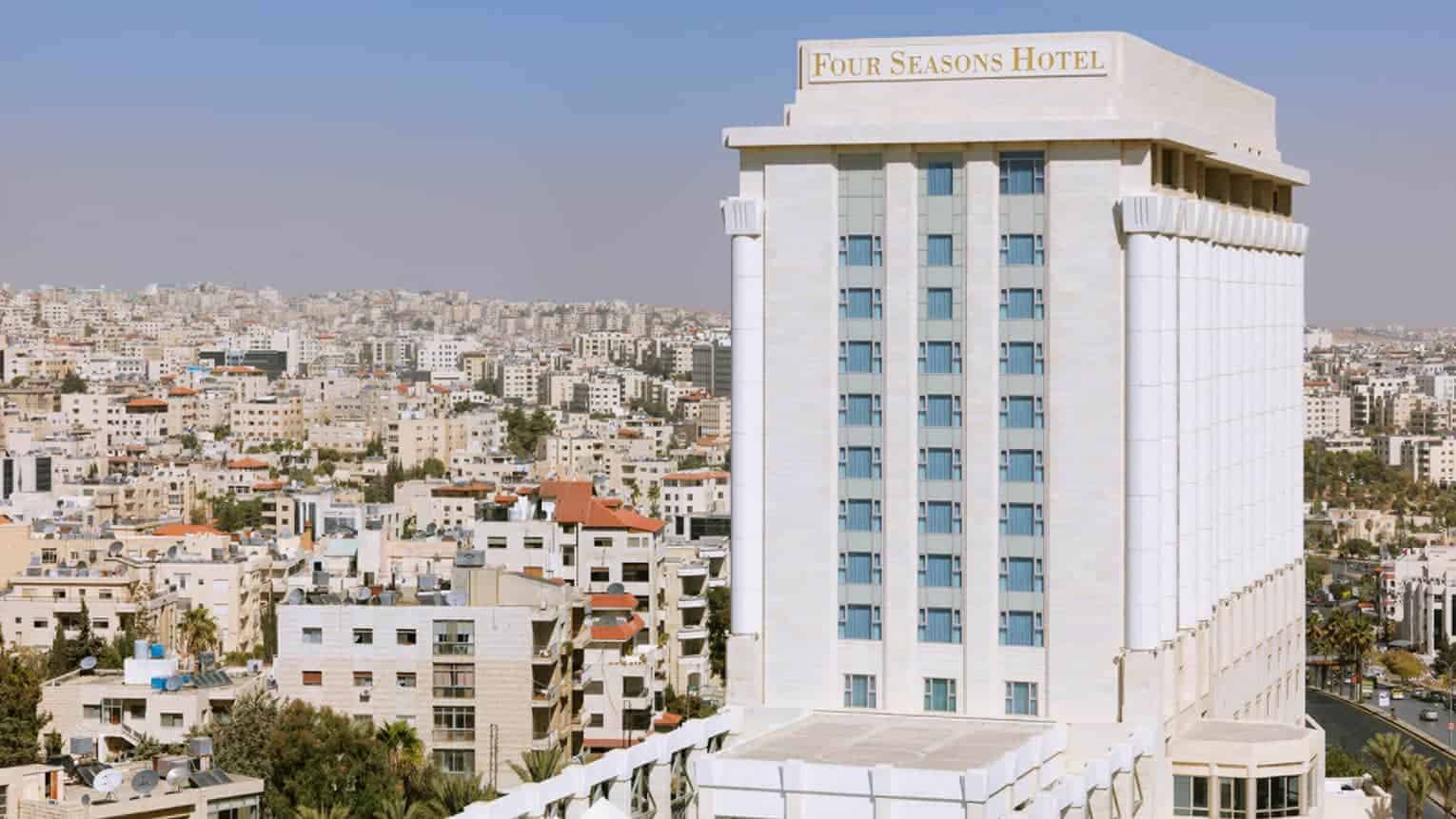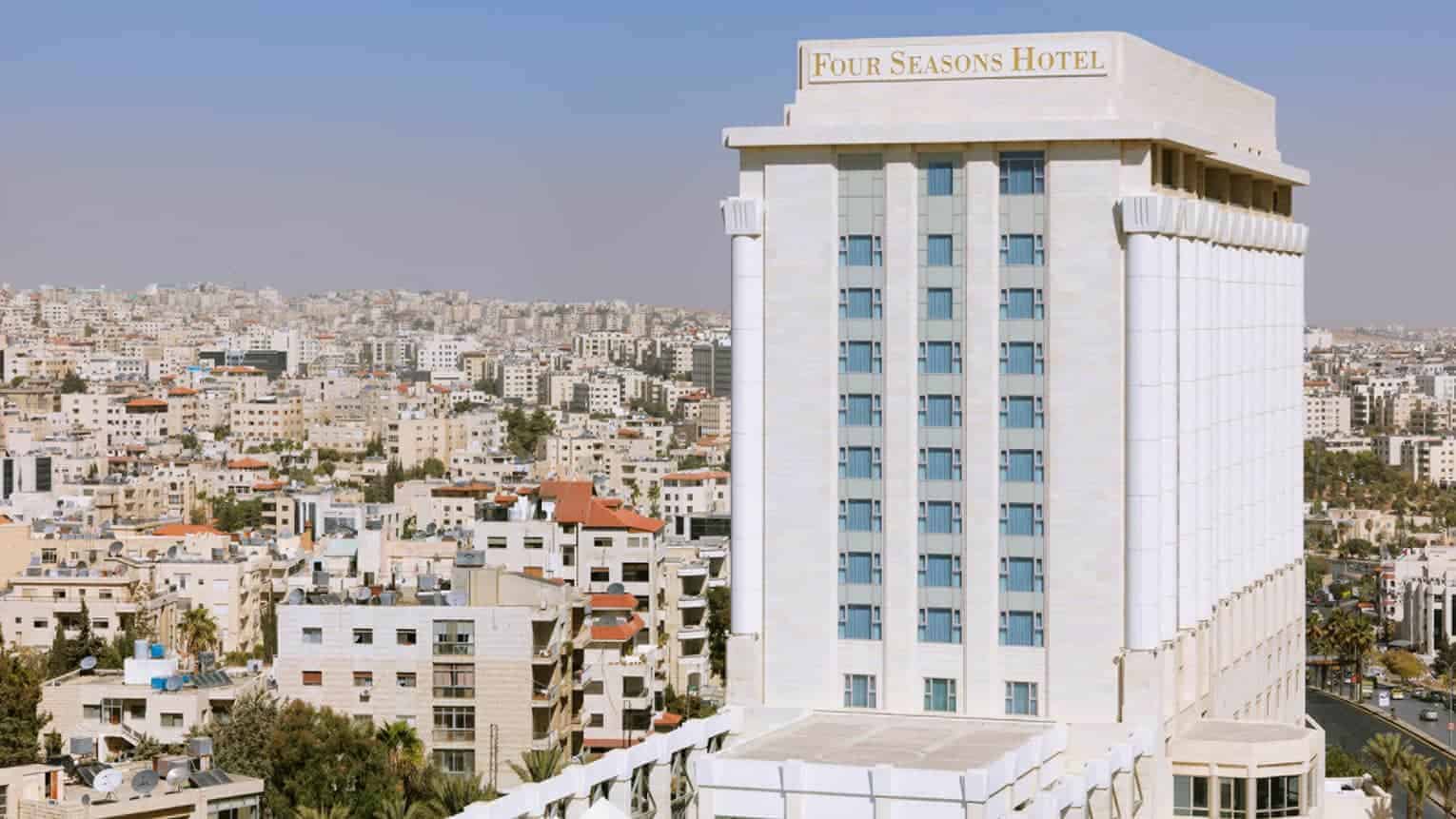 Elegance abounds at the Fairmont Amman, an exclusive property located near the Abdoun district and the diplomatic area. Several on-site restaurants and a 23,000 square foot spa complete with a Dead Sea pool are just a few of the perks. At the towering Amman Rotana, floor-to-ceiling windows in the 412 luxe rooms and suites allow sweeping views of Amman and beyond.
Where to Eat in Amman
For some of the best falafel in town, Jordanians recommend Falafel Al-Quds on Rainbow Street. This spot is a staple for delicious sandwiches. A frontrunner for local cuisine is Sufra, just down the block from Al-Quds. The mansaf (lamb with rice and fermented yogurt) and hummus are must-tries. Plating basics such as falafel, baba ghanoush, French fries, and fuul (a spicy fava bean dish) the bustling Hashem resembles a diner more than a restaurant, but it's an institution in Amman.
For a departure from Jordanian eats, opt for a meal at the well-reviewed Eostrix, a gastropub offering risotto balls, duck, blue potato gnocchi, and to-die-for tiramisu. Meanwhile, one of the city's best options for dessert, the beloved Habiba Sweets is family-owned with several locations. Here you'll find cakes, baklava, basmah with cream, and kunafa, a traditional Jordanian pastry layered with dough, cheese, cream, nuts, and sugary syrup.
Two Nights in Petra
From about 300 BC to 100 AD, Petra was the capital of the Nabataeans. After the Romans seized the city in 100 AD, much of it was decimated by earthquakes, then abandoned until a Swiss explorer discovered it in 1812. Petra is a UNESCO World Heritage Site, and in 2008, it was declared one of the New Seven Wonders of the World. Since that honor, Petra has landed on almost every traveler's bucket list.
What to Do in Petra
The Siq
Petra is not just about the destination, but about the journey itself. To reach this historical attraction, you'll have to trek at least 45 minutes to an hour after entering through the Siq, a narrow path with jagged cliffs looming on both sides. But if you ask those who have made the hike, they'll vouch that the trip is worth the time and effort.
The Treasury of Khazneh
This carved ceremonial tomb is the most photographed site in Petra and also where Indiana Jones hunted the Holy Grail in Indiana Jones and the Last Crusade. It was cut from the sandstone mountains and served as the tomb for Nabataean King Aretas III. The reflection of light against the warm hues of the Treasury is undoubtedly a sight to behold.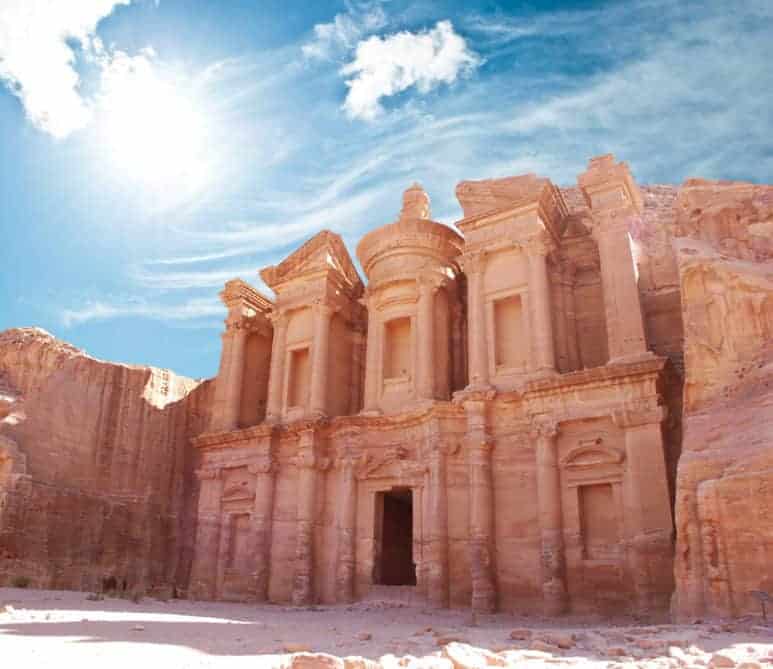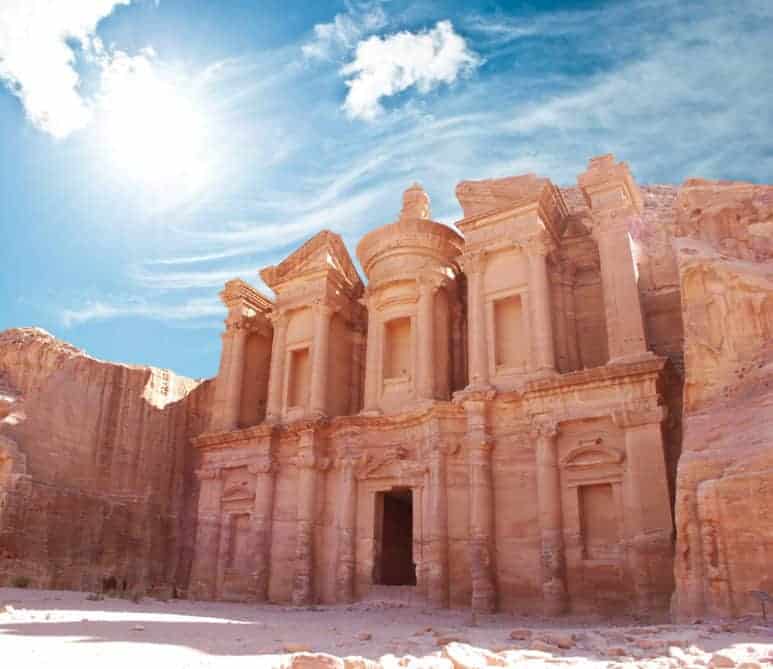 The Monastery
The 800-step hike uphill isn't an easy one, but the Monastery is larger than the Treasury and features another stunning perspective. On the way, you'll pass locals selling their wares, as well as an array of gorgeous scenes along the way.
Petra Museum
The long-awaited Petra Museum opened in 2019. The exhibition space showcases ancient artifacts as well as an in-depth look at the history of Petra. Visit this museum before you begin to explore the sights and tombs, as you'll learn about the heritage.
Other Areas of Petra
You'll also want to explore the different places of interest in Petra including the Outer Siq, Byzantine Church, Roman theater, Royal Tombs, Tombs of Wadi Farasa, and the High Place of Sacrifice. Aaron's Tomb –– the tomb where the brother of Moses is buried –– appeals to the ultra-adventurous. A Jordan guided tour best leads the 6-hour hike where you'll see sweeping views of Jordan, Egypt, Saudi Arabia, and Israel.
Where to Stay in Petra
Less than four miles to the entrance of Petra, the Petra Marriott Hotel is an oasis in the desert, providing comfy accommodations, a Turkish spa, and breathtaking vistas from almost every room. If you prefer to stay just outside the entrance to Petra, then the Movenpick Resort Petra is the most logical choice. Middle Eastern decor, scenic views, and a multitude of culinary options make for a pleasant stay in the Rose-Red City.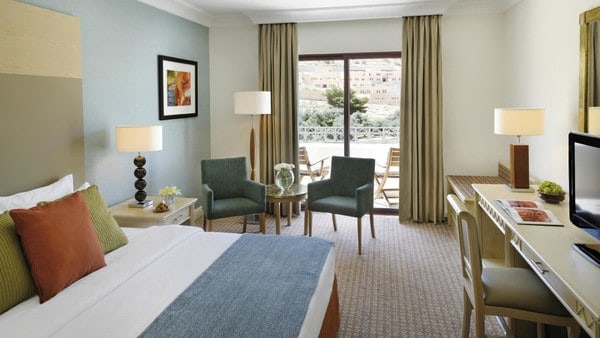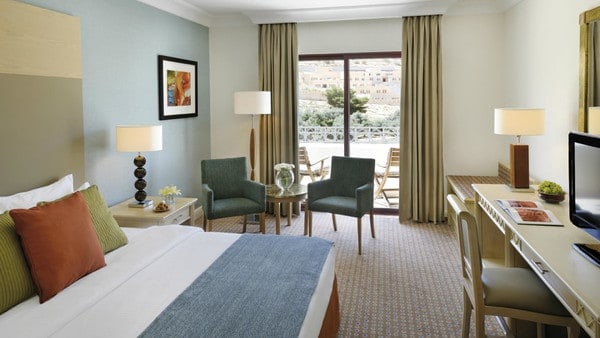 Where to Eat in Petra
The Basin is the only eatery in Petra, so if you need a meal or snack after entry, you'll dine here. The lunch buffet serves a variety of Arab and Western dishes that can be savored inside or outside with a view.
For a lineup of Jordanian specialties such as Fattoush and Tahina Salad, try the vegetarian restaurant, Petra Kitchen. Also highlighting local cuisine, Sandstone Restaurant is a solid choice for mezze, grills, and salads, and the lentil soup is also very good. Alcoholic beverages are served here too. One of the most popular places for a meal near Petra, Al-Wadi prepares soups, salads, and game meats including camel kebabs, as well as plenty of dishes for vegetarians.
Two Nights in the Dead Sea
The warm, therapeutic Dead Sea may be just what you need after sightseeing in the desert heat. Located west of Jordan and East of Israel and Palestine, this grand salt lake sits at the lowest point on earth or 408 meters below sea level. Pamper yourself for two days at this spa-like jewel.
What to Do Near the Dead Sea
Float
The Dead Sea's healing properties draw visitors from around the globe, all looking to immerse themselves in this buoyant body of water where floating requires minimum effort. The mineral-rich water is filled with magnesium potassium bromine, and over 30 other nutrients.
Take a Mud Bath
After a float, nourish your skin with mud from the lake. Coat the surface of your skin with mud and leave it on for approximately 10 to 15 minutes before rinsing it off in the Dead Sea waters. Your skin should be silky soft afterward.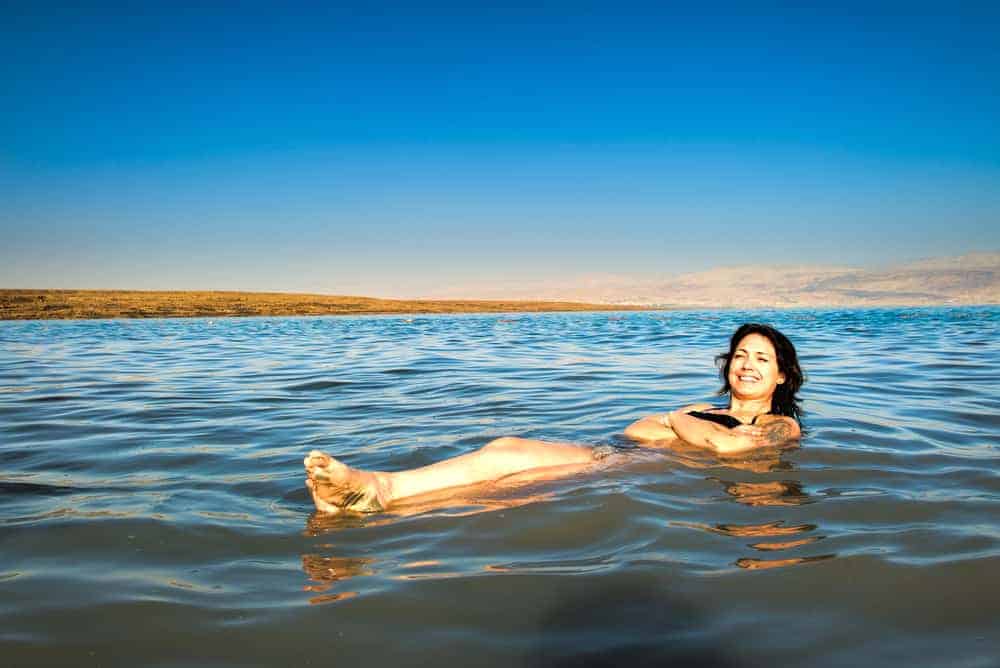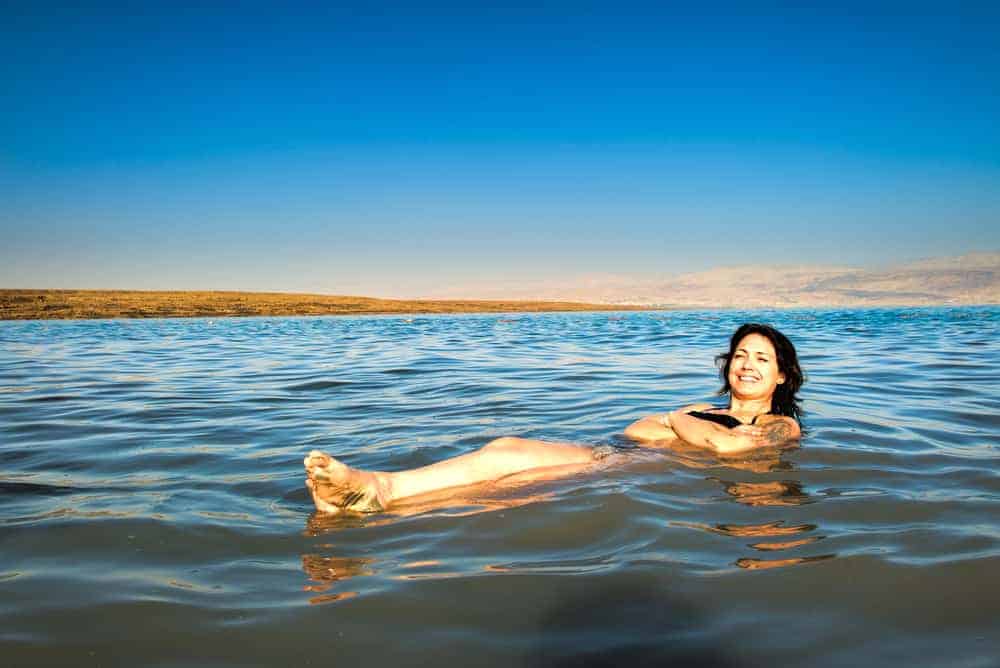 Watch a Sunset
Even though it's the lowest point on the planet, the Dead Sea is the locale to be for some of the most beautiful sunsets in the country. You'll revel in the kaleidoscope of colors across the desert landscape and calmness of the waters.
Walk Along the Shore
Take in the pleasant, peaceful coast along the Dead Sea. For a more challenging walk, hike inland and witness amazing waterfalls and wadis.
Where to Stay Near the Dead Sea
The setting takes the prize at the Kempinski Hotel Ishtar Dead Sea. This 345-room outpost sits among lagoons, waterfalls and swimming pools, as well as a private sandy beach, promising the perfect getaway. Hilton Dead Sea & Spa is another practical choice in the area. Select from standard rooms, suites, and executive rooms at this property also mere steps from the waters of the Dead Sea.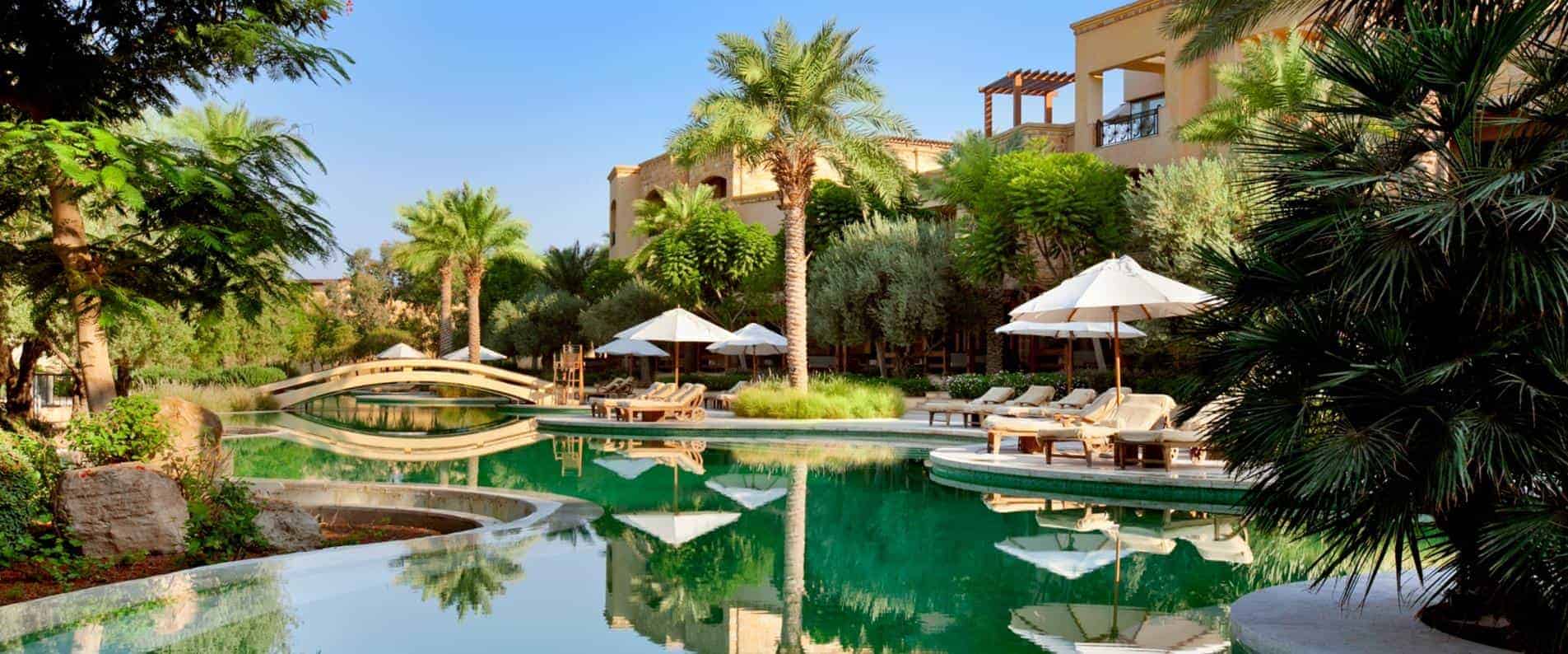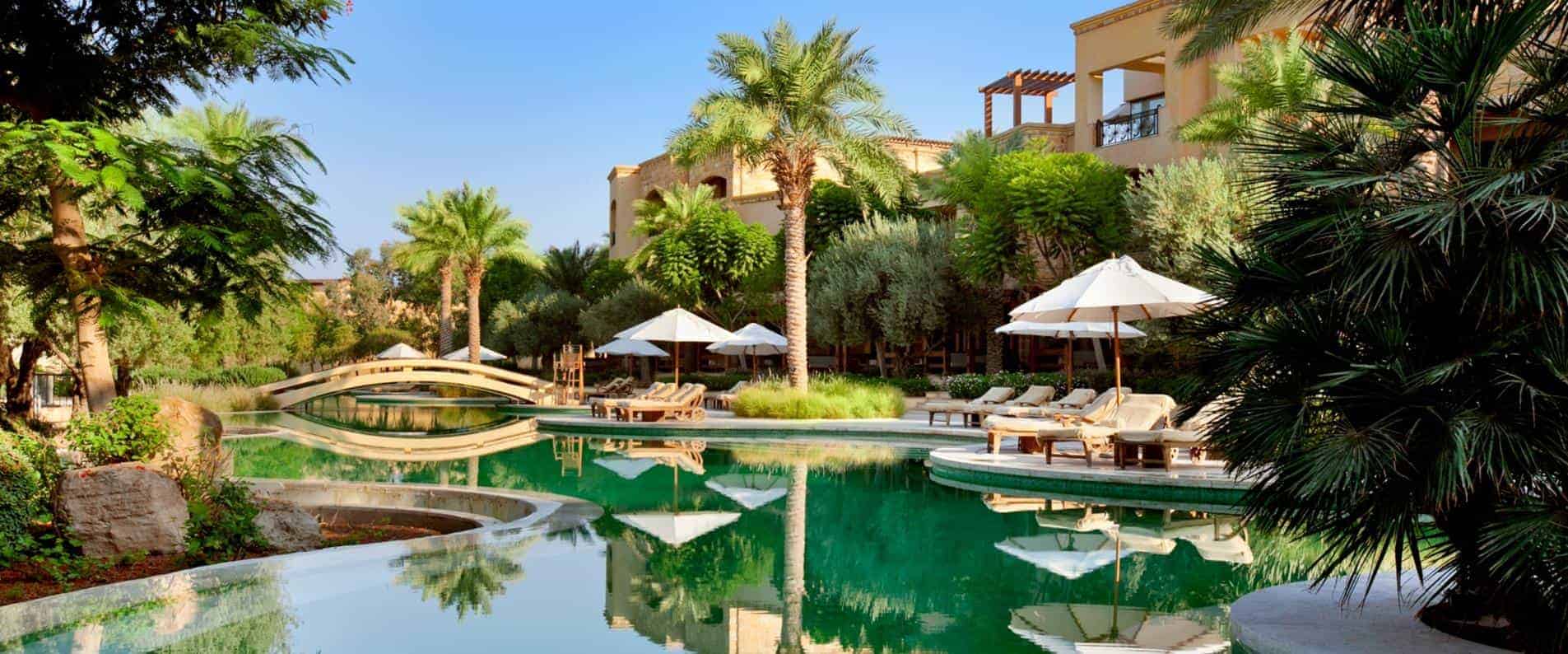 Where to Eat Near the Dead Sea
The hotels suggested above provide several restaurants. Still, if you'd like to dine elsewhere, you'll find Middle Eastern fare at Burj Al Hamam in the Crown Plaza and Italian cuisine at Il Terrazzo in the Marriott. Plenty of other eateries are available in Madaba, about a 45-minute drive from the Dead Sea.
One Night in Wadi Rum
Situated in southern Jordan and sometimes called the "Valley of the Moon," Wadi Rum translates to "sand valley." This otherworldly span of protected desert boasts sandstone mountains, rocky chambers, and soaring canyons. Visitors have the option of exploring Wadi Rum on foot, by camel, horse or jeep. All the best Jordan tours should include a visit to Wadi Rum. Tours should start at the visitor's center.
What to Do in Wadi Rum
Hike
Wadi Rum offers a host of hiking opportunities suitable for any skill level. There are moderate hikes that last for several hours as well as intense, all-day hikes for seasoned hikers. Guides are recommended for longer, more strenuous hikes. Rock climbing is an added activity for the most intrepid travelers.
Camel Ride
One of the most quintessential things to do in Jordan or the Middle East, for that matter, a camel ride is more than a fun pastime. See the major sites while experiencing the nature of Wadi Rum as your camel and guide escort you through the region. Rides can last anywhere from one hour to a full day.
Horseback Ride
Can you imagine riding through the desert like Lawrence of Arabia? In Wadi Rum, you can gallop through the valleys on an Arabian horse. Since these horses are reliable and fast and the space for riding is wide open, folks should be skilled at horseback riding.
Take a Jeep Tour
If riding through the desert on four legs doesn't sound appealing, then opt for a jeep safari through Wadi Rum. A one-day tour will transport you around the protected area where you'll appreciate scenic vistas as well as all the main historical sites.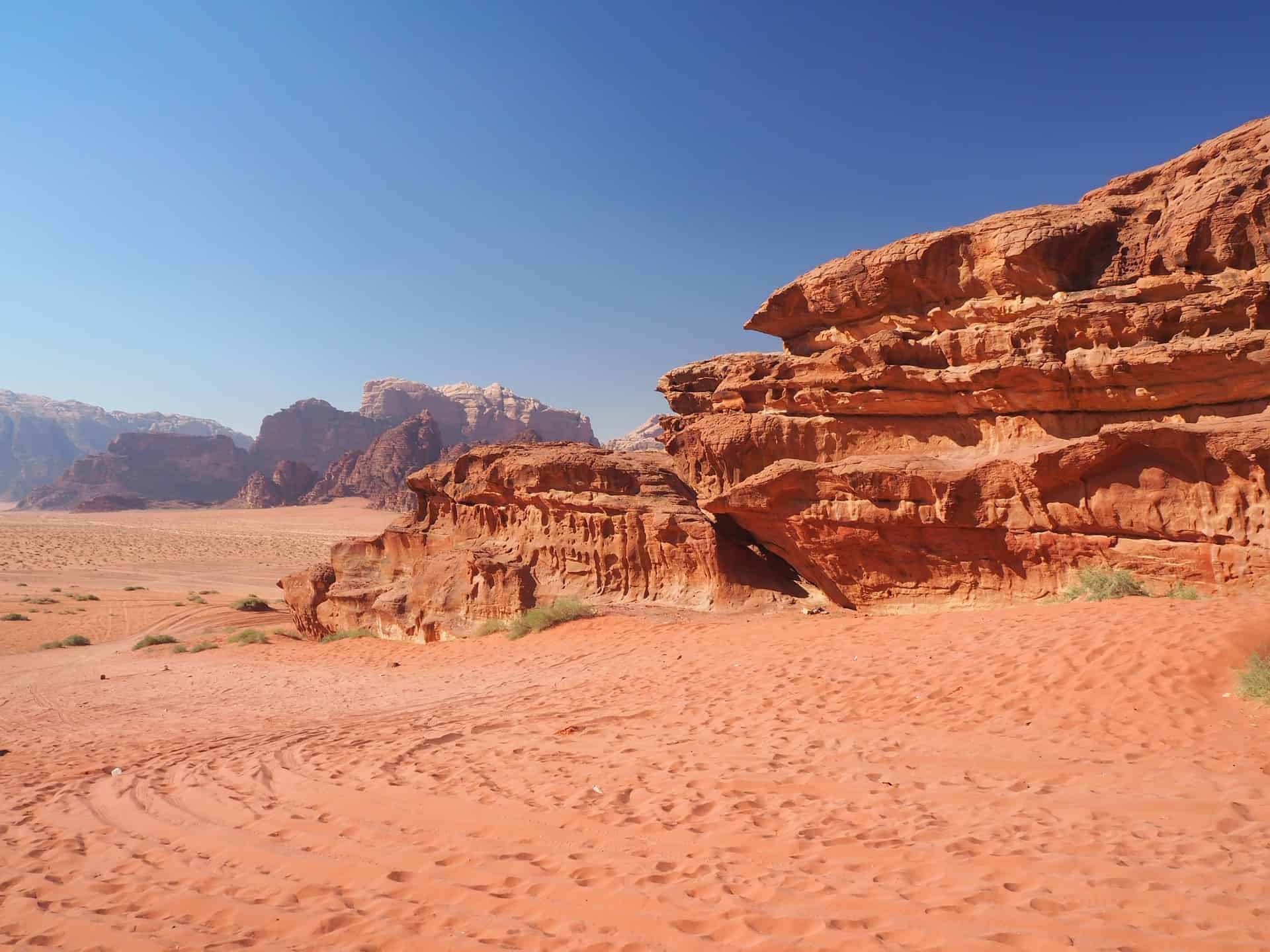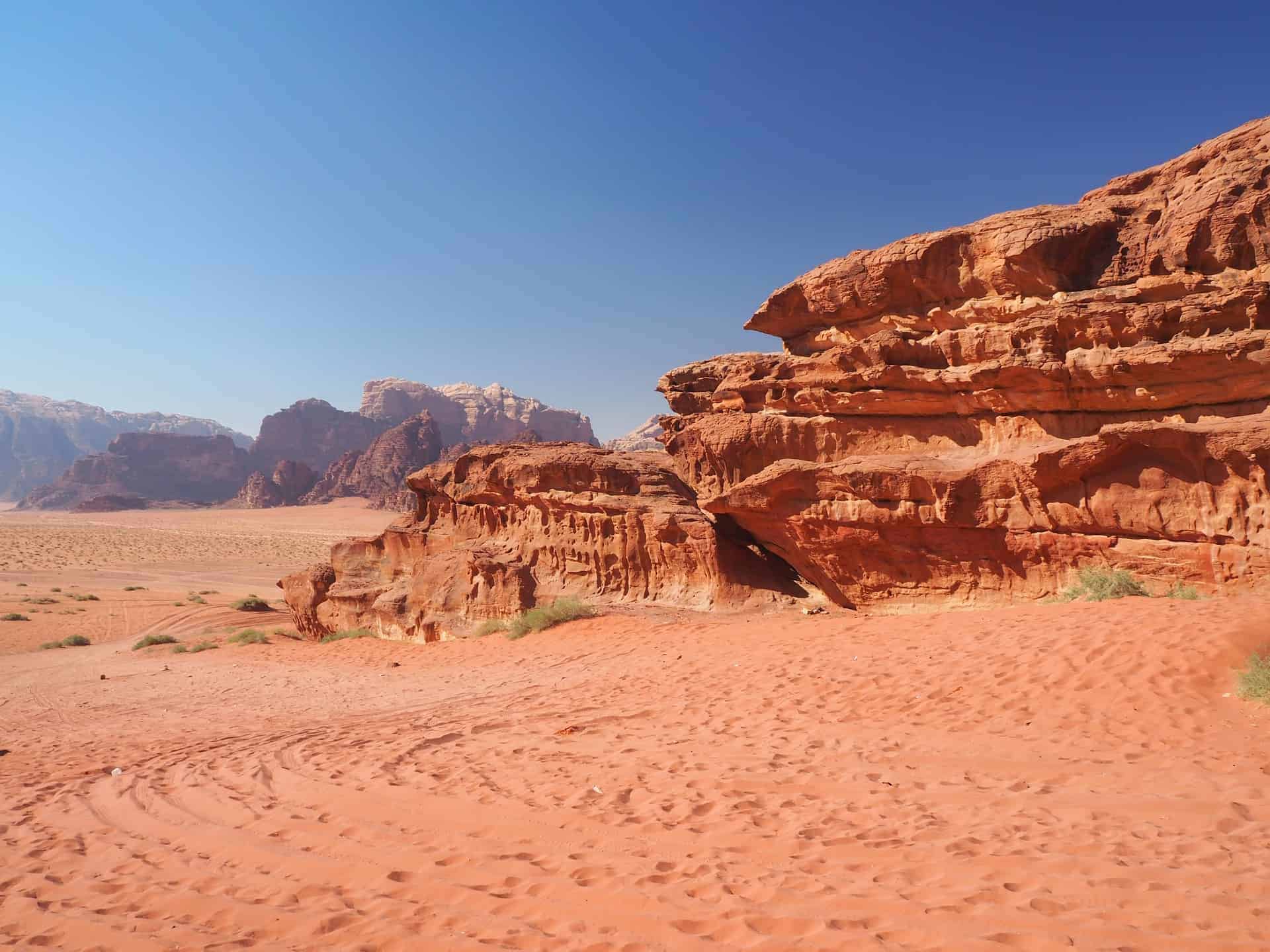 Spend time in a Bedouin Community
Wadi Rum is the home of Bedouins (nomadic Arabs in the desert). While many people have left this lifestyle to live among civilization, some continue to practice this way of life. Staying in a Bedouin camp is one of the must-do activities in Wadi Rum, and living the Bedouin lifestyle, if even for one night, is the experience of a lifetime.
Where to Stay in Wadi Rum
Sun City Wadi Rum Camp give guests the chance to "glamp" in traditional tents, spacious suites, and Martian domes. All quarters include private baths, fans, 24-hour electricity, and some luxury touches such as toiletries and cotton linens. For an authentic stay, try Wadi Rum Bedouin Camp, where nothing stands between you and the mystical surroundings. Be sure to try the traditional Bedouin dinner known as "zarb," lamb or chicken with vegetables and spices buried in an oven and cooked under the desert sand.


Where to Eat in Wadi Rum
You won't find many restaurants in or near Wadi Rum, but the Bedouin camps should cook meals. One eatery nearby, Hamada, whips up tasty hummus, falafel, musabaha, and other Middle Eastern fare. The service here is especially lovely, and the food, incredibly fresh. Mr. Hamada's family recipes date back to 1915. For other restaurants, Aqaba is about 25 miles away.