A Women's Packing Guide for Egypt Tour
So you've made the decision to go to Egypt. You've set the dates and planned your flights. You've booked the best guided Egypt tours and arranged your private guides to Egypt's most impressive sites and attractions. But now you need to pack.
This is usually where the panic sets in.
Packing for Egypt as a woman can be daunting when you want to make sure you can stay as cool as possible while still being respectful. A quick google search will give you one article that says to dress very conservatively and cover your head while the next one will tell you to wear whatever you are most comfortable in. Which means you are left trying to figure out what to bring, what not to bring, and if you even have appropriate clothing or need to go shopping and buy a whole new wardrobe for your Egypt tour.
Trust me, I get the stress. I've been there.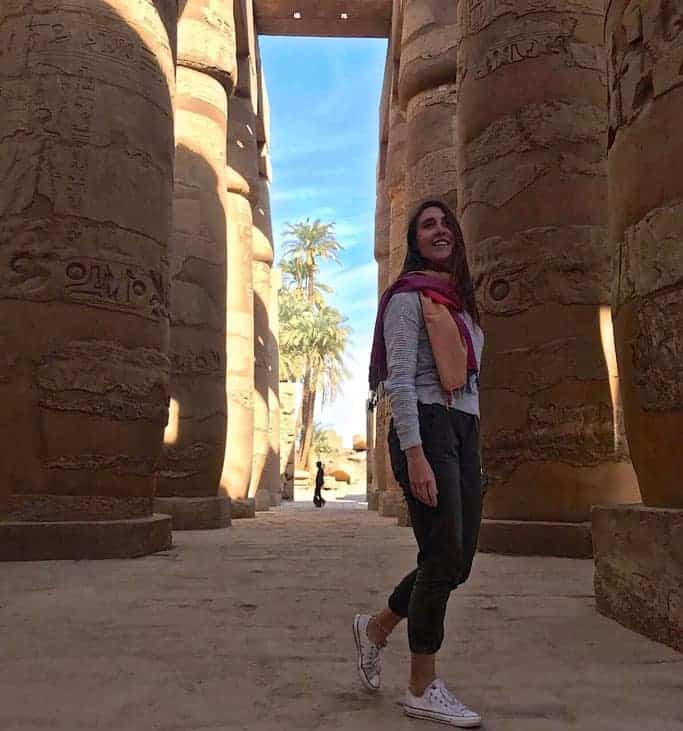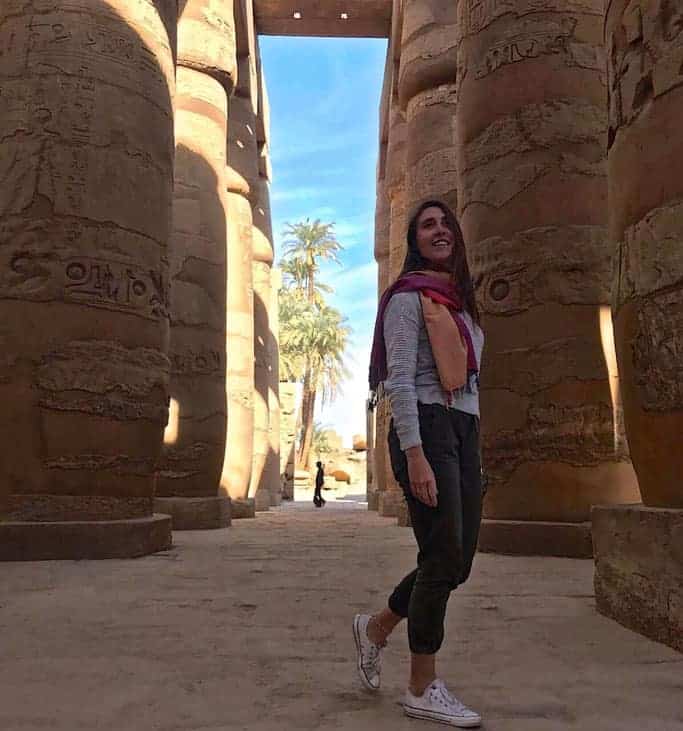 But, I'm here now to take away a lot of that anxiety and make it really easy for you. You don't need to go shopping (so save that money for some great souvenirs or to put towards another tour), you just need to get a little bit creative with what you have.
Here is my packing guide for women travelling to Egypt.
Tops
When it comes to tops, packing for Egypt is pretty easy. There are two main things to keep in mind; no cleavage and cover your shoulders and midriff. Chances are you have a selection of tops in your closet that follow these requirements. But, even if you own mostly sleeveless or low cut tops you can still make do with a couple of easy tricks and adjustments.
One of my favourite travel accessories to bring is a scarf. There are a million and one ways they can come in handy, especially for situations like this. Wear it wrapped loosely around your neck to cover lower necklines or, over your shoulders as a shawl to keep your shoulders covered. It's lightweight to wear, pack, and carry. Not to mention a gauzy scarf is a much easier (and cooler!) solution than jackets or sweaters.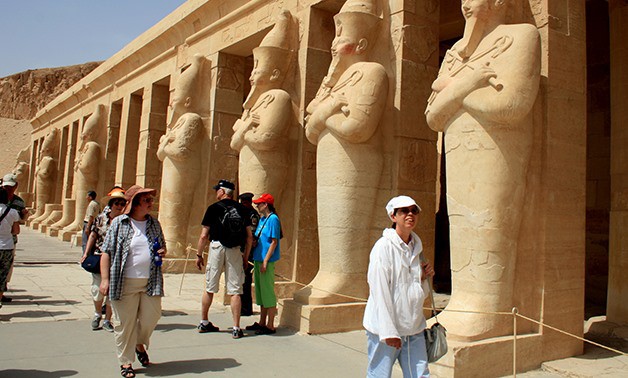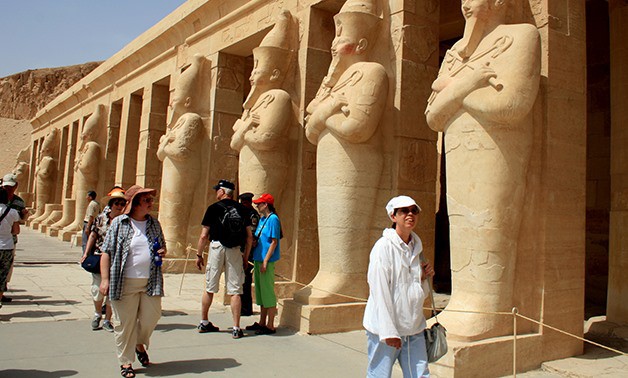 I also recommend bringing longer tops. Remember, you don't want to be showing a lot of skin so refrain from packing any crop tops. Long tops that cover your bum also have the added benefit of being able to have a larger selection of bottoms to choose from as I will discuss in the next section.
Pants, Capris, Leggings, and Shorts
When it comes to bottoms, you have a lot of choices. Basically, as long as your knees are covered, you are good. So whether you choose pants or capris, you will feel comfortable and remain respectful. Local women wear long pants or skirts; however, I wore capris a couple of days with no issues.
The tricky bit comes to the tightness of the pants. In North America, women tend to wear very tight pants such as skinny jeans or leggings. While these aren't necessarily inappropriate to wear in Egypt, you do need to consider how you wear them. For example; longer tunic-style tops over skinny jeans are fine. This style is a common fashion among the younger women, especially in Cairo. That being said, Egypt can be very hot so jeans may not be what you want to pack. Wide-leg, linen, or light cotton pants (think the elephant style pant that is so popular in Southeast Asia) will be more comfortable picks to help you keep cool in the hot weather.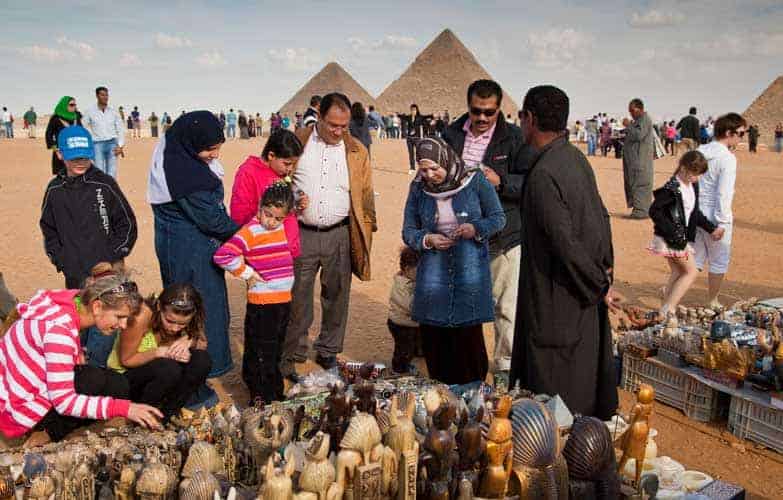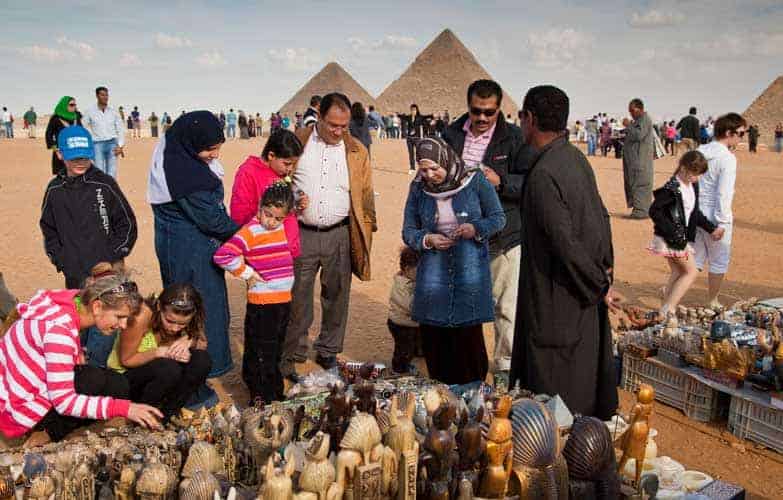 Skirts and Dresses
Skirts and dresses are a favourite for women who travel because they can be both comfortable and stylish. I absolutely recommend bringing a couple or skirts or dresses with you for your Egypt vacation, but there are a few considerations you need to make when choosing which ones you pack or how you style them.
First off, the longer and looser the better. Short, tight skirts and dresses are not a smart choice for your Egypt tours. Instead, pick flowy styles that, at a minimum, cover your knees. Maxi dresses and skirts are obviously the best choices, but you can do a couple of quick style tricks to make your shorter dresses more appropriate as well.
One of the easiest things to do with shorter dresses that hit above the knee or just at the knee is to pair them with leggings. You still get the cute look of your dress, plus maintain the respectful aspect of not showing too much skin and keeping covered up. Plus, leggings aren't too heavy either so you won't get too hot.
As with tops, low necklines and bare shoulders should be avoided when possible. The same scarf tricks will for this or you can throw a t-shirt over your dress to make it more modest.
Another thing to keep in mind is that by the sea and in the desert, it can actually get pretty windy. While the breeze is nice, it can whip your skirt around. If you have a shorter, full skirt or dress this is definitely something to be cautious of- another reason why I like to recommend wearing a pair of light-weight leggings underneath.
Footwear
In terms of footwear, when packing for Egypt it is important to remember to be practical rather than stylish. As I'm sure you can figure out for yourself, high heeled shoes do not work very well in the sand-covered desert.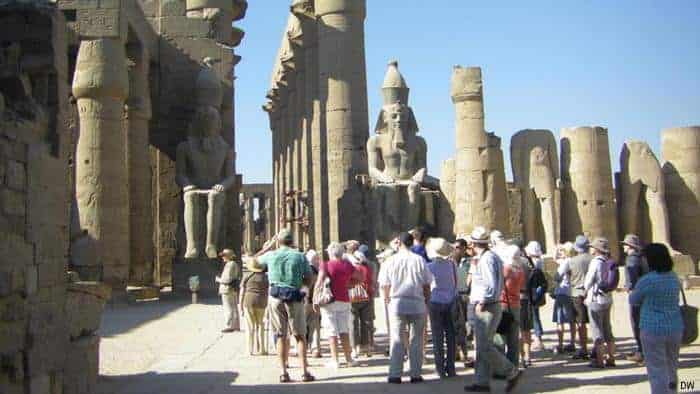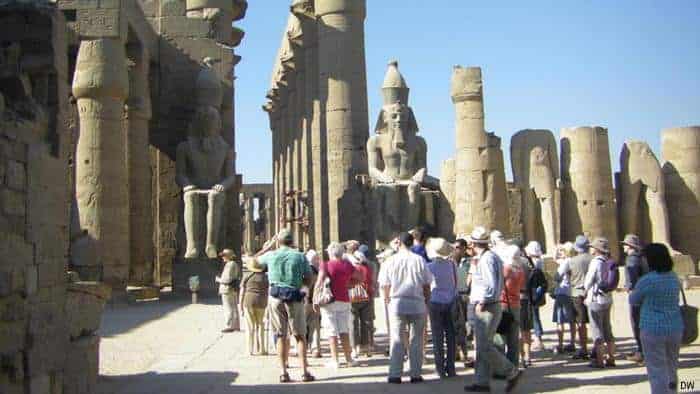 During your Egypt guided tours you will be doing a lot of walking, so choose something that is comfortable and you can spend all day in. A good, flat, shoe with support and stability is your best pick.
Flip-flops and sandals are ideal for the beach, or even just walking around your hotel, but not such a good choice for your Egypt guided tours. Firstly, they aren't the best for walking, but more importantly, the sand gets really hot and can burn your feet. Protect them by wearing closed-toe shoes during your Egypt tours.
Headwear
One of the most common questions that women ask when it comes to packing for Egypt is whether or not they need to cover their hair.
The majority of local women you meet in Egypt will be wearing a hijab covering their head and hair. It is also common to see local Egyptian wearing niqabs which cover the woman's head, hair, and face except for the eyes. As a visitor, you are not required or pressured to wear either. If you would like to cover your head with a scarf, and some women do, that's fine. However, you will not be judged or looked down upon for leaving your head uncovered during your Egypt tours.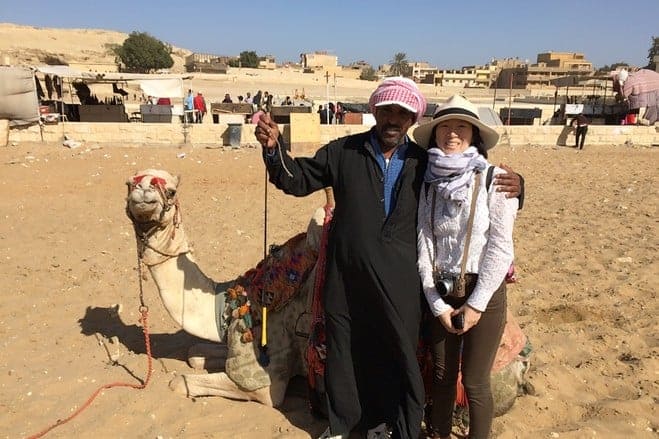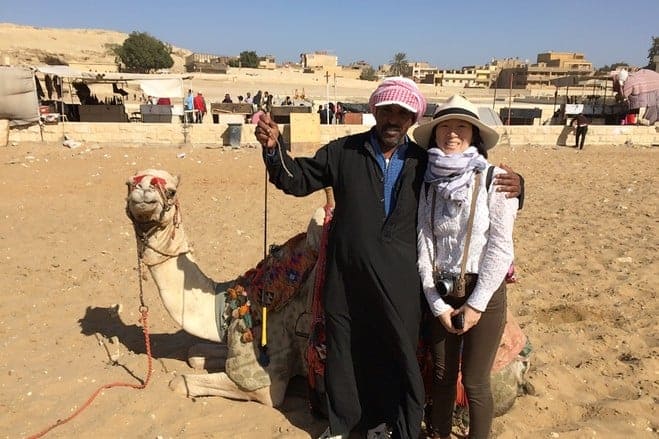 Usually, the tourists who choose to cover their hair are the ones with very light, blonde hair. As this is not a normal hair color in Egypt, blonde tourists do tend to get a lot of looks and attention. Sometimes this extra attention can be a bit uncomfortable so covering your hair with a scarf is an easy way to help avoid that.
Final Considerations
While many people believe it is important to dress conservatively and respectfully while touring Egypt, there will be those who disagree. No doubt you will notice female travelers dressed in more revealing clothing as you travel throughout the country. Chances are nobody will comment out loud on this, after all, Egypt is very safe and welcoming, but these women tend to get a lot of looks that will likely leave them feeling uncomfortable. I think that most of us can agree that being uncomfortable is not how you want to feel during your vacation.
Travellers should also note that there are some exceptions. In the resort areas such as Sharm el Sheikh, Dahab, and Hurghada, which are known for their beaches and watersports, it's ok to wear shorts or a tank top when down by the beaches and water. That being said, if you are walking around the cities and going out to dinner, you will probably feel more comfortable if you cover up a bit more.
If you are unsure of whether or not you are dressed appropriately then consider this: would your outfit be allowed into a European church? How about in an Asian temple? If you can pass that test, then you are likely good to go. Remember, on top of the local Egyptian culture being more modest than that of North America, the historic sites and buildings you are visiting during your Egypt tours were, at once time, very sacred places. Sure, these temples may be ancient, however, they were once important religious buildings so dress appropriately and be respectful of that.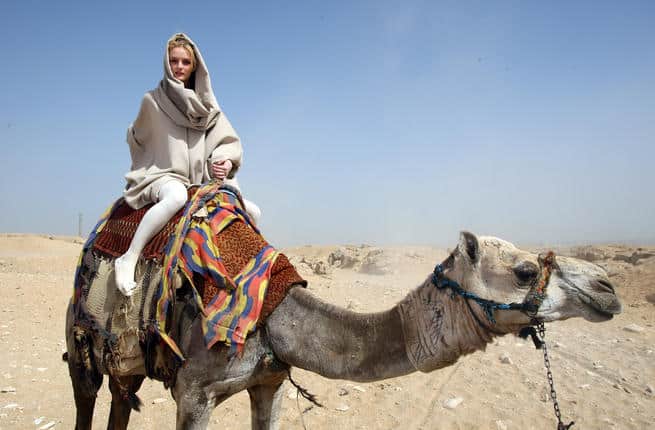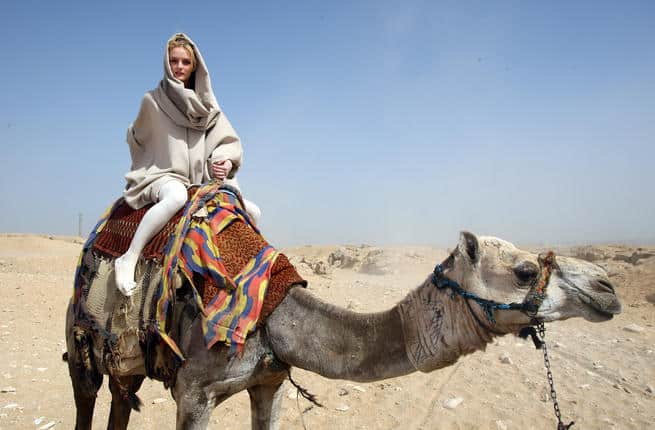 Another thing to keep in mind is your comfort level. If you are more comfortable in full sleeves, and long pants rather than t-shirts and capris, then go for it. Despite what the fashionistas of Instagram may have you believe, it's more important for you to feel comfortable and reassured in your outfit than to be fashionable and trendy.
Packing for Egypt as a woman can be daunting, but it is easier than you think. With some smart clothing choices and a few easy tricks, it's easy to create a travel wardrobe for your Egypt tours that will keep you cool and comfortable while still being culturally appropriate.
Ready to pack your bags and book your own Egypt tour to experience this incredible country for yourself? Take a look at Osiris Tour's Egypt tour packages offering luxury private Egypt tours to the best sites and attractions in Egypt.