By Chris von Rinteln
Are you thinking of planning an incredible vacation to Egypt? Do you dream of sailing the Nile, get a taste of Egypt, walking in the shadow of the Sphinx, or strolling the streets of buzzing Cairo? We can't wait to take you there on one of our best Egypt tours, but until the moment that you set foot on the sands of the Sahara, we hope to tantalize your senses and transport you there straight from your home—by way of your own kitchen.
Few things are as viscerally evocative of a place as the aromas and flavors of its food. And with its multi-cultural and deep culinary history, Egypt boasts bold and assertive spices, sharp vinegar sauces, charcoal-grilled meats, and bracingly fresh herbs—tastes and smells that anchor you in the land of the pharaohs whether you're dining in a café in Aswan or sitting at your own dinner table. You might not be on one of our Egypt custom tours at this very moment, but we'd like you to feel as close to that as possible. Here are four classic Egyptian dishes you can cook at home that will carry you half a world away to Egypt.
Shorbet Ads (Red Lentil Soup)
Shorbet Ads is the classic red lentil soup of Arabic cuisine—just about every restaurant and Egyptian family chef has their own version of this hearty staple. This warm and filling soup with a mildly spicy kick is a surprisingly perfect companion for hot Egyptian evenings, especially when topped with a bright and zippy green pepper relish.
An immersion blender makes pureeing this soup a cinch, but you can work in small batches with a normal blender as well. The soup tends to thicken after a day in the fridge, turning it into a superb dip for pita bread or rounds of aish baladi.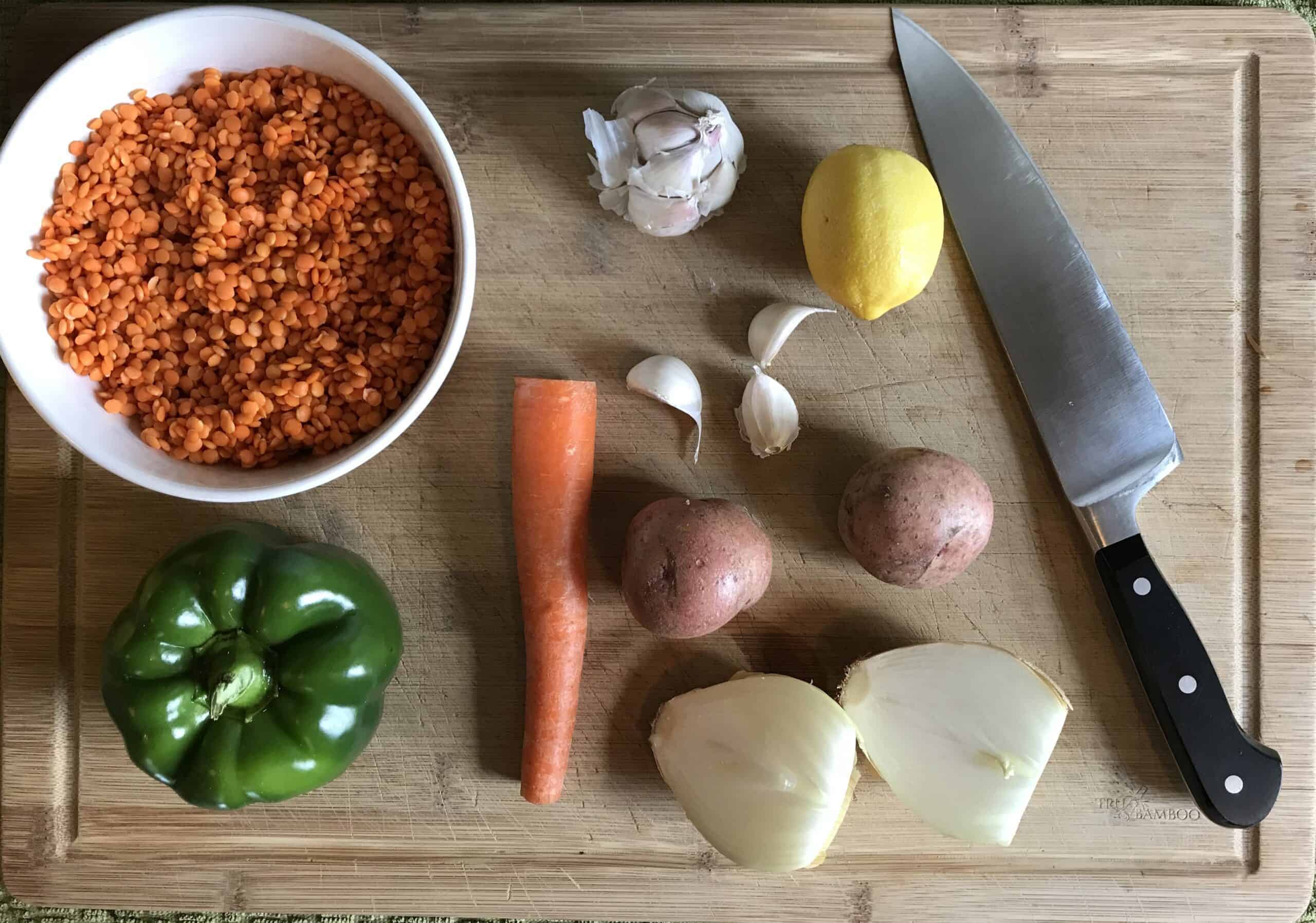 Soup Base
– 3 qts chicken stock and/or water
– 3 Tbsp vegetable oil (canola or olive is fine)
– 16 oz red lentils
– 1 1/2 medium yellow onions
– 2 medium carrots
– 1 medium potato
– 2 cloves garlic
– 1 1/2 Tbsp tomato paste
– 2 tsp harissa paste (the spicy condiment, not the sweet dessert of the same name)
– 1 1/2 tsp ground cumin
– 1 tsp turmeric
– 2 tsp salt
– 1/2 tsp black pepper
– 1 stick cinnamon or 1 tsp ground cinnamon
– 2 Tbsp lemon juice (about one medium lemon)
– 1 tsp ground coriander
Green Pepper Relish for Garnish
– 1/2 cup white vinegar
– 1 Tbsp sugar
– 2 tsp salt
– 1/4 red onion, minced
– 1/2 green bell pepper, small diced
– 1 oz fresh cilantro, chopped (about 1 dozen sprigs)
* * *
Wash and dry the vegetables. Skin the potatoes—carrots, too, if preferred. Dice carrots, yellow onion, garlic, and potato.
Sift through your lentils and remove any wayward bits or pebbles. Place in a sieve—you'll rinse these just after the next step (rinse too early and they'll get sticky).
In a large sauce pot or stock pot, heat the vegetable oil over medium heat until it shimmers—about 1 minute. Add onions, potato, and carrot, and sauté for about 5 minutes, or until the onions begin to turn translucent.
Rinse your lentils in the sieve and shake off all excess water. Add lentils, garlic, and the cinnamon stick to the sautéing vegetables and stir, sautéing for just another minute. (If you're using ground cinnamon instead, add that at the following step—it and the other ground spices may scorch if added too early)
Add your spices and seasonings—tomato paste, harissa paste, salt, pepper, cumin, turmeric (saving the coriander for later)—and stir to combine.
Carefully pour in your liquid—either stock or water, depending on your dietary preferences. Stir, increase heat, and bring the mixture just up to an easy simmer. Let simmer for 40 minutes to an hour—no rush here.
While the soup simmers, prepare the garnish. In a small bowl, combine the vinegar, 2 tsp salt, and sugar—stir to dissolve. Add the minced red onion and let sit for about an hour at room temperature (you're making a sort of quick-pickled onion). After an hour, drain off and discard the brine. Add the diced green peppers and chopped cilantro to the bowl and combine. Cover and refrigerate until you're ready to serve your soup.
After the soup is done simmering, it's time to add the final seasonings and puree—but make sure you fish out the cinnamon stick first! Then, add the lemon juice and ground coriander. Using an immersion blender directly in the pot, or working in small batches with an upright blender, puree the soup to a smooth consistency—it should take only a minute or two.
Serve the soup hot. Ladle into small soup bowls and garnish with a tablespoon of the green pepper relish. Enjoy!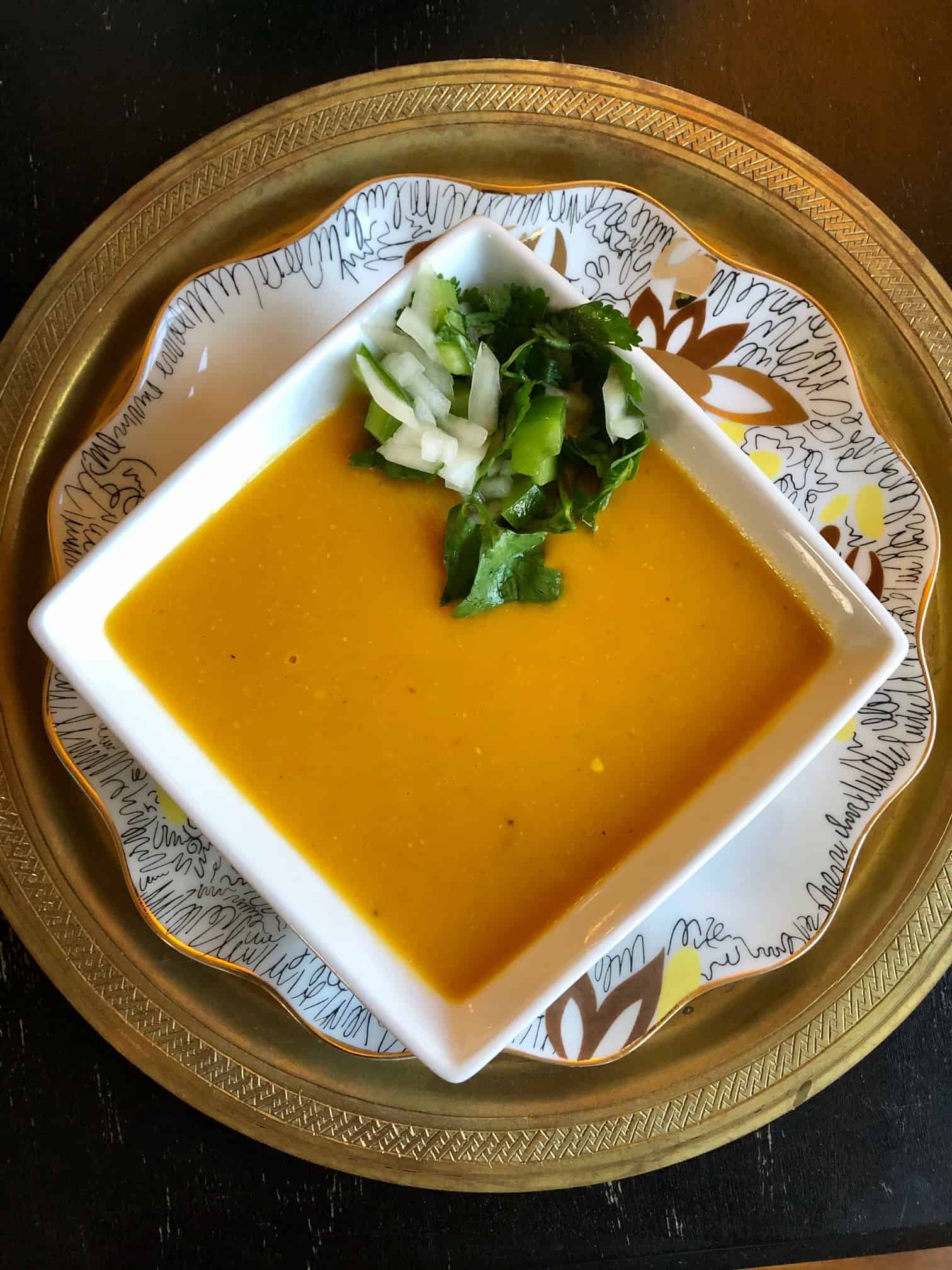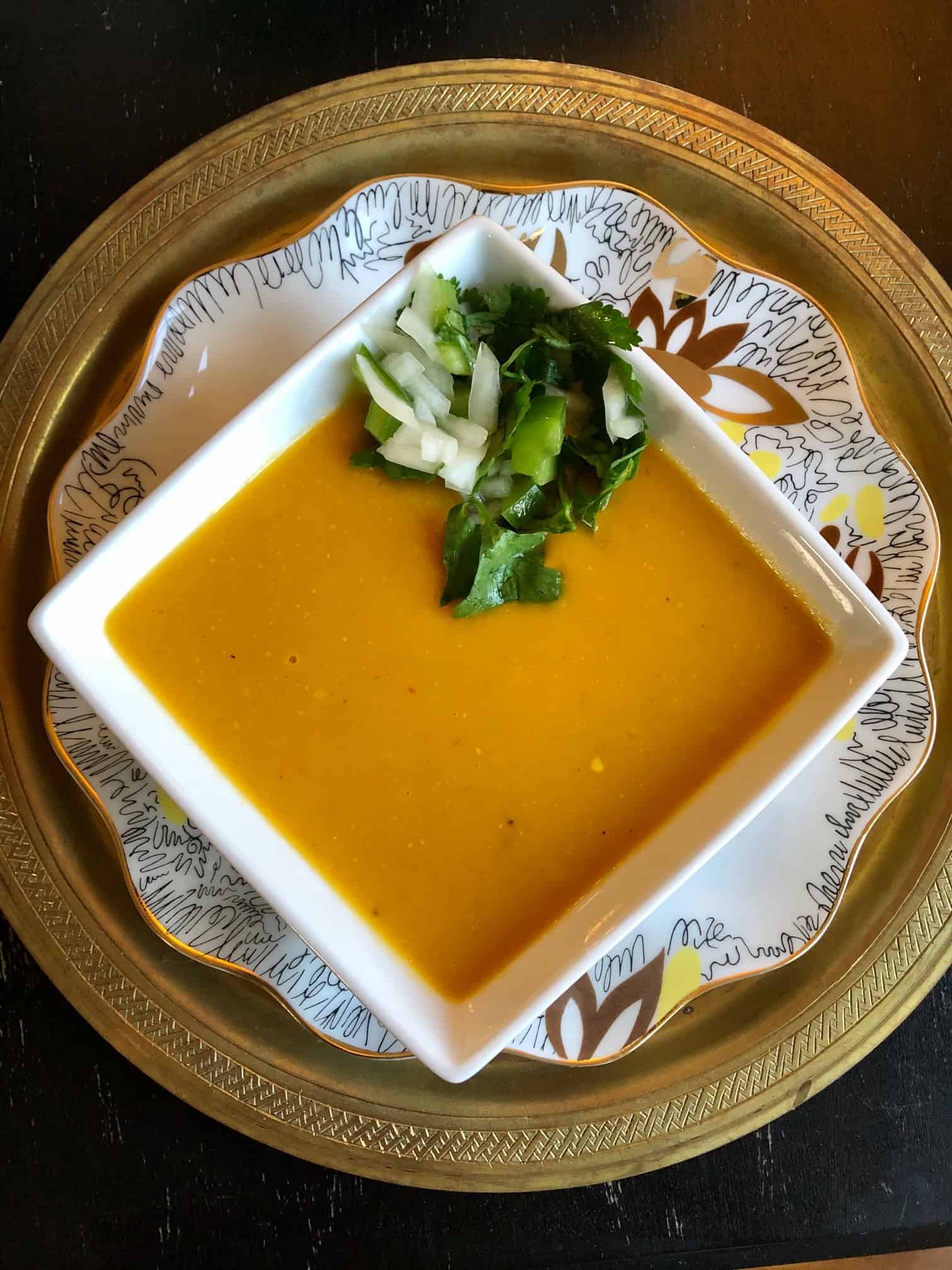 Egyptian Kofta Kebab
Wander the streets of Old Cairo for long enough, and the smell of savory kebabs on a hot grill will catch up with you soon enough. While religious and cultural traditions mean that much of Egyptian cuisine is vegetarian, plenty of exceptions like these deliciously charbroiled meats exist alongside the more herbivorous fare.
Kofta—a word for just about any ground mixture—kebab has its origins set a bit further east and going back thousands of years, but the dish has since found its home in cuisines across the eastern Mediterranean. In and within Egypt, as with other countries, the specific profile of spices is what sets one kofta kebab apart from another. Here, we're using a modified baharat spice blend along with parsley and cool mint for a real taste of Egypt.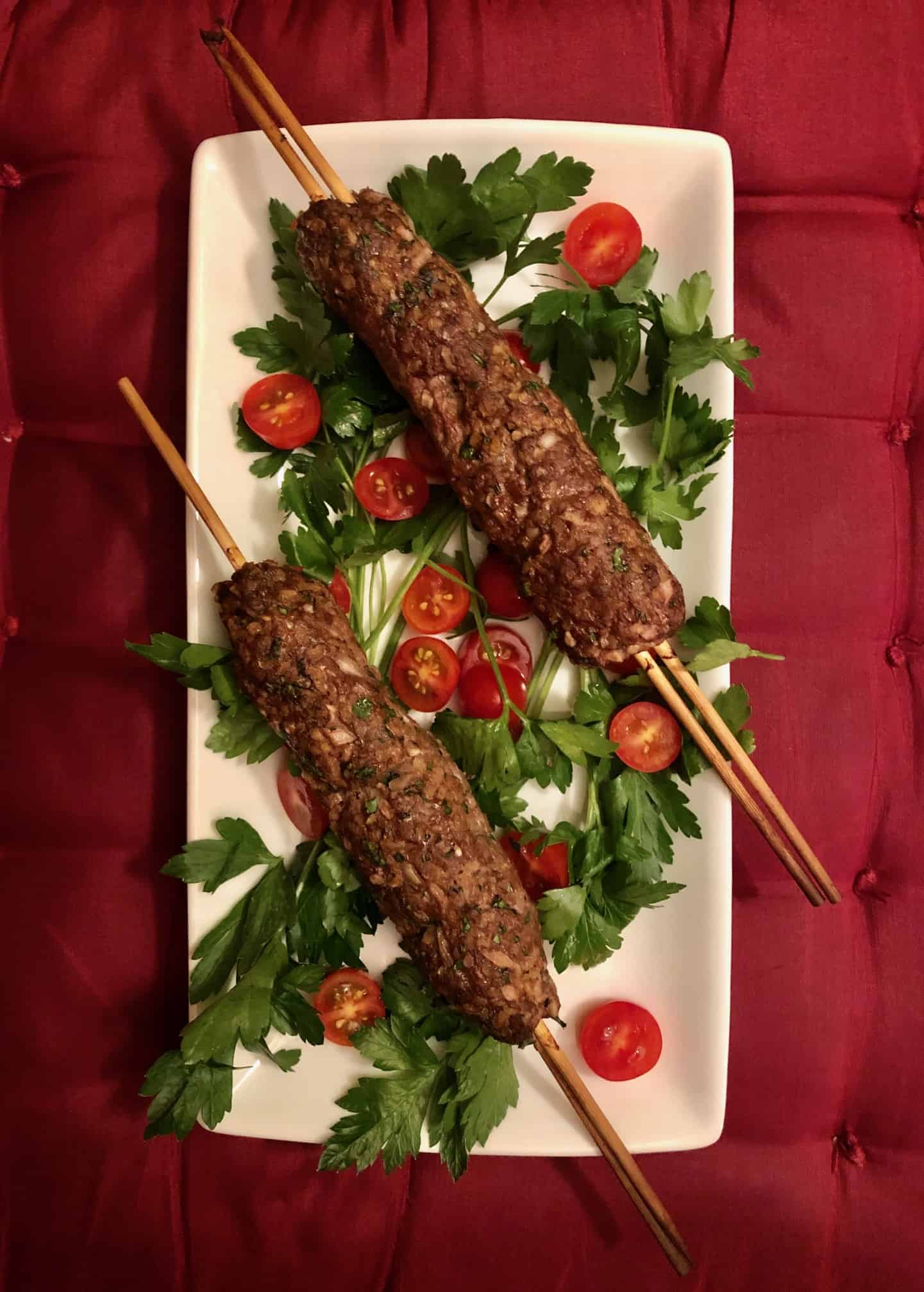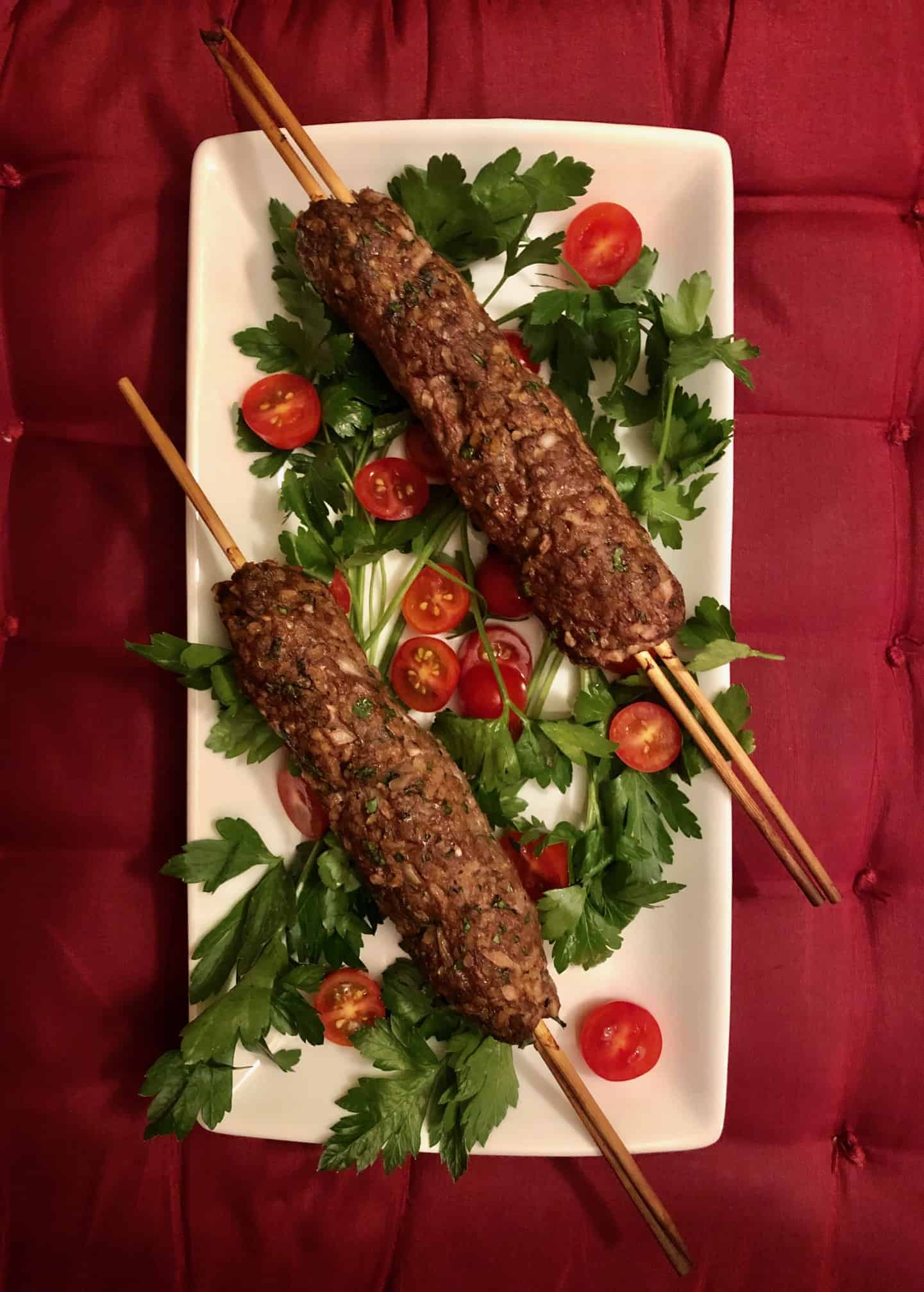 A lot comes down to personal preference—some will swear that you need equal parts ground lamb and beef, some will go beef only, or straight to mutton or goat. You'll find recipes with a dozen different spice blends and cooking methods from pan-frying to grilling. Luckily, there's not much to the preparation—so you can experiment to your stomach's content, getting it all just right, until the smells of Egypt fill your kitchen.
– 1 pound ground beef and/or ground lamb
– 1/2 cup cracked freekeh or bulgar wheat, soaked and drained
– 1/2 bunch fresh parsley (about 50g), stems off, minced
– a dozen mint leaves, minced
– 1/4 yellow onion, minced
– 2 garlic cloves, minced
– 1/2 tsp ground cumin
– 1/2 tsp ground allspice
– 1/2 tsp grated nutmeg
– 1/2 tsp paprika
– 1/2 tsp ground cardamom
– 1 tsp black pepper
– 1 tsp salt
* * *
Soak your freekeh in 2 quarts of cool water. The soaking time depends entirely on the size of the grain you've purchased. You can go by the instructions on your packaging, or just trust your teeth: once the freekeh is comfortably toothsome, like al dente pasta, you're good to go. Anywhere from 15 minutes to an hour is typical. Drain completely.
Wash and dry the fresh herbs, and mince finely. Mince the 1/4 onion and the garlic.
Place the ground meat in a large bowl, big enough for you to work in with your hands.
Get everything else in there all at once. Cumin, allspice, nutmeg, paprika, cardamom, pepper, salt, herbs, onion, garlic, and freekeh.
Using your hands, squeeze and mix everything together thoroughly, making sure all the ingredients are uniformly distributed. Separate into four equal portions.
Now for the tricky part—forming the kebabs to the skewers. Using your hands, shape each portion of the kebab mixture to a skewer bit by bit, working along the length of the skewer and making sure the meat holds shape as you go. Alternatively, roll each portion into a long sausage shape and pierce it straight through with a skewer or two. Either way, so long as the meat holds, you're all set—and until you cook it, you can try and retry until you get the hang of it.
All that's left is to cook the kebabs. If you're going for authenticity, 5 minutes over hot grill is the way to go. Kebabs are easily done in the oven as well, suspended over a baking sheet or shallow oven-safe dish (to catch any grease) for about 15 minutes at 400 degrees.
Serve with pita and tahini
Egyptian Tabouleh
Bursting fresh and brightly herbaceous, tabbouleh is the ever-present parsley salad of levantine and Arabic cuisine, and a standard side dish or mezze at just about every Egyptian feast. Proportions of parsley to mint to grain to acid vary from one locale and chef to another, but the core of the dish remains the same. In this version, we dial down the acidity a bit and favor the parsley a little more.
Getting the herbs chopped up extra fine is one of the keys to nailing this dish. If you happen to be the proud owner of a mezzaluna (a handy souvenir to pick up on a private guided tour of Egypt), you'll probably know that this rolling double-bladed knife is the perfect tool for mincing herbs—but using a sharp chef's knife with a rocking motion will get the job done just fine.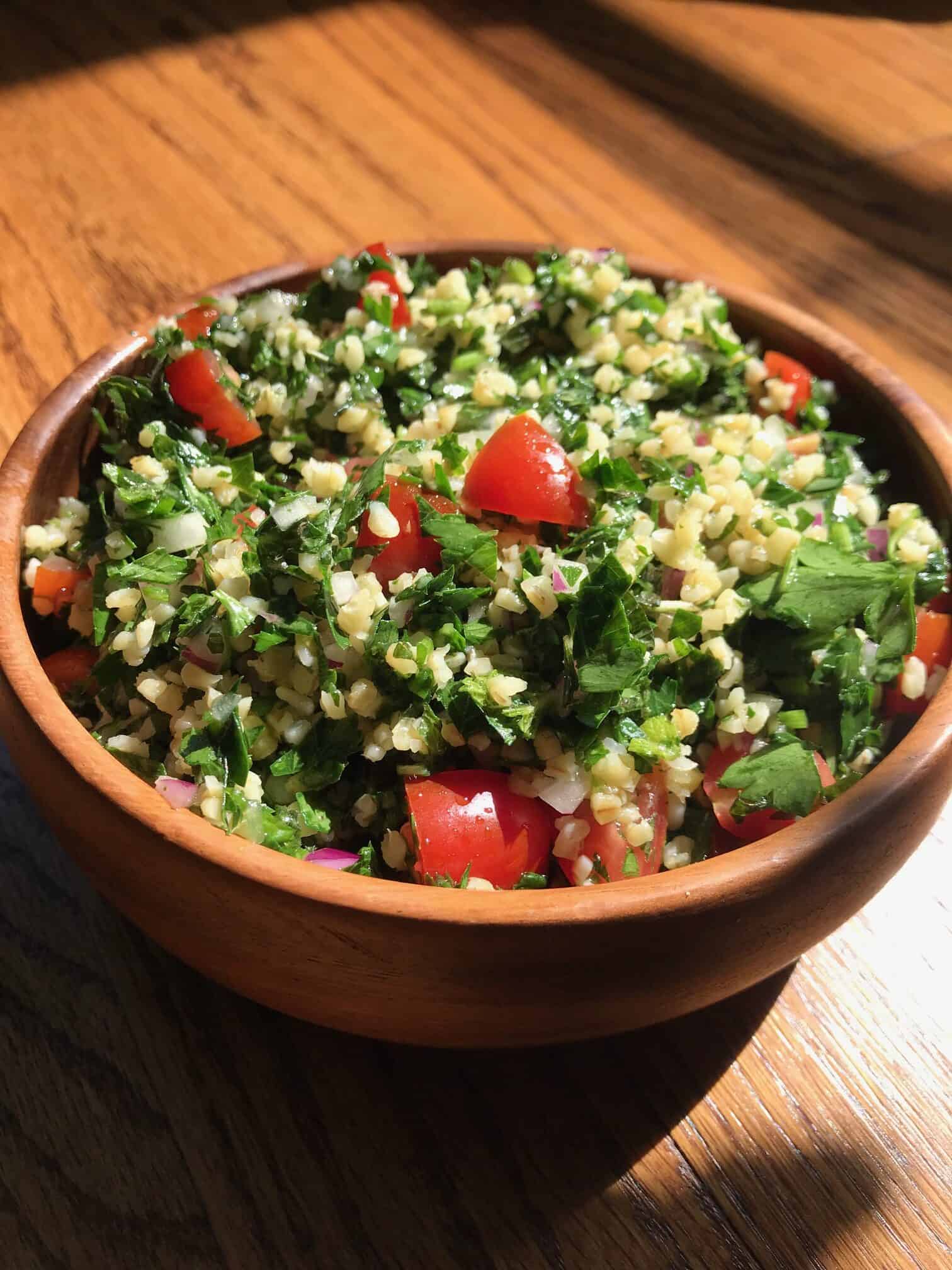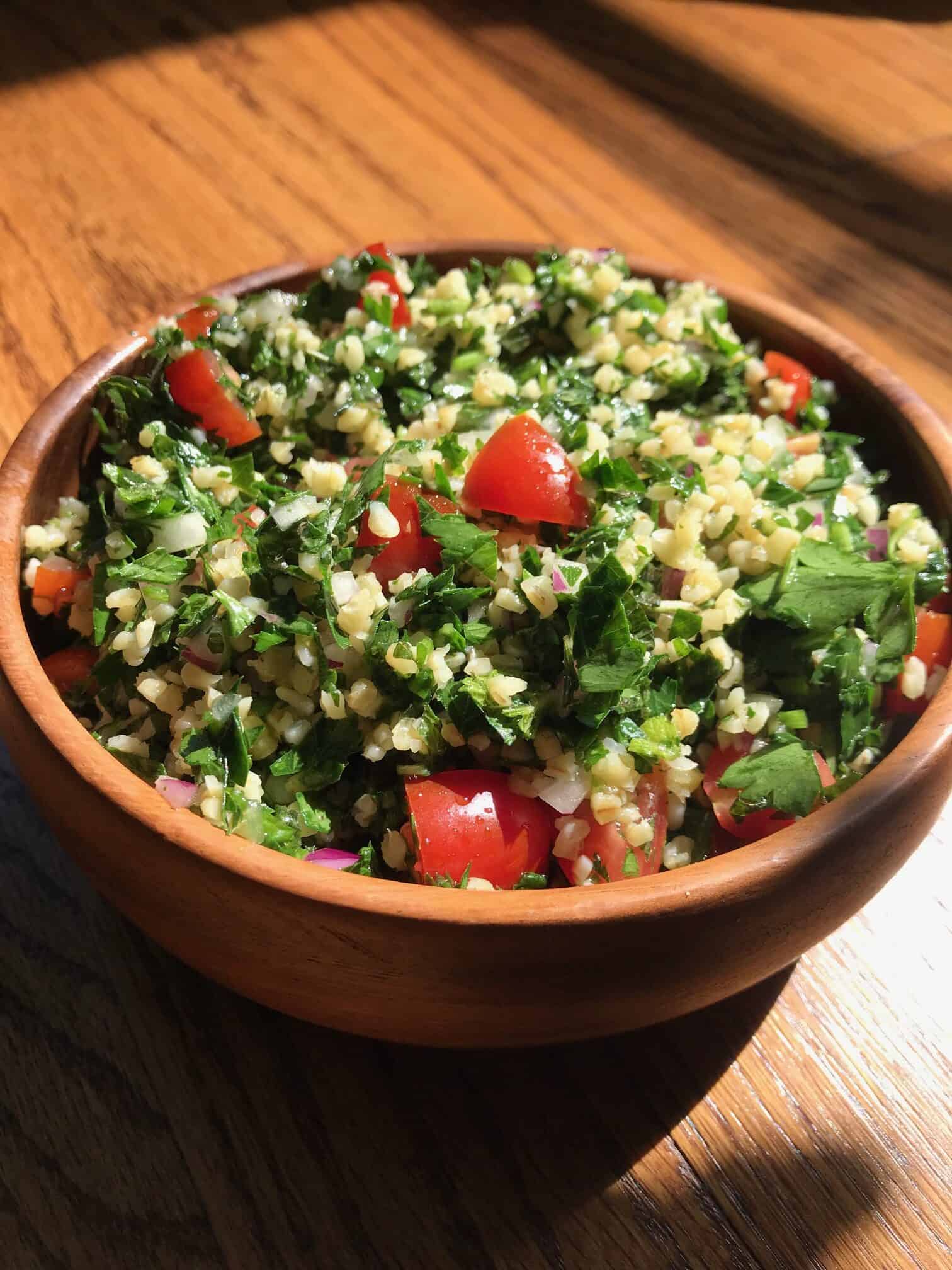 – 1 bunch of fresh, flat-leaf parsley, about 100g finely minced
– fresh mint leaves, about 35g finely minced
– 3/4 cup freekeh, soaked and drained
– 1 1/2 Tbsp lemon juice
– zest of one lemon
– 2 Tbsp extra virgin olive oil
– 1/2 red onion, diced
– 3/4 cup whole tomatoes, diced
– 1 tsp salt
* * *
Wash and dry the fresh herbs, then mince finely. The drier the parsley and mint, the easier they'll mince—wet leaves stick to blades. Don't be tempted by the luring whir of the food processor—it tends to pulverize the herbs.
Dice the tomatoes. Cherry or pearl tomatoes work great here, as do most heirloom varieties—the meatier and firmer the better.
Finely mince the red onion. Green or spring onions will also work great here, but yellow and white don't provide the right flavor.
In a large bowl, combine all the fresh ingredients. Add the lemon juice, zest, olive oil, and salt, and stir gently to combine.
Add freekeh, making sure it is fully drained. (Quinoa or other small whole grains work well as substitutes here). Stir again to combine.
Serve immediately or place in an airtight container in the fridge right away. Tabbouleh is best right after it's made, but will hold up surprisingly well for a day in the fridge before losing its brightness and texture.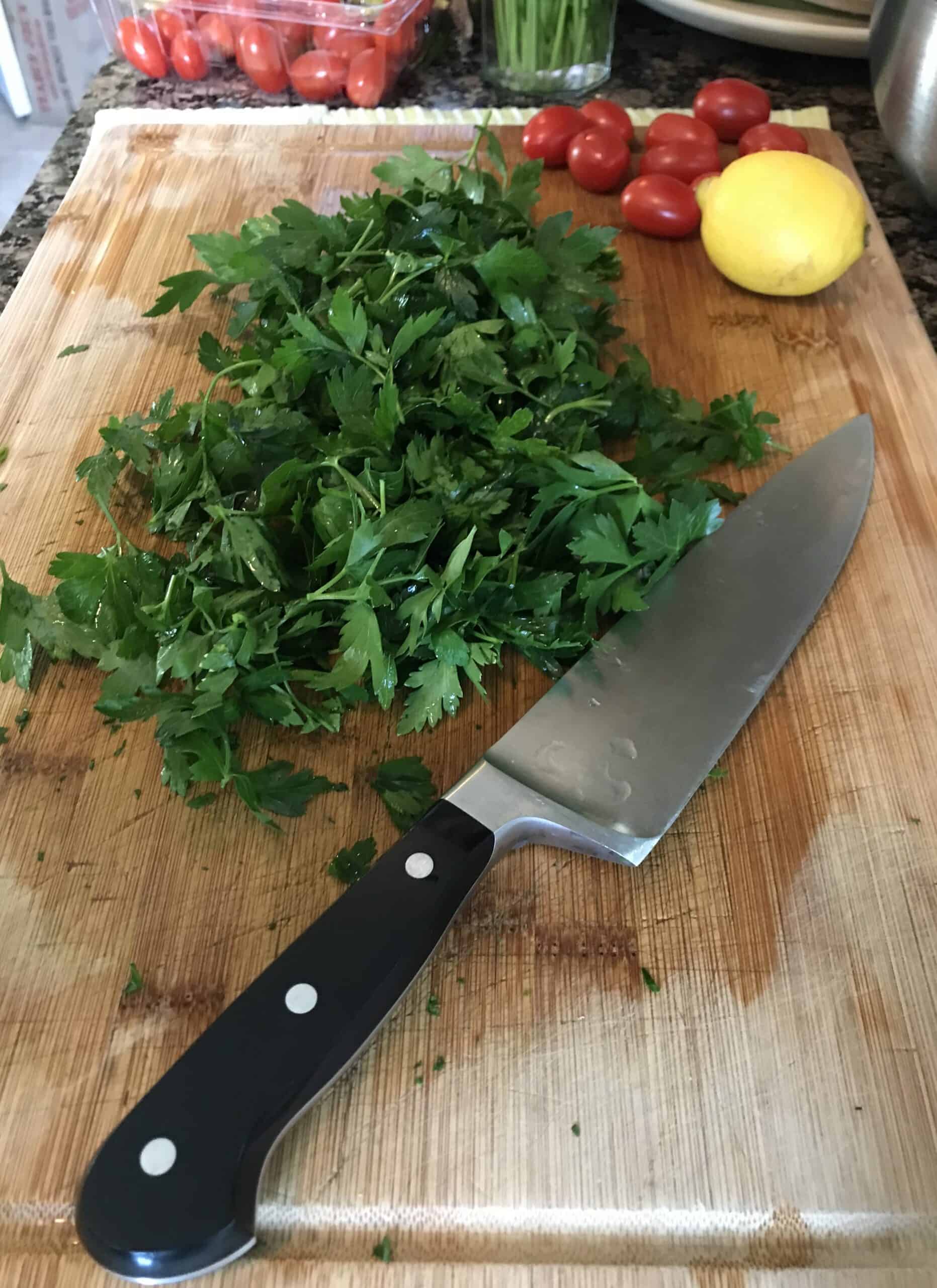 Koshary
You'll raise a ruckus wrangling all the pots and pans in your kitchen to make what is, at its core, a very simple dish. Koshary, arguably the de facto national dish and taste of Egypt, is a heaped helping of rib-sticking carbs upon carbs (some of them conspicuously un-Egyptian), covered in assertive and assorted sauces. Guided tours of Egypt pack tourists in next to neighborhood regulars at places like Koshary Abou Tarek to scarf down bowls of the omnipresent street food, called to dinner by the ringing din of the koshary cook—the banging of metal spoons to bowls as one hearty serving of Cairene goodness is assembled piecewise after another.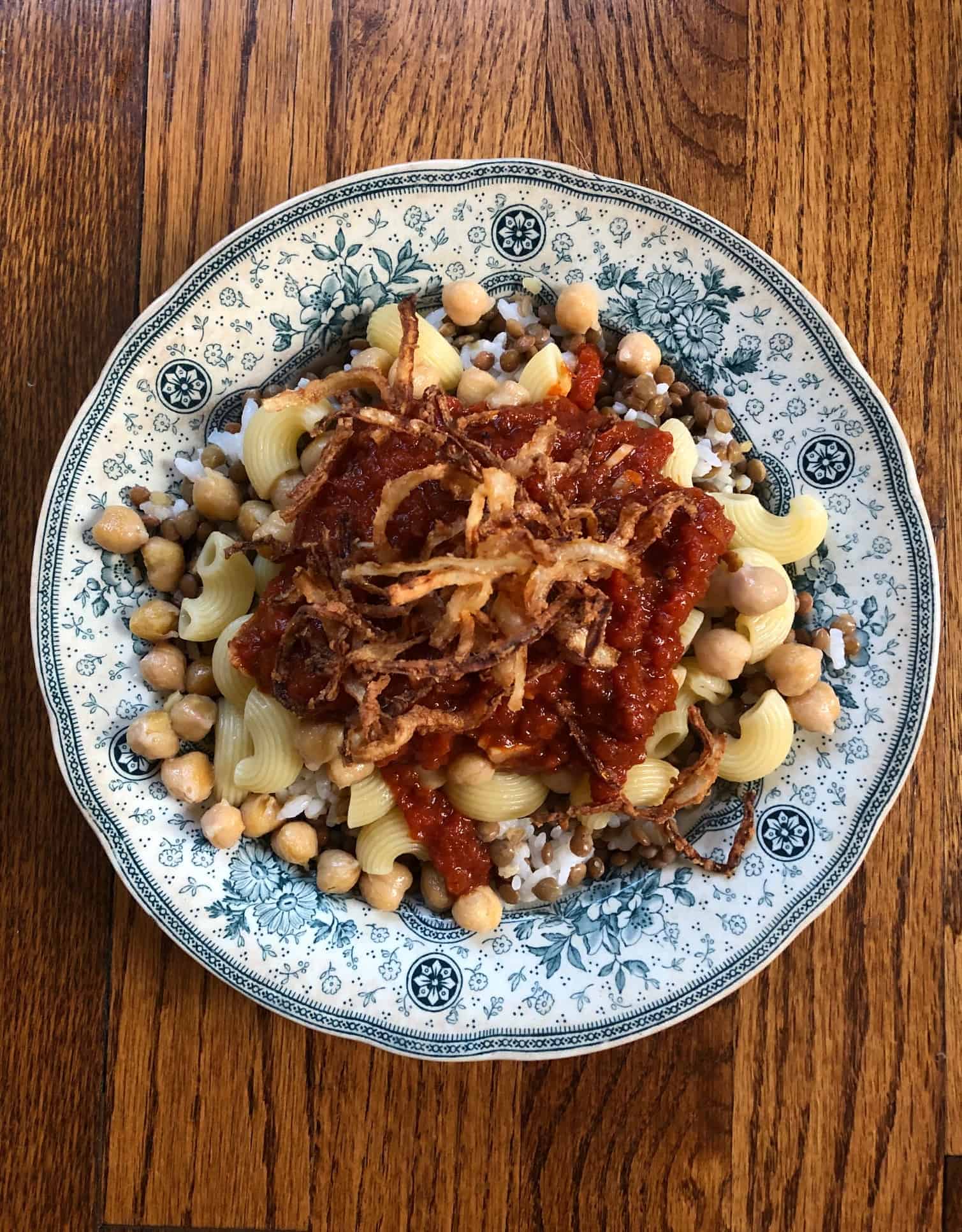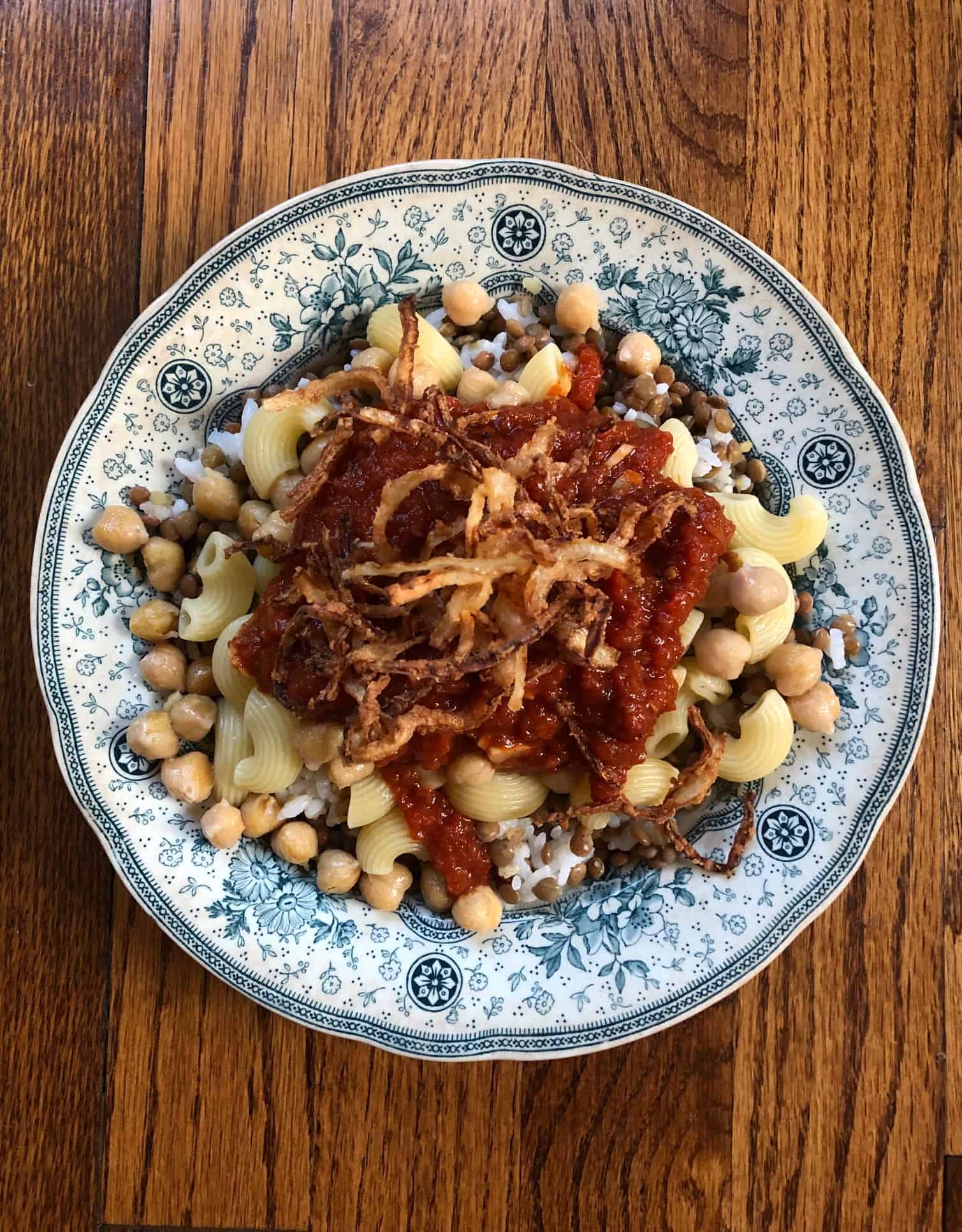 Almost everything about koshary keeps well after cooking, so there's no need to have five burners going at once on your stove. Make and reheat the sauce, prep the lentils and rice back to back, put together your dakka sauce and leave it in the fridge overnight—but leave the fried onions for the moment of service. Then, heap it all up—BANG, rice, BANG, lentils, BANG, macaroni—sauce it, season it, and tuck into a piece of everyday Egypt.
* * *
Carb Base
– 1 cup short grain rice
– 1 cup brown lentils
– 16 oz (1 can) chickpeas, drained (or soaked overnight)
– 8 oz macaroni pasta
Baharat-spiced Tomato Sauce
– 2 cups tomato sauce
– 1/4 yellow onion, diced
– 4 cloves garlic, minced
– 2 Tbsp harissa paste
– 1 1/2 tsp paprika
– 1 tsp black pepper
– 1/4 tsp ground clove
– 1/2 tsp ground cumin
– 1/2 tsp nutmeg
– 1/2 tsp ground cardamom
– 1/2 tsp salt
(this blend of spices is called baharat)
Dakka
– 2 cloves garlic, minced
– 3 Tbsp white vinegar
– 3 Tbsp water
– 1/2 tsp ground cumin
– 1/2 tsp ground coriander
– 1/2 tsp red pepper flakes
– 1/4 tsp salt
Crispy Onions
– 1/2 yellow onion, cut into thin slices
– 1/4 cup flour
-1/4 tsp salt
– vegetable oil for frying
* * *
The Carbs
Sift through and rinse the lentils before adding to a medium sauce pot with 4 cups of water and a pinch of salt. Bring just to boil and simmer uncovered for 15 minutes. Drain, cover to keep warm, and set aside.
Rinse the rice and add to a medium sauce pot along with 1 3/4 cups of cold water and a pinch of salt. Bring just to a boil, cover, reduce heat to low, and steam for 15 minutes. Remove from heat and let sit for 10 minutes before fluffing with a fork. Cover to keep warm and set aside.
In a large pot, bring 2 quarts of water to a boil, and add the macaroni along with a few pinches of salt. Cook until al dente, usually about 8 minutes. Drain, cover to keep warm, and set aside.
Drain and rinse the chickpeas. In a medium frying pan, heat 1 Tbsp vegetable oil over medium heat until shimmering, about 30 seconds. Add chickpeas and sauté for just a minute. Set aside.
Baharat-Spiced Tomato Sauce
In a large frying pan over medium heat, warm 2 Tbsp vegetable oil until it shimmers, about 30 seconds. Add onions and sweat them until they begin to turn translucent, about 3 minutes.
Add garlic, harissa paste, and all of the ground spices, stirring for a minute.
Carefully add the tomato sauce, stir to combine, bring to a light simmer, and let cook for 15 minutes. Keep warm for service.
Dakka
Combine all ingredients in a small jar or squeeze bottle. Shake until fully incorporated and set aside.
Crispy Onions
In a steep-sided frying pan or a medium sauce pot, add 1/2 inch of oil and heat on medium-high until oil reaches ~350 degrees. If the oil smokes, it's too hot—but a piece of onion dipped in should sizzle immediately.
Slice the onion into thin, half-moon slices. Toss in a small bowl with flour and salt to coat—discard any excess.
Working in batches if necessary, carefully add the onions to the hot oil. Onions should sizzle vigorously for about 1 minute as they turn tan and then darker brown. Once dark brown, remove from oil with tongs and drain on a paper towel.
Keep onions on hand for service. Wait for oil to cool for 30 minutes before discarding.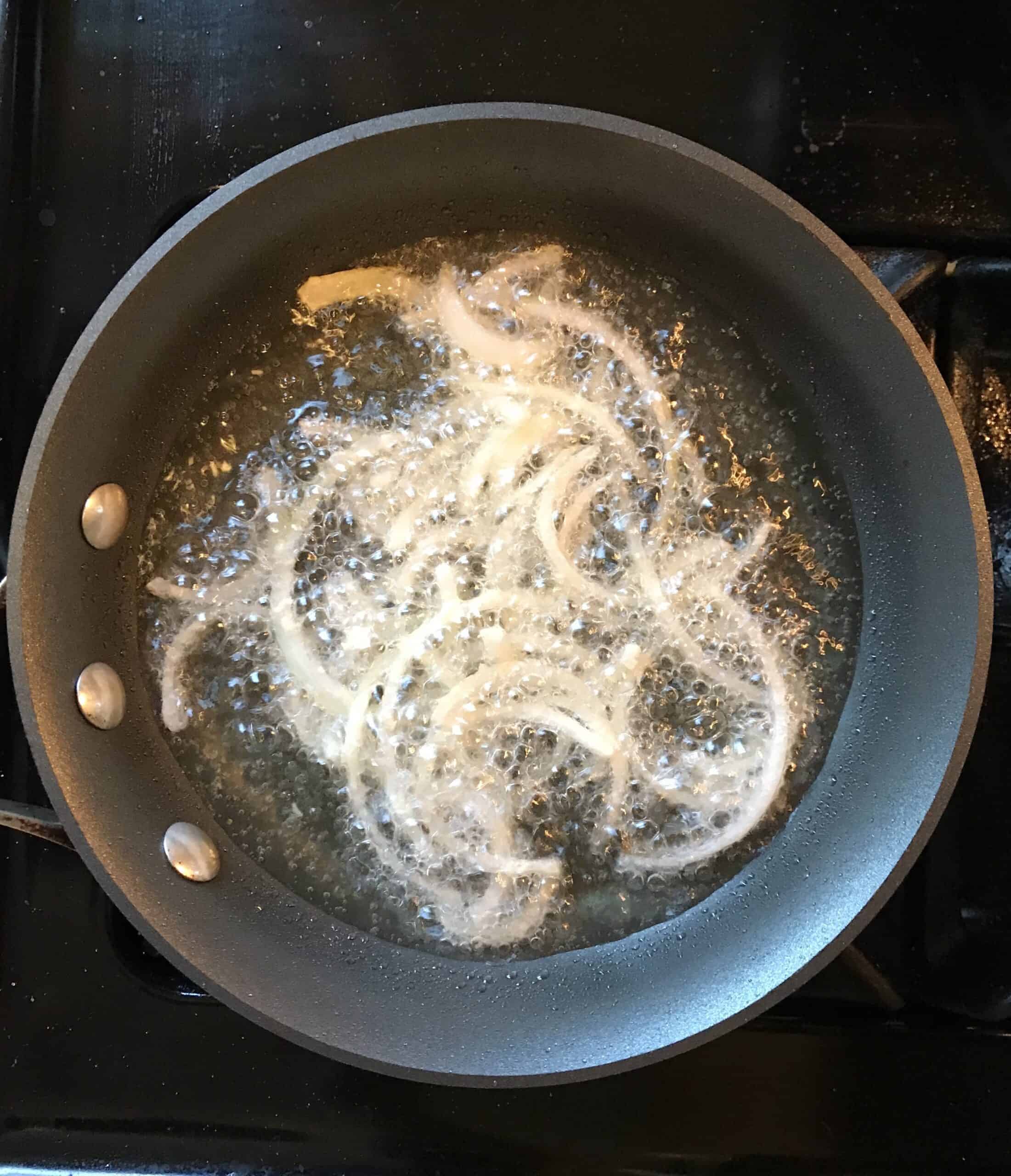 The Final Finish
One last step—pile it all into a bowl. Rice and lentils first, then pasta, then chickpeas. Smother in the baharat-tomato sauce, dash with dakka, and top with the crispy onions. Dig in, chow down, and slip into a decadent Egyptian food coma.