From Alexandria Port
to Cairo & Giza
Osiris Tours Advantages
Enjoy a personalized day tour to the Great Pyramids with a private Egyptologist guide, driver, and traditional Egyptian cuisine. Your day tour will be customized for you and will suit your needs and your schedules.
Avoid the crowds with your own private guide & private vehicle during your tour around the Great Pyramids and Sphinx.
Discover the Egyptian Museum and secrets of King Tut with your own private Egyptologist guide.
Tour Overview
A Day In The Life: Pyramids Day Tour from Alexandria Port
Explore the Great Pyramids and the Egyptian Museum of Antiquities while your ship is waiting in Alexandria Port.
Egypt has so many amazing options for tourists that a big part of the challenge when arranging your visit can be deciding what not to do. But at Osiris, we are here to help.
A Mediterranean cruise is a unique experience, and when your ship docks at Alexandria, you'll feel as if you are entering another world. You may have thought that you and your traveling party might have to miss out on visiting Egypt's iconic monuments near Cairo, most notably the Great Pyramids on the Giza Plateau, but think again.
Osiris offers an exclusive pyramids day tour from Alexandria, just three hours away by private, air-conditioned luxury transport; it should be on every visitor's itinerary to Alexandria.
The pyramids day tour not only offers a unique chance to admire the pyramids and the ancient city of Memphis but also allows plenty of time to wander around the legendary Cairo Museum, home to the mystical golden funerary mask of King Tutankhamen, mummies, treasures, sculptures and many other artistic wonders of the ancient world.
With your very own private luxury vehicle, complete with an experienced driver and passionate, talented Egyptologist, one of Osiris' most popular Egypt tours will leave you spellbound by both the country's unique and magical history and the beauty and splendor of her world-class monuments.
To find out more about this tour or the rest of our other Egypt tour packages, please feel free to contact us at any time.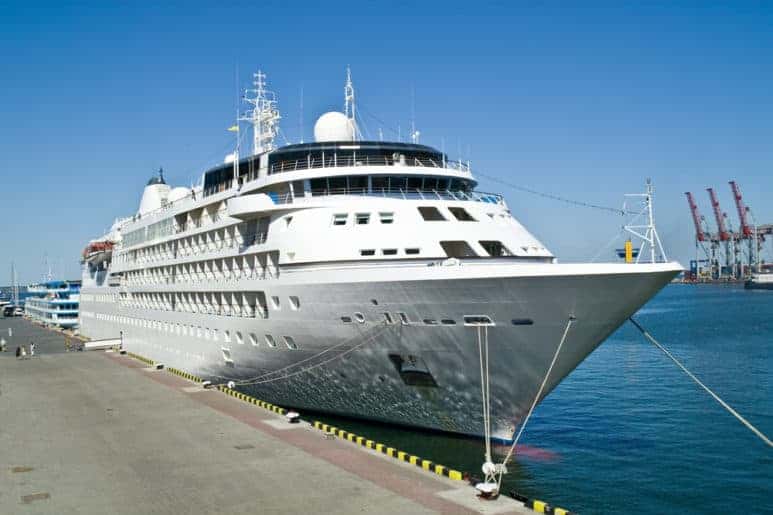 Cruise ship waiting in Alexandria, Egypt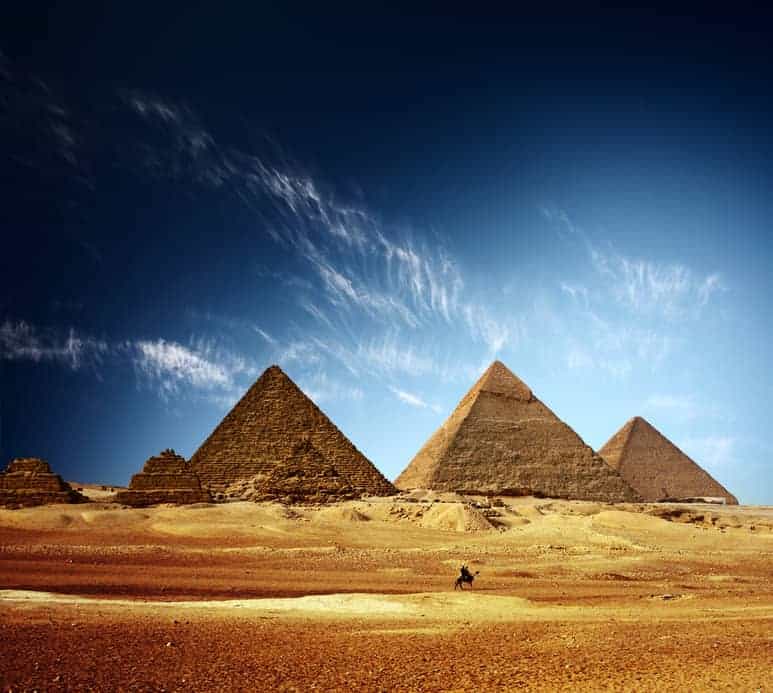 The Great Pyramids of Giza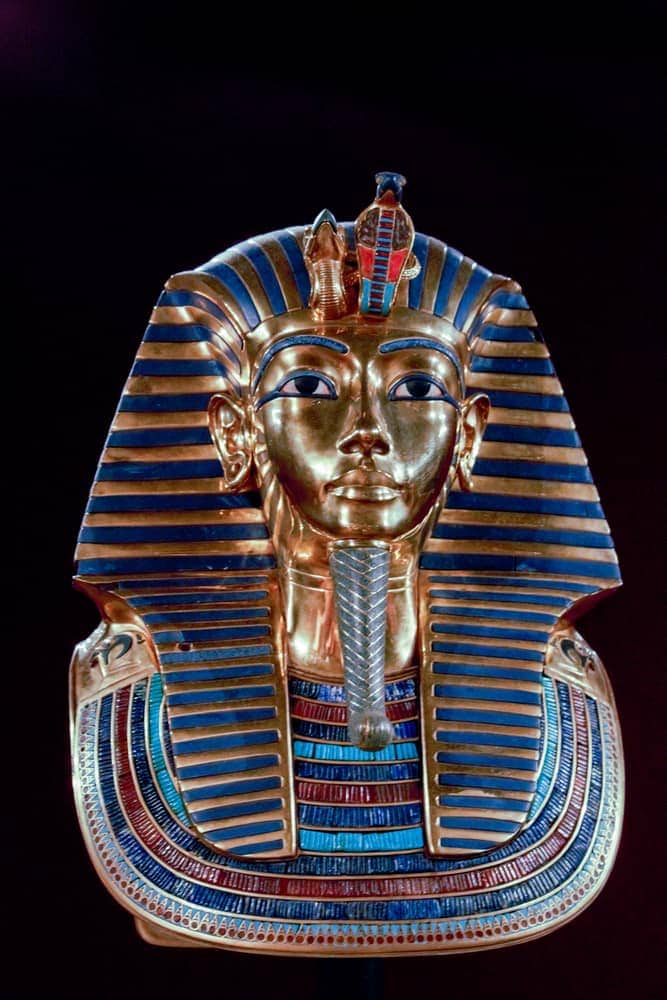 Golden mask of King Tut, Egyptian Museum
Itinerary
Day 1: Arrival in Cairo
You will be picked up upon arrival in Alexandria port by your private guide and private car and head to Cairo.
Arrive in Cairo and explore the Great Pyramids, ancient Memphis, Saqqara, the Solar Boat, Chephren Pyramid, and the famous Sphinx.
Learn about the Great Pyramids of Giza and how they were covered with casing stones. The casing stones were made of highly polished limestone. The ancient Egyptians covered the Great Pyramids with casing stones so it can reflect the sun's light. The reflected sun's light with the casing stone made the pyramid shine and look like a jewel.
The Great Pyramids' original look with its shining casing stones would act like huge mirrors and reflect light so powerful that it would be very visible from the moon as a shining star on the earth. No wonder why the ancient Egyptians called the Great Pyramid "Ihket," which means the glorious light.
This tour includes a private vehicle with a driver, a trained Egyptologist, and entry to the Chephren (Khafre) or Menkaure (Mycerinus) Pyramids, as well as the Solar Boat. Buffet lunch at a great local restaurant is provided after visiting the Great Pyramids.
After lunch, discover the Egyptian Museum of Antiquities and its Mummy Room with your private trained Egyptologist guide. The museum holds the tomb of King Tut, Egypt's most famous boy King.
After the tour, your private guide and private car will take you back to Alexandria port.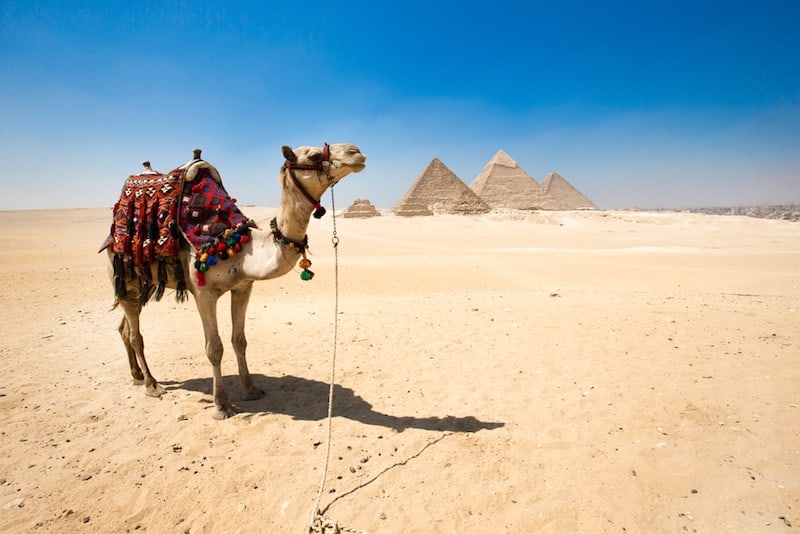 Camel relaxing at the Pyramids of Giza, Egypt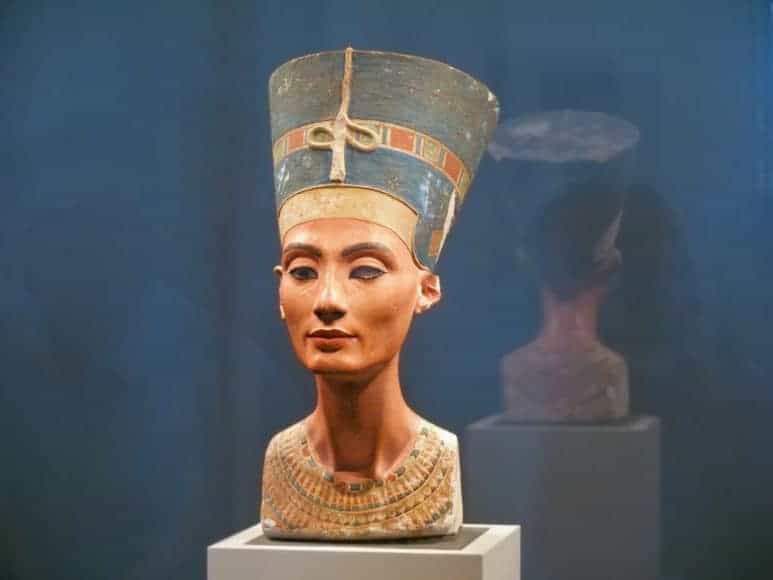 Queen Nefertiti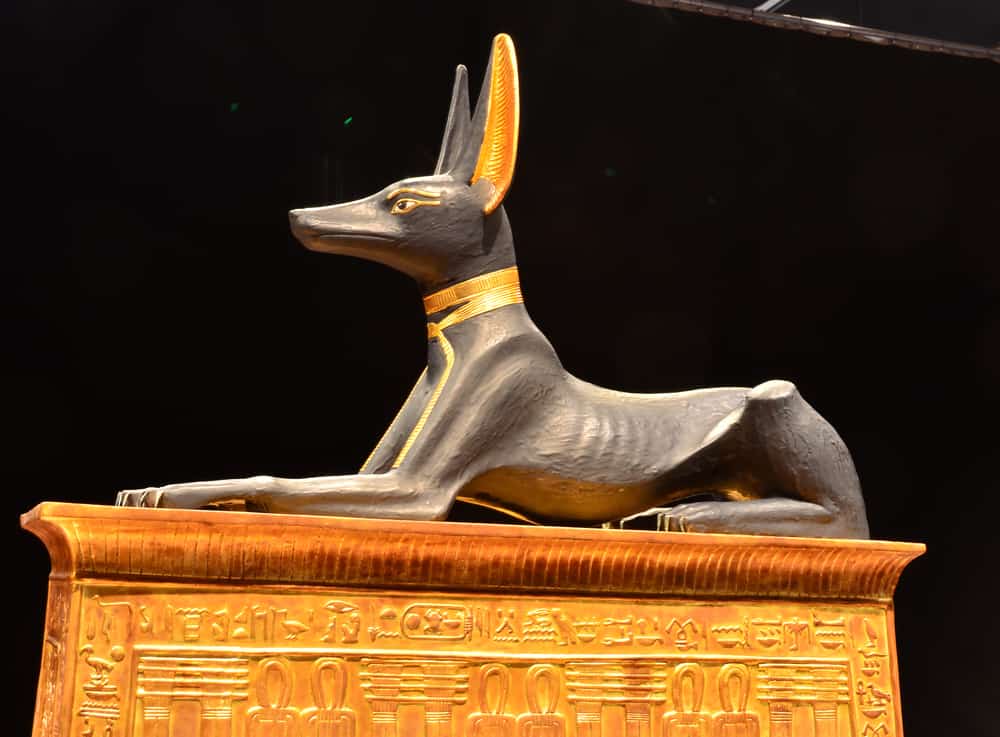 God Anubis
Things you should know before you visit Egypt
Documents
If you are an American or a Canadian, you will need a valid passport for at least 6 months after the day you plan to return from Egypt. You must also provide proof that you intend to return or continue your travels elsewhere. You are responsible for ensuring your passport is current and that your name on your passport matches all other travel documents we will issue. If you find that your name differs between any documents, please let us know right away.
Visas
You will need a visa to travel to and inside Egypt. You can get one when you arrive at Cairo airport. We can include visa fees and proceeds in your itinerary upon request. When you leave Egypt, you must show proof of entry via a stamp on your valid passport. If you don't provide this stamp, officials may prevent you from leaving Egypt.
Insurance
It is a good idea to have insurance if you need to cancel your trip or any medical need while abroad. Most insurance policies also cover baggage loss/damage or problems completing the trip due to circumstances beyond your control. Get a policy that provides medical coverage to avoid large health care expenses in an emergency. We can help you find the right insurance policy for your trip with us.
Clothing for women
In general, for women traveling to Egypt, anything that is below the knee should be fine. Short sleeves should be fine as well, but nothing too short or too tiny. You do not need to cover your head in Egypt but do dress modestly. Wear pants or long skirts. It is hot in the summertime so that loose-fitting pants will be more comfortable than a pair of skinny jeans. It is also dusty and dirty, so that white clothing will appear soiled far more quickly than other colors' clothing.
Electricity, Internet and Phone
Egypt's power grid is set up for 220V AC. Some rural areas only have 110V AC. Sockets are either the "Type C" Europlug or the "Type E" and "Type F" Schuko plug. You'll need to purchase an adapter for devices from North America. Outlets marked as 110V or "For Shavers Only" won't work for devices not rated for 110V and may even damage them.
Mobile phone roaming charges are different between carriers, so be sure to check on costs with your phone provider in each area you'll travel to.
The large cities such as Dahab, Luxor, Cairo, and Alexandria have many Internet cafes where you can pay to use the WiFi or wired network ports. Some small towns like Siwa have at least one Internet cafe. Hotel in-room or lobby WiFi can be expensive, so check the rates before connecting to their services. Osiris Tours will not have control over which hotels have Internet access, but we do have information on which establishments are likely to provide it. We can help you find contact information to get in touch with the properties directly and ask what they make available.
– Time Zone: UTC+2
– Electricity: 220V AC + 110V in certain rural areas
– Telephone: Country code for calling you from outside Egypt is 20
– Calling North America: Dial 00 + 1 and your 10 digit number
– Emergency numbers in Egypt: Police: 122; Tourist Police: 126; Ambulance: 123; Fire: 125
Weather
Egypt is very dry in some places and very wet in others. Be prepared for a hot and dry climate. It can get cold in the northern regions if you happen to visit in the Winter. Most tourists visit during the cooler months from December to February.
February to April and October to November is the best time of the year climate-wise to see the pyramids and Valley of the Kings. It can be very hot and dusty in April because of winds blowing in from the Sahara, so visiting sites can be a bit of a problem during that month.
Updated weather forecasts can be obtained from Weather.com.
Money
We recommend that you bring about $100 US per person for each day's expenses. Small bills are best to tip waiters, porters, and housekeeping. Tipping is at your discretion based on your satisfaction with the service you receive.
The Egyptian currency is called the "Egyptian Pound" (guinay in Arabic). Notes come in denominations of 5pt, 10pt, 25pt, 50pt, E£1, E£5, E£10, E£20, E£50 and E£100. Coins come in denominations of 10pt, 20pt, 25pt, 50pt, and E£1. Some tour operators and hotels only accept US dollars or Euros.
Get your Egyptian Pound currency from your own bank before leaving or from an Egyptian bank machine. Those methods are cheaper than in the airport currency exchange or in tourist areas. Visa and Mastercard are widely accepted, but your bank card may or may not be valid in-country.
Vaccinations
There are currently no vaccinations required to travel to Egypt.
There have been some occurrences of "Bird Flu" (avian influenza) in Egypt. We recommend that you:
– Avoid going to live animal farms or poultry markets.
– Avoid eating eggs or poultry that have not been fully cooked.
– Wash your hands regularly.
– See a doctor if you feel any flu symptoms coming on while traveling or after you return home.
Medicines
Make a list of all the medicines and medical items you need to bring with you on your trip, plus dosages of prescription drugs, details of prescription glasses and contacts, and any other medical necessities. Put spare eyewear and medications in checked and carry-on bags in case some of your luggage gets lost in transit.
There are non-prescription, over-the-counter medicines available in Egypt, but it is often difficult to get prescription medication or eyewear. Bring water purification devices or iodine tablets in case bottled water is not available. We can advise which locations will have potable vs. non-potable water. We strongly recommend bringing some type of over-the-counter diarrhea medication.
Medical Needs Checklist
– Basic first aid and medicine kit (band-aids, antiseptics, pain meds).
– Pepto-Bismol, Imodium, electrolyte powders for adding to drinking water to solve dehydration problems, and anti-diarrheal medications.
– Anti-itch cream for insect bites and allergies.
– Tablets for motion sickness.
– SPF 30 or higher sunscreen, aloe-vera lotion for sunburn treatment, large-brim hat, lip balm, insect repellent, and sunglasses.
– Hand sanitizer and baby wipes.