Cairo, Nile Cruise,
Luxor & Aswan
Osiris Tours Advantages
Enjoy a personalized and tailor-made tour to Egypt with a private Egyptologist guide, driver, and local Egyptian cuisine. Your 7 days tour will be tailored just for you and will suit your needs and your budget.
Avoid the crowds with your own private guide & private vehicle during your tour around the best places to visit in Egypt.
Sail down the Nile on a three-night luxury Nile River cruise onboard the luxurious 33 suites named after famous composers.
Wind your way around scenic Aswan islands with your private guide and your private felucca/sailboat in one of our bestseller tour packages.
Spend a private evening dining at a traditional Egyptian restaurant and a private tour for the best memories of your Egypt holiday.
Tour Egypt and stay in our best selection of luxury hotels and Nile cruises such as the Mena House and the Fairmont Nile City.
Tour Overview
A Week-Long Adventure You Will Never Forget
There are some weeks in your life during which not much happens, but then there are weeks that change your life.
This week-long adventure in Egypt is one of those life-changing experiences – an in-depth glimpse into another culture that will alter your perceptions. After the tour is over, you will return home, feeling amazed with plenty of stories that you will tell for the rest of your life.
On this amazing expedition, we will make the most of your time so that you can see as many incredible Egyptian attractions in one week as possible. Follow our itinerary, or make your own custom tour where you call the shots. It is totally up to you!
A Whirlwind Tour of the Best Egypt Has to Offer
You will be amazed by how many fascinating Egypt experiences we will pack into this one week tour. You will admire the Great Pyramids, the Sphinx of Giza, and the Egyptian Museum of Antiquities in Tahir Square. You will also take a cruise down the Nile River and learn about the history of this very important waterway along which all civilizations in Egypt developed.
You will visit the ancient wonders at Luxor with your private Egyptologist guide, and you will explore the East & West banks. We will ll take you to the Mummification Museum, Valley of the Kings, Luxor Museum, Deir A Madina, and the Valley of the Nobles. The guide on your Egypt private guided tour is an expert in Egyptology so that you will gain an in-depth insight into the culture.
Enjoying Egypt Trip in Comfort and Style
One of the major advantages of seeing these amazing attractions on an Egypt private guided tour is that you will not have to worry about the hassle of getting from point A to point B. All of the little details of logistics and transport are taken care of so that you can sit back, relax, and enjoy the beauty all around you.
The tour will include transport in a private vehicle, a private guide, domestic flights, and all accommodations. It will also include the entrance fees to the tombs, museums, parks, and historical sites. You will be pampered in some of the finest accommodations, such as the Sonesta Star Goddess Nile cruise ship and the elegant Mena House Hotel. Our goal is to reveal Egypt's wonders to you while treating you to comfort and luxury so that you can enjoy every minute of the journey.
To find out more about this Egypt 7 Day Tour or any of our other Egypt Tour Packages, please feel free to contact us at any time.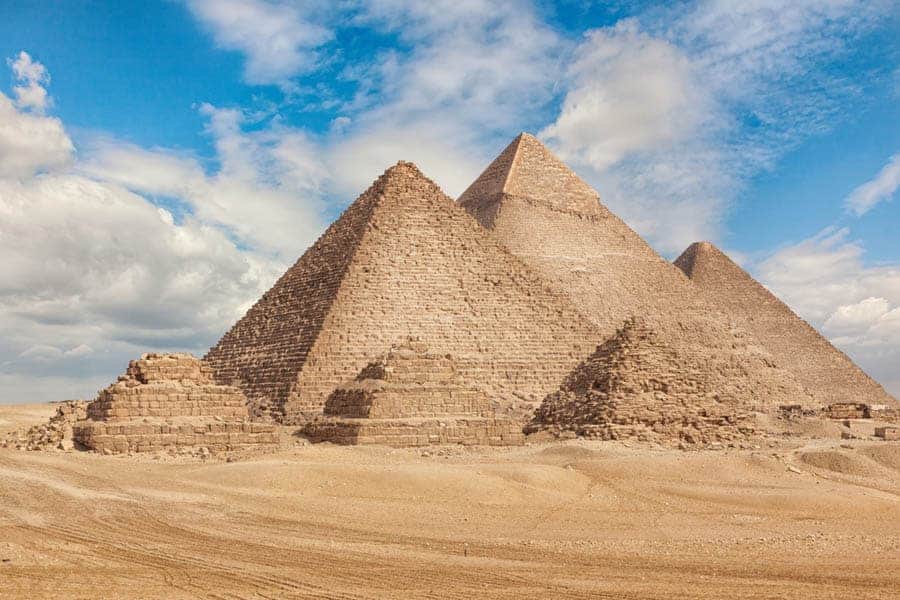 The great Pyramids of Giza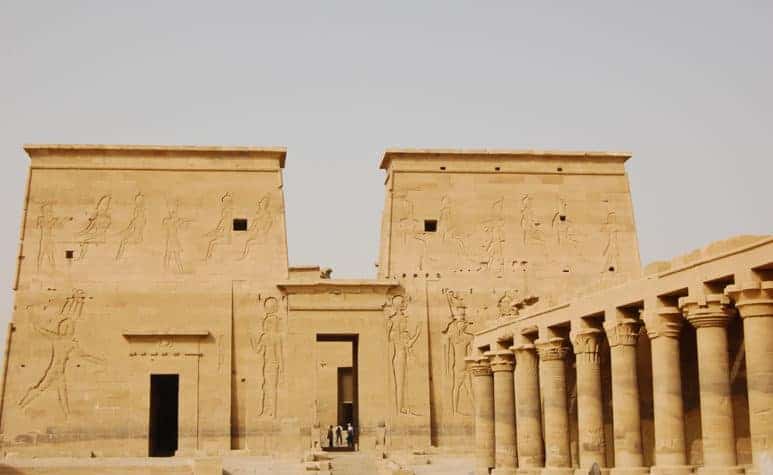 The beautiful Philae Temple in Aswan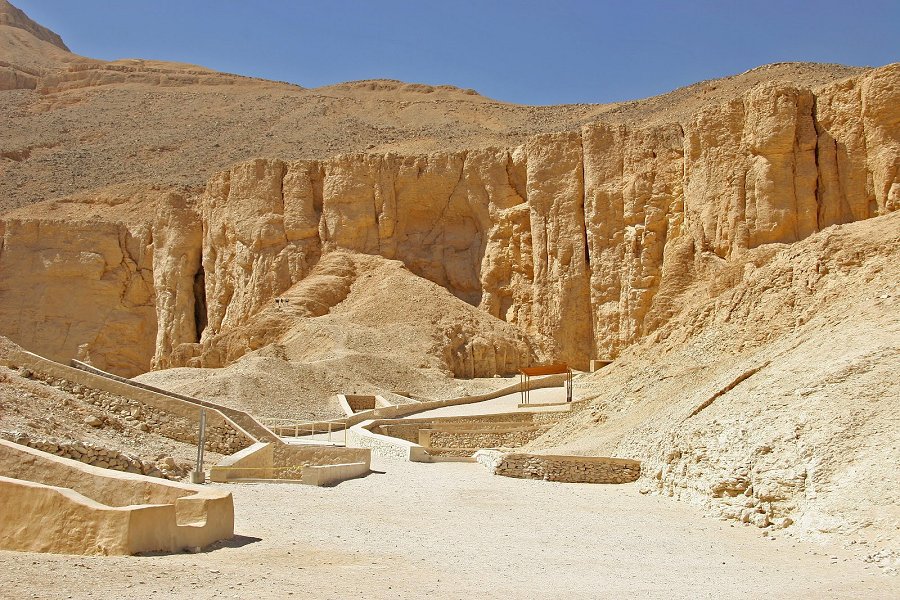 Valley of the Kings, Luxor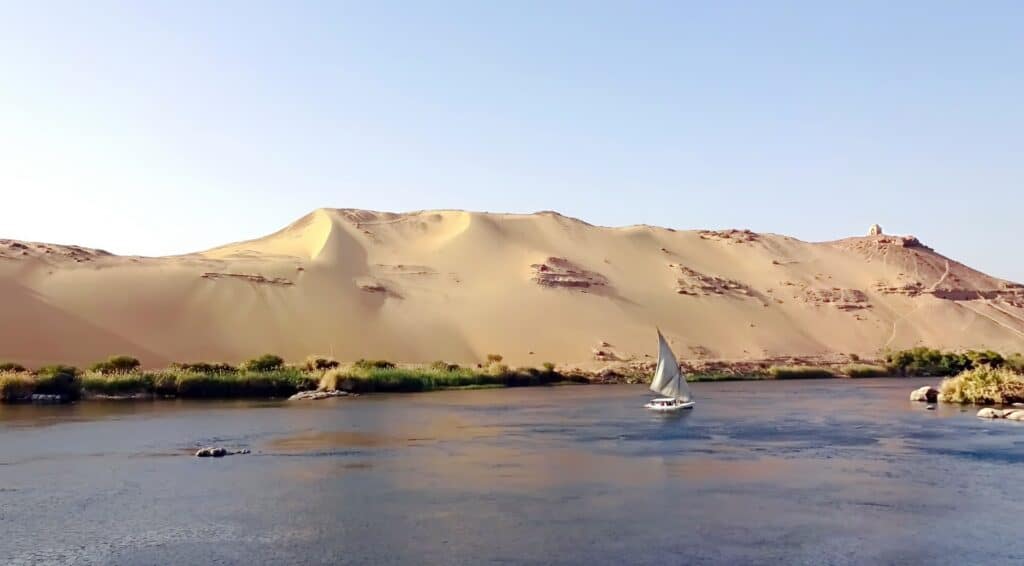 The Nile River, Egypt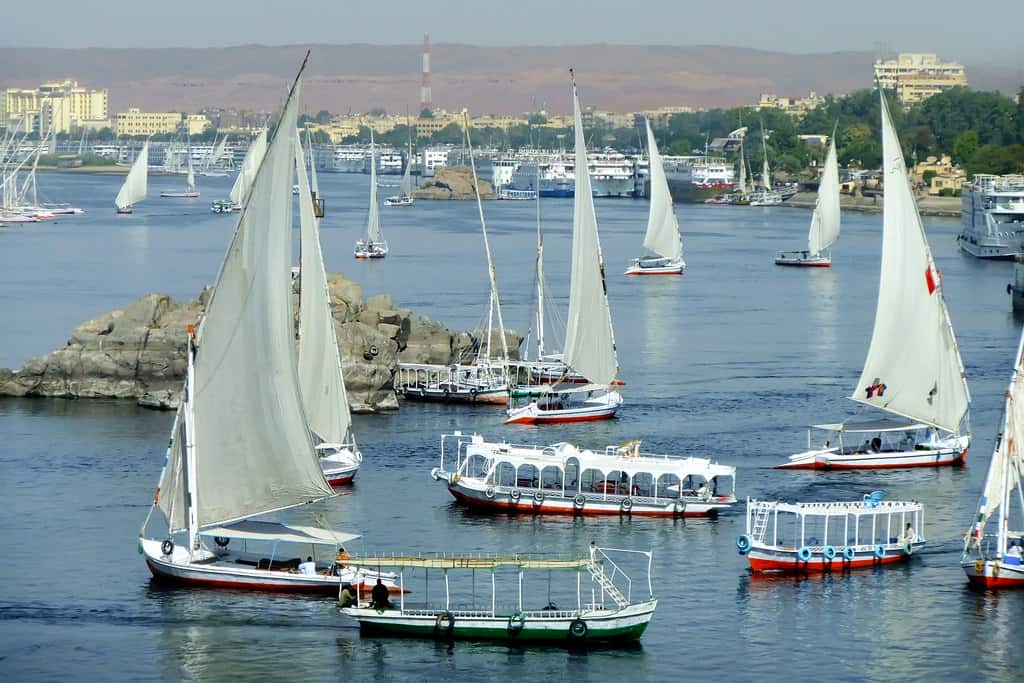 Felucca boats sailing on the Nile river, Aswan
Itinerary
Day 1: Arrival in Cairo
Your luxury trip to Egypt starts today. How exciting!
Once you arrive at Cairo airport, you will have an airport representative waiting for you with a private driver and a private air-conditioned vehicle.
Your Osiris representative will facilitate the visa process and escort you through customs and immigration.
After you finish the visa process and receive your bags, your private transfer will take you to the Mena House hotel to spend your first night right by the Great Pyramids of Giza.
Accommodation: Mena House (5*)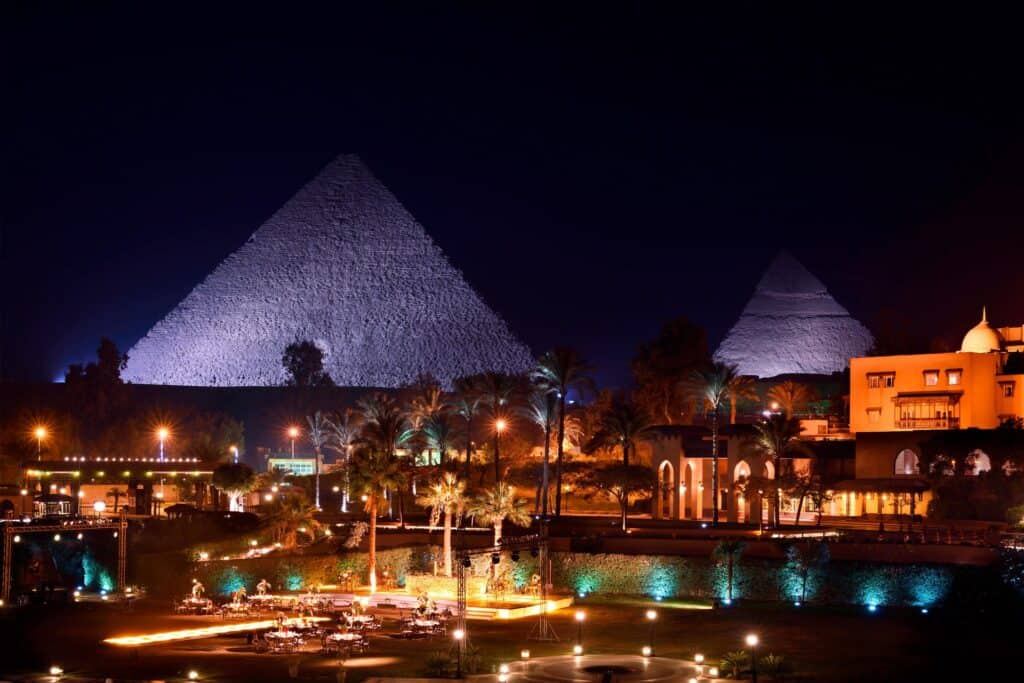 View from the Marriott Mena House, Cairo
Day 2: Giza
Start your day with a gorgeous view of the Great Pyramids while having your breakfast. After breakfast, you will head to visit the best places that anyone can see on an Egypt trip. With your own Egyptologist guide, you will learn about the Great Pyramids, Sphinx, and the Solar Boat history. You will also enter the legendary Great Pyramid itself.
After visiting the Great Pyramids, head to Saqqara there. You will explore the oldest complete stone pyramid, the Djoser Step Pyramid.
The private tour will continue to Memphis, which used to be the ancient Egyptian civilization's capital during the Old Kingdom period. There, you will wander around and hear some intriguing historical tales from your highly knowledgeable guide.
After visiting Memphis, Saqqara, and the Great Pyramids, it is time to experience some delicious Egyptian food. You will enjoy lunch at one of the best local restaurants.
The luxury trip to Egypt will include an exclusive sunset experience. With your private guide, enjoy a camel or horseback ride (your choice) and wander around the desert by the great pyramids, just like the ancient Egyptians did when building the Great Pyramids and temples.
The fun is not over yet because after enjoying the sunset panoramic view of the great pyramids and the camel/horse-back ride, you will enjoy dinner at a Bedouin restaurant near the Great Sphinx.
Accommodation: Mena House (5*)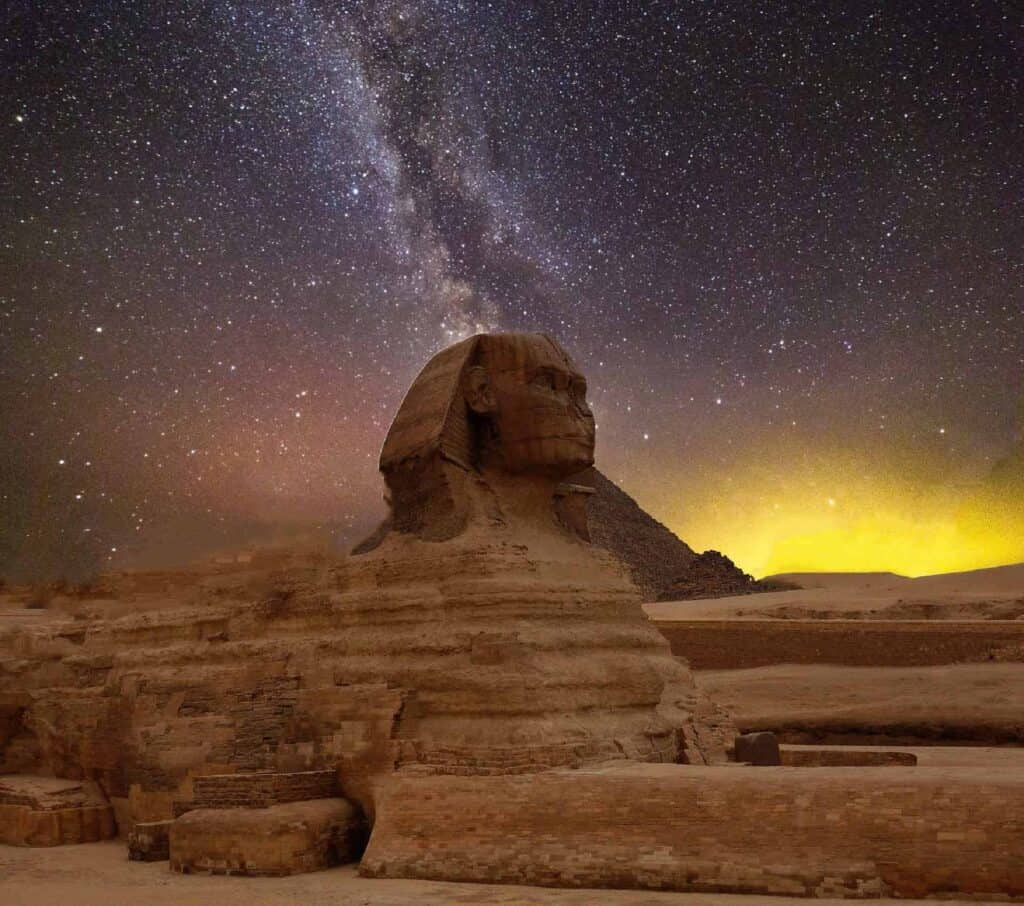 The Great Sphinx – Photo by Pixabay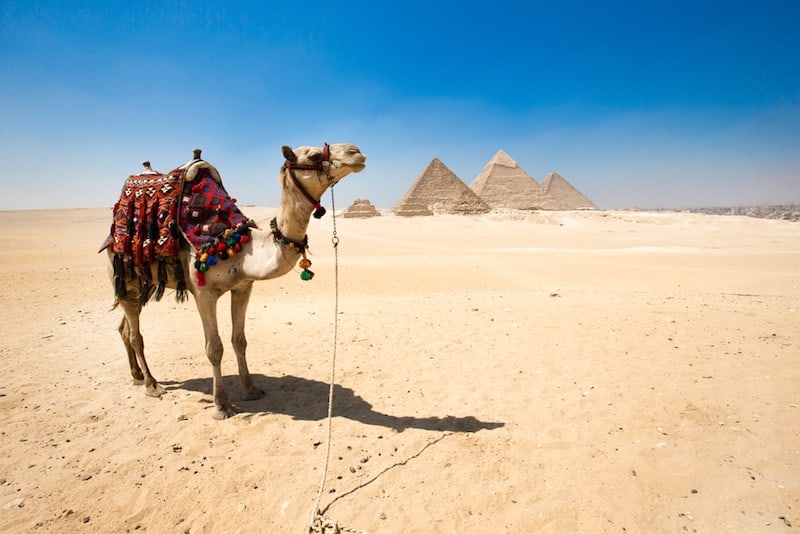 Camel relaxing at the Pyramids of Giza, Egypt
Day 3: Cairo – Aswan
An airport transfer with a private vehicle from Mena House hotel to Cairo airport is provided. A flight from Cairo to Aswan is provided.
A private airport transfer with a private vehicle and airport assistance from Osiris Tours representative in Aswan is provided upon arrival.
Today it's time to fly to Aswan. Aswan is located in Upper Egypt. An economy flight from Cairo to Aswan is included.
Start your day in Aswan by visiting Philae Island. A private boat ride is provided to get you to this amazing island, where you will enjoy one of the most impressive temples in the south. Your Egyptologist guide will explain the meaning and significance of this impressive temple. Philae temple has a unique history that dates back to the Ptolemaic Empire.
After visiting the Philae temple, you will head to see the High Dam built in 1971. Afterward, head to the Unfinished Obelisk and learn about the ancient Egyptian way of cutting the granite quarry's obelisks. Then head to check into your Nile cruise and have lunch.
In the afternoon, your guide will pick you up for your private Nile tour in a felucca (sailboat). You will glide down the Nile, see the beauty of Aswan, and visit the Old Cataract hotel to learn about its rich history. Thomas Cook built the hotel in 1899 for European travelers.
In 1978, the Old Cataract's captivating atmosphere inspired Agatha Christies' famous novel, Death on the Nile. She set portions of her novel at the hotel, and the 1987 film was shot at the hotel.
The Old Cataract Hotel overlooks Elephantine Island, home to the once flourishing cult of Khoum, the god of the cataract. It also overlooks the Aghakhan mausoleum, one of the most amazing landmarks in Aswan.
Famous guests of the Old Cataract included Howard Carter (who found the tomb of King Tut), Winston Churchill, Margret Thatcher, Princess Diana, Jimmy Carter, Queen Noor, and more.
After you finish the Aswan Nile tour, you will be back to your luxury Nile cruises for some evening entertainment and a Nubian show.
Accommodation: Sonesta Star Goddess (5*)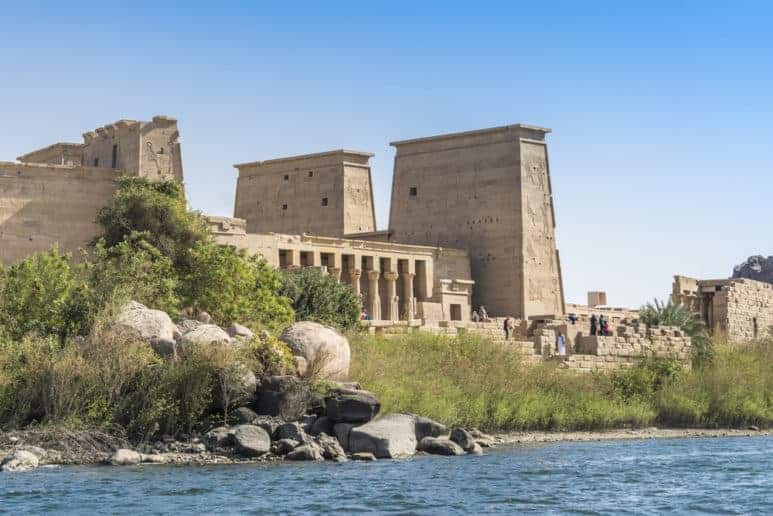 The Philae Temple in Aswan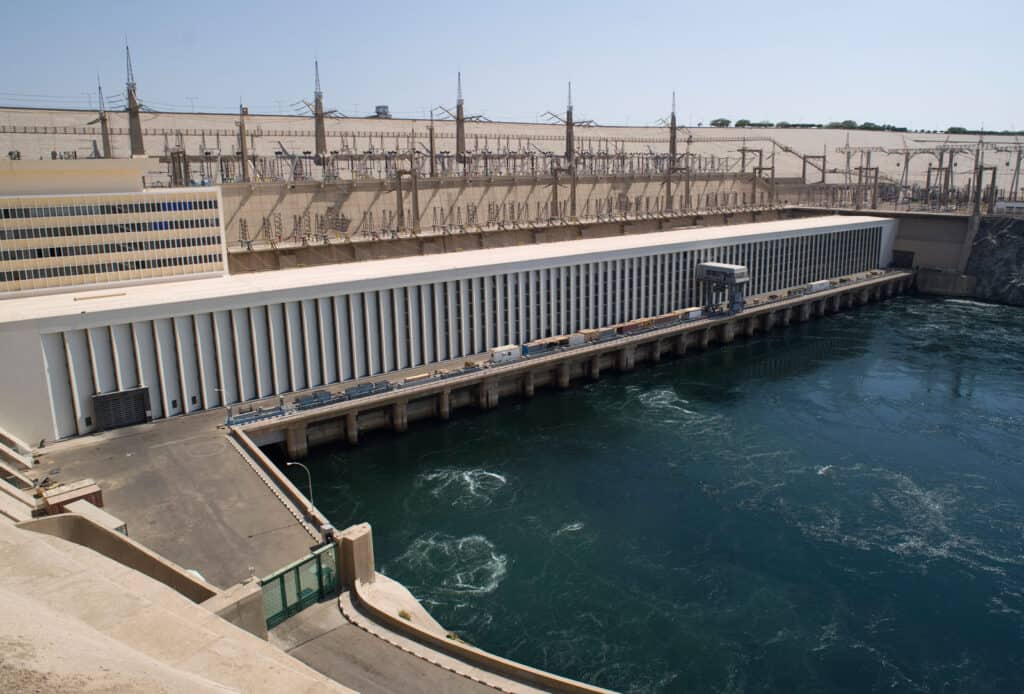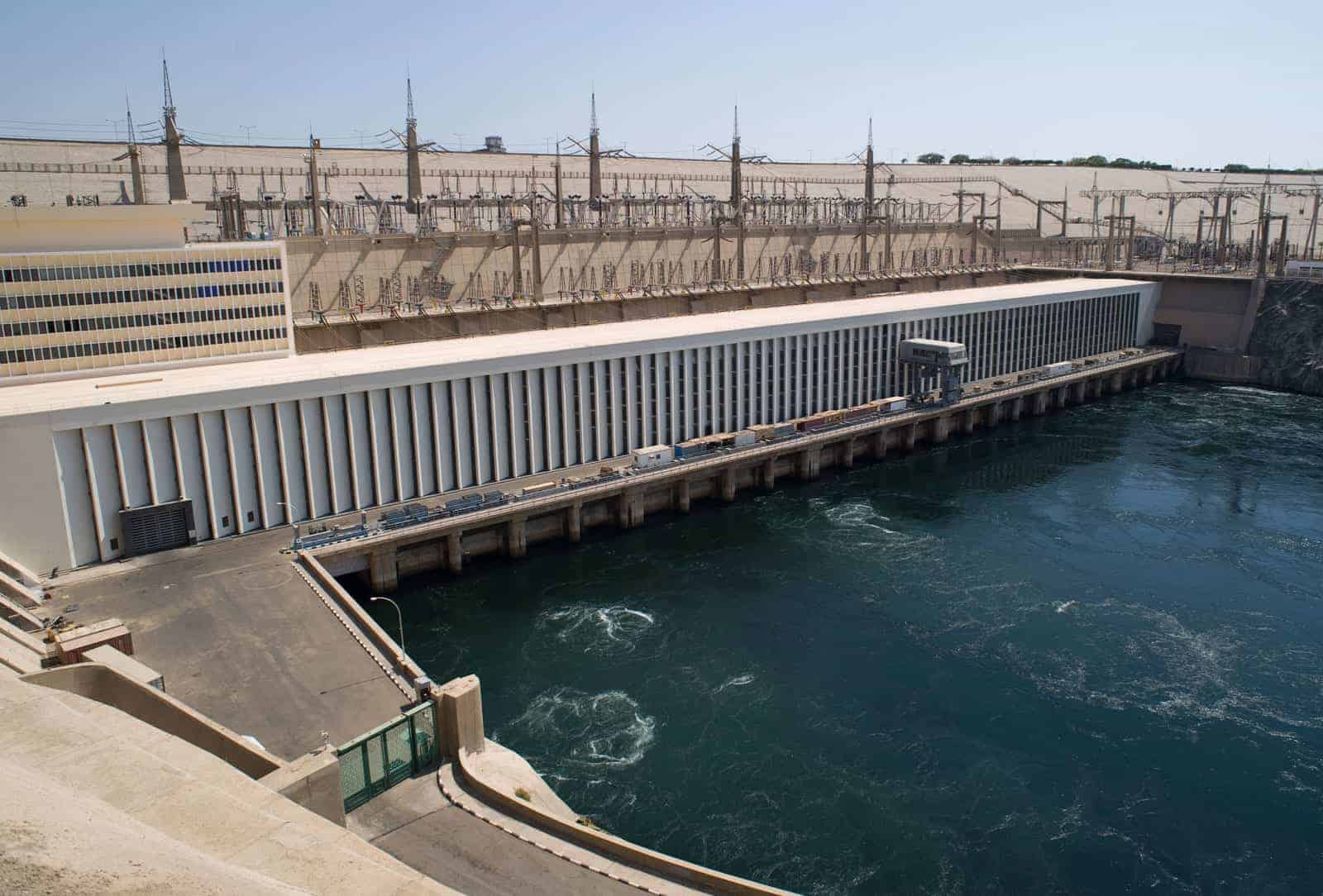 The High Dam in Aswan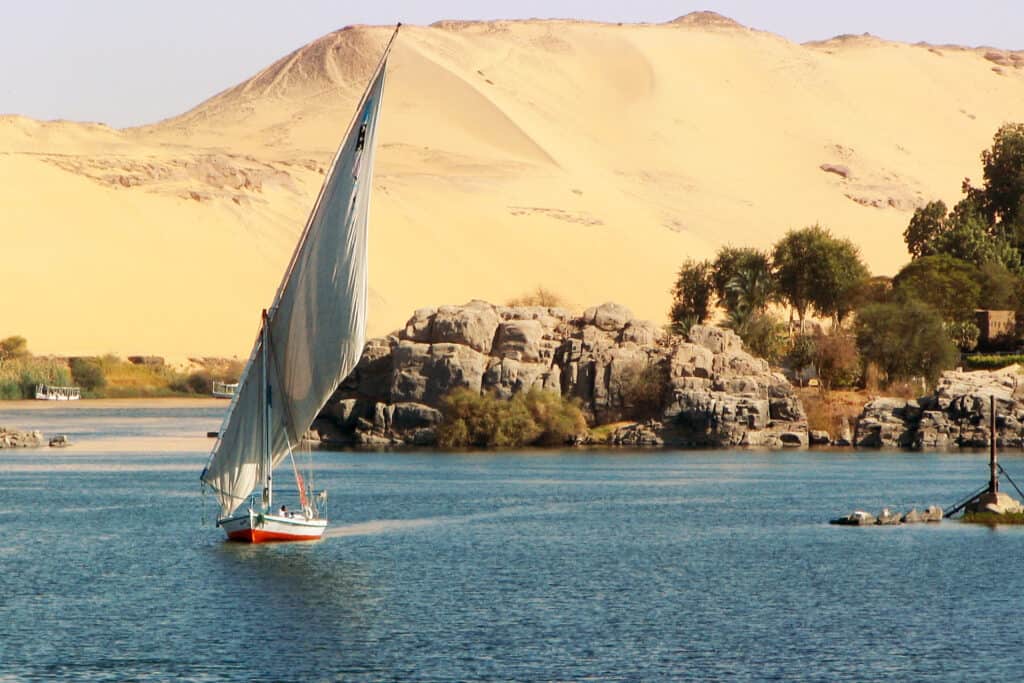 The Nile River – Image by KH Graf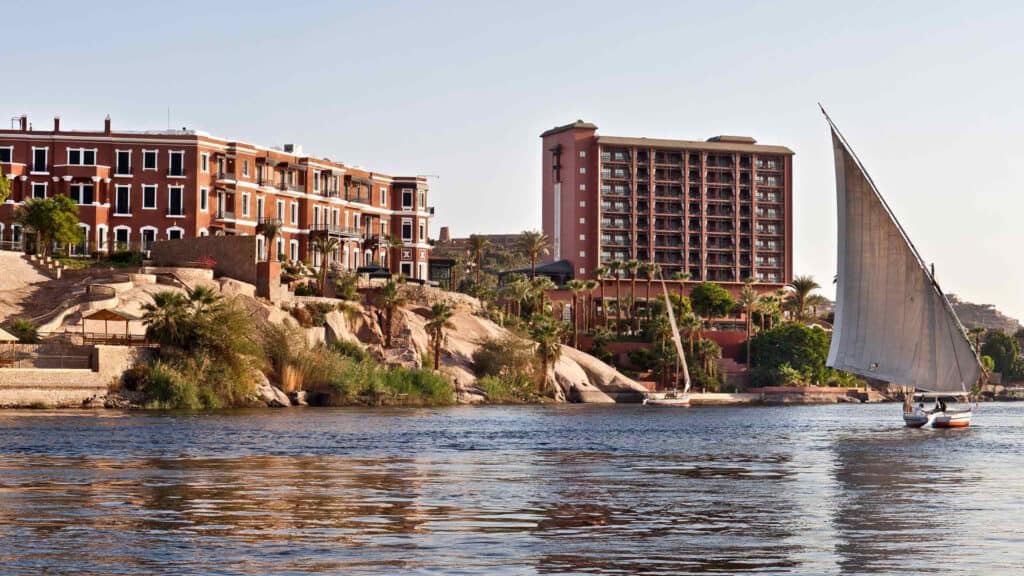 Sofitel Legend Old Cataract Aswan Hotel
Day 4: Nile
Wake up early in the morning and greet the dawn with a sense of adventure. Your Nile cruise will start its sailing journey from Aswan to Luxor.
Enjoy onboard breakfast while sailing down the Nile. The first stop will be Kom Ombo, which is located about 30 miles north of Aswan. There, you will explore Kom Ombo temple with your private Egyptologist guide.
After visiting Kom Ombo temple, the Nile cruise will continue its journey to the north, towards Luxor. Enjoy lunch onboard on the sundeck in a fun atmosphere.
After lunch, discover Edfu temple with your private guide. Edfu temple was built for the god Horus, the falcon-headed god.
Horus, the falcon, has always been known as one of the most famous gods in ancient Egypt, and it was considered the master of the sky.
Edfu temple is the second largest temple in Egypt and the best-preserved one. The ancient Egyptians took about 180 years to build it.
In the evening, enjoy an oriental Egyptian party, the Galabya party. In the Galabya party, the Nile cruise guests get to dress and walk like Egyptians and participate in fun games.
The Galabya party includes a traditional dinner and local music; it is a fun Egyptian night.
Accommodation: Sonesta Star Goddess (5*)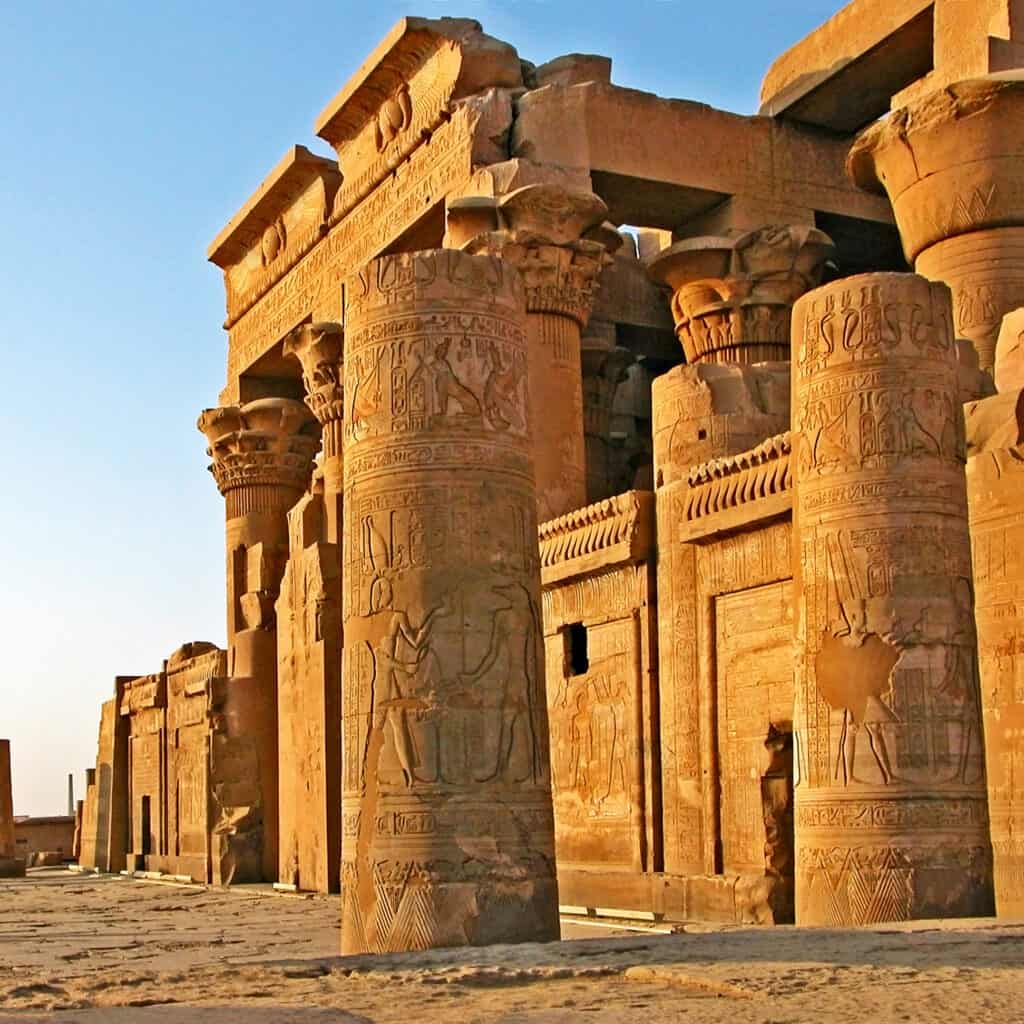 Temple of Kom Ombo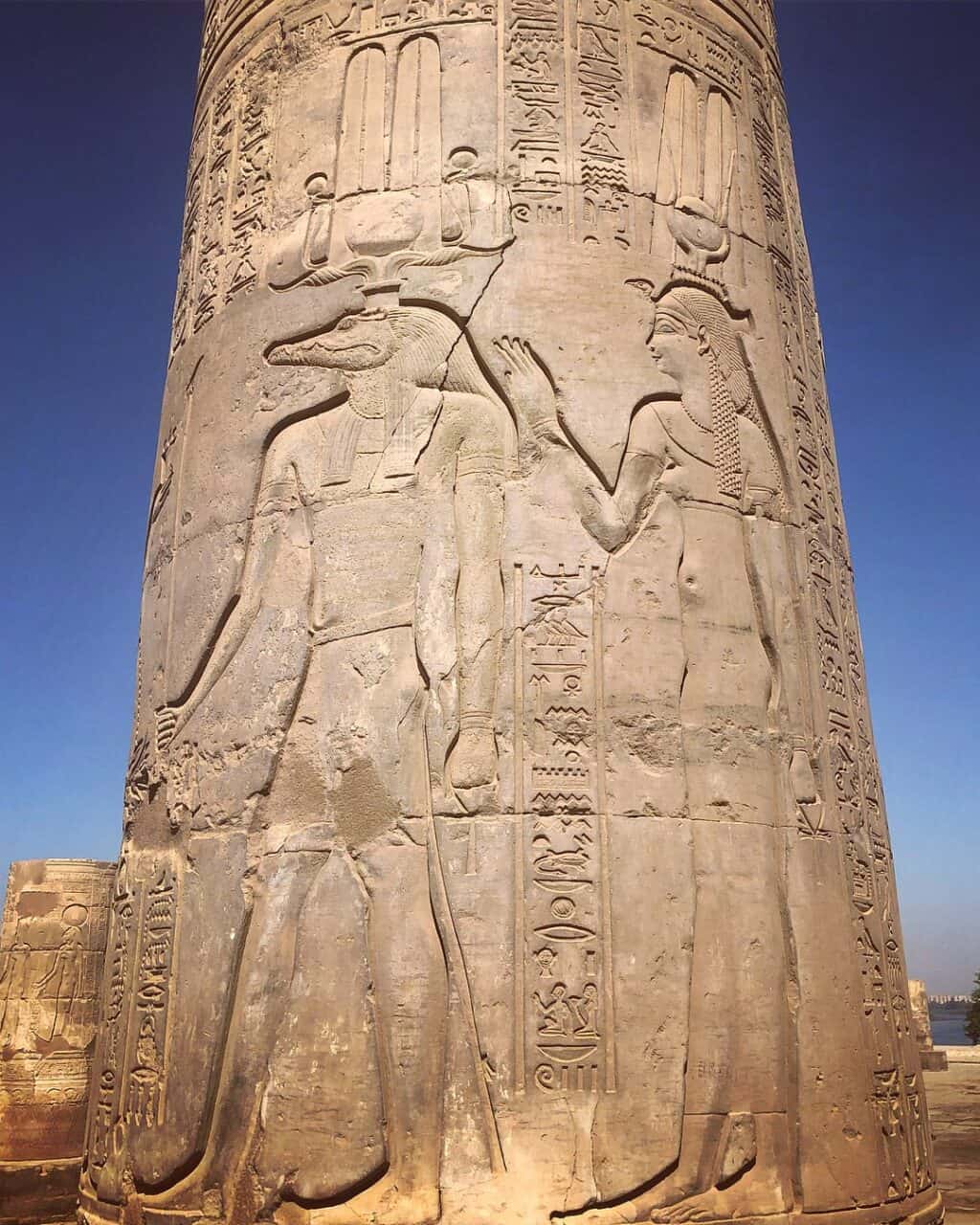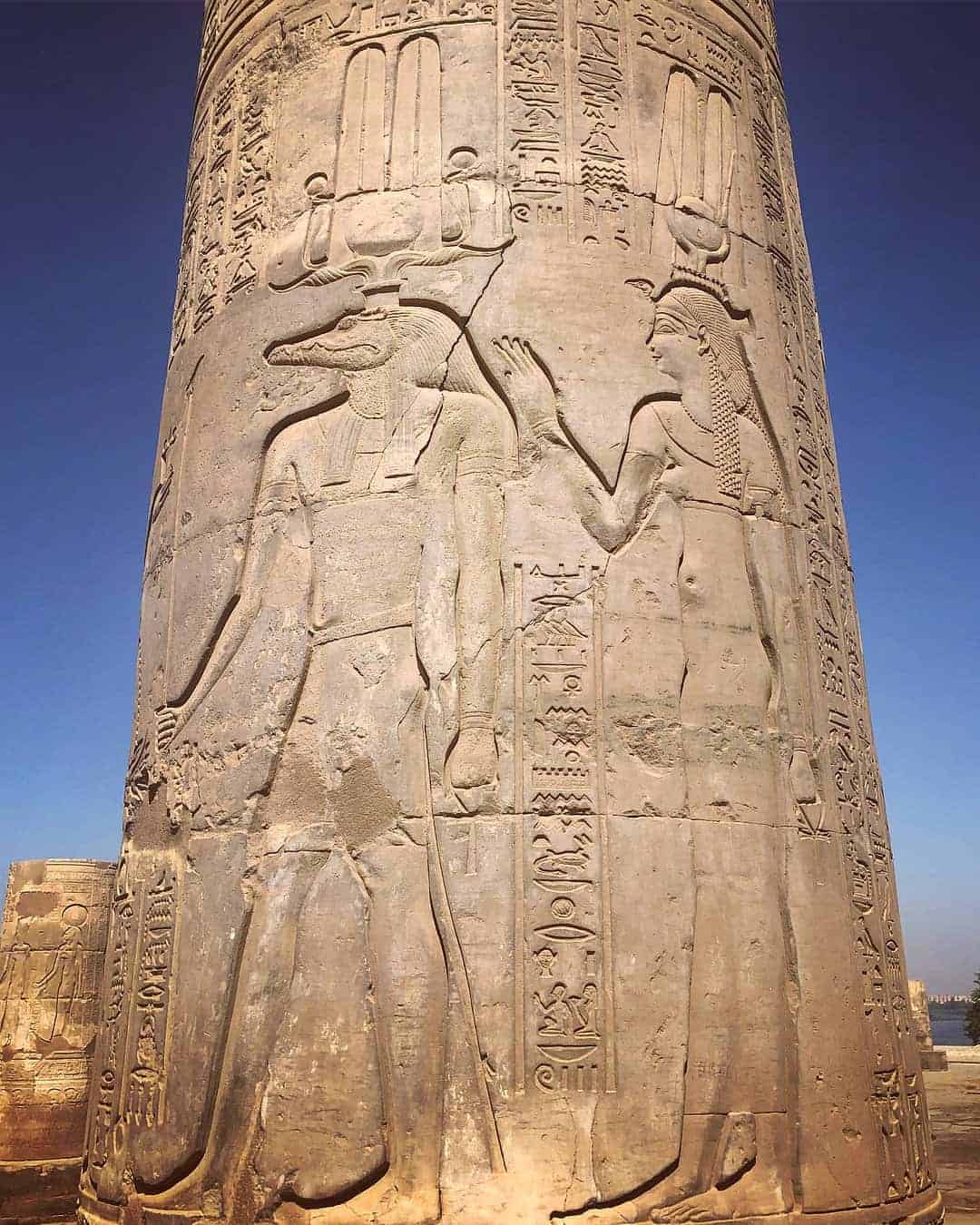 God Sobek in Kom Ombo Temple
Day 5: Luxor
Today you are in Luxor, which means you will get to visit King Tut's tomb during your visit to the west bank and the Valley of the Kings.
Your private guided tour in the west bank will also include a private tour to Al Deir Al Bahari temple built by the most powerful women in ancient Egyptian history, Queen Hatshepsut. After the west bank tour, head back to the Nile cruise for traditional Egyptian lunch.
After lunch, enjoy a private tour to the East bank, where you can visit Karnak and Luxor temples. Luxor temple is followed by king Ramses II's courtyard, which is surrounded on three sides by two rows of pillars shaped like bundles of papyrus.
On the east bank, you will also have the opportunity to visit the Luxor museum, located between Luxor and Karnak temples.
A private tour of the Mummification Museum is not to be missed while in Luxor. The incredible Mummification Museum includes 150 unique pieces, including sarcophagi, mummification tools used by ancient Egyptians, and panels of funeral rituals.
Accommodation: Sonesta Star Goddess (5*)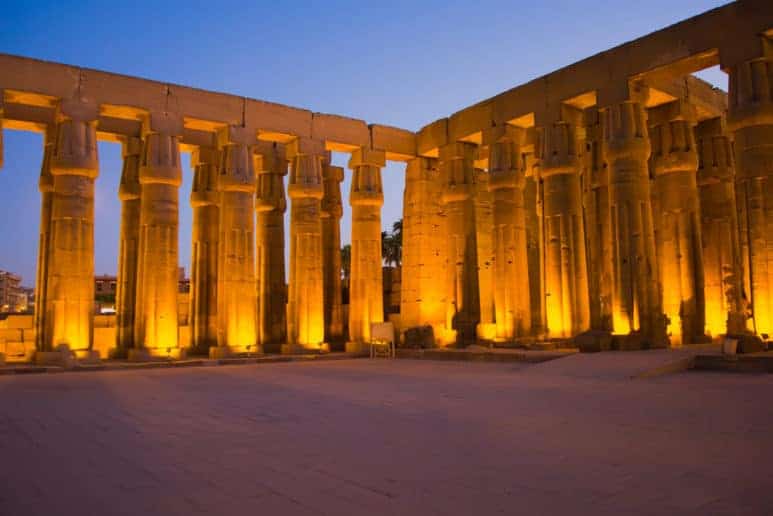 Luxor temple at night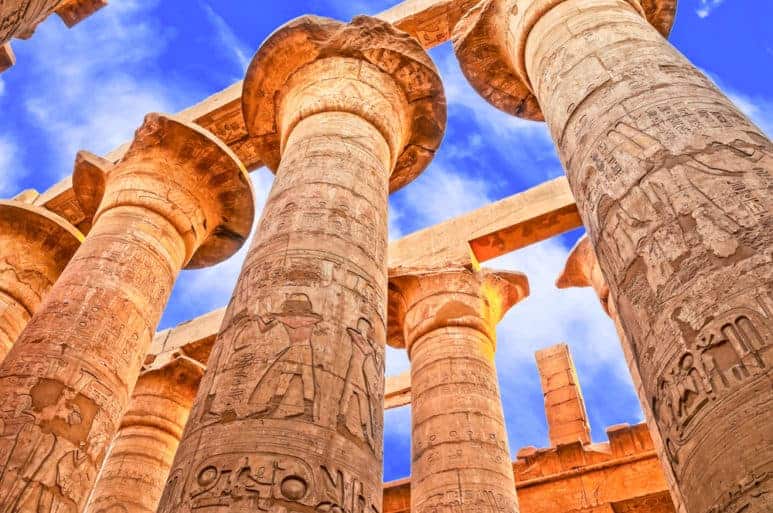 Great Hypostyle Hall and clouds at the Ramesseum Temple Temples in Luxor, Egypt.
Day 6: Luxor To Cairo
A private transfer from your Nile cruise to Luxor airport is provided. A private transfer from Cairo airport is provided.
After the end of your Nile Cruise, you will fly to Cairo. There you will discover the Egyptian Museum on a private tour with your Egyptologist guide.
The Egyptian Museum holds more than 120,000 items. It was built in 1835 near Al Azbekeyah Garden in downtown Cairo.
The Egyptian museum's private tour includes a tour of the collection of King Tut and a tour inside the royal mummies room.
After visiting the Egyptian museum, enjoy a local lunch in downtown Cairo.
In the afternoon, discover Old Cairo and learn about its history on a private tour with your own personal guide and driver.
In the evening, enjoy a luxurious and delicious Egyptian dinner at Naguib Mahfouz restaurant and Cafe, where the Nobel Prize winner Nagib Mahfouz wrote his most famous novels.
After dinner, you will have the opportunity to wander around Khan Khalili and its bazaars, where you will enjoy a private tour of Old Cairo and its shopping experience.
Accommodation: Fairmont Nile City (5*)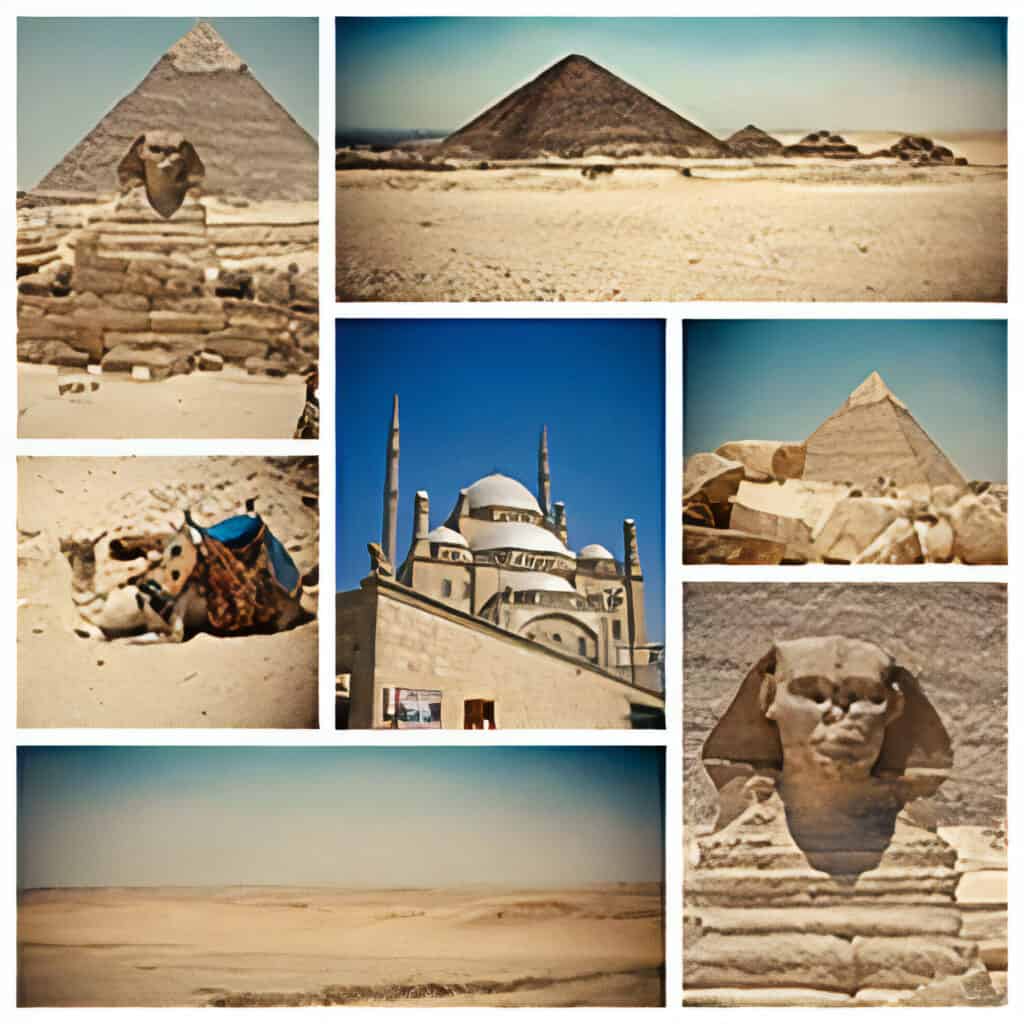 Ancient Egyptian Treasures in Giza and Old Cairo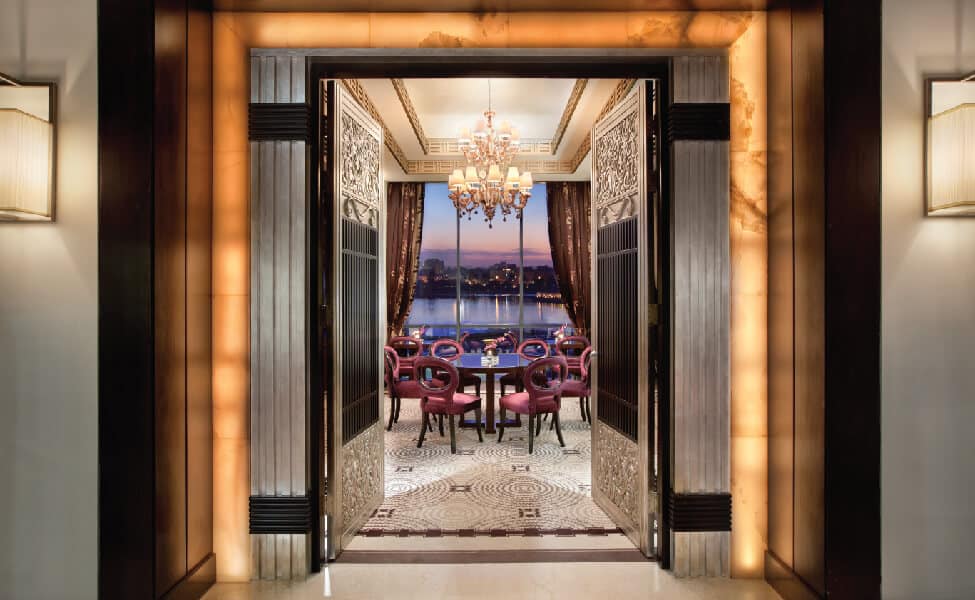 Fairmont Nile City Hotel, Cairo – Lounge entrance
Day 7: Cairo
Transferring in a private vehicle with an English-speaking driver from the Fairmont Nile City Hotel to Cairo airport is included. Airport assistance at Cairo airport is provided.
Hotels
Mena House Hotel (5*) in Cairo
Mena House is a beautiful and unique hotel in Cairo, with its own rich and colorful history. Fascinating guests have frequented the property since 1869, and it has continuously held the Attention of royalty and political thinkers. This palatial hotel is located in the shadows of the Great Pyramids of Giza in Cairo, and it is surrounded by 40 acres of verdant green gardens. The hotel's royal history is reflected in luxurious interiors embellished with exquisite antiques, handcrafted furniture, original works of art, and magnificent antiques rarely found in luxury hotels. Mena House has played host to kings and emperors, heads of state, and celebrities.
Located 700 meters from these wonders of the ancient world, Mena House offers unmatched views of the pyramids. You can gaze upon the magnificence of the pyramids from your room, watching the sunrise and set over these legendary monuments.
After dinner at one of the many restaurants, you can return to your room and see them lit up for your private viewing pleasure. An ideal location for Cairo meetings, the hotel's banquet and conference center offer venues for weddings, receptions, and meetings ranging from 50 to 1000 guests. Recreation options at the hotel include a heated swimming pool and a fully-equipped spa & fitness center. Regarded as one of Cairo's leading luxury hotels, the hotel combines the magical charm of a bygone era with an unrivaled service fit for royalty. Your interlude at the hotel promises to be a journey of discovery, exploring Cairo's ancient treasures and unraveling the many mysteries of Egypt's past.
Sonesta Star Goddess (5*) Nile Cruise Ship
Glide down the Nile on a luxurious all-suite cruise ship. The luxury Sonesta Star Goddess Nile Cruise features 33 suites named after famous composers, giving it a touch of elegance and sophistication. The ship comprises 27 deluxe Beethoven Suites (each 131f), 4 lush Mozart Suites (each 114f), and 2 superior Chopin Suites (each 171f). Each of the 33 suites has a private terrace and is designed to offer maximum comfort and space.
Sip cocktails and dine on light meals on the Sun Deck, which overlooks the water. In between stops at different land sites along the way, there are plenty of activities. Entertainment includes a discotheque, themed parties, and dance performances. All units are comfortable and spacious, giving the ship a touch of elegance and sophistication. After enjoying private guided tours of ancient sites, you can relax in the ship's swimming pool, enjoy a massage in the full-service spa, or run on the ship's jogging track. Fine dining in the restaurant and nightly entertainment will cap off a memorable day.
Fairmont Nile City (5*) in Cairo
The Fairmont Nile City is one of Cairo's most luxurious hotels, located right by the River Nile.
With sweeping panoramas of the Nile River, the hotel offers a delightful series of contrasts. It is equipped with the most advanced design and technology to serve the discerning traveler's needs; this luxury Cairo hotel is also intimately attuned to its surroundings.
Fairmont Nile City offers special features such as culinary adventures at the finest restaurants in Cairo.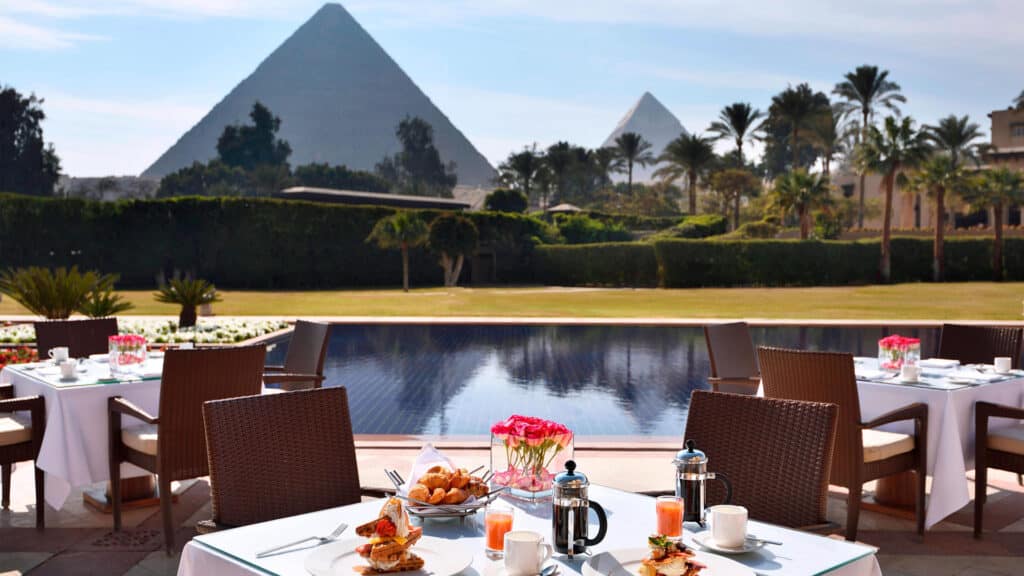 Dining at the Marriott Mena House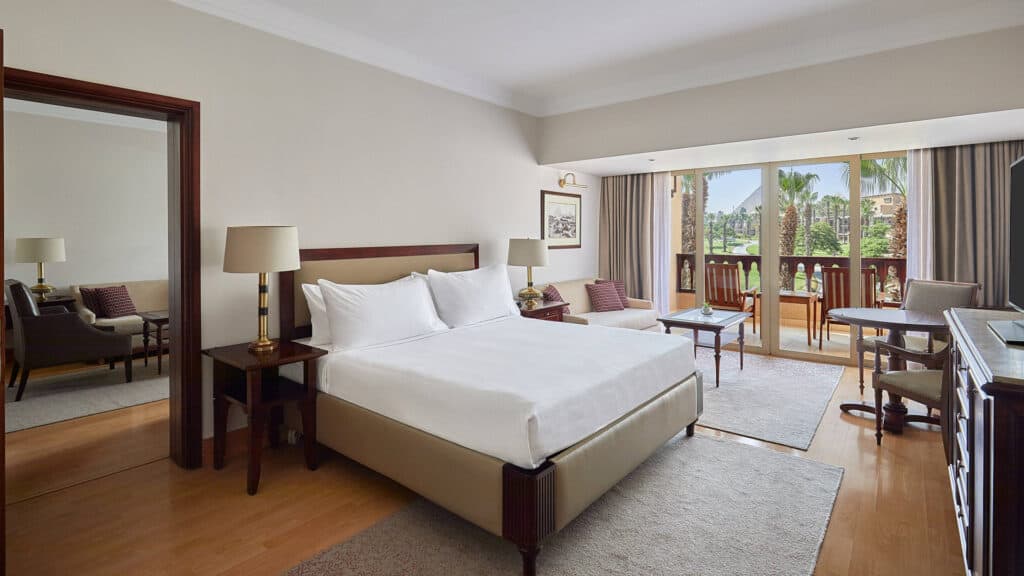 Marriott Mena House Pyramid Suite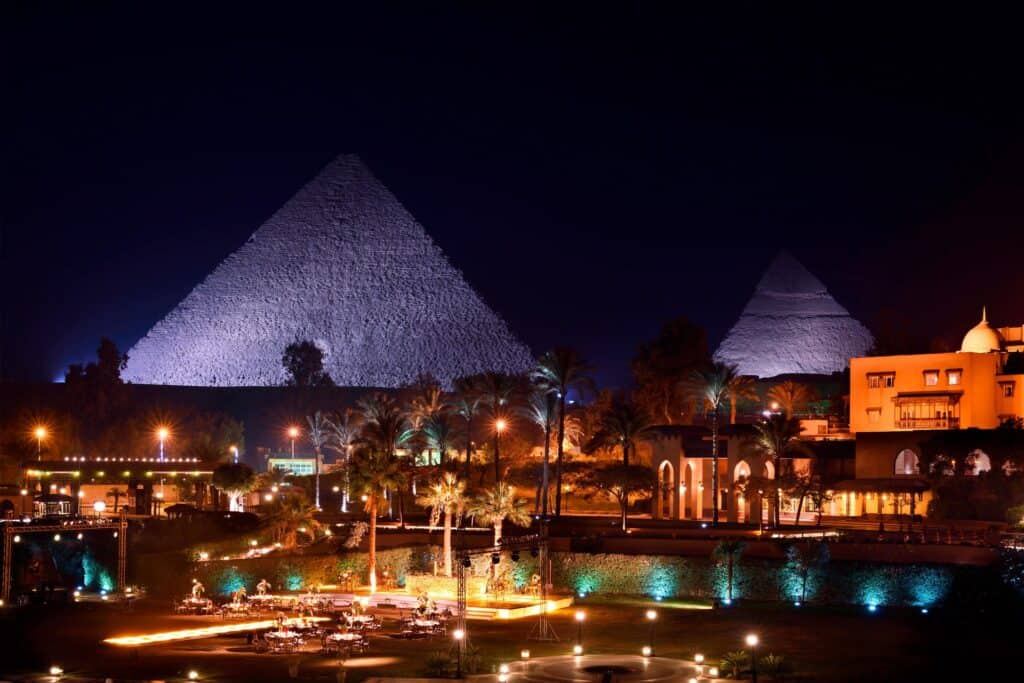 View from the Marriott Mena House, Cairo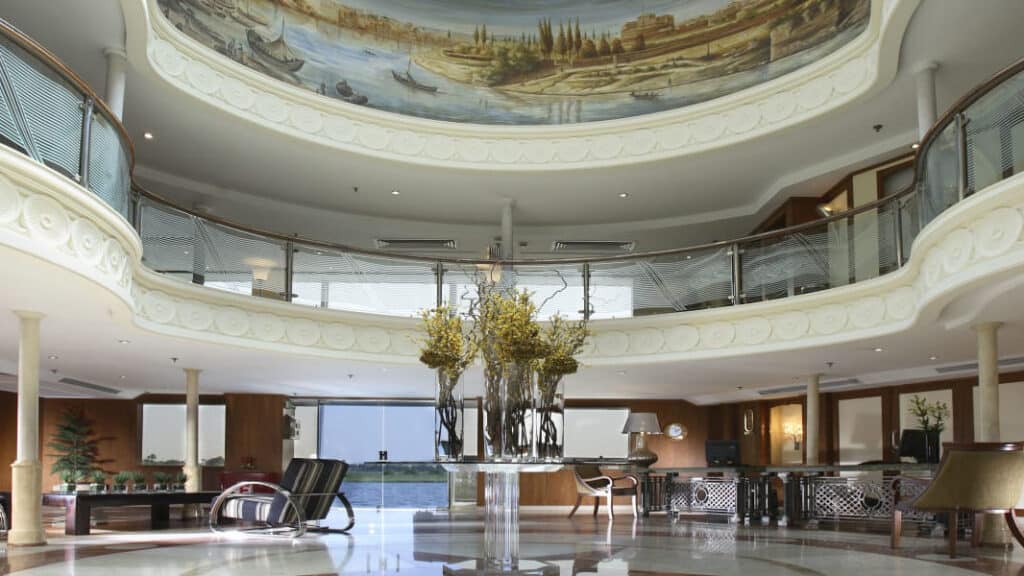 Sonesta Star Goddess Nile Cruise Ship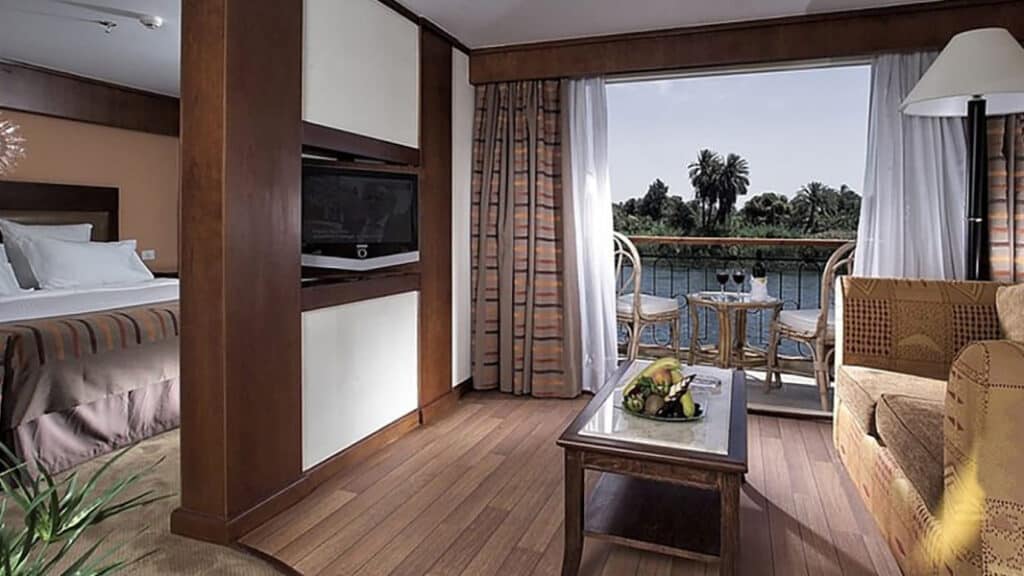 Sonesta Star Goddess Nile Cruise Ship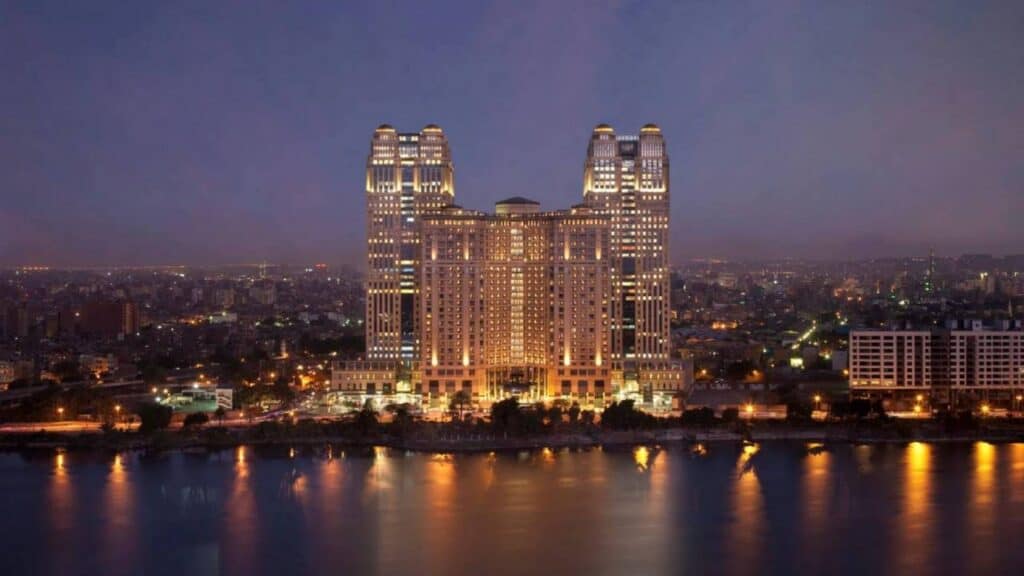 The Fairmont Nile City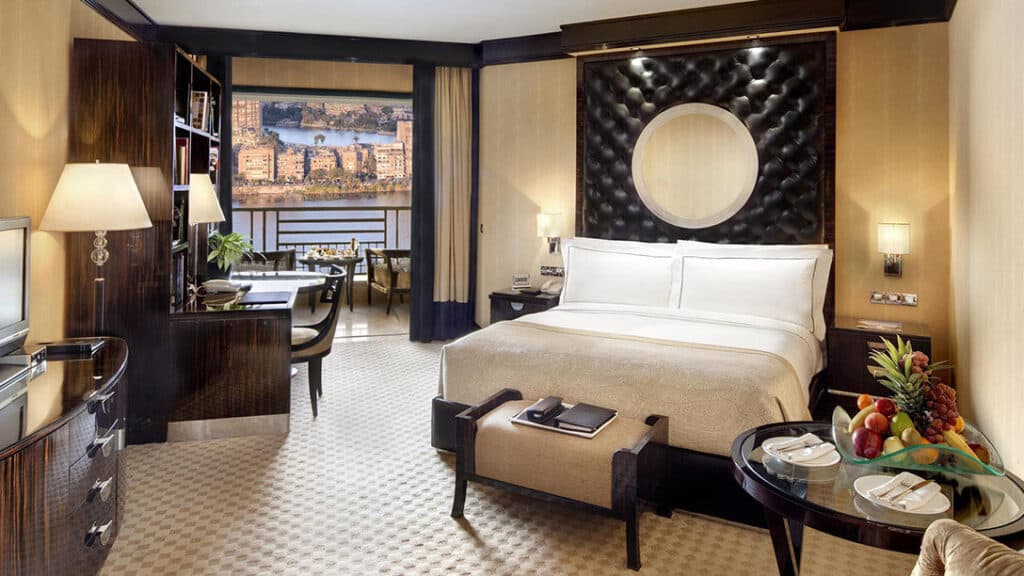 Fairmont Nile City – Room
Things you should know before you visit Egypt
Documents
If you are an American or a Canadian, you will need a valid passport for at least 6 months after the day you plan to return from Egypt. You must also provide proof that you intend to return or continue your travels elsewhere. You are responsible for ensuring your passport is current and that your name on your passport matches all other travel documents we will issue. If you find that your name differs between any documents, please let us know right away.
Visas
You will need a visa to travel to and inside Egypt. You can get one when you arrive at Cairo airport. We can include visa fees and proceeds in your itinerary upon request. When you leave Egypt, you must show proof of entry via a stamp on your valid passport. If you don't provide this stamp, officials may prevent you from leaving Egypt.
Insurance
It is a good idea to have insurance if you need to cancel your trip or any medical need while abroad. Most insurance policies also cover baggage loss/damage or problems completing the trip due to circumstances beyond your control. Get a policy that provides medical coverage to avoid large health care expenses in an emergency. We can help you find the right insurance policy for your trip with us.
Clothing for women
In general, for women traveling to Egypt, anything that is below the knee should be fine. Short sleeves should be fine as well, but nothing too short or too tiny. You do not need to cover your head in Egypt but do dress modestly. Wear pants or long skirts. It is hot in the summertime so that loose-fitting pants will be more comfortable than a pair of skinny jeans. It is also dusty and dirty, so that white clothing will appear soiled far more quickly than other colors' clothing.
Electricity, Internet and Phone
Egypt's power grid is set up for 220V AC. Some rural areas only have 110V AC. Sockets are either the "Type C" Europlug or the "Type E" and "Type F" Schuko plug. You'll need to purchase an adapter for devices from North America. Outlets marked as 110V or "For Shavers Only" won't work for devices not rated for 110V and may even damage them.
Mobile phone roaming charges are different between carriers, so be sure to check on costs with your phone provider in each area you'll travel to.
The large cities such as Dahab, Luxor, Cairo, and Alexandria have many Internet cafes where you can pay to use the WiFi or wired network ports. Some small towns like Siwa have at least one Internet cafe. Hotel in-room or lobby WiFi can be expensive, so check the rates before connecting to their services. Osiris Tours will not have control over which hotels have Internet access, but we do have information on which establishments are likely to provide it. We can help you find contact information to get in touch with the properties directly and ask what they make available.
– Time Zone: UTC+2
– Electricity: 220V AC + 110V in certain rural areas
– Telephone: Country code for calling you from outside Egypt is 20
– Calling North America: Dial 00 + 1 and your 10 digit number
– Emergency numbers in Egypt: Police: 122; Tourist Police: 126; Ambulance: 123; Fire: 125
Weather
Egypt is very dry in some places and very wet in others. Be prepared for a hot and dry climate. It can get cold in the northern regions if you happen to visit in the Winter. Most tourists visit during the cooler months from December to February.
February to April and October to November is the best time of the year climate-wise to see the pyramids and Valley of the Kings. It can be very hot and dusty in April because of winds blowing in from the Sahara, so visiting sites can be a bit of a problem during that month.
Updated weather forecasts can be obtained from Weather.com.
Money
We recommend that you bring about $100 US per person for each day's expenses. Small bills are best to tip waiters, porters, and housekeeping. Tipping is at your discretion based on your satisfaction with the service you receive.
The Egyptian currency is called the "Egyptian Pound" (guinay in Arabic). Notes come in denominations of 5pt, 10pt, 25pt, 50pt, E£1, E£5, E£10, E£20, E£50 and E£100. Coins come in denominations of 10pt, 20pt, 25pt, 50pt, and E£1. Some tour operators and hotels only accept US dollars or Euros.
Get your Egyptian Pound currency from your own bank before leaving or from an Egyptian bank machine. Those methods are cheaper than in the airport currency exchange or in tourist areas. Visa and Mastercard are widely accepted, but your bank card may or may not be valid in-country.
Vaccinations
There are currently no vaccinations required to travel to Egypt.
There have been some occurrences of "Bird Flu" (avian influenza) in Egypt. We recommend that you:
– Avoid going to live animal farms or poultry markets.
– Avoid eating eggs or poultry that have not been fully cooked.
– Wash your hands regularly.
– See a doctor if you feel any flu symptoms coming on while traveling or after you return home.
Medicines
Make a list of all the medicines and medical items you need to bring with you on your trip, plus dosages of prescription drugs, details of prescription glasses and contacts, and any other medical necessities. Put spare eyewear and medications in checked and carry-on bags in case some of your luggage gets lost in transit.
There are non-prescription, over-the-counter medicines available in Egypt, but it is often difficult to get prescription medication or eyewear. Bring water purification devices or iodine tablets in case bottled water is not available. We can advise which locations will have potable vs. non-potable water. We strongly recommend bringing some type of over-the-counter diarrhea medication.
Medical Needs Checklist
– Basic first aid and medicine kit (band-aids, antiseptics, pain meds).
– Pepto-Bismol, Imodium, electrolyte powders for adding to drinking water to solve dehydration problems, and anti-diarrheal medications.
– Anti-itch cream for insect bites and allergies.
– Tablets for motion sickness.
– SPF 30 or higher sunscreen, aloe-vera lotion for sunburn treatment, large-brim hat, lip balm, insect repellent, and sunglasses.
– Hand sanitizer and baby wipes.