Cairo, Nile Cruise,
Luxor & Aswan
Osiris Tours Advantages
Enjoy a personalized tailor-made trip to Egypt with a private and qualified tour guide, driver, and traditional Egyptian cuisine. Your tour will be customized just for you and suit your own style, schedule, and budget.
Avoid the crowds with your own private guide & private vehicle during your tour around the Giza Pyramids and the Sphinx.
Learn about Luxor's history and its monuments on a private custom tour to the Valley of the Kings & Queen, Karnack Temple, and Luxor Temple.
Wind your way around scenic Aswan islands with your private guide and your private felucca/sailboat.
Sail down the Nile on a three-night luxury Nile River cruise on Nile Admiral.
Stay in a comfortable and safe hotel, Le Meridien Pyramids Hotel, with scenic views of the Great Pyramids.
Tour Overview
If you are planning a trip to Egypt but don't have a lot of time, this 5 night/6 day is packed with all the wonders of ancient Egypt, including the Great Pyramids and Sphinx, to a cruise down the famed Nile River. You'll visit Cairo, Giza, Aswan, and Luxor with a private guide, a private driver, and more.
This Egypt travel package explores the golden heritage of ancient Egyptian civilization. Your trip to Egypt begins in Cairo and Giza, exploring the Great Pyramids with a trained Egyptologist guide. Wander through ancient Memphis, Saqqara, The Solar Boat, Chephren Pyramid, learning about Egyptian kings and queens' ancient ways.
Take a short flight from Cairo to Aswan, where you will tour the UNESCO World Heritage site, the Philae temple, as well as a private sailboat ride through the most picturesque portion of the Nile River and Kitchener Island.
Next, experience more of Egypt's Golden Era as you embark on a luxury Nile River cruise from Aswan to Luxor. Your Nile River cruise on board the luxury small-ship Nile Admiral will include stops at Kom Ombo and Edfu temples, both with private Egyptologist guided tours.
In Luxor, a custom tour of the Valley of the Kings and Valley of the Queen, including private tours of the Karnak and Luxor Temples. The Karnak temple is more than just a temple; it is an open museum and the largest ancient religious site globally. Built for the sacred Theban triad, God Amun-Ra, his wife Goddess Mut, and their son, God Khunsu, more than 30 pharaohs, including Hatshepsut, Ramses II, King Tut, and more contributed to its construction process.
After visiting Karnak and Luxor temples, head to the West Bank of the Nile, where you discover King Tut's tomb in a private guided tour, and the Queen Hatshepsut temple, where you can wander around the temple of the most famous and powerful women in the ancient Egyptian history.
Our Egypt travel package includes all accommodations, a private Egyptologist guide, a private vehicle, a private driver, internal flights, all entrance fees, taxes, and much more!
Choose this itinerary or customize your own personal trip to Egypt at no additional cost.
Your safety is our primary concern. Relax during your trip with our 24/7 support and expert local guidance. Check the itinerary to learn more about this luxury tour.
To find out more about this Egypt 6 Day Tour or any of our other Egypt private tours, please feel free to contact us at any time.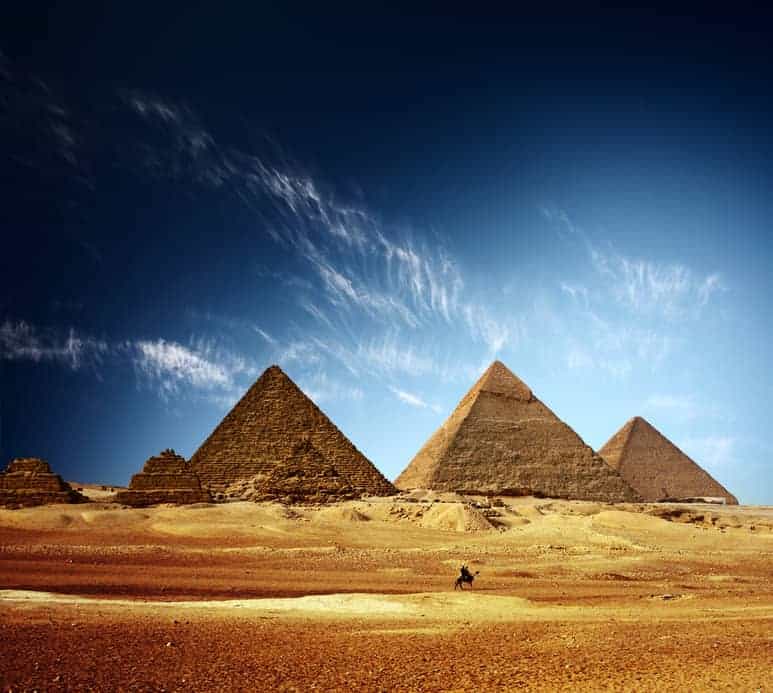 The Great Pyramids of Giza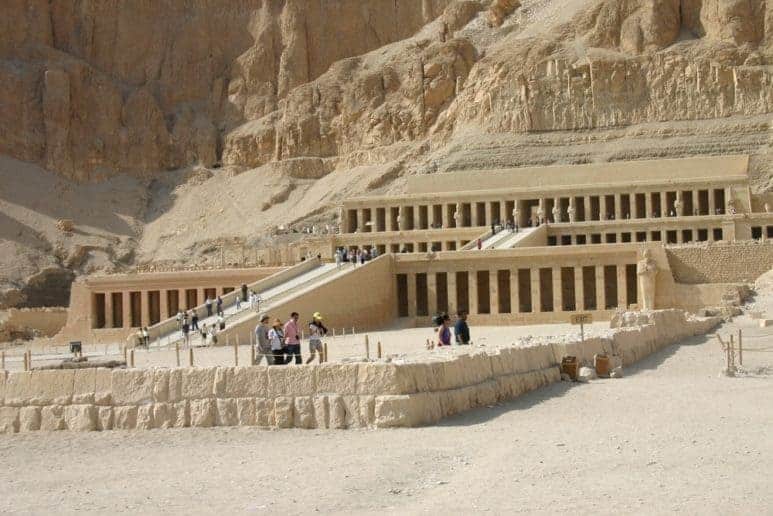 Queen Hatshepsut Temple in the West Bank of Luxor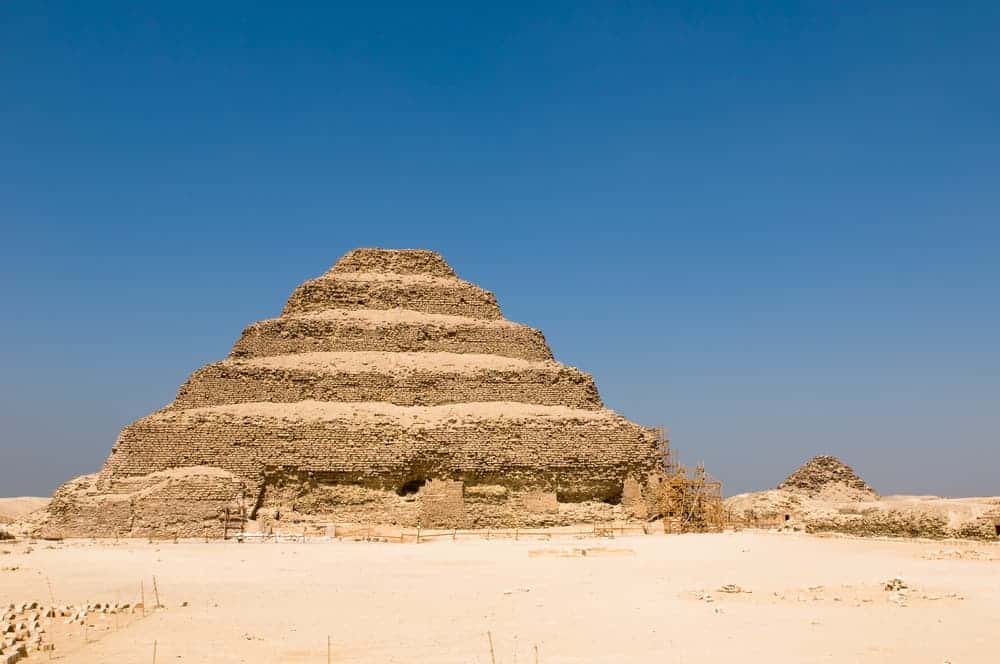 Djoser Step Pyramid in Saqqara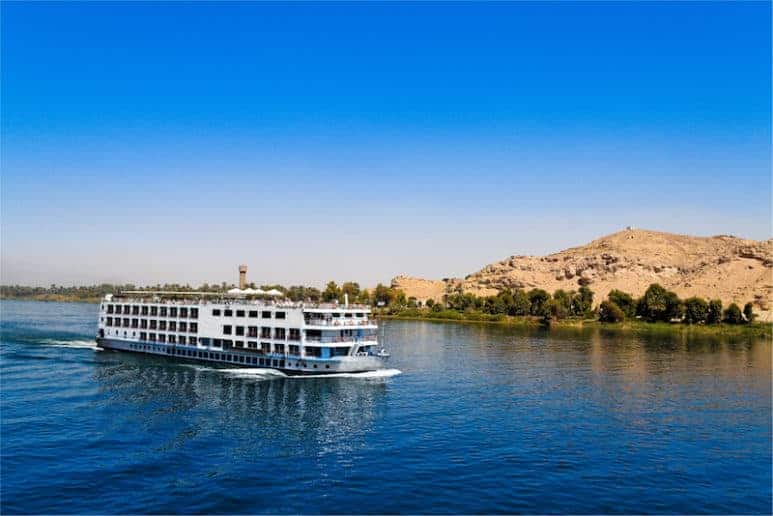 Nile Cruise
Itinerary
Day 1: Arrival in Cairo
Upon arrival at Cairo airport, our representative will help facilitate the visa process for you and escort you through customs, where immigration will meet you. A private transfer will be waiting to pick you up from the airport to transfer to Le Meridien Pyramids hotel.
Accommodation Le Meridien Pyramids (4*)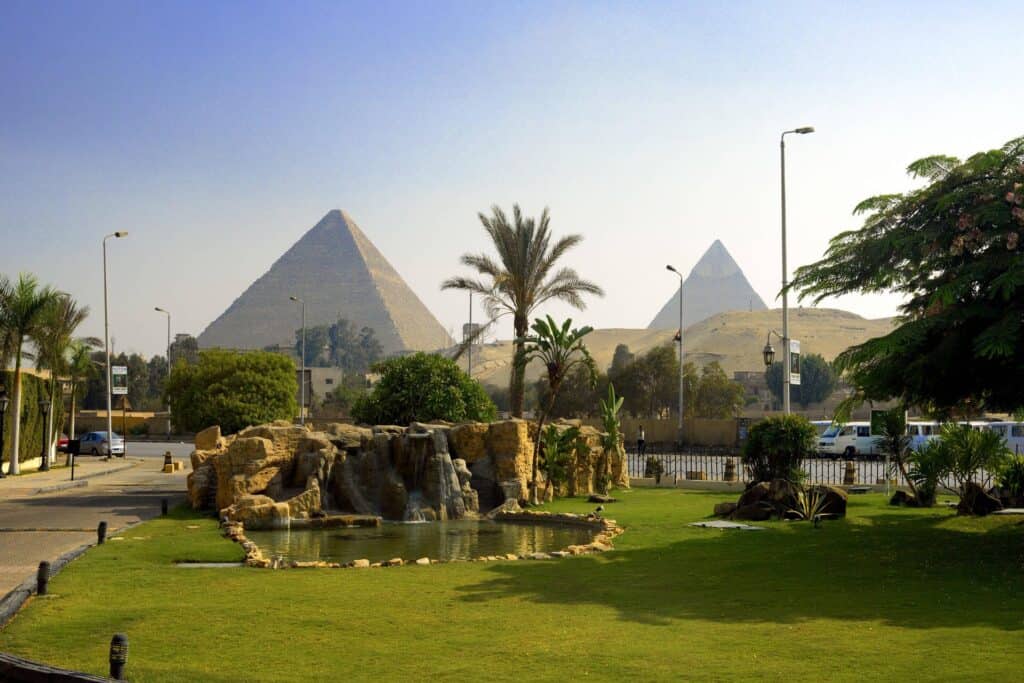 View of the Giza Pyramids from Le Méridien Pyramids Hotel & Spa
Day 2: Giza
Today you will wander around the Great Pyramids, ancient Memphis, Saqqara, the Solar Boat, Chephren Pyramid, and the famous Sphinx with your private Egyptologist guide.
The tour includes a private vehicle with a private driver, a trained Egyptologist guide, and entry to the Chephren (Khafre) or Menkaure (Mycerinus) Pyramids and entrance to the Grand Pyramid.
Every day, a limited number of people are allowed inside the Grand Pyramids. Be sure to tell your tour guide the day before, if you are interested.
After visiting the Great Pyramids, enjoy true Egyptian cuisine with lunch at a local restaurant.
In the afternoon, experience the sunset with a panoramic view of the Great Pyramids while you are riding a camel or horse (your choice).
The luxury tour includes an Egyptian dinner at one of the best local Bedouin restaurants by the Sphinx.
Accommodation Le Meridien Pyramids (4*)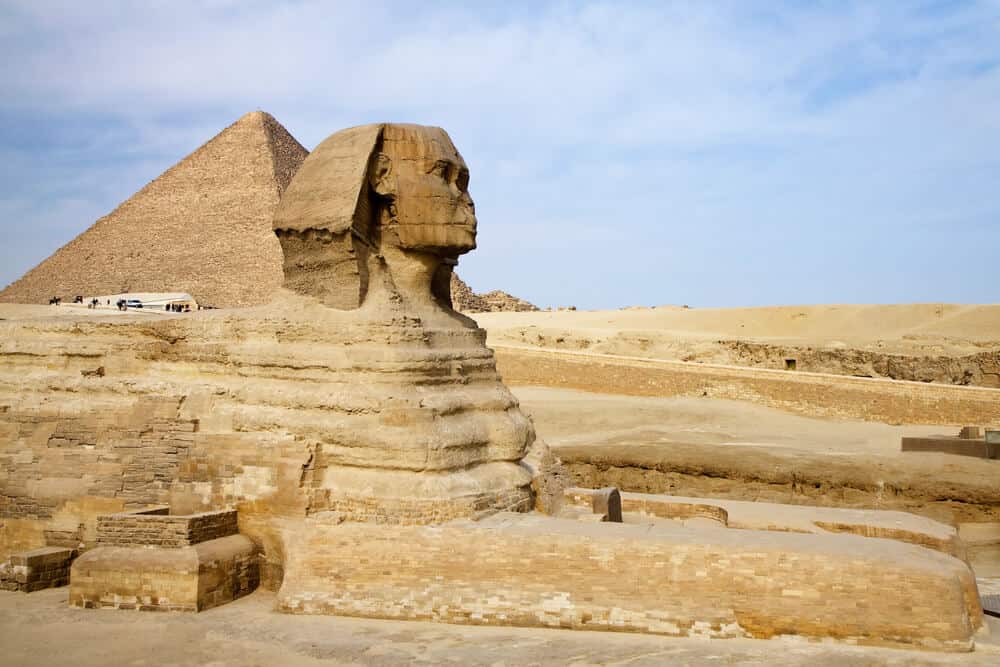 The Great Sphinx of Giza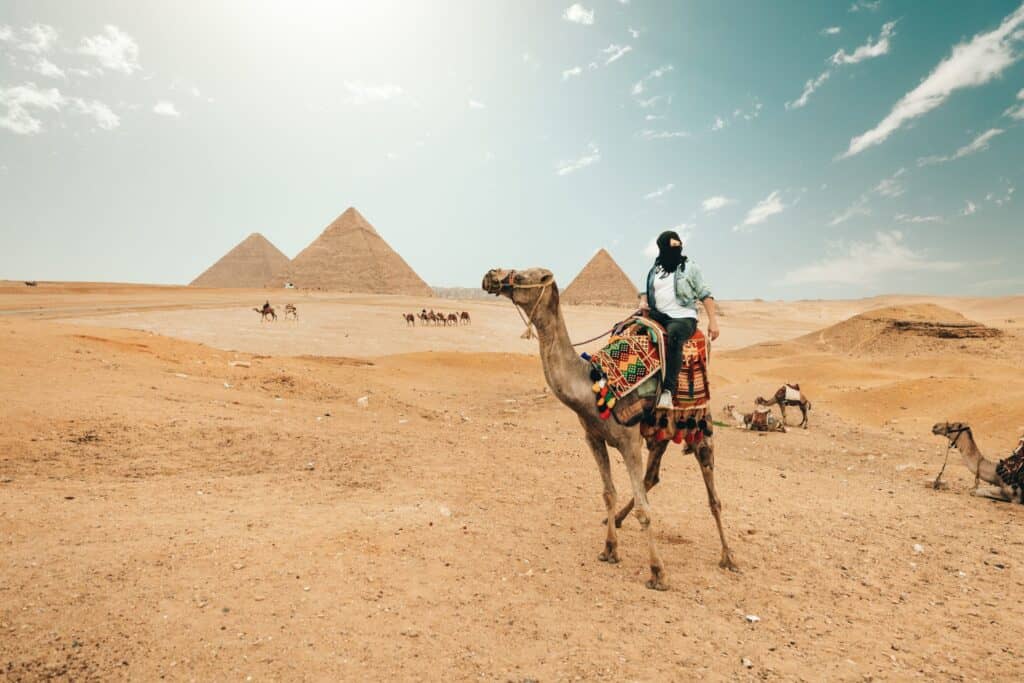 Photo by Spencer Davis
Day 3: Cairo – Aswan
Transfer in a private vehicle between Le Meridien hotel and Cairo airport is provided. Flight from Cairo to Aswan is included.
Upon arrival at the Aswan airport, an airport transfer with a private vehicle is provided to the Nile Admiral Nile cruise.
Aswan is located about 550 miles south of Cairo (one hour by flight). It is famous for its natural beauty, the River Nile, its history, and the best places to visit in Egypt, such as the Philae temple, the Nubian Village, and much more.
In Aswan, start your private tour with a High Dam visit, then to the Philae temple. The temple was built on a beautiful island in the middle of the Nile and attracted visitors from all over the ancient world.
Philae temple was pulled out of the water and re-erected on Agilika Island after the Egyptians built the High Dam. The UNESCO and United Nations played an important role in saving the Philae temple.
The tour includes a private guided tour to the main granite quarry, where you will visit the unfinished obelisk. There, enjoy a practical demonstration of the methods used by ancient craftsmen to cut impressive obelisks and granite statues for thousands of years.
Your guide will take you on a private Felucca (sailboat) ride on the Nile River in the afternoon. Enjoy taking pictures of the most beautiful part of the Nile in Egypt. You will sail around Kitchener Island, the biggest botanical garden in Egypt, founded by Lord Kitchener, the famous British army leader. During your sailing trip, you will get to sail around Agha khan Mausoleum. There, you will learn from your private Egyptologist guide about one of the most famous love stories that happened at the Agha Khan Mausoleum in the nineteenth century.
Accommodation: Nile Admiral (5*)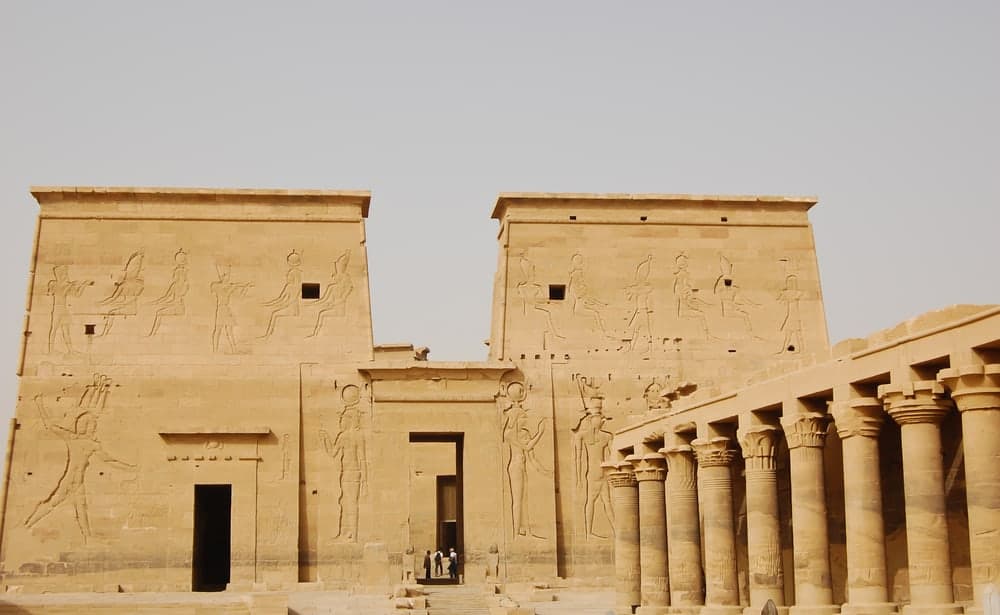 Philae Temple in Aswan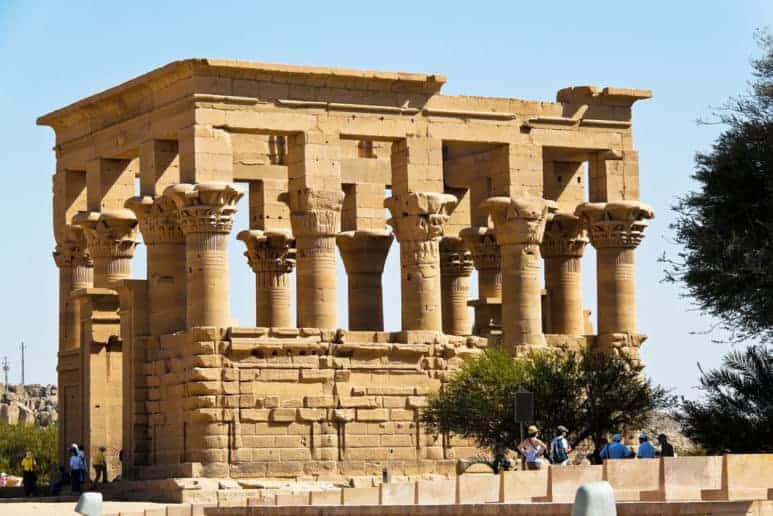 The Philae Temple in Aswan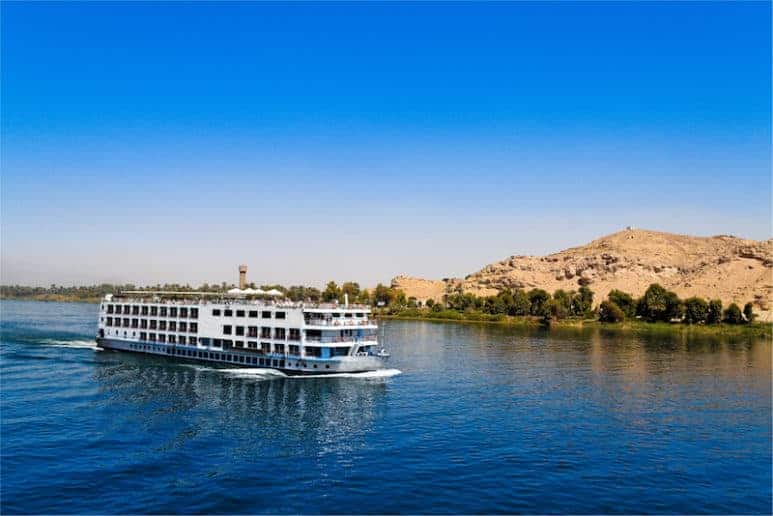 Nile Cruise
Day 4: Nile
Early in the morning, the luxury Nile cruise will start the journey from Aswan to Luxor. Relax and enjoy your first breakfast while sailing down the picturesque Nile River.
Later in the morning, you will reach its first destination, Kom Ombo. There, visit your first Greco-Roman temple with your private Egyptologist guide. Kom Ombo temple was dedicated to God Sobek, the crocodile god, and god Haroeris, the falcon-headed god.
After you visit the Kom Ombo temple, continue sailing to Edfu.
In the afternoon, with your private Egyptologist guide and private horse carriage, visit Edfu temple. Edfu temple, also known as the falcon-headed god temple. It was built for God Horus and his wife, Goddess Hathor. Hathor was the Goddess of motherhood, beauty, and love.
Accommodation: Nile Admiral (5*)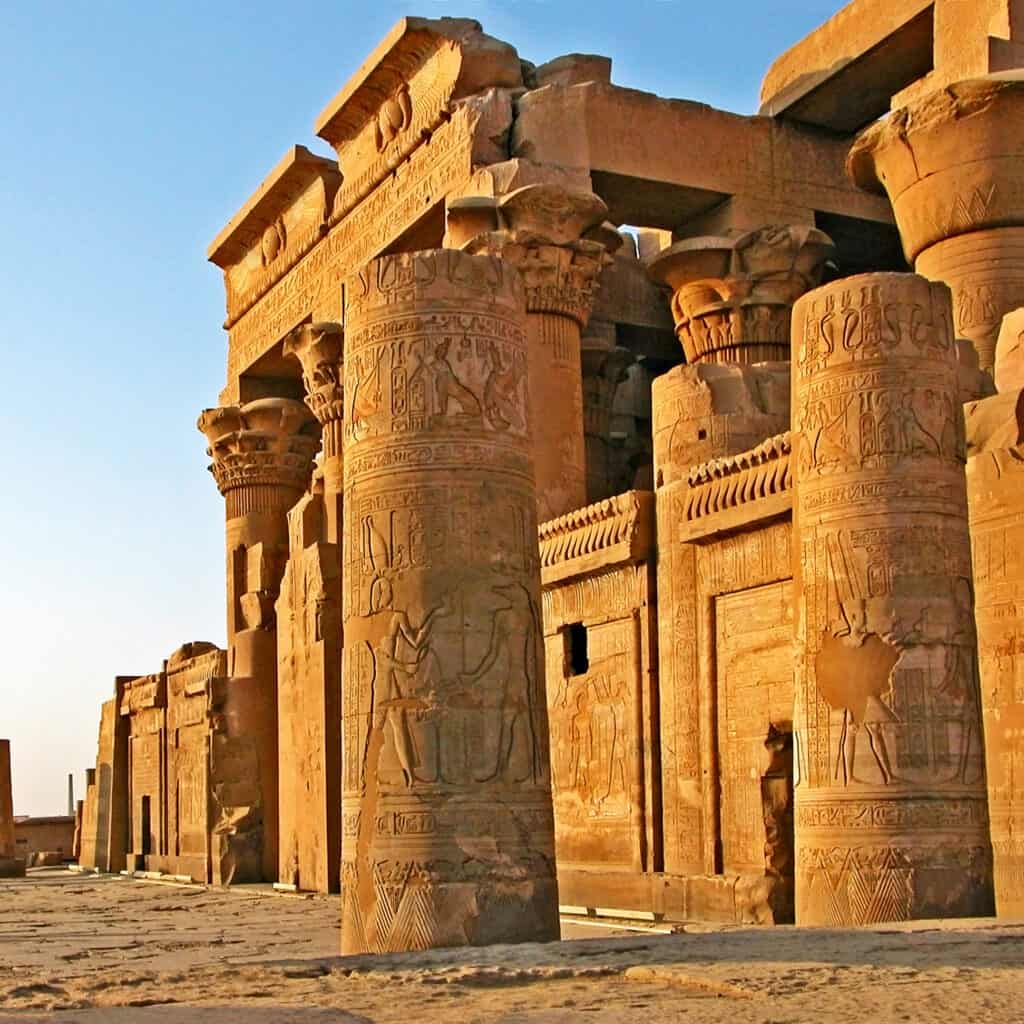 Temple of Kom Ombo
Day 5: Luxor
Start your day in Luxor by visiting the West Bank of Luxor. Enjoy the Valley of the Kings with your private Egyptologist guide and your private driver. There you will have the opportunity to visit 3 tombs plus the tomb of King Tut Ankh Amun. More than 64 tombs are found in the Valley of the Kings; however, most of them are closed for restoration. About 10 tombs at a time remain open to visitors.
The second tour in the West Bank will be to Al-Deir Al-Bahari or Queen Hatshepsut temple. It is less than 5 minutes drive from the Valley of the Kings.
The custom tour includes a private guided tour of the Valley of the Queen and a stop by the huge Colossi of Memnon. Enjoy a local Egyptian lunch. In the afternoon, your tailor-made tour will take you to the Karnak temple.
Karnak consists of huge pillars, towering columns, massive avenues of sphinxes, and an obelisk that stands 97-feet tall and weighs 323-tons (646000 pounds). Explore Sphinx Avenue, a mile and half sphinx statues, once connected to Karnak and Luxor temples. At one time, approximately 1500 sphinx statues lined this road. This road was used once a year during the Opet festival (the honeymoon for God Amun Ra & his wife Goddess Mut)
After visiting the Avenue of Sphinxes and the Karnak temple, continue to Luxor Temple. Luxor, once the famous city of Thebes, was the capital of Egypt in the twelfth dynasty.
Accommodation: Nile Admiral (5*)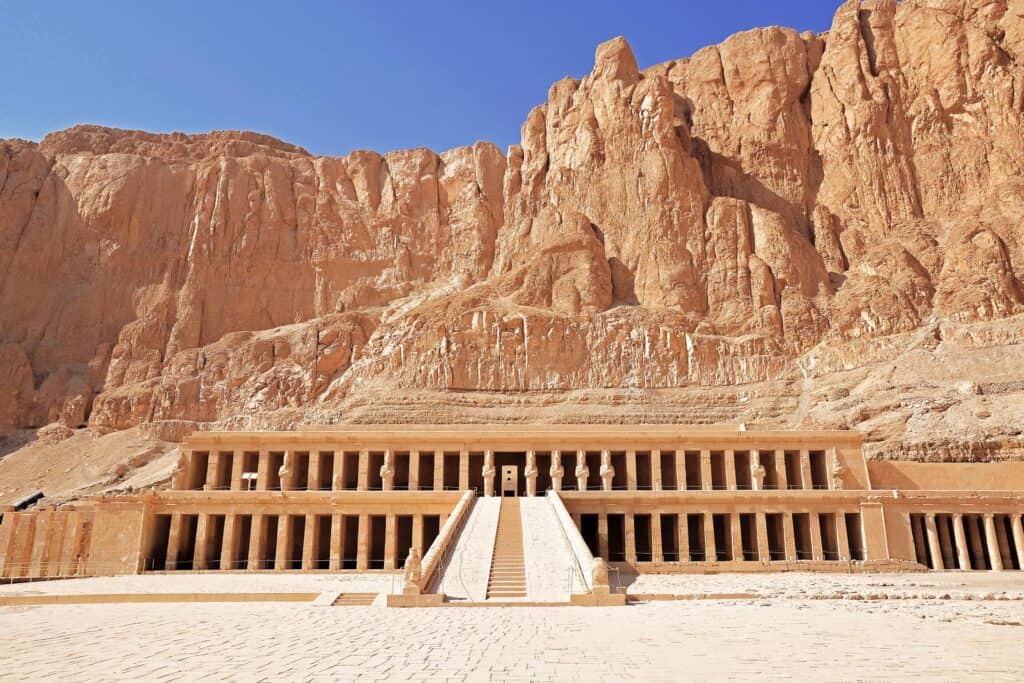 Mortuary Temple of Hatshepsut, Egypt – Photo by Jeremy Zero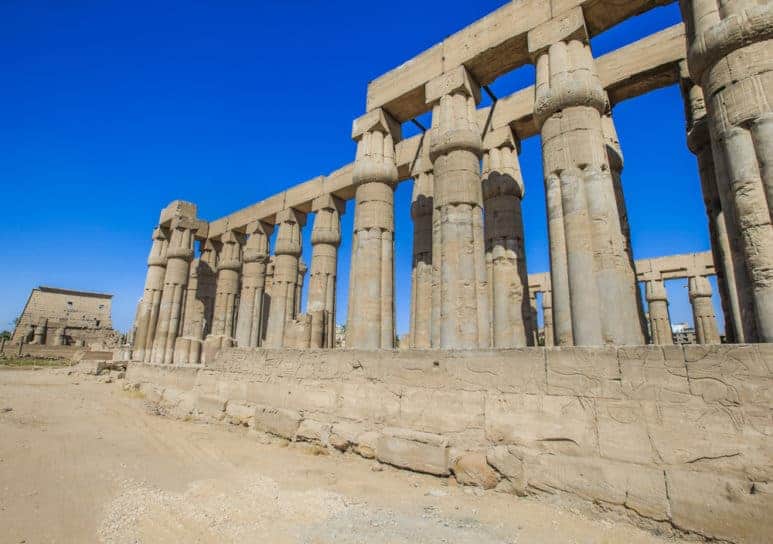 Luxor Temple in The East Bank of Luxor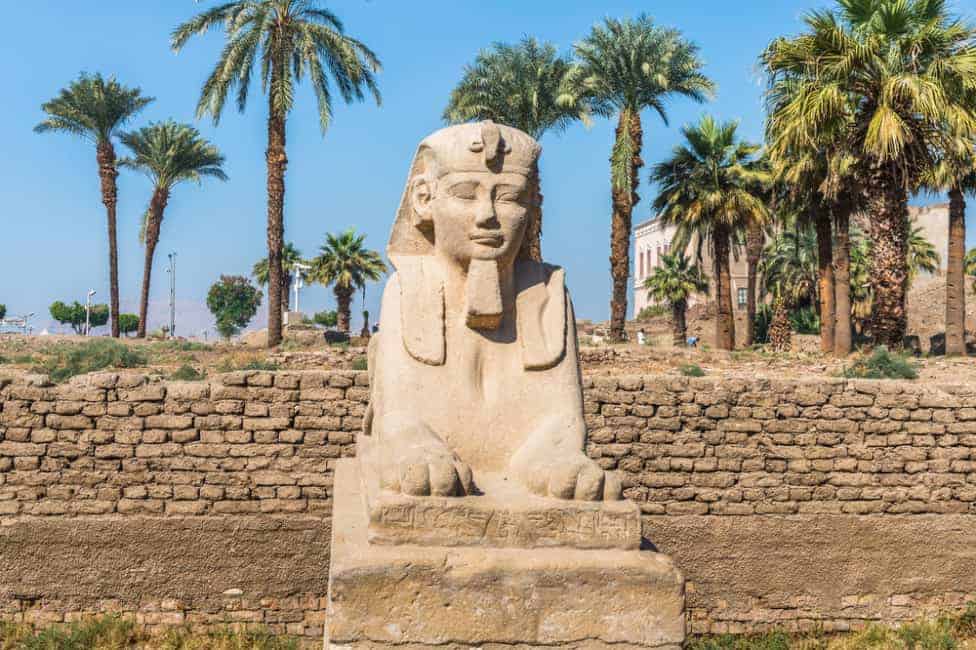 Sphinx statue, Luxor
Day 6: Luxor To Cairo
Transfer in a private vehicle with an English speaking driver between the Nile Admiral River cruise and Luxor airport is provided.
Flight from Luxor to Cairo is included.
Hotels
Le Meridien Pyramids (5*)
Le Meridien Pyramids Hotel is beautifully set in its own landscaped gardens with an unrivaled and time-honored location; it is located southwest of Cairo and less than one mile from the Sphinx and the Giza Pyramids. It is a twenty minutes drive from the city center and 45 minutes from Cairo International Airport.
With optimum taste and comfort in mind, the state of the art rooms and suites are generously sized, offering the latest in-room facilities and services. Non-smoking rooms and rooms modified for disabled guests are also available. Recreation and entertainment facilities include a health and fitness center, a heated outdoor pool (seasonal), tanning beds, and live entertainment.
Nile Admiral (5*)
The Nile Admiral Nile cruise offers a total of 72 double cabins. All cabins are fully air-conditioned and equipped with an en-suite bathroom, TV, mini-bar, telephone, and safety deposit box.
The restaurant, bar, and sundeck seat 150 people and provides comfort and convenience throughout your trip. The restaurant serves a buffet breakfast and lunch and a set meal at dinner. The bar and deck provide an ideal setting to enjoy a relaxing drink and the Nile scenes.
Other facilities are a swimming pool, table tennis, laundry service, internet/fax/international phone lines, and gift shops.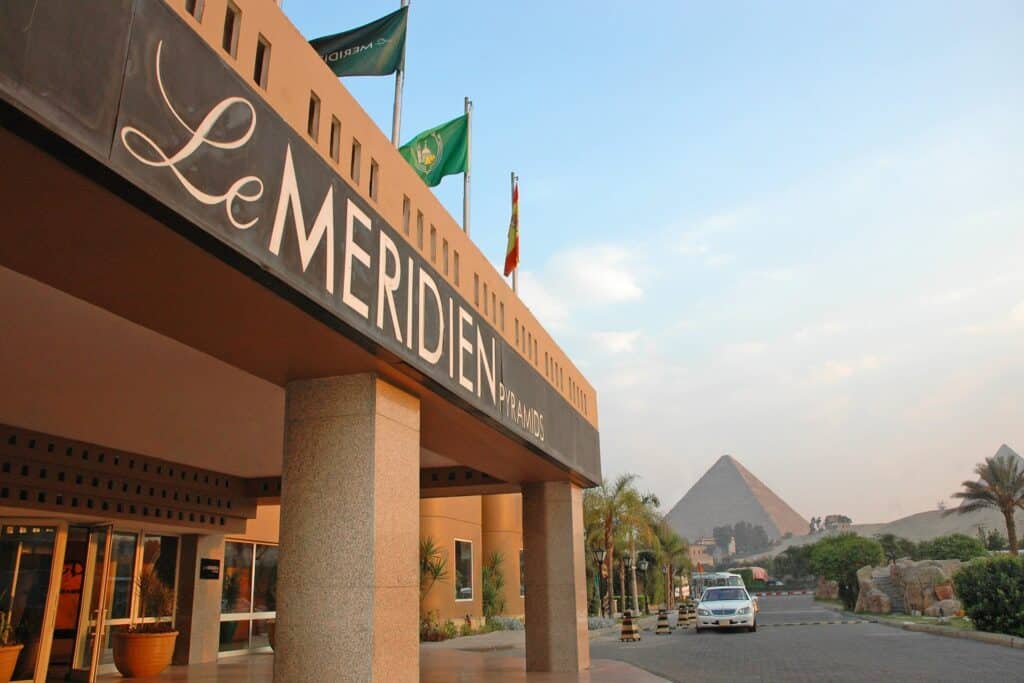 Le Méridien Pyramids Hotel & Spa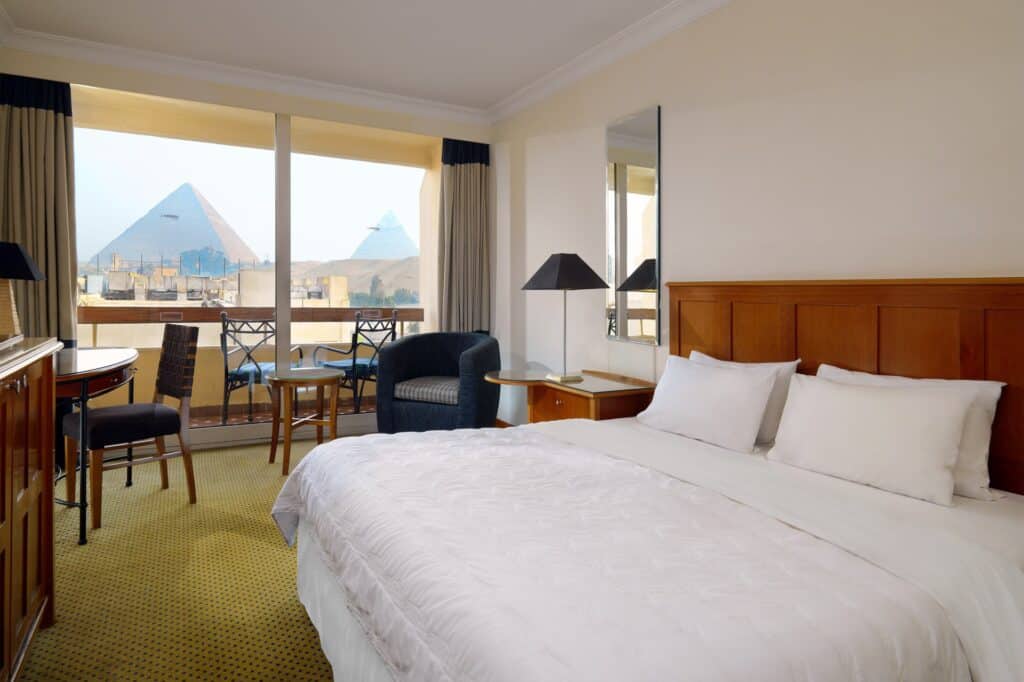 Le Méridien Pyramids Hotel & Spa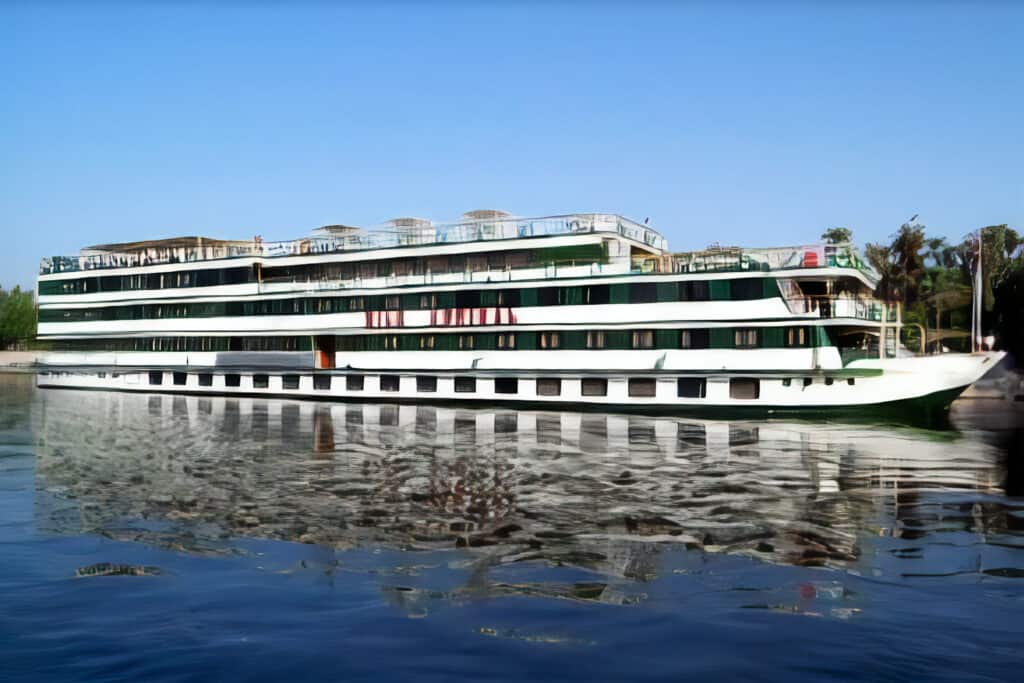 Nile Admiral
Things you should know before you visit Egypt
Documents
If you are an American or a Canadian, you will need a valid passport for at least 6 months after the day you plan to return from Egypt. You must also provide proof that you intend to return or continue your travels elsewhere. You are responsible for ensuring your passport is current and that your name on your passport matches all other travel documents we will issue. If you find that your name differs between any documents, please let us know right away.
Visas
You will need a visa to travel to and inside Egypt. You can get one when you arrive at Cairo airport. We can include visa fees and proceeds in your itinerary upon request. When you leave Egypt, you must show proof of entry via a stamp on your valid passport. If you don't provide this stamp, officials may prevent you from leaving Egypt.
Insurance
It is a good idea to have insurance if you need to cancel your trip or any medical need while abroad. Most insurance policies also cover baggage loss/damage or problems completing the trip due to circumstances beyond your control. Get a policy that provides medical coverage to avoid large health care expenses in an emergency. We can help you find the right insurance policy for your trip with us.
Clothing for women
In general, for women traveling to Egypt, anything that is below the knee should be fine. Short sleeves should be fine as well, but nothing too short or too tiny. You do not need to cover your head in Egypt but do dress modestly. Wear pants or long skirts. It is hot in the summertime so that loose-fitting pants will be more comfortable than a pair of skinny jeans. It is also dusty and dirty, so that white clothing will appear soiled far more quickly than other colors' clothing.
Electricity, Internet and Phone
Egypt's power grid is set up for 220V AC. Some rural areas only have 110V AC. Sockets are either the "Type C" Europlug or the "Type E" and "Type F" Schuko plug. You'll need to purchase an adapter for devices from North America. Outlets marked as 110V or "For Shavers Only" won't work for devices not rated for 110V and may even damage them.
Mobile phone roaming charges are different between carriers, so be sure to check on costs with your phone provider in each area you'll travel to.
The large cities such as Dahab, Luxor, Cairo, and Alexandria have many Internet cafes where you can pay to use the WiFi or wired network ports. Some small towns like Siwa have at least one Internet cafe. Hotel in-room or lobby WiFi can be expensive, so check the rates before connecting to their services. Osiris Tours will not have control over which hotels have Internet access, but we do have information on which establishments are likely to provide it. We can help you find contact information to get in touch with the properties directly and ask what they make available.
– Time Zone: UTC+2
– Electricity: 220V AC + 110V in certain rural areas
– Telephone: Country code for calling you from outside Egypt is 20
– Calling North America: Dial 00 + 1 and your 10 digit number
– Emergency numbers in Egypt: Police: 122; Tourist Police: 126; Ambulance: 123; Fire: 125
Weather
Egypt is very dry in some places and very wet in others. Be prepared for a hot and dry climate. It can get cold in the northern regions if you happen to visit in the Winter. Most tourists visit during the cooler months from December to February.
February to April and October to November is the best time of the year climate-wise to see the pyramids and Valley of the Kings. It can be very hot and dusty in April because of winds blowing in from the Sahara, so visiting sites can be a bit of a problem during that month.
Updated weather forecasts can be obtained from Weather.com.
Money
We recommend that you bring about $100 US per person for each day's expenses. Small bills are best to tip waiters, porters, and housekeeping. Tipping is at your discretion based on your satisfaction with the service you receive.
The Egyptian currency is called the "Egyptian Pound" (guinay in Arabic). Notes come in denominations of 5pt, 10pt, 25pt, 50pt, E£1, E£5, E£10, E£20, E£50 and E£100. Coins come in denominations of 10pt, 20pt, 25pt, 50pt, and E£1. Some tour operators and hotels only accept US dollars or Euros.
Get your Egyptian Pound currency from your own bank before leaving or from an Egyptian bank machine. Those methods are cheaper than in the airport currency exchange or in tourist areas. Visa and Mastercard are widely accepted, but your bank card may or may not be valid in-country.
Vaccinations
There are currently no vaccinations required to travel to Egypt.
There have been some occurrences of "Bird Flu" (avian influenza) in Egypt. We recommend that you:
– Avoid going to live animal farms or poultry markets.
– Avoid eating eggs or poultry that have not been fully cooked.
– Wash your hands regularly.
– See a doctor if you feel any flu symptoms coming on while traveling or after you return home.
Medicines
Make a list of all the medicines and medical items you need to bring with you on your trip, plus dosages of prescription drugs, details of prescription glasses and contacts, and any other medical necessities. Put spare eyewear and medications in checked and carry-on bags in case some of your luggage gets lost in transit.
There are non-prescription, over-the-counter medicines available in Egypt, but it is often difficult to get prescription medication or eyewear. Bring water purification devices or iodine tablets in case bottled water is not available. We can advise which locations will have potable vs. non-potable water. We strongly recommend bringing some type of over-the-counter diarrhea medication.
Medical Needs Checklist
– Basic first aid and medicine kit (band-aids, antiseptics, pain meds).
– Pepto-Bismol, Imodium, electrolyte powders for adding to drinking water to solve dehydration problems, and anti-diarrheal medications.
– Anti-itch cream for insect bites and allergies.
– Tablets for motion sickness.
– SPF 30 or higher sunscreen, aloe-vera lotion for sunburn treatment, large-brim hat, lip balm, insect repellent, and sunglasses.
– Hand sanitizer and baby wipes.