Osiris Tours Advantages
Enjoy a private tour package with a private Egyptologist guide, driver, traditional Egyptian cuisine, and all internal flights. Your tour will be customized for you and will suit your needs and your schedules.
Avoid the crowds with your own private qualified guide during your private tour around the Great Pyramids.
Spend a private evening dining at a traditional Egyptian restaurant and a private tour around old Cairo.
Discover the history of the East & West banks of Luxor in a luxury private tour.
Plan a tour with all the "must-see" sights in Egypt while staying in comfortable and luxurious hotels, including Mena House in Giza, Winter Palace in Luxor, and luxuries Fairmont Nile City in Cairo.
Tour Overview
Lose Yourself in a World of Ancient History
With our Egypt luxury journey, you will find Egyptian history is like an enormous library; it is filled with more stories than anyone could know in a lifetime. Within every temple, mosque, fort, and palace, there are countless years of fascinating tales-involving Kings and Queens, magic and myth, births and deaths, and battles. We will reveal to you some of the most intriguing stories of this ancient land on this Egyptian adventure.
Imagine yourself walking through ancient forts, marveling at ornate sculptures, gazing at enormous pyramids, and watching the sunlight sparkling on the waters of the Nile. You will have a guide at your side, your interpreter for the rich array of symbols and mythology that will surround you. Egypt is a land that will enchant you and fascinate you, so get ready for your adventure!
A Private Guided Tour Designed for History Lovers
This is the ideal luxury tour for those interested in Egyptian history, and want to see Luxor's temples, the King Tut monuments, and the Pyramids via land without taking a cruise down the Nile. Your experienced guide will take you on an Egypt luxury tour while teaching you all about the glory of the ancient Egyptian Kings & Queens.
You will learn about the Pyramids of Giza, the Djoser Step Pyramid, Karnak and Luxor's temples, and the tombs in the Valley of the Kings in the West Bank. Your guide is an expert in Egyptology, so if you have any questions about these periods in history or any aspects of Egyptian culture, you will be able to ask and receive a well-informed answer. You will come away with valuable insight and a deeper understanding of both ancient and modern Egyptian culture.
Enjoy the Star Treatment
We will take you on the journey of a lifetime around Egypt while ensuring you are pampered every step of the way. Our goal is to make sure that you experience all of the fascinating history and culture that Egypt has to offer,
The luxurious Egypt private tour will include transport in a private vehicle and a highly knowledgeable private guide who is well educated, an English speaker, and an expert in Egyptian history.
You will stay in some of the most luxurious hotels in the region, including the elegant Mena House next to the Pyramids and the stunning Old Winter Palace in Luxor. You will also spend a private evening dining at a traditional Egyptian restaurant and discovering some of the traditional food and drink of this culture.
The Egypt travel package will also include accommodations, entrance fees, internal flights, taxes, and more. You are free to choose the itinerary that we have put together or create your own itinerary from scratch at no additional cost.
To find out more about this wonderful tour and all of the other private Egypt tour experiences we have to offer, you can feel free to contact us at any time.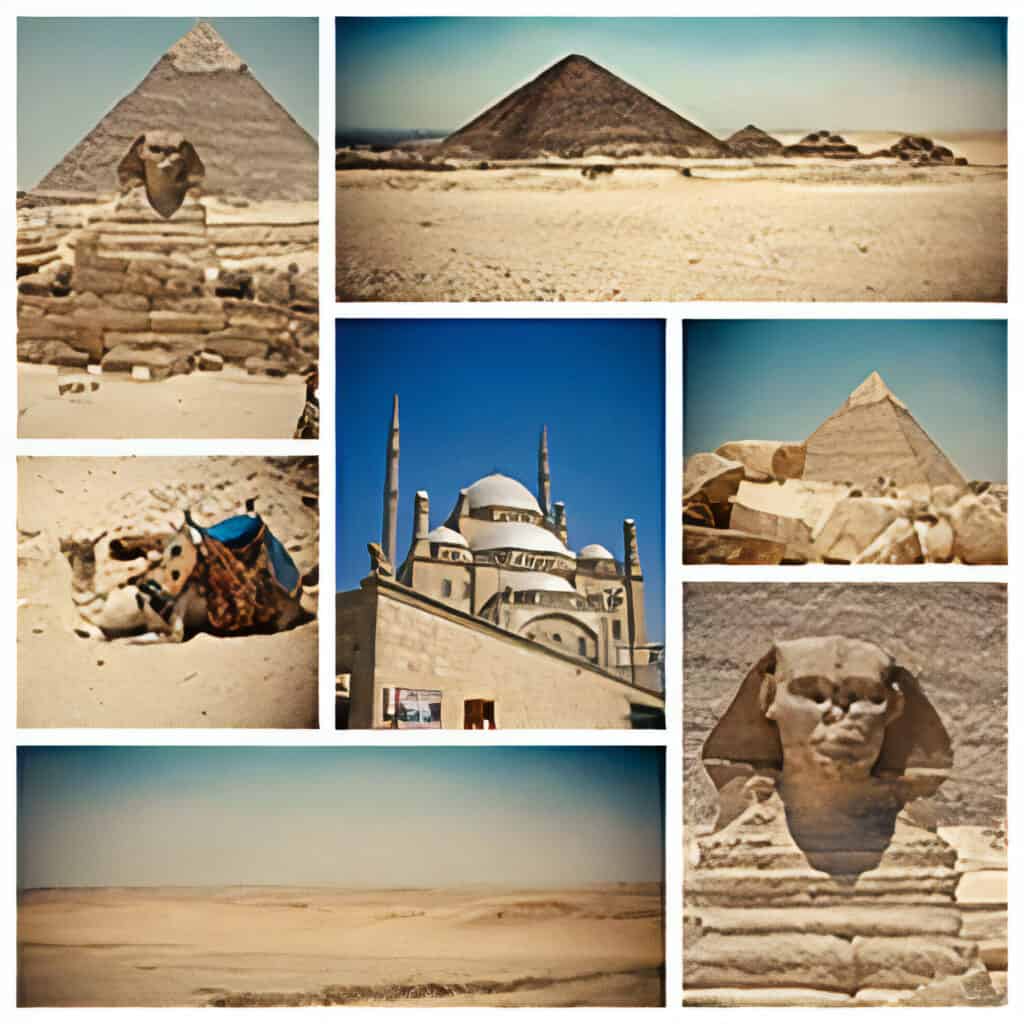 Ancient Egyptian Treasures in Giza and Old Cairo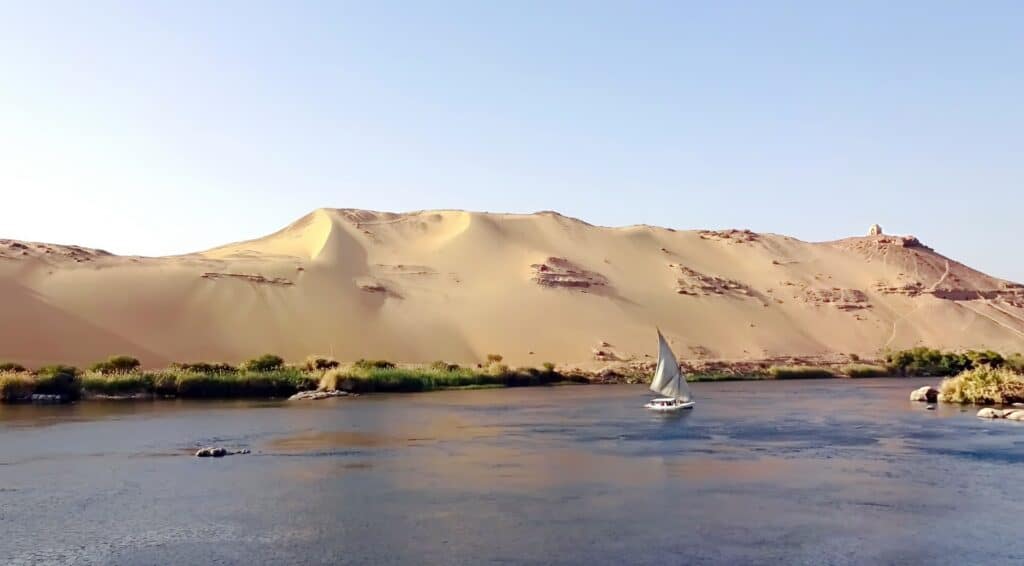 The Nile River, Egypt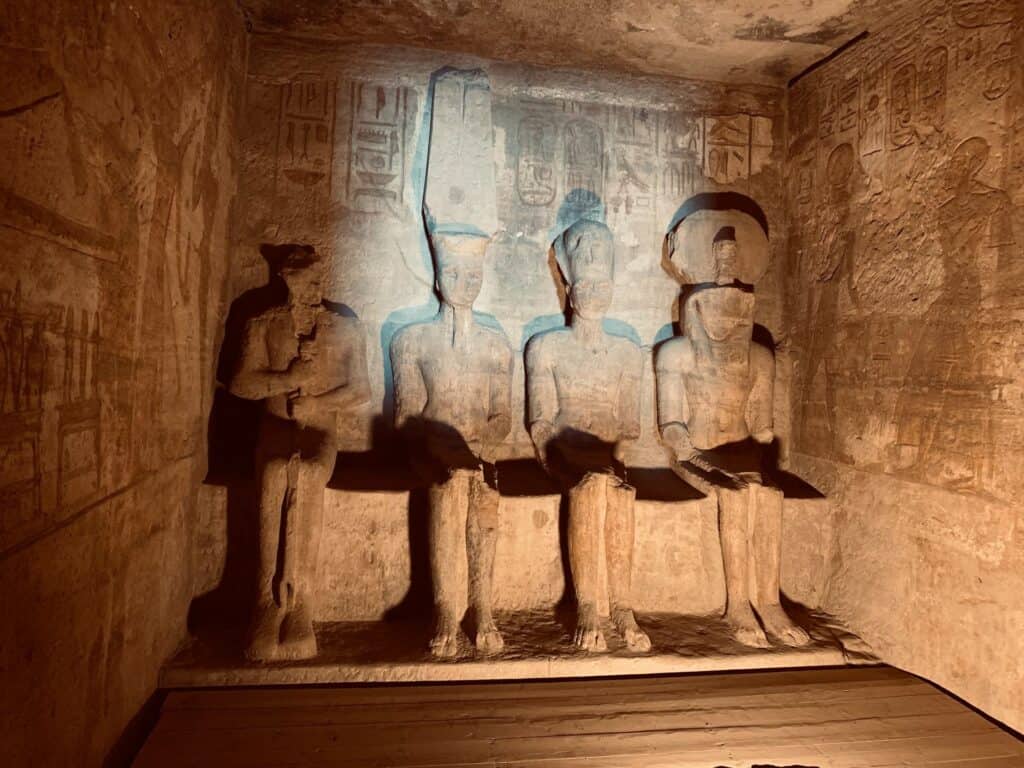 Abu Simbel Temple, Aswan – Photo by Shreyas Nair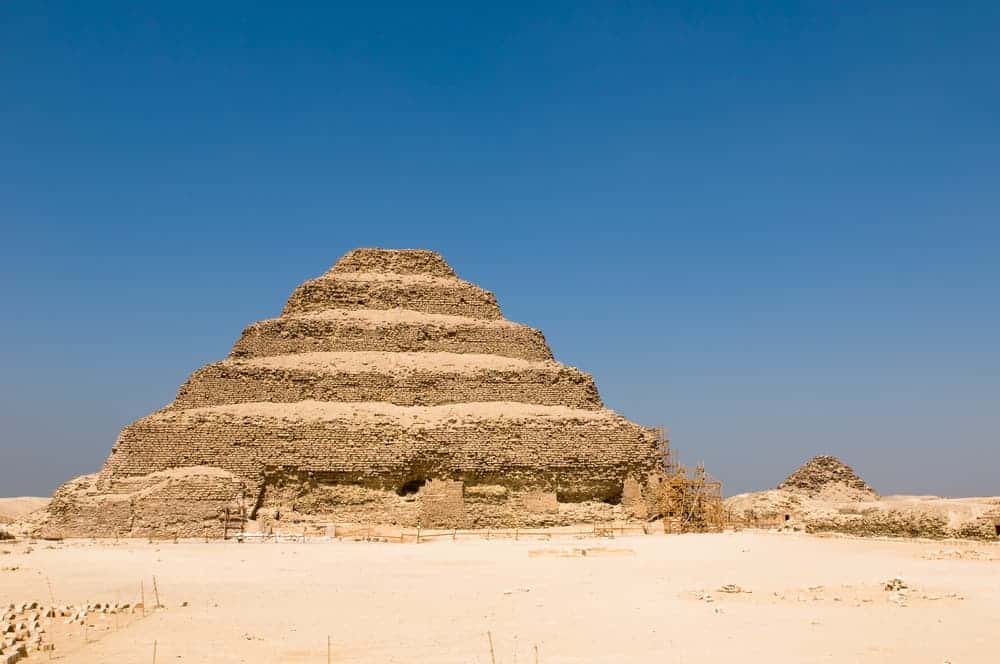 Djoser Step Pyramid in Saqqara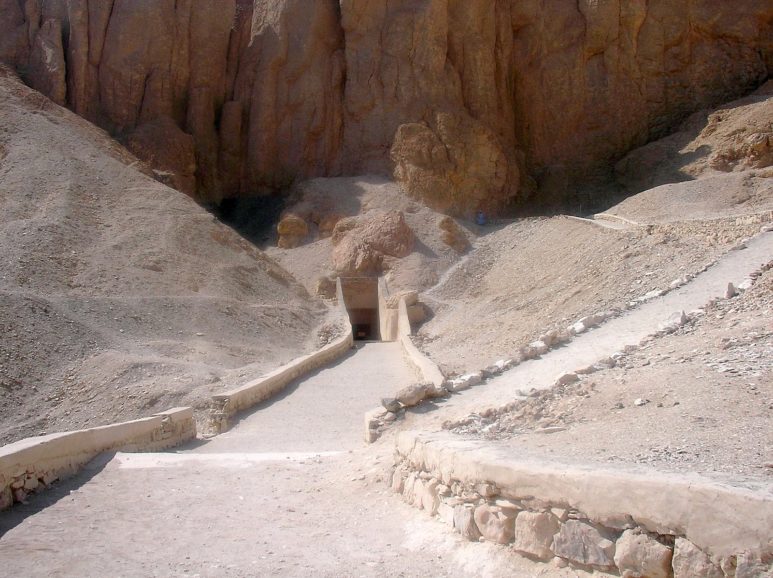 The hidden tombs of the Valley of the Kings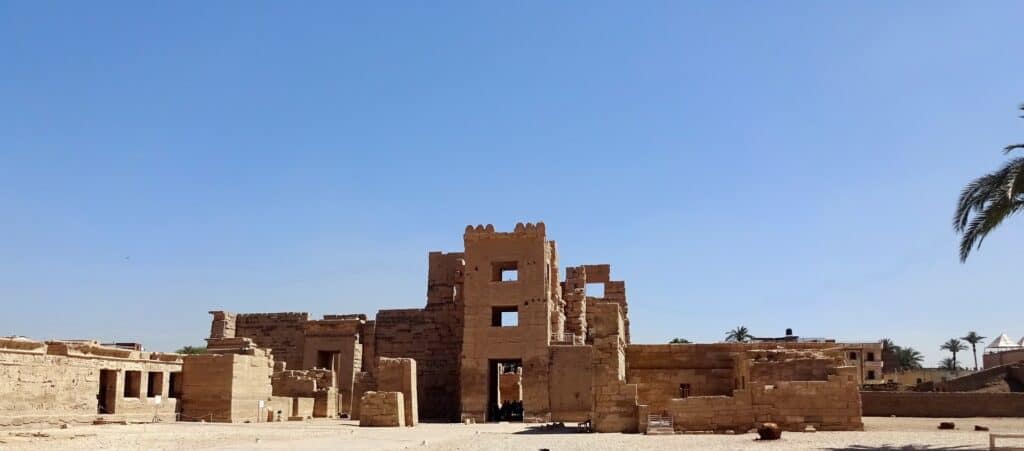 Medinet Habu, Luxor
Itinerary
Day 1: Arrival in Cairo
You will be greeted with a smile upon arrival at Cairo airport by a friendly tour representative. Our representative will facilitate the Egypt entry visa process on your behalf, and visa fees are included. A private transfer between Cairo airport and Mena house hotel will be provided.
Accommodation: Mena House (5*)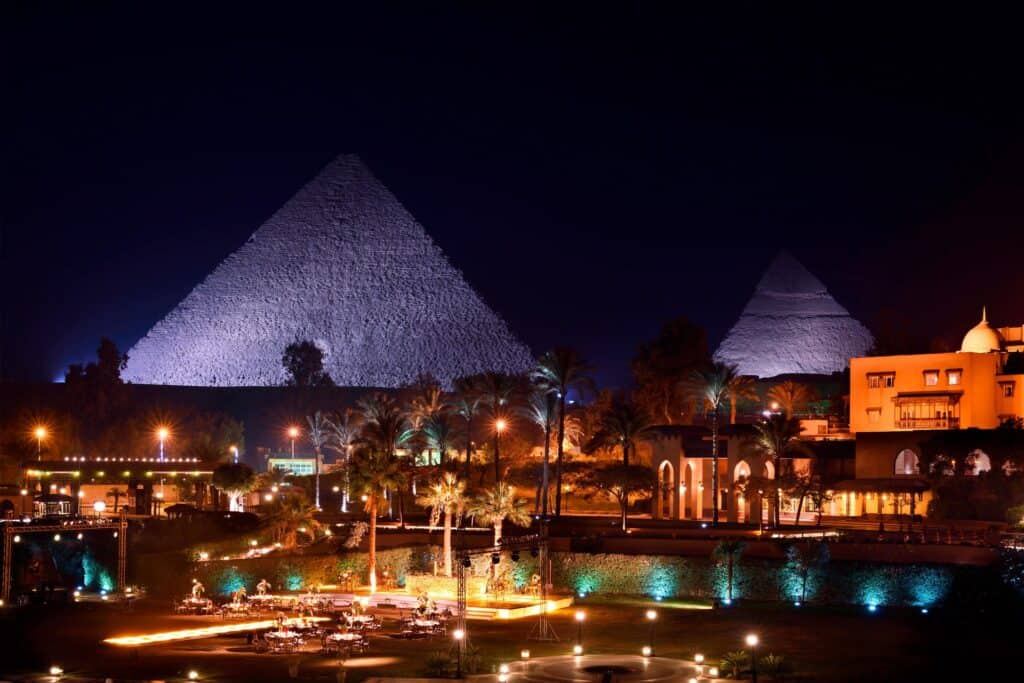 View from the Marriott Mena House, Cairo
Day 2: Giza
Enjoy this customized guided tour, which explores the Great Pyramids of Egypt, ancient Memphis, Saqqara, the Solar Boat, Chephren Pyramid, and the famous Sphinx.
You will visit the legendary Great Pyramid, the largest one of the Giza group.
After visiting the Great Pyramids, head to Memphis with your private Egyptologist guide. There, you can see the 34 ft. statue of the most famous pharaoh, King Ramses II. Ramses II ruled Egypt for almost 67 years during the new kingdom.
Then we will take a private tour to the Saqqara monument, which is a must-see attraction in Giza. Enjoy the step pyramid for King Djoser; it is 4,500 years old and 200 feet tall.
Lunch at a great local restaurant is provided after visiting Saqqara.
It is time for a new adventure and unique experience in the afternoon, as you will be picked up before sunset from the Mena House hotel to travel to the desert. Your private guide will lead you on your choice of camel or horse, where you can enjoy watching the sunset with a panoramic view of the Great Pyramids while exploring the Sahara desert around the Great Pyramids and Sphinx.
After the Sunset camel or horseback ride, enjoy a delicious dinner at one of the most famous Bedouin restaurants.
Accommodation: Mena House (5*)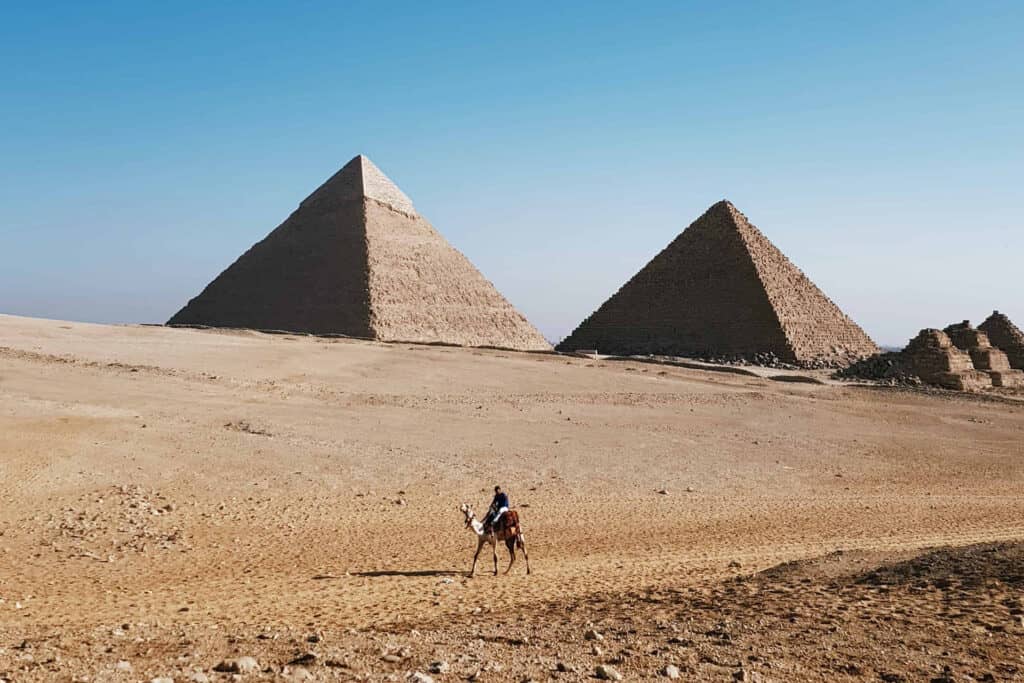 Giza Necropolis – Photo by Martin Widenka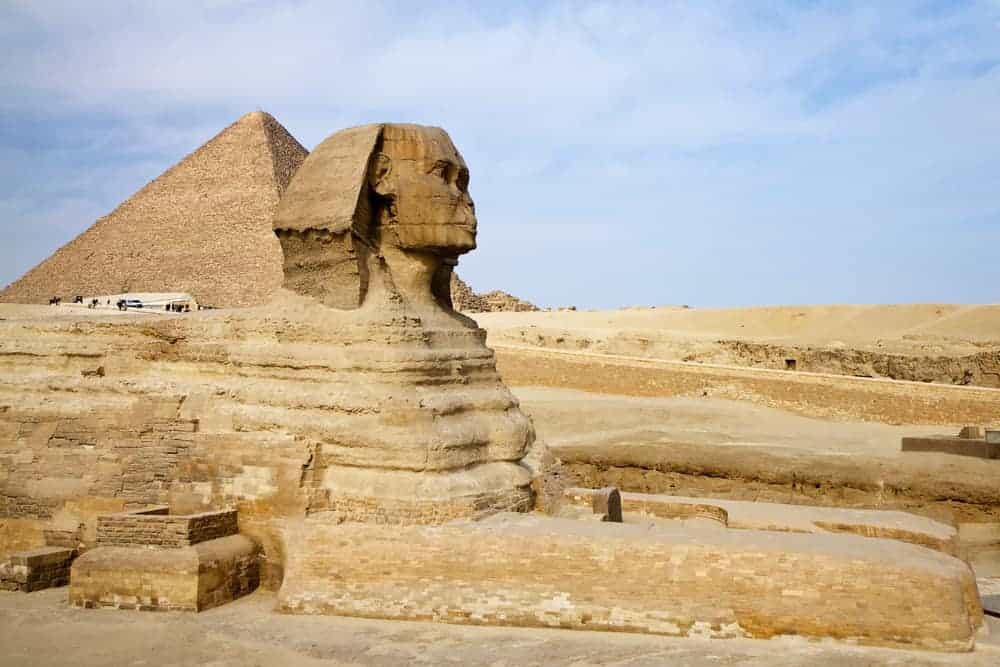 The Great Pyramids and Sphinx in Giza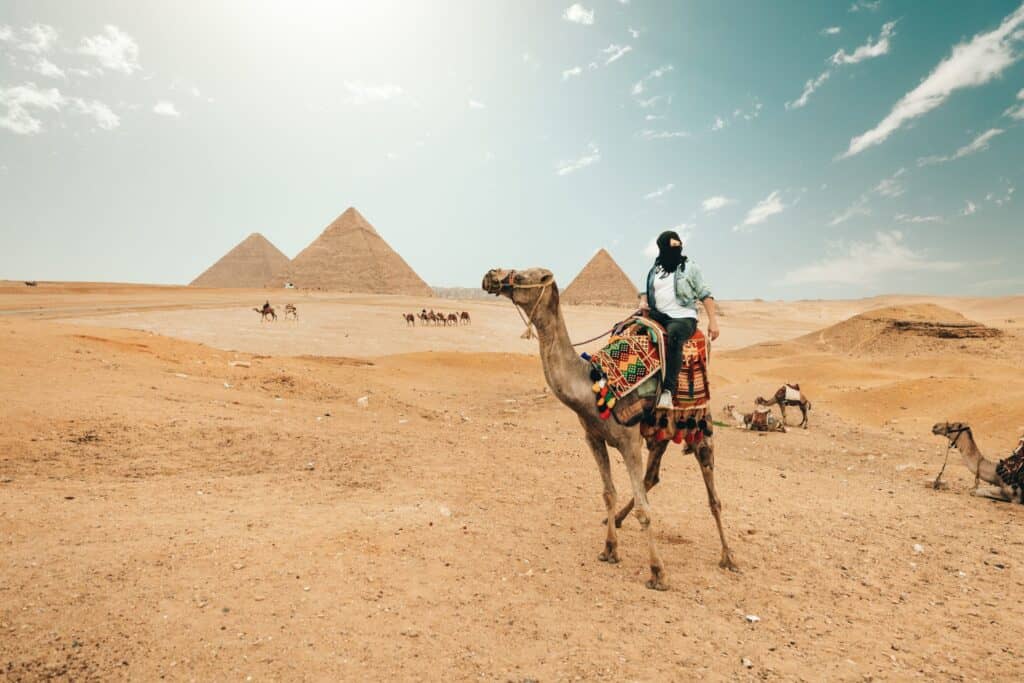 Photo by Spencer Davis
Day 3: Cairo – Luxor
Transfer in a private vehicle between the Mena House hotel and Cairo airport is provided. Osiris Tours representative is provided for airport assistance.
Flight from Cairo to Luxor is provided.
An airport transfer with a private vehicle from Luxor airport to the Winter Palace hotel is provided.
After arrival to Luxor, enjoy a private custom tour of Luxor's fascinating and historic East Bank with a qualified Egyptologist guide. Your guide has the education, experience, and knowledge of Egyptian history to give you a fascinating insight into the historic sights you will be seeing.
You will start by visiting the Karnak temple. Walk along the Sphinx Avenue to enter the complex, as your guide explains how the massive facade was constructed and how they used the Sphinx Avenue for the Opet Festival.
Karnak Temple is considered to be more than just a temple; it is an open museum and the largest ancient religious site globally. It was built for the sacred Theban triad, God Amun Ra, his wife Goddess Mut, and their son, God Khnsu.
More than 30 pharaohs, including Hatshepsut, Ramses II, King Tut, and others, contributed to its construction process. Karnak consists of huge pillars, towering columns, massive avenues of sphinxes, and an obelisk that stands 97-feet tall and weighs 323-tons (646000 pounds). There is a sphinx avenue for over a mile and a half, and 1500 sphinx statues connect the Karnak and Luxor temples together. This road was used once a year during the OPET festival (the honeymoon for God Amun Ra & his wife Goddess Mut)
Continue to Luxor Temple, which was once joined to the Temples of Karnak by a one-mile long Sphinx Avenue.
Luxor temple was built by the king Amenhotep III, who died before he finished it. King Ramses II then completed it and built his massive statues by the entrance of the temple.
Accommodation: Sofitel Winter Palace (5*)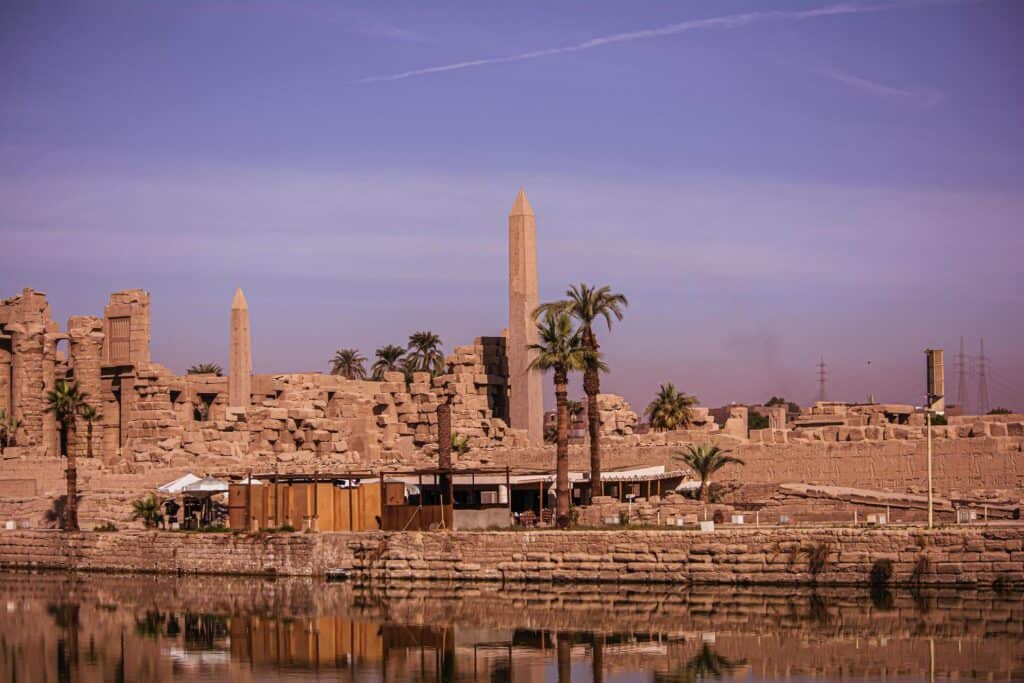 Karnak, Luxor – Photo by Kristina Tamašauskaitė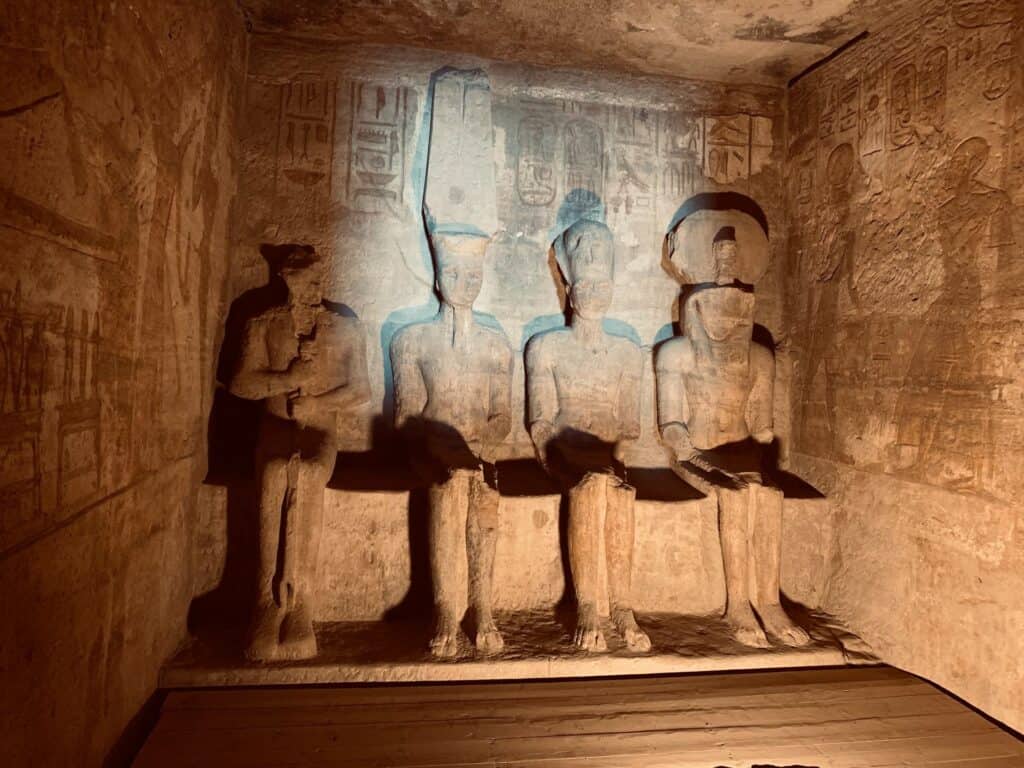 Abu Simbel Temple, Aswan – Photo by Shreyas Nair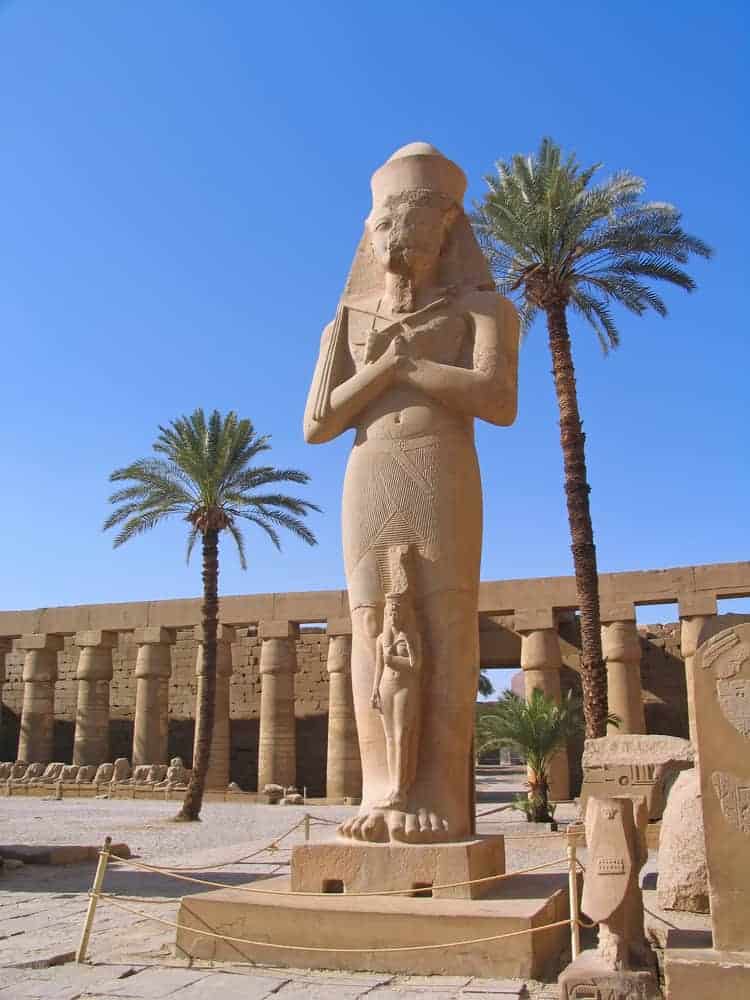 Ramesses II Statue at Karnak Temple, Luxor, Egypt
Day 4: Luxor
With your private Egyptologist guide, explore some of the most incredible sites of the country. Your custom private tour will take you to the Queen Hatshepsut temple.
Queen Hatshepsut was the most famous, intelligent, and powerful woman in ancient Egypt. She ruled Egypt for 20 years during the New Kingdom time (15th Century B.C.). She is considered one of the most successful pharaohs in Egyptian history. Hatshepsut was the daughter of King Thutmose I and Thutmose II's wife (he was also her half-brother). Hatshepsut married her half-brother Thutmose II, whose mother was a lesser wife, in a common practice meant to ensure the purity of the royal bloodline. Thutmose II died after a 15-year reign when Hatshepsut was 30 years old.
After her husband's death, Hatshepsut had to share the throne with her stepson, King Thutmose III. Hatshepsut served as his regent. Initially, Hatshepsut bore this role traditionally until, for unclear reasons, she claimed pharaoh's role. She began having herself depicted in the traditional kilt and crown and a fake beard and male body. This was not an attempt to trick people into thinking she was male; rather, since there were no words or images to portray a woman with this status, it was a way of asserting her authority.
Hatshepsut's success in transitioning from queen to pharaoh was remarkable due to her ability to recruit influential supporters. Senemut was her favorite and most important advisor; he is the one that designed her beautiful temple of Senenmut in the West Bank of Luxor. He had been among her servants when she was a queen and rose with her to power (and some speculate he was her lover as well).
Head to the Valley of the Kings, where you will have the chance to explore three tombs. These tombs were constructed here for the kings, including King Tut, and powerful nobles of the New Kingdom (the Eighteenth to the Twentieth Dynasties of Ancient Egypt).
In the Valley of the Kings, you will be able to learn about the reign of King Tut and the secrets of his tomb.
King Tut still has not given away all of his secrets yet. As the boy king, King Tut was very famous, and his region was one of the most documented regions on the walls of Luxor temples and tombs. Here are some more facts about King Tut: His father, King Akhenaten, had a major issue with the priests of Thebes (Luxor) during his life. King Akhenaten is the first and only king who rebelled against the main god during the New Kingdom, god Amun Ra. When Akhenaton (King Tut father and husband of Nefertiti) had his religious revolution against God Amun Ra, the priests kicked him out of Thebes, and he had to leave for a new capital.
King Akhenaton moved to Tell Al Amaran, which is located about 300 miles north of Luxor. When King Akhenaten had to leave, his wife Nefertiti left with him, and they both lived there worshipping the new god Aton. While he was there, his second wife, Kiya, gave birth to King Tut. When he was born, he was called Tut Ankh Aton (after his father new God Aton).
When king Akhenaten died, King Tut changed his name to be Tut Ankh Amun (after the God Amun Ra name. He returned to Luxor and returned the glory back to Amun Ra, so he changed his name to be more related to him. King Tut was 9 years old when he took over because he was his father's only son. Because he was such a young king, the priests played a major role in political life then. The Ancient Egyptian documented his region to show his loyalty to God Amun Ra and tried to fix what his father had ruined. Finally, King Tut's tomb is the only one that was not robbed because it is located underneath another tomb, the tomb of King Ramses VI. The tomb robbers didn't look there because they never expected to be a tomb underneath another tomb. That's why King Tut's tomb was untouched until Carter found it in 1922.
After visiting the Valley of the Kings and King Tut's tomb, head to the Valley of the Queens in a private tour with your own Egyptologist guide.
Accommodation: Sofitel Winter Palace (5*)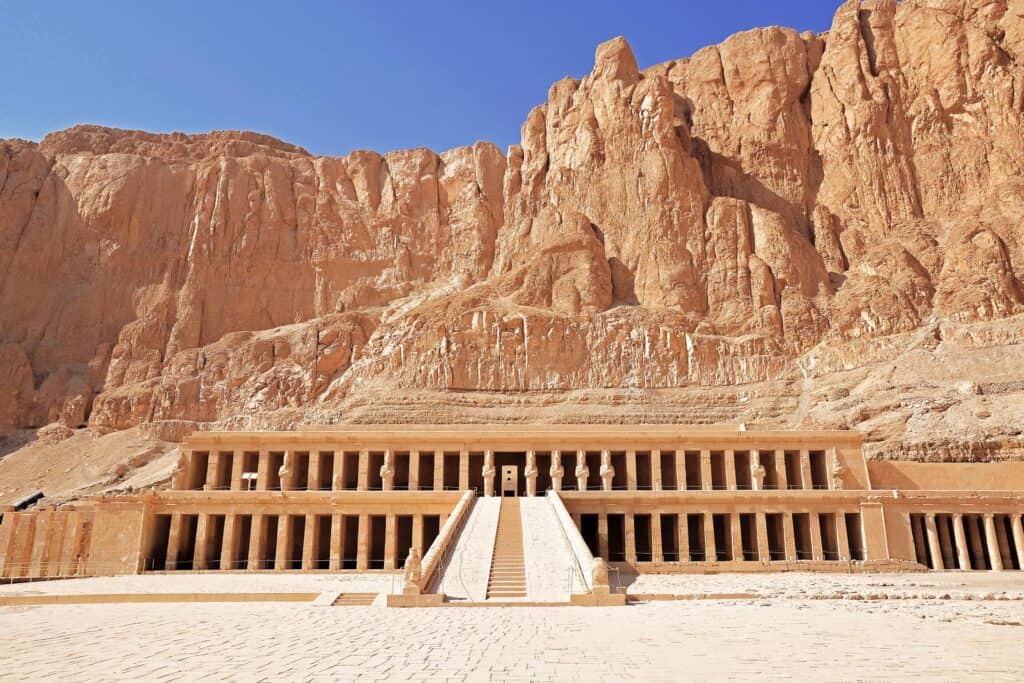 Mortuary Temple of Hatshepsut, Egypt – Photo by Jeremy Zero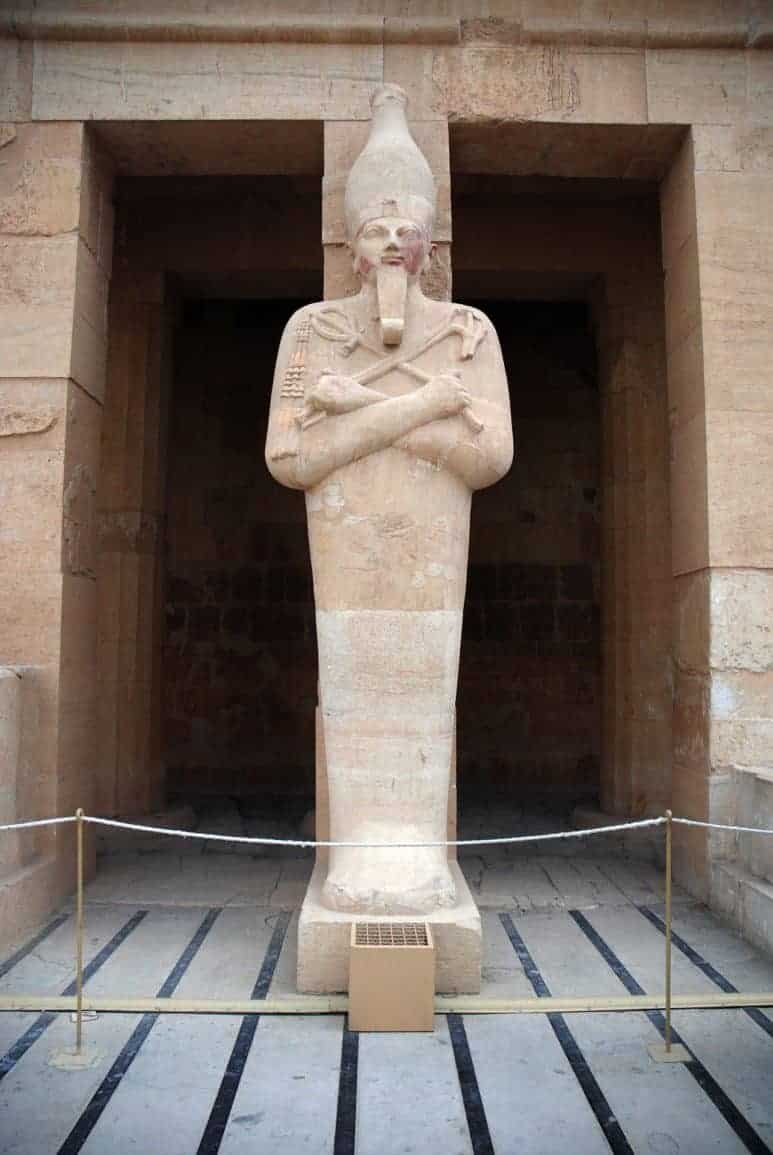 Queen Hatshepsut statue, Luxor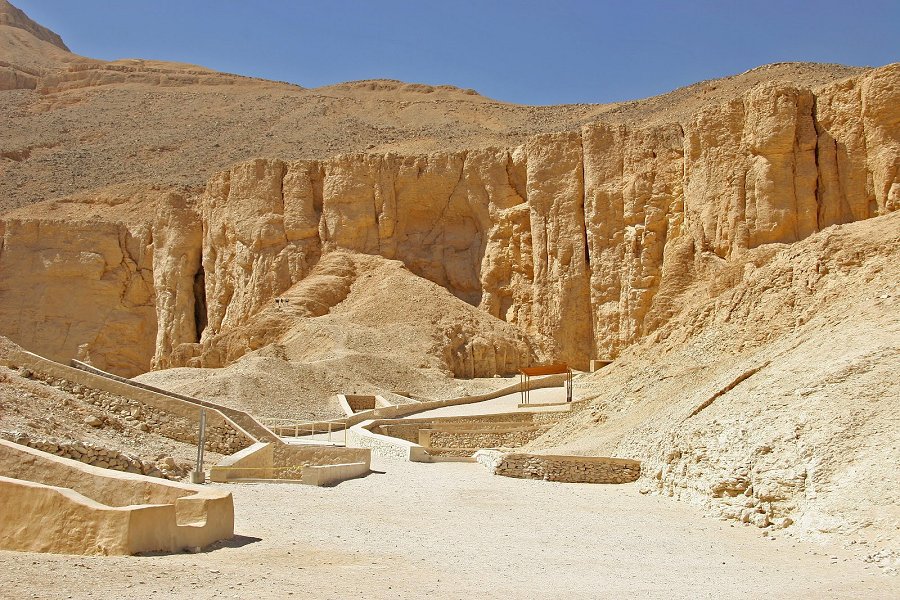 Valley of the Kings, Luxor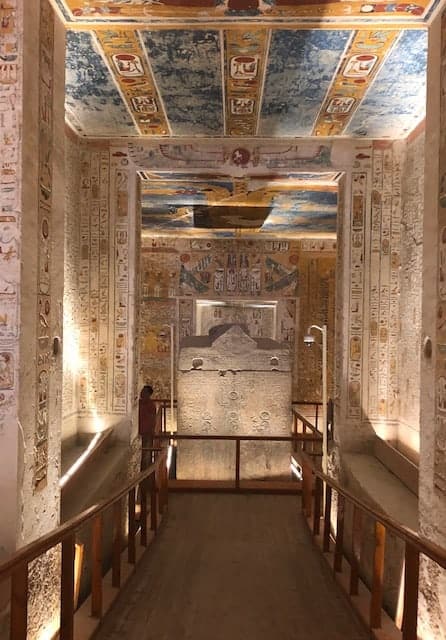 Amazing colors in most of the tombs in the Valley of the Kings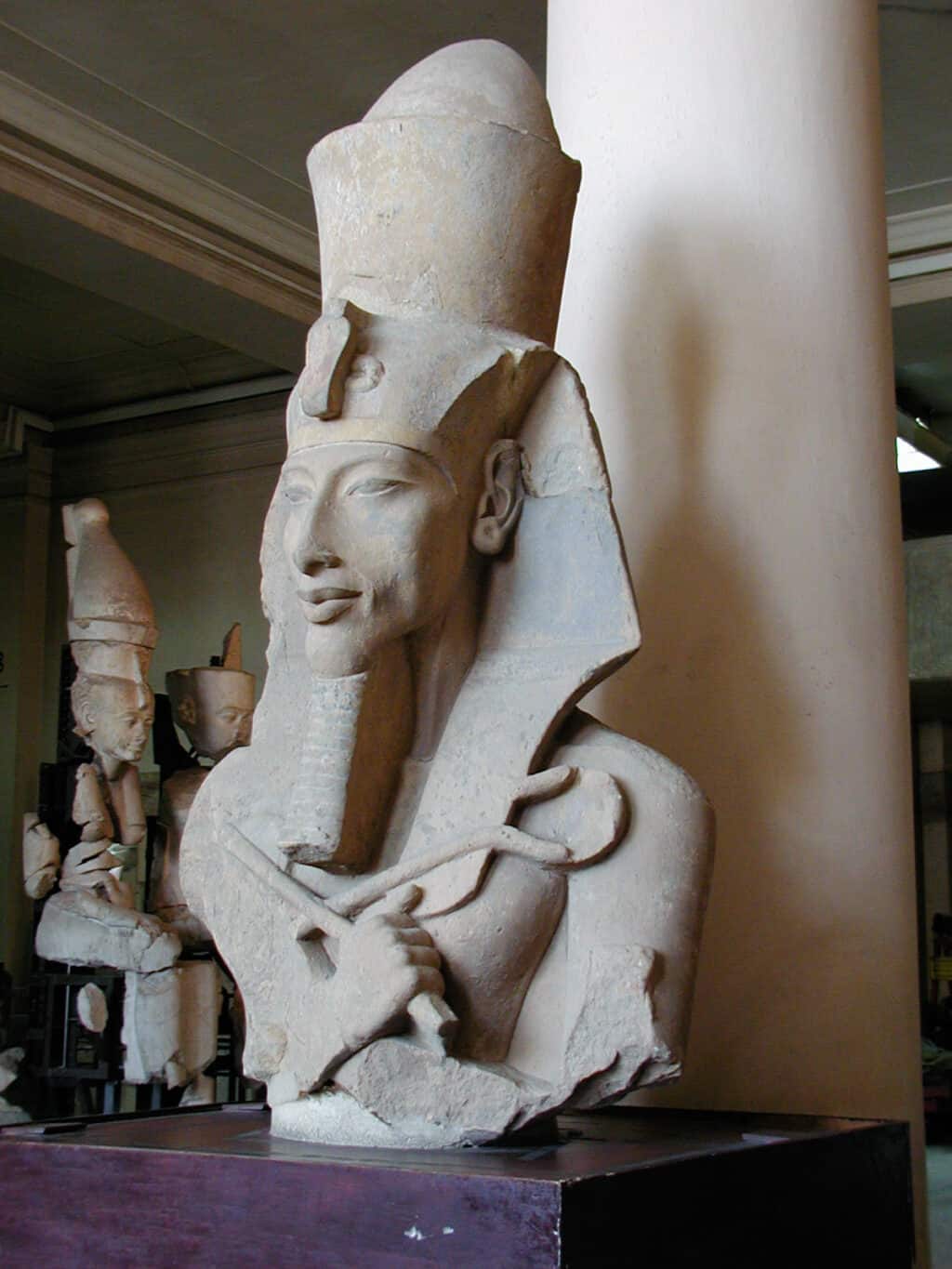 Statue of Akhenaten in the early Amarna style
Day 5: Luxor – Cairo
Private transfer with a private vehicle from the Winter Palace hotel to Luxor airport is provided.
Private transfer with a private vehicle from Cairo airport is provided.
After arrival in Cairo, discover the Egyptian Museum of Antiquities and its Mummy Room with your private trained Egyptologist guide.
During your private tour to the Egyptian museum, learn about this great antiquities house's history and collections. His impressive collection dates back to T1830.
Enjoy a private tour of the gallery of King Tut on the upper floor. Howard Carter discovered these remarkable artifacts from the tomb of the boy king in 1922. There are 3000 pieces, including a famous gold funerary mask and coffin.
During this evening custom tour, visit Khan El Khalili, where you will be transported back in time to an old Arab souk. Enjoy shop owners calling you to their stalls, the scent of spices, the hustle and bustle of trade, and the many beautiful objects that can be purchased will have you lost among alleys for hours.
There is a big spice market there where you can buy fresh spices of any variety. Walking through the bazaars of Khan El-Khalili is such a fun experience, and it is not to be missed even if you are not looking to buy anything.
After the tour, enjoy a delicious Egyptian dinner at a local restaurant.
A qualified private guide, a private vehicle, and a private driver are provided.
Accommodation: Fairmont Nile City (5*)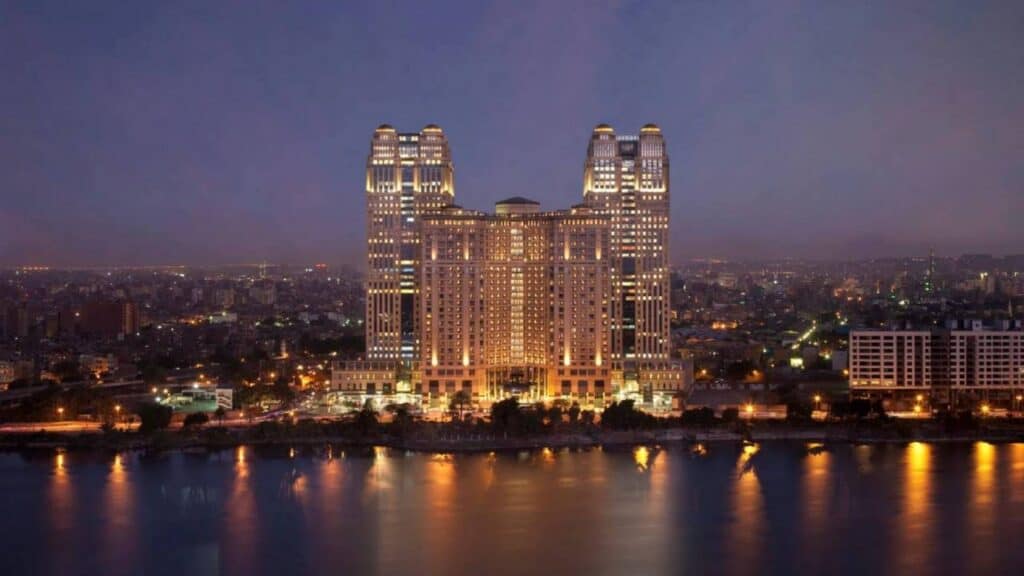 The Fairmont Nile City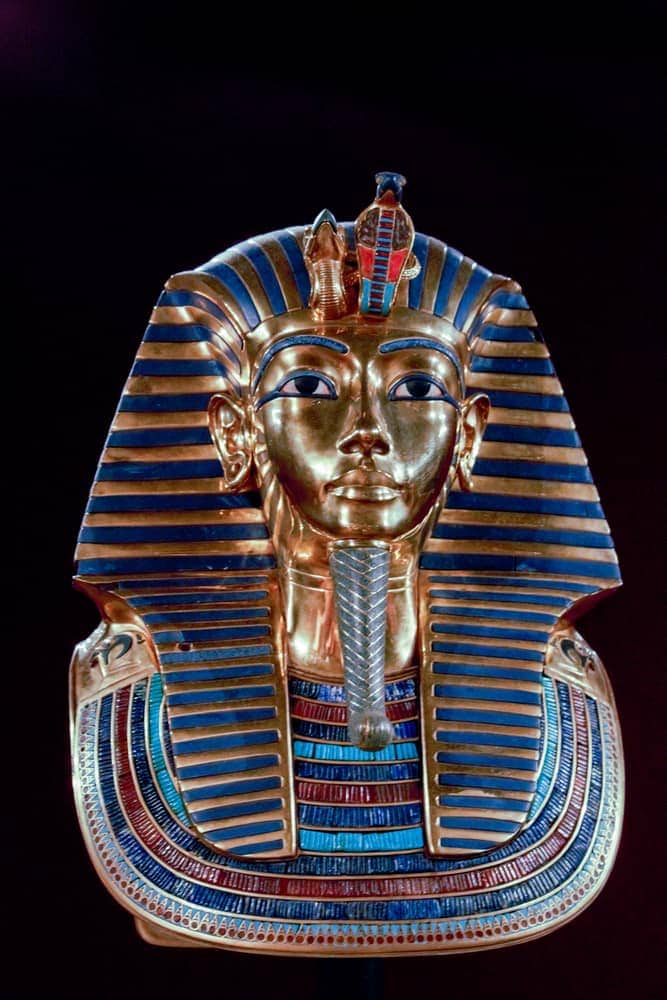 Golden mask of King Tut, Egyptian Museum
Day 6: Cairo
Transfer in a private vehicle between the Fairmont Nile City hotel and Cairo airport is provided.
Osiris Tours assistance in Cairo airport is included.
Hotels
Mena House (5*)
Mena House is a beautiful and unique hotel in Cairo, with its own rich and colorful history. Fascinating guests have frequented the property since 1869, and it has continuously held the attention of royalty and political thinkers. This palatial hotel is located in the shadows of the Great Pyramids of Giza in Cairo, and it is surrounded by 40 acres of verdant green gardens. The hotel's royal history is reflected in luxurious interiors that are embellished with exquisite antiques, handcrafted furniture, original works of art, and magnificent antiques that are rarely found in luxury hotels. Mena House has played host to kings and emperors, heads of state, and celebrities.
Located 700 meters from these wonders of the ancient world, Mena House offers unmatched views of the pyramids. You can gaze upon the magnificence of the pyramids from your room, watching the sunrise and set over these legendary monuments. After dinner at one of the many restaurants, you can return to your room and see them lit up for your private viewing pleasure. An ideal location for Cairo meetings, the hotel's banquet and conference center offer venues for weddings, receptions, and meetings ranging from 50 to 1000 guests. Recreation options at the hotel include a heated swimming pool and a fully-equipped spa & fitness center. Regarded as one of the leading luxury hotels in Cairo, the hotel combines the magical charm of a bygone era with an unrivaled service fit for royalty. Your interlude at the hotel promises to be a journey of discovery, exploring Cairo's ancient treasures and unraveling the many mysteries of Egypt's past.
Sofitel Winter Palace (5*)
The Sofitel Winter Palace Luxor is a 5-star luxury hotel built in 1886 by British explorers and perched on the Nile River amid luxuriant tropical gardens and ancient temples.
This opulent Luxor hotel blends rich colonial design with the glory of Pharaonic times. The palace was once a retreat for the Egyptian Royal Family in the 19th century.
In the Winter Palace Hotel, Agatha Christie wrote her famed 1937 novel Death on the Nile.
Illustrious dignitaries – from presidents and politicians to artists and celebrities – have stayed in the sumptuous suites overlooking the Valley of the Kings. Archaeologist Howard Carter, the discoverer of Tutankhamen's tomb, wandered the gardens of this sumptuous hotel in Luxor almost a century ago.
Fairmont Nile City (5*)
Fairmont Nile City luxury hotel in Cairo offers a delightful series of contrasts. Equipped with the most advanced design and technology to serve the discerning traveler's needs, this luxury Cairo hotel is also intimately attuned to its surroundings.
With sweeping panoramas of the Nile River and views of the Pyramids in the distance, Cairo's natural beauty and ancient history are always in sight from Fairmont Nile City. Added to this panoply of wonders are special features such as culinary adventures at the city's finest restaurants.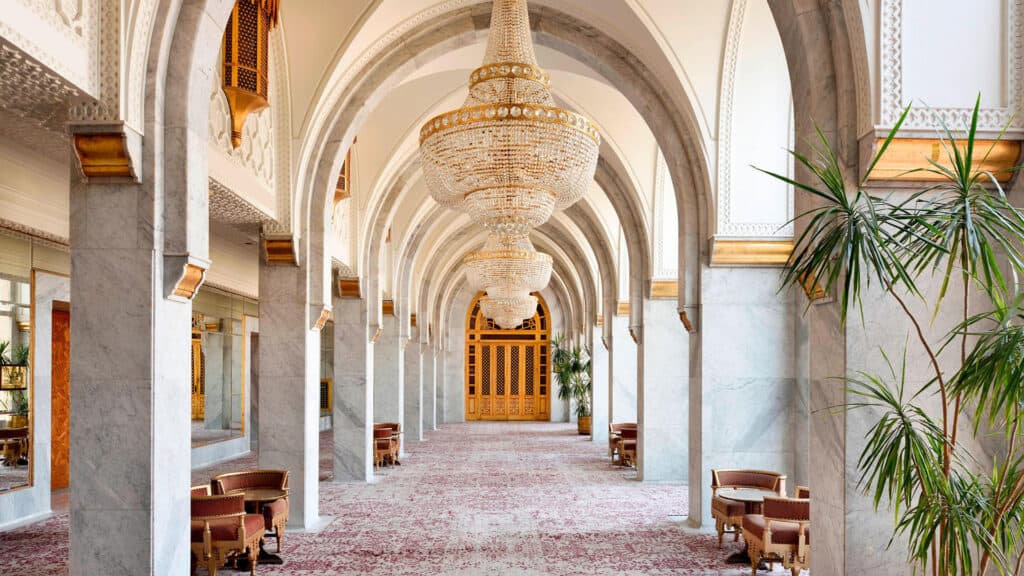 Marriott Mena House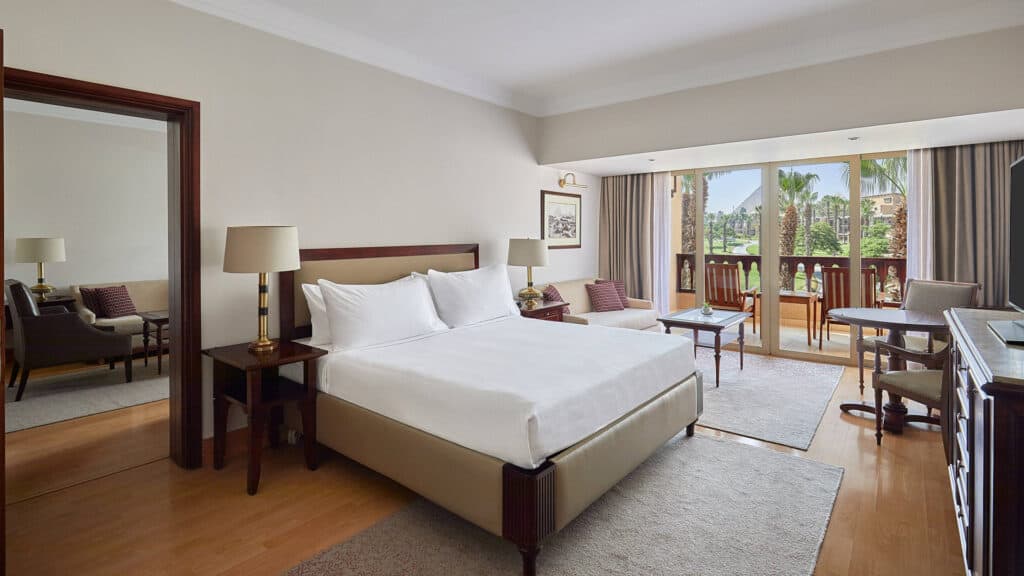 Marriott Mena House Pyramid Suite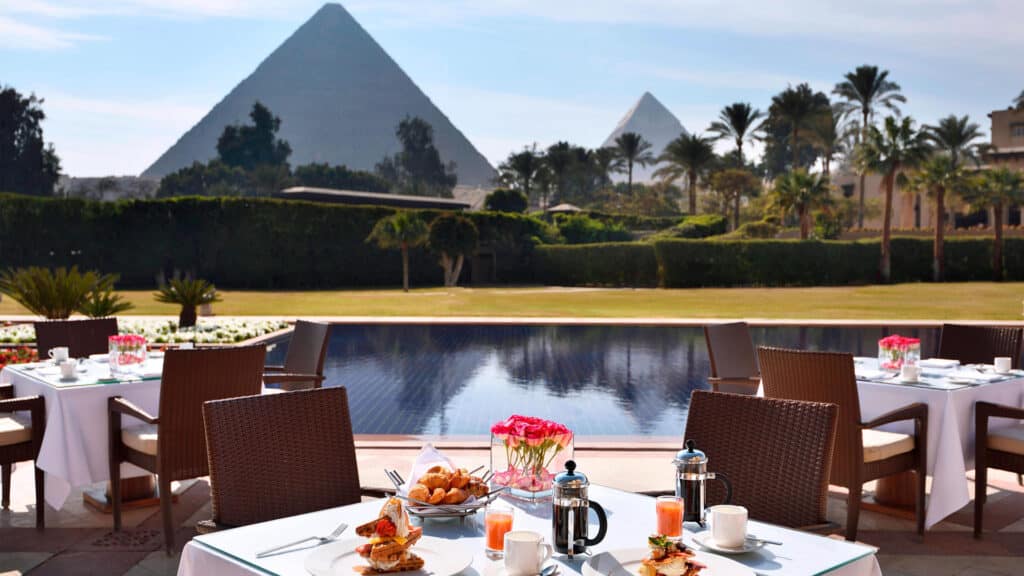 Dining at the Marriott Mena House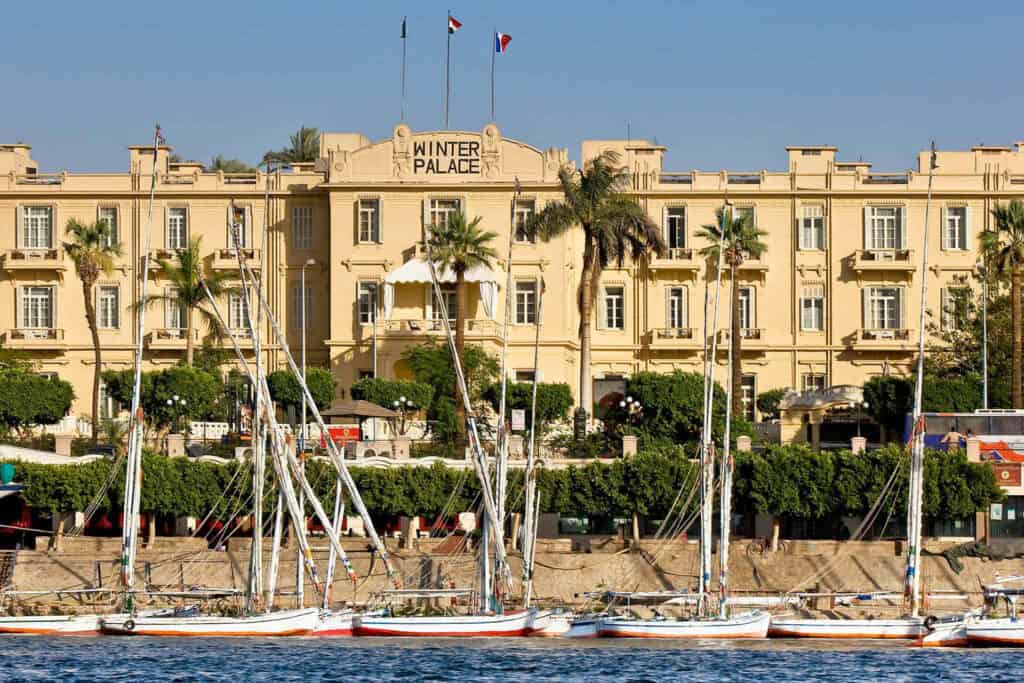 Sofitel Old Winter Palace Luxor Hotel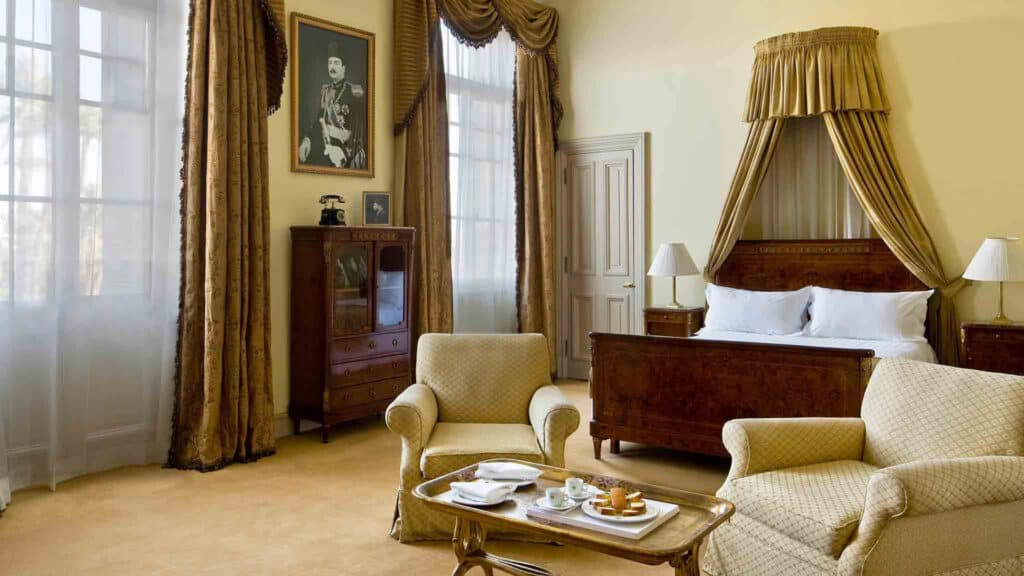 Sofitel Old Winter Palace Luxor Hotel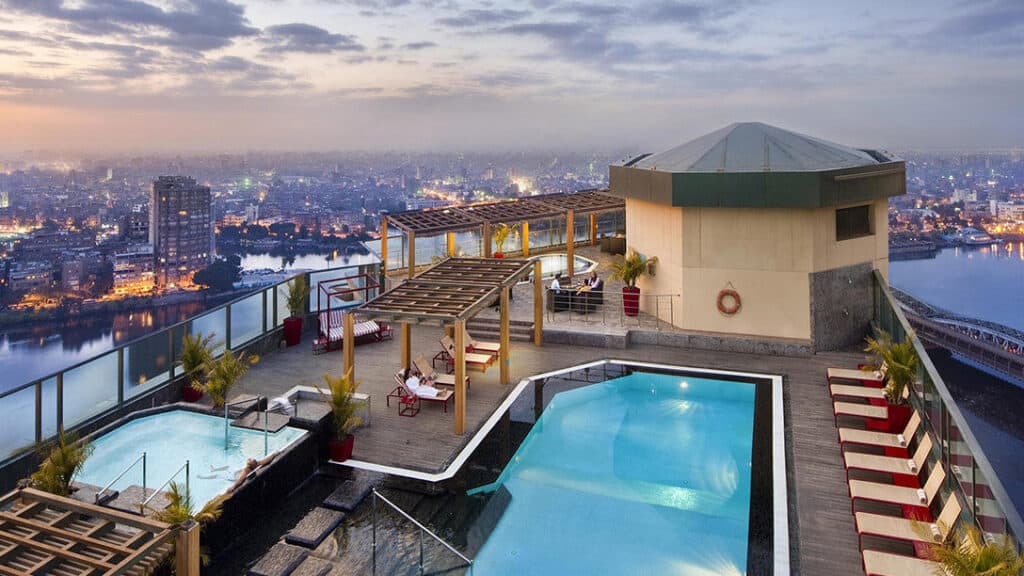 Fairmont Nile City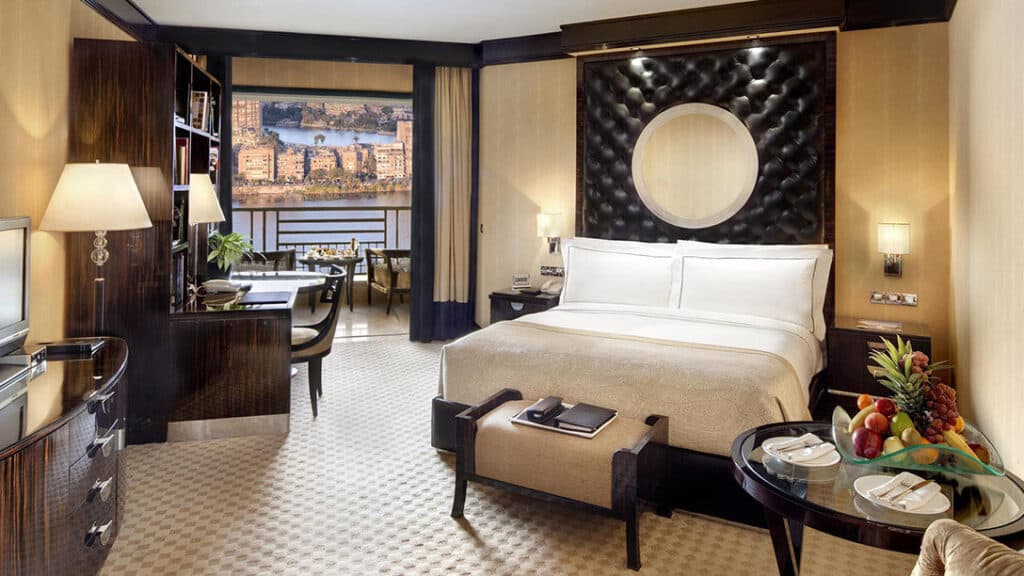 Fairmont Nile City – Room
Things you should know before you visit Egypt
Documents
If you are an American or a Canadian, you will need a valid passport for at least 6 months after the day you plan to return from Egypt. You must also provide proof that you intend to return or continue your travels elsewhere. You are responsible for ensuring your passport is current and that your name on your passport matches all other travel documents we will issue. If you find that your name differs between any documents, please let us know right away.
Visas
You will need a visa to travel to and inside Egypt. You can get one when you arrive at Cairo airport. We can include visa fees and proceeds in your itinerary upon request. When you leave Egypt, you must show proof of entry via a stamp on your valid passport. If you don't provide this stamp, officials may prevent you from leaving Egypt.
Insurance
It is a good idea to have insurance if you need to cancel your trip or any medical need while abroad. Most insurance policies also cover baggage loss/damage or problems completing the trip due to circumstances beyond your control. Get a policy that provides medical coverage to avoid large health care expenses in an emergency. We can help you find the right insurance policy for your trip with us.
Clothing for women
In general, for women traveling to Egypt, anything that is below the knee should be fine. Short sleeves should be fine as well, but nothing too short or too tiny. You do not need to cover your head in Egypt but do dress modestly. Wear pants or long skirts. It is hot in the summertime so that loose-fitting pants will be more comfortable than a pair of skinny jeans. It is also dusty and dirty, so that white clothing will appear soiled far more quickly than other colors' clothing.
Electricity, Internet and Phone
Egypt's power grid is set up for 220V AC. Some rural areas only have 110V AC. Sockets are either the "Type C" Europlug or the "Type E" and "Type F" Schuko plug. You'll need to purchase an adapter for devices from North America. Outlets marked as 110V or "For Shavers Only" won't work for devices not rated for 110V and may even damage them.
Mobile phone roaming charges are different between carriers, so be sure to check on costs with your phone provider in each area you'll travel to.
The large cities such as Dahab, Luxor, Cairo, and Alexandria have many Internet cafes where you can pay to use the WiFi or wired network ports. Some small towns like Siwa have at least one Internet cafe. Hotel in-room or lobby WiFi can be expensive, so check the rates before connecting to their services. Osiris Tours will not have control over which hotels have Internet access, but we do have information on which establishments are likely to provide it. We can help you find contact information to get in touch with the properties directly and ask what they make available.
– Time Zone: UTC+2
– Electricity: 220V AC + 110V in certain rural areas
– Telephone: Country code for calling you from outside Egypt is 20
– Calling North America: Dial 00 + 1 and your 10 digit number
– Emergency numbers in Egypt: Police: 122; Tourist Police: 126; Ambulance: 123; Fire: 125
Weather
Egypt is very dry in some places and very wet in others. Be prepared for a hot and dry climate. It can get cold in the northern regions if you happen to visit in the Winter. Most tourists visit during the cooler months from December to February.
February to April and October to November is the best time of the year climate-wise to see the pyramids and Valley of the Kings. It can be very hot and dusty in April because of winds blowing in from the Sahara, so visiting sites can be a bit of a problem during that month.
Updated weather forecasts can be obtained from Weather.com.
Money
We recommend that you bring about $100 US per person for each day's expenses. Small bills are best to tip waiters, porters, and housekeeping. Tipping is at your discretion based on your satisfaction with the service you receive.
The Egyptian currency is called the "Egyptian Pound" (guinay in Arabic). Notes come in denominations of 5pt, 10pt, 25pt, 50pt, E£1, E£5, E£10, E£20, E£50 and E£100. Coins come in denominations of 10pt, 20pt, 25pt, 50pt, and E£1. Some tour operators and hotels only accept US dollars or Euros.
Get your Egyptian Pound currency from your own bank before leaving or from an Egyptian bank machine. Those methods are cheaper than in the airport currency exchange or in tourist areas. Visa and Mastercard are widely accepted, but your bank card may or may not be valid in-country.
Vaccinations
There are currently no vaccinations required to travel to Egypt.
There have been some occurrences of "Bird Flu" (avian influenza) in Egypt. We recommend that you:
– Avoid going to live animal farms or poultry markets.
– Avoid eating eggs or poultry that have not been fully cooked.
– Wash your hands regularly.
– See a doctor if you feel any flu symptoms coming on while traveling or after you return home.
Medicines
Make a list of all the medicines and medical items you need to bring with you on your trip, plus dosages of prescription drugs, details of prescription glasses and contacts, and any other medical necessities. Put spare eyewear and medications in checked and carry-on bags in case some of your luggage gets lost in transit.
There are non-prescription, over-the-counter medicines available in Egypt, but it is often difficult to get prescription medication or eyewear. Bring water purification devices or iodine tablets in case bottled water is not available. We can advise which locations will have potable vs. non-potable water. We strongly recommend bringing some type of over-the-counter diarrhea medication.
Medical Needs Checklist
– Basic first aid and medicine kit (band-aids, antiseptics, pain meds).
– Pepto-Bismol, Imodium, electrolyte powders for adding to drinking water to solve dehydration problems, and anti-diarrheal medications.
– Anti-itch cream for insect bites and allergies.
– Tablets for motion sickness.
– SPF 30 or higher sunscreen, aloe-vera lotion for sunburn treatment, large-brim hat, lip balm, insect repellent, and sunglasses.
– Hand sanitizer and baby wipes.