No trip to Egypt would feel complete without spending an afternoon in the lively heart of Cairo—the bustling market district of Khan el Khalili, beloved for centuries by Egyptians and foreigners alike. Its narrow, cobblestone streets and winding, interconnected alleyways create a magical atmosphere that feels like a trip back in time. Its streets are rich with history. This busy souk, first constructed in the Middle Ages and growing ever since, has attracted visitors from all over the world for over seven hundred years. The aged, labyrinthine passages of Khan el Khalili set the stage for the most adventurous shopping experience one could ever imagine.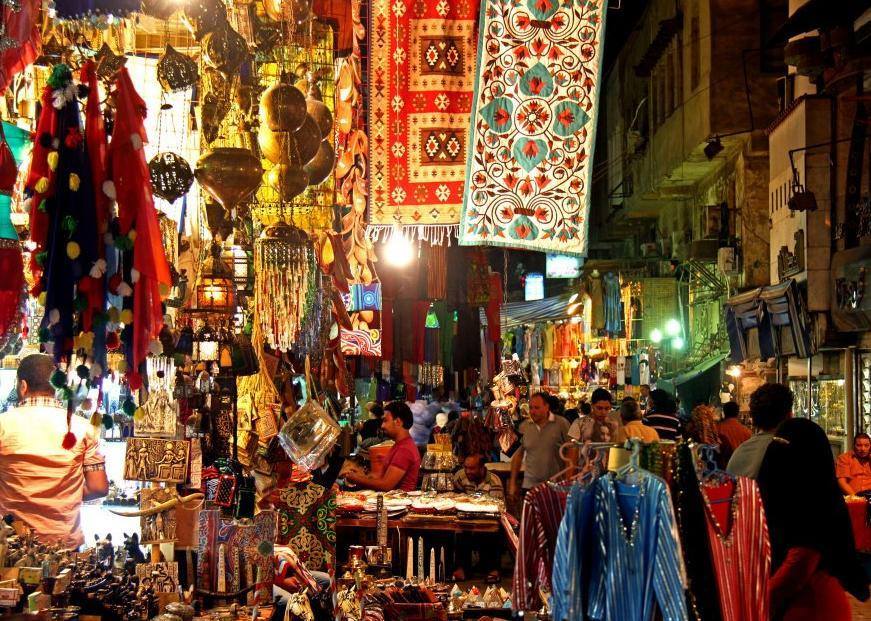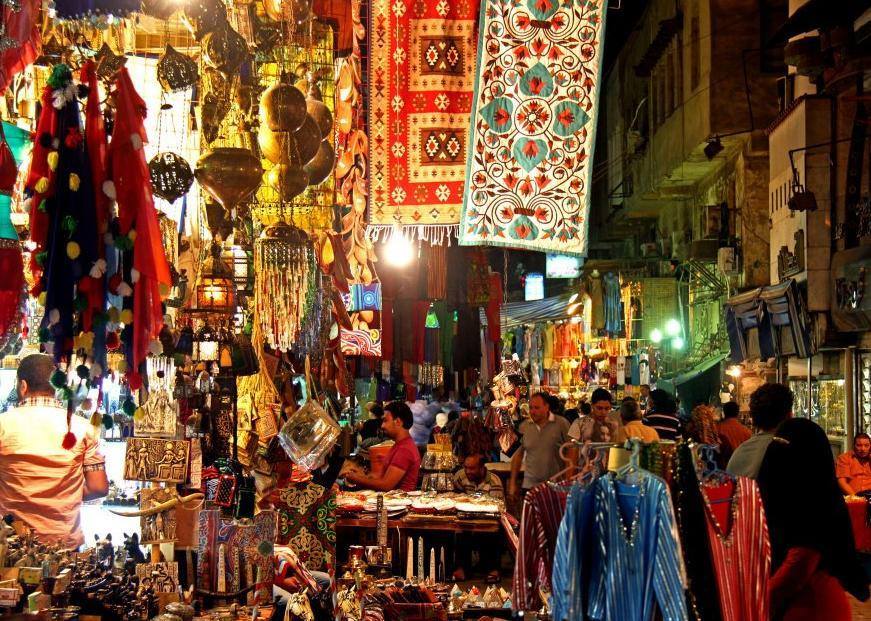 Old World Atmosphere, Modern Shopping Experience
One of the most fascinating things about Khan el Khalili is the juxtaposition of the old with the new. Soaring arches and limestone walls serve as the backdrop for vendors selling delights both modern and antique. Marvelous, towering mosaics of thousands of tiles of blue and white accompany intricately carved wooden doors. Aging wooden balconies hang over the streets, unchanged for generations; laundry hangs out to dry on clotheslines stretched over alleyways. Copper and colored glass lanterns cast rainbows into the streets. The atmosphere is enough to make a traveler forget the year, were it not for the clicking cameras and locals rushing through on their motorcycles. Prepare to be awed as enormous charter tour buses pass through crowded streets and turn through tight corners with not a foot to spare. The feat looks near impossible yet somehow, they always manage to avoid disaster.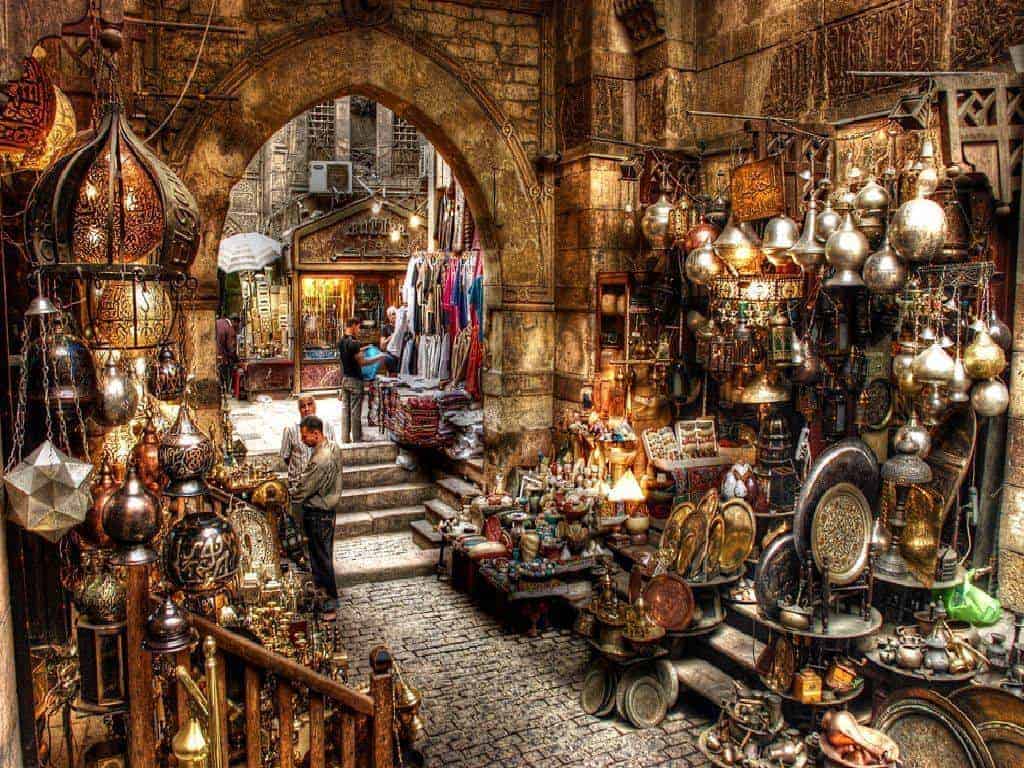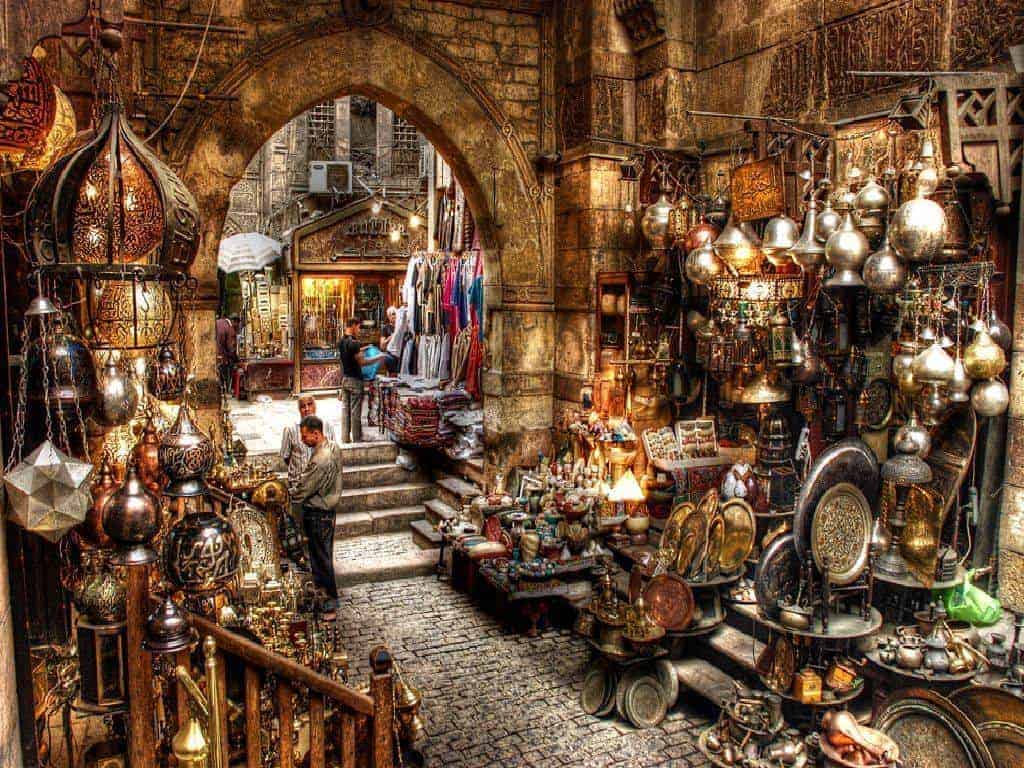 Countless doorways of little shops line the cramped cobblestone roads, wares spilling out into the streets. Behind their doors lay treasures inspired by the ancient Egyptians and developments throughout Egypt's history up to the present day. All that's old and new in Cairo is yours to discover. Khan el Khalili is undeniably charming and provides an unforgettable experience wandering through a busy Middle Eastern bazaar.
Shop Like a Local on a Luxury Guided Tour
Khan el Khalili is a maze, but our guides will help you navigate the streets and discover your heart's desire. The souk is a dream for the traveler who wants to bring a piece of Egypt home with them. Nearly anything imaginable can be found within its busy alleys, and of course, some unexpected treasures await. Shopping around for a deal in Khan El Khalili is easy; comparing prices is a snap when there are so many vendors from which to choose. There are so many unique things to be discovered, that to pass through too quickly almost certainly means missing something remarkable.
The most easily identifiable landmark at the edge of Khan el Khalili is the enormous Al Hussain mosque, one of the most beautiful holy sites in all of Egypt. Its gothic revival architecture makes it instantly recognizable, and the square outside the mosque is a good place to begin your journey. Café owners beckon welcomingly at empty seats, inviting passersby. The cafes in the area are in beautiful old buildings with geometric wood paneling, typical of Islamic architecture. Vendors saunter through the crowds, eager to show off their wares. Although this is a popular tourist location, visitors will still encounter more Egyptians than tourists. Almost anything can be found within the busy alleys of Khan el Khalili, and Egyptians often go there in search of things they can't find anywhere else. The breadth of merchandise is astounding.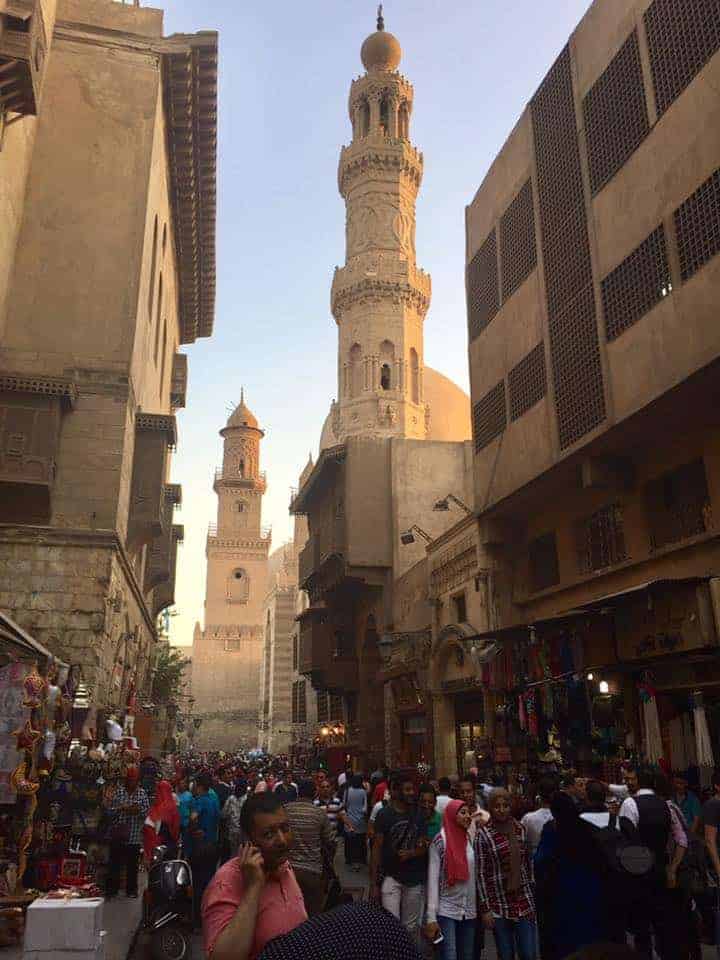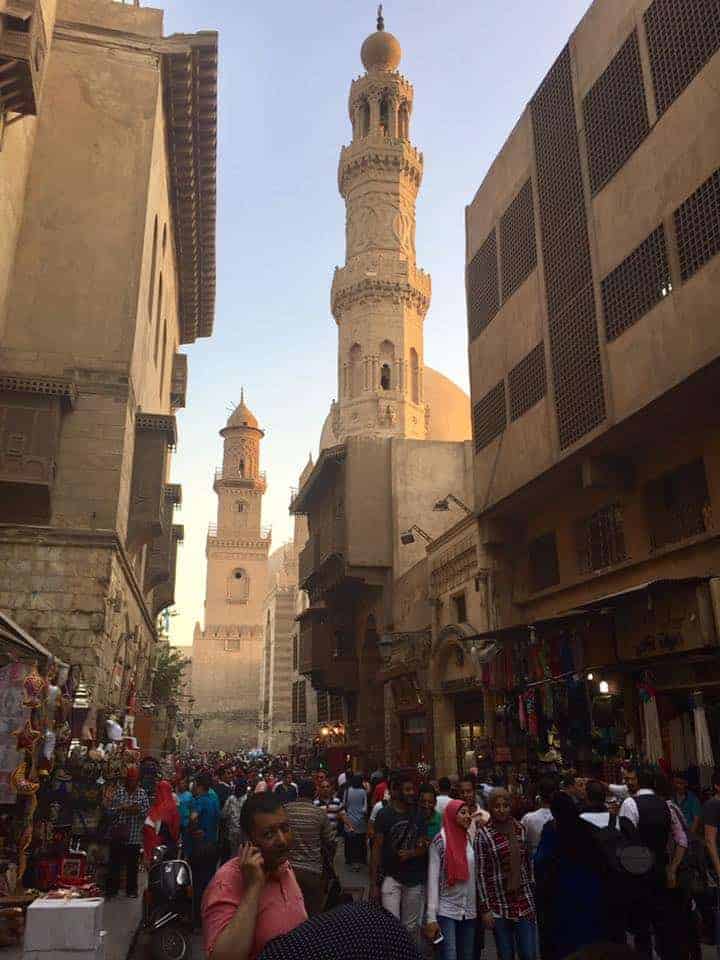 The Treasures of Khan el Khalili
Goods both new and old line the streets. The outer edges of the market are the most tourist-dense areas. It's no surprise that all the typical tourist items can be found there: keychains, pyramid and sphinx figurines, jewelry with names written in hieroglyphics, and more. Plastic mannequins hang in sidewalk shops, wearing modern interpretations of Egyptian belly dance costumes. Brightly colored fabrics, shimmering with beads and sequins, jingle gently as shoppers pass by. These items are to be expected, but the real joy of shopping in Khan el Khalili lies in the unique, handmade goods from local craftsmen found deeper in the market.
The coppersmiths' shops offer diverse collections of work. This is the place to find the lovely copper lanterns that are so characteristic of traditional Egyptian buildings. Some are antiques, some are newly crafted, but all are beautiful and interesting. The dominating visual themes are geometric designs with stars or leaves pierced into their shining surfaces, or brightly colored stained glass. Also not to be missed are cheerful copper pots and pans, the perfect gift for cooking enthusiasts. Lovingly crafted vases, dishes and tableware are also available in the market, beautiful designs stamped into the metal.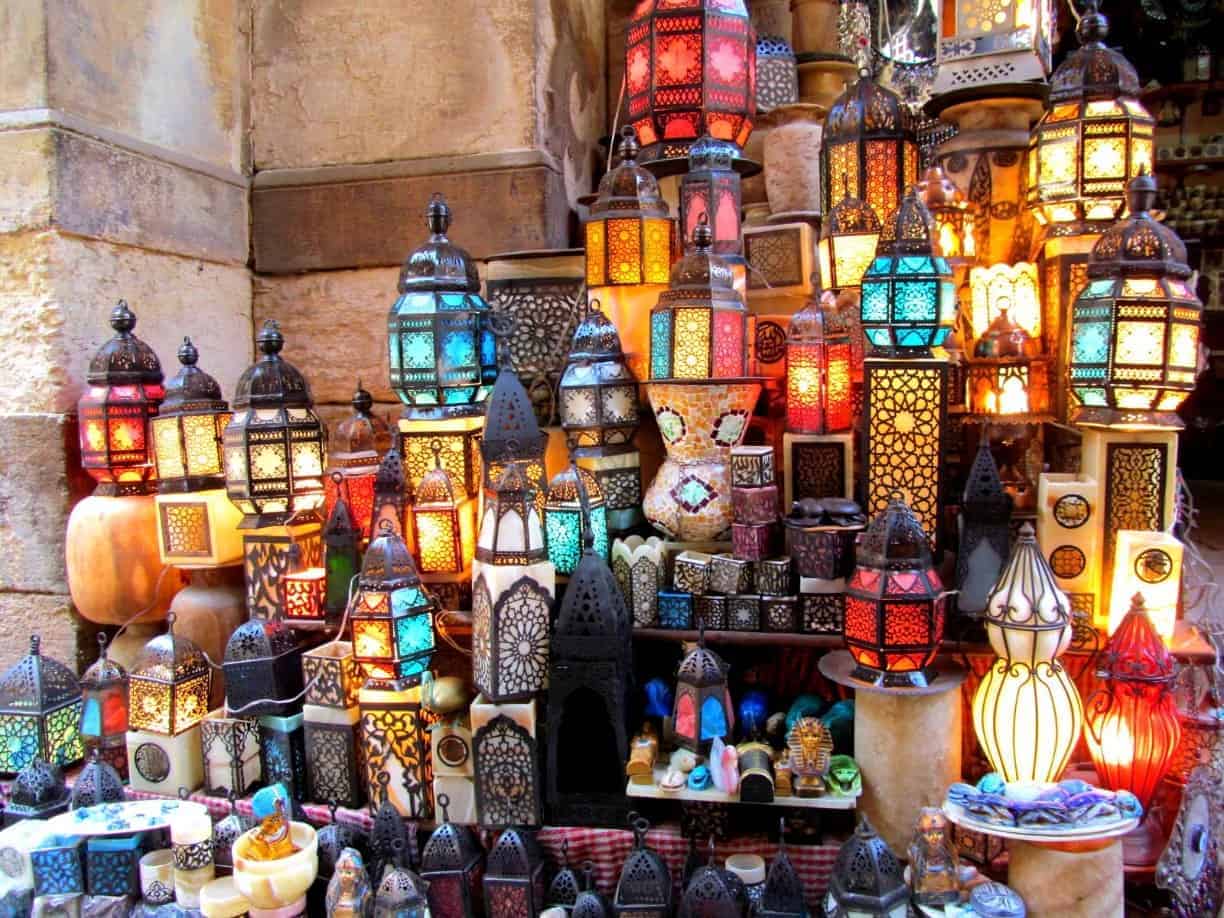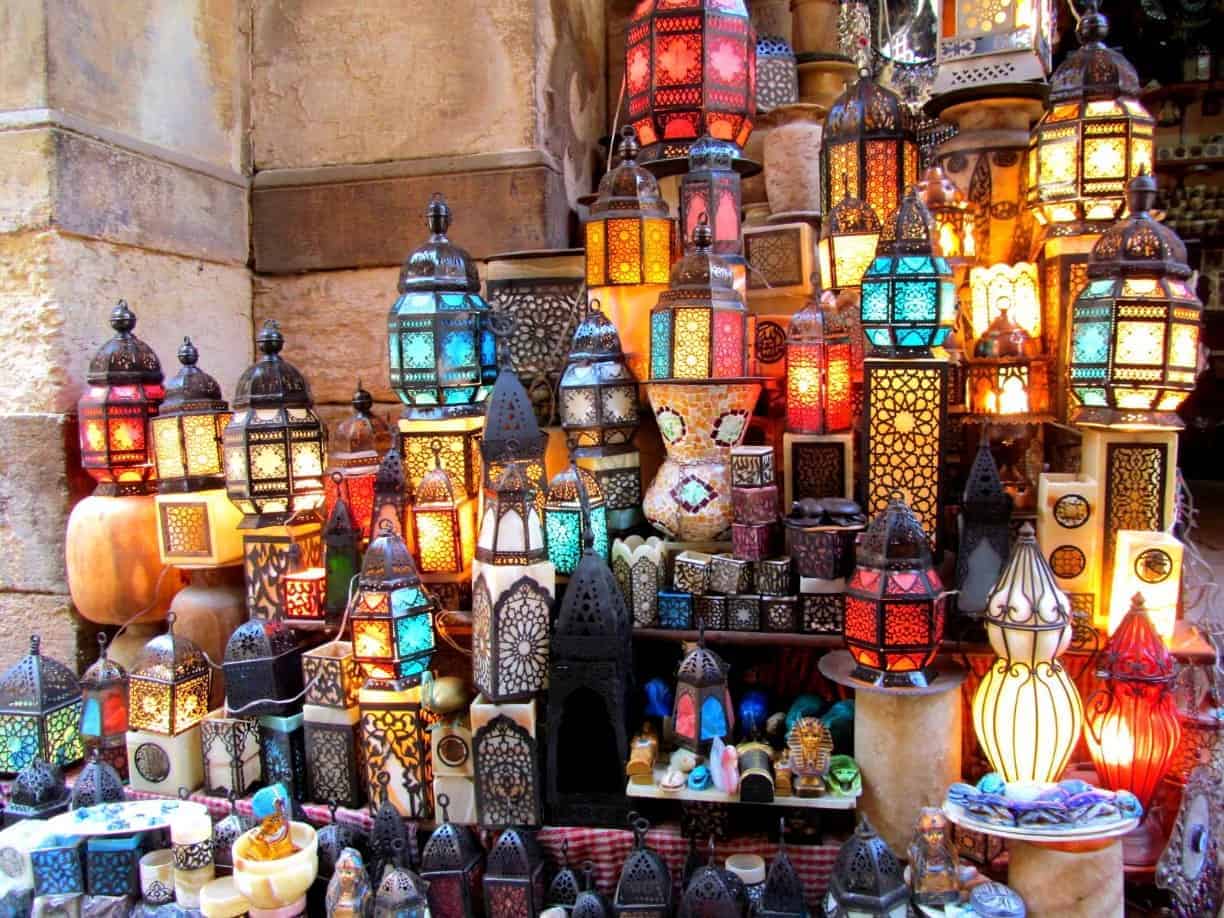 Khan el Khalili also houses the largest gold and silver market in Egypt. An entire street of jewelers' shops provides hours of exploration for the fashion loving shopper. High end shops attract locals and tourists alike—this is the place to buy gold in Egypt. Necklaces, bracelets, earrings and other trinkets in gold and silver can be found covering the walls of the shops in the goldsmiths' souk. Some are antiques, while others are new or custom. Pharaonic style jewelry and cartouches are easy to find and can be personalized. High quality pieces can be purchased at bargain prices if visitors negotiate skillfully—bargaining is an essential skill here, and having an Egyptian guide will be an immense help to those on our Egypt tour packages
Most people will immediately recognize hookah, the waterpipes used to smoke shisha. Egyptians take their shisha quite seriously, and the hookah for sale in Khan el Khalili are often true works of art. Shoppers will find hundreds of hookah pipes lined up outside the shops in an astounding variety of shapes and sizes. Some water bases are ornamented with exquisite mosaics, others are formed from delicately blown glass, still more from bold metals. Occasionally one may walk past a hookah taller than the person selling it!
Little shops tucked into corners of busy streets house even more goods for perusal. Alabaster and obsidian statues, carved wooden boxes and dishes with shimmering mother-of-pearl inlay, tiny glass perfume bottles, quality leather goods and more await explorers of the market.
Local Flavor: Eating and Drinking in Khan el Khalili
Spending hours becoming lost and found again in the marketplace is bound to make a traveler hungry and thirsty. Thankfully, Khan el Khalili and the surrounding area offer plenty of Egyptian food options. For a quick snack, find a street vendor selling warm, fluffy couscous topped with butter and sugar. For a larger meal, enjoy fatirah, the Egyptian equivalent of pizza, in the plastic chairs of an outdoor café on a warm summer evening. The best source of authentic local food isn't always the fanciest.
One of the best places to enjoy a Turkish coffee in Egypt is at El Fishawy, the oldest café in Cairo. El Fishawy is open 24/7 and has been operating for over 250 years. The ambience hearkens back to another time, with the antique geometric wood paneling and original copper lanterns that haven't changed since its establishment. Occasionally café patrons will bring instruments and sit together drinking coffee and singing old Arabic love songs. The joy of visiting El Fishawy is that the experience is different every time, in unexpected and charming ways.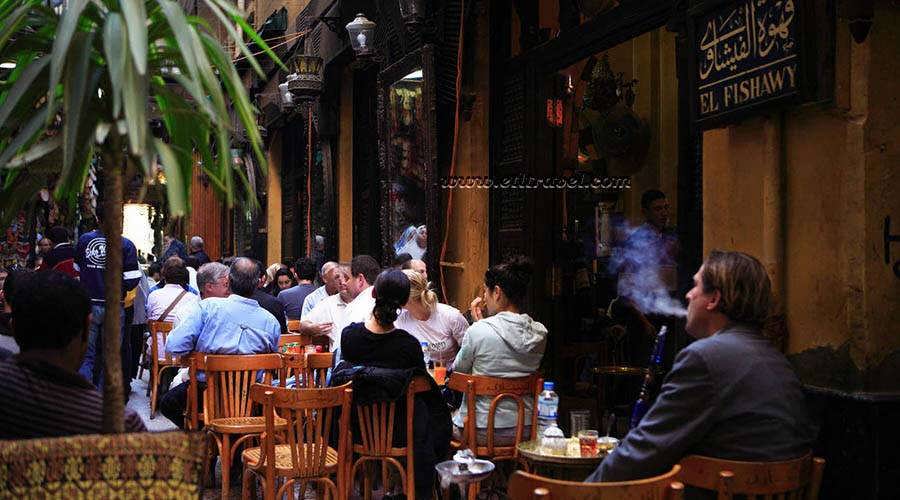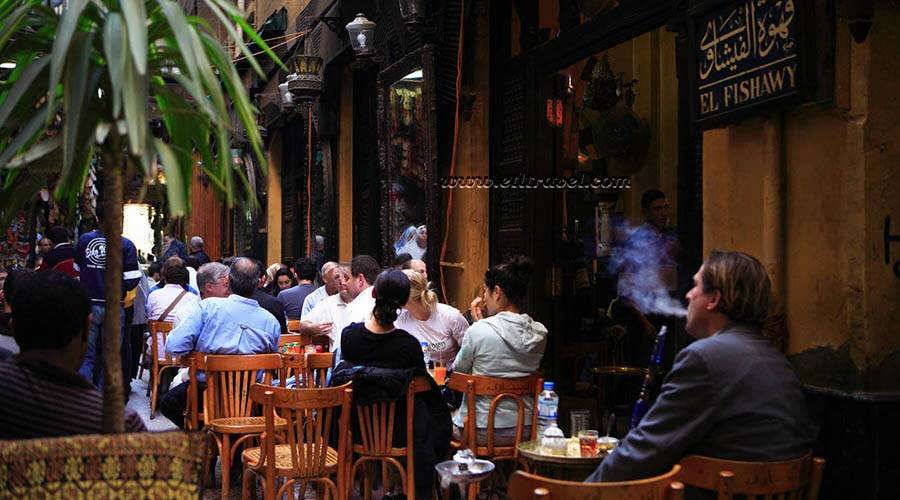 Khan el Khalili is one of the most magical places in Egypt, and no traveler should leave without having explored its maze of treasures. A guided tour of Egypt offers the opportunity to see the best of Cairo through the eyes of a local. Unforgettable experiences await!