Egypt is famous around the world for its rich archaeological treasures. Treasures discovered from this land can be found in top museums worldwide, and of course, throughout Egypt itself. However, while hundreds of thousands of archaeological finds have been uncovered throughout the years, even more remain hidden. New things are constantly being found in Egypt as was proved earlier this week in Luxor.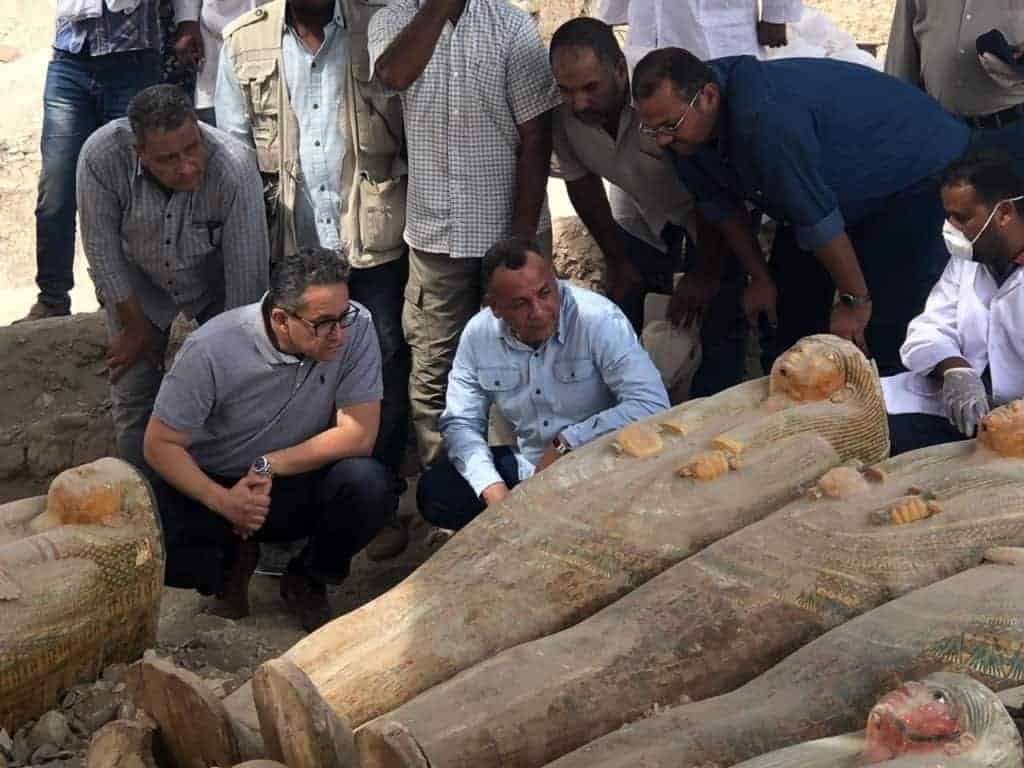 A New Discovery in Luxor
On October 15th, 2019 the Egyptian Ministry of Antiquities shared that there has been a new discovery just south of Luxor at the Asasif Acropolis. Archaeologists have uncovered at least 20 wooden coffins in the area. This discovery is already being labelled as one of the biggest and most important discoveries in recent years.
The wooden coffins are described as ancient, and photos show them to be covered in colourful paintings and images. While not much is known about these coffins at this time, a press release is expected to soon follow with further details about this new and exciting discovery.
New Discoveries and Tourism in Egypt
There's no doubt that Egypt is one of the most fascinating places to visit in the world. It's rich and ancient history combined with the number of historical sites and monuments that can still be seen and explored today makes it an incredibly unique destination. However, tourism has decreased significantly in the years following the 2011 uprising.
Egypt is a country that depends on tourism. Many citizens work in the tourism sector and the lack of tourism these past several years has been a devastating blow to the local economy. Tourism authorities hope that new discoveries, such as this most recent on in Luxor, will help to encourage tourism; to entice new visitors and bring back previous visitors who are looking to see and uncover something new.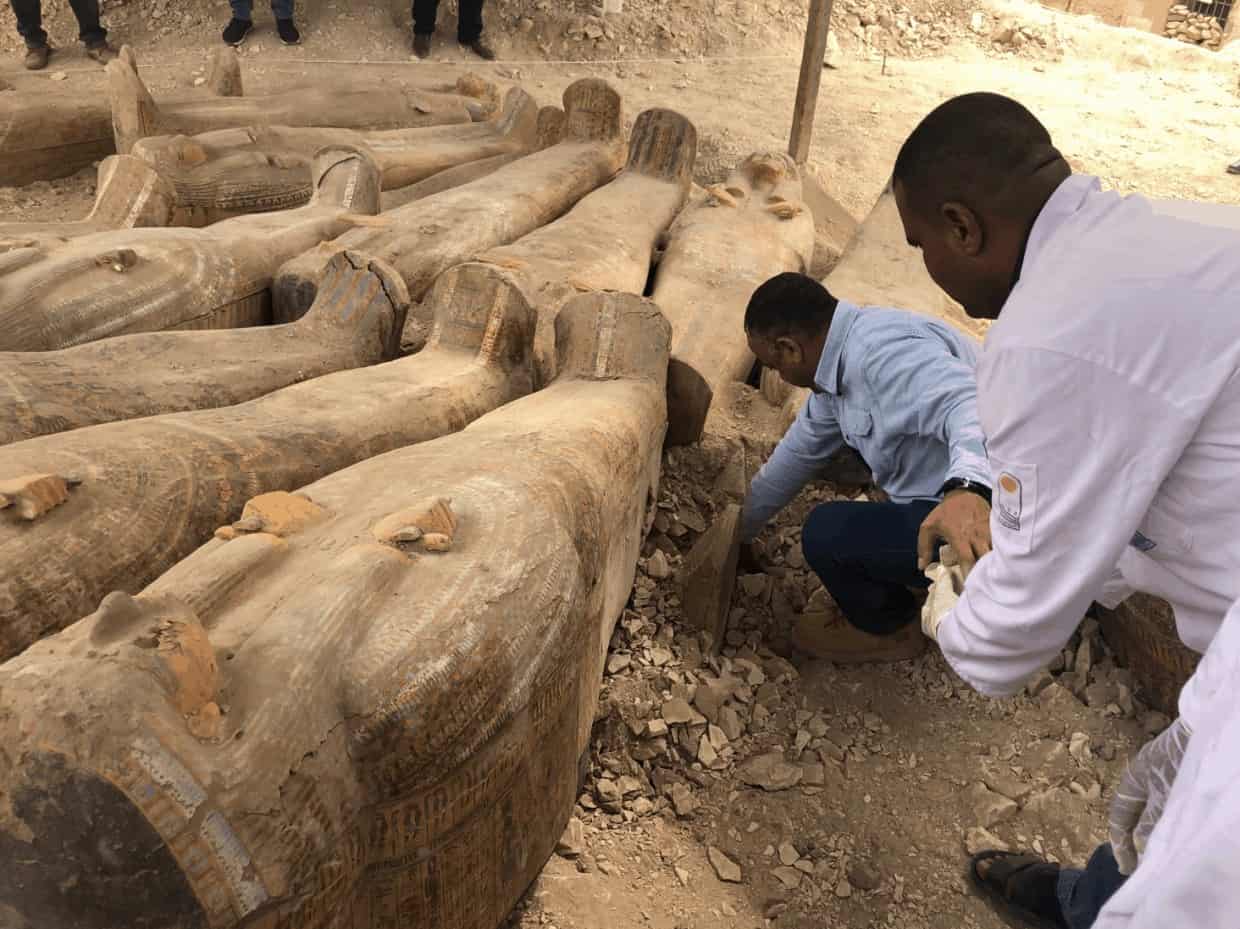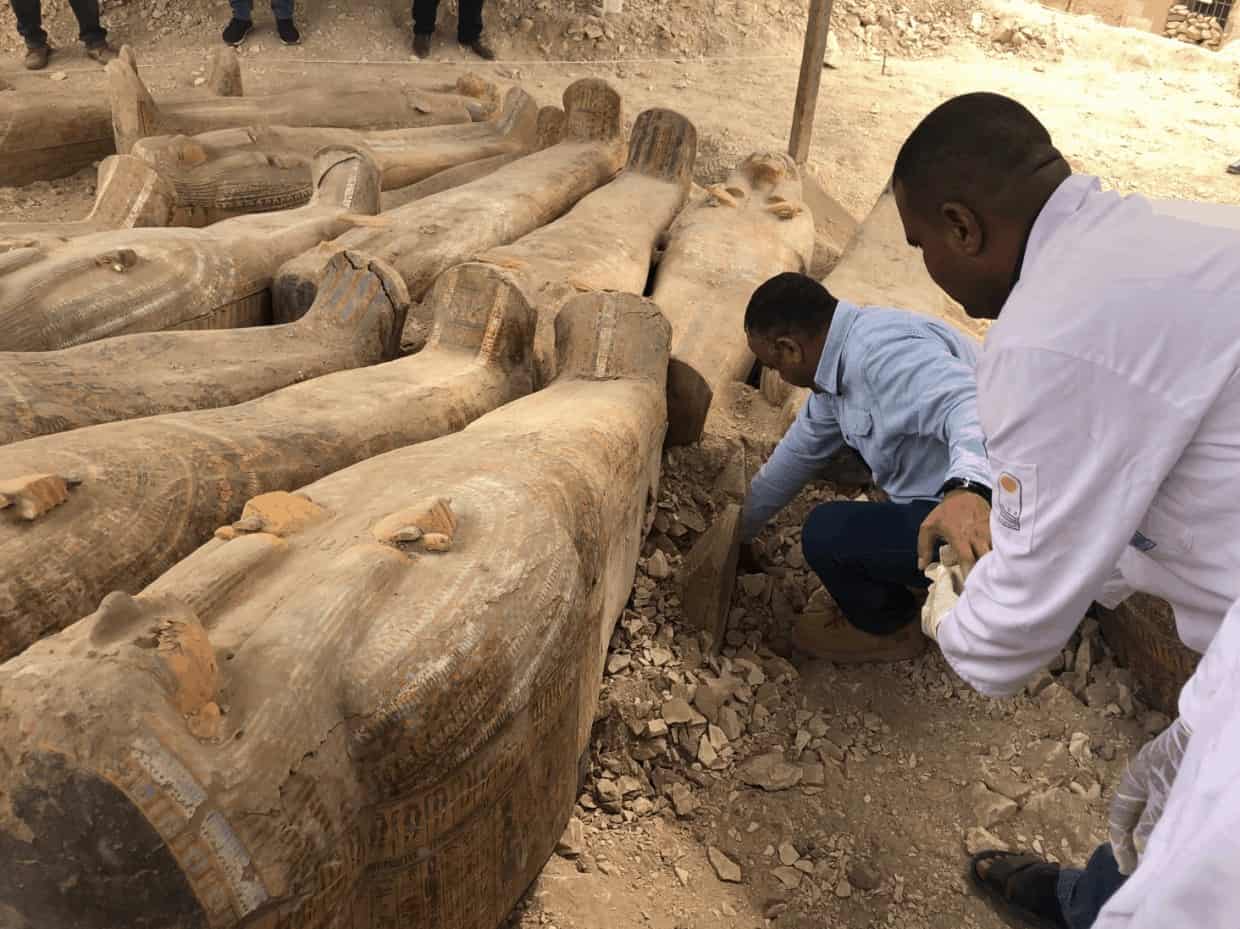 Why You Should Visit Luxor
Luxor is one of the most fascinating areas of Egypt. It's home to some of the most impressive temples, sites, and attractions. Plus, as seen from this recent discovery of 20 coffins, Luxor is still an archaeological hot spot with new discoveries are being made in this area on a regular basis. These new discoveries, on top of the incredible attractions, make Luxor a must-visit when in Egypt. Most Egypt tours packages include a couple of days in Luxor to see the highlights which include the following:
Karnak Temple
When it comes to temples in Egypt, Karnak Temple usually comes up as a favourite. This massive temple complex has plenty to see and discover, so it best visited with a knowledgeable guide.
Karnak Temple took over 2000 years to build, and many of Egypt's best-known rulers and Pharaohs all contributed something to the complex. It's the largest religious structure ever built and would better be described as a city of temples rather than a single temple on its own. If you enjoy visiting Karnak Temple during the day, consider coming back in the evening to see the Karnak Temple light and sound show.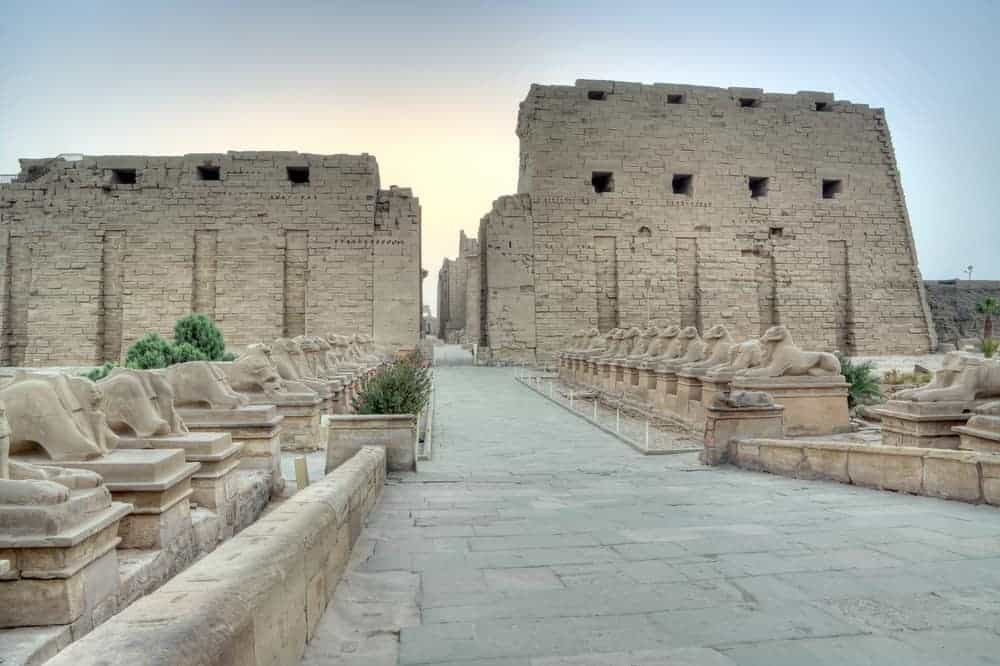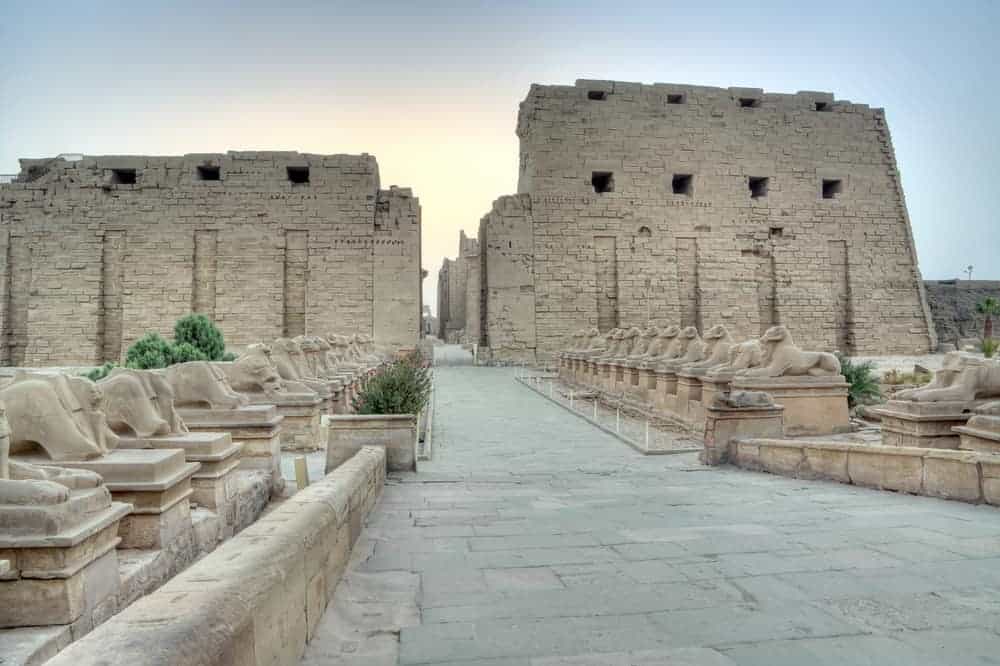 Luxor Temple
While not as big as Karnak Temple, Luxor Temple is also a must-visit. It was commissioned in the 14th century BC, but, like Karnak Temple, was continually added to over the years by rulers and Pharaohs.
What makes Luxor Temple unique is that it is one of the few religious buildings in the world that has been continuously used as a place of worship over time. Although, the type of worship has changed over the centuries. On this site, you can also find a Christian church and a mosque.
Due to its proximity to the Nile, part of Luxor Temple was buried by the sands of the Nile. However, this actually helped preserve the temple and many of the decorations and engravings can still be seen very clearly today.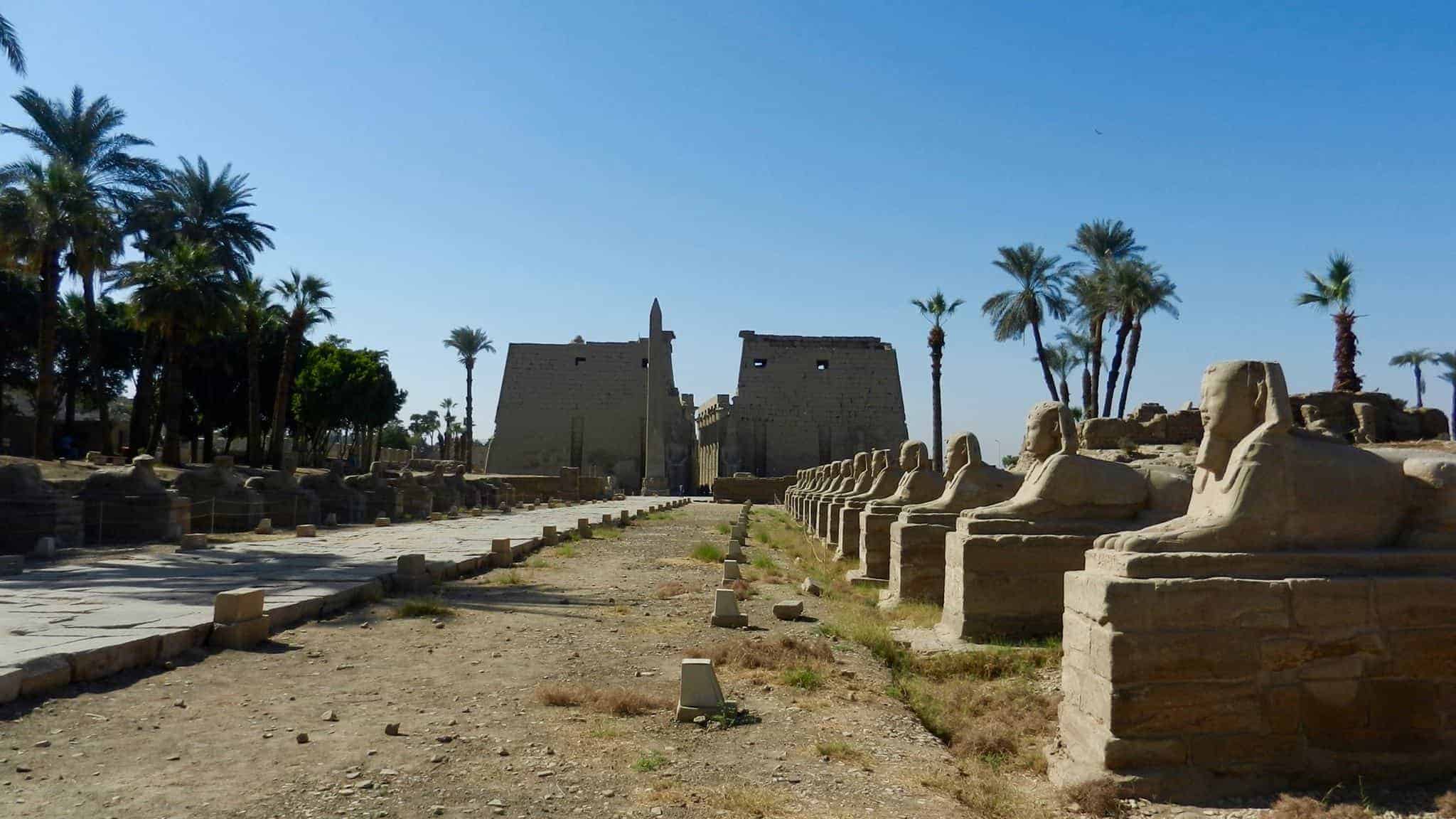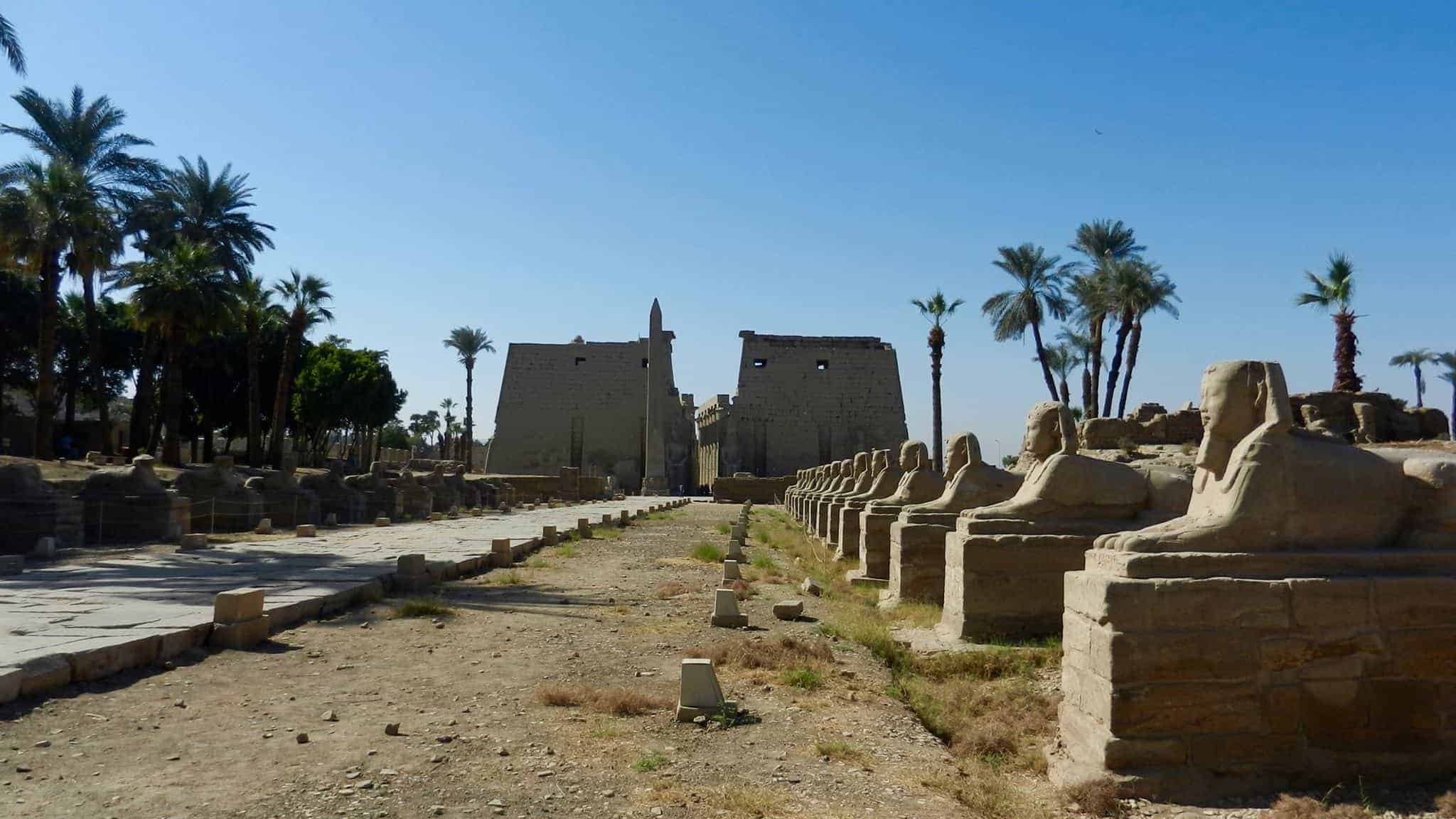 The Valley of the Kings
The Valley of the Kings is located in the West Bank of Luxor where you'll find the tombs of some of Egypt's most well-known rulers. The area has dozens of tombs, and archaeologists are still hard at work expanding existing tombs and discovering new ones.
Hidden in the hills, some of these tombs are absolutely immense and the colour and preservation of many will leave you in awe. Unfortunately, many tombs have been pillaged or destroyed over time, but even the less extravagant tombs are incredible. King Tut's tomb is one of these; it's much smaller because he died so young, yet it's fascinating to see it for yourself. Those who choose to visit his tomb can even see his mummy, still in its final resting place. It's important to note that photographs can be taken in the tombs, however, you do need to purchase a special permit to take pictures.
Tombs of the Nobles
All Egypt tours will take you to the Valley of the Kings, but the best Egypt tours will also show you the tombs of the nobles. This burial area is significantly quieter than the Valley of the Kings but equally as impressive. As per the name, these tombs belonged to some of the most important nobles of Egypt and while not as large as those of the Pharaohs, they are still quite beautiful. Many of them are also in better shape than the tombs found in the Valley of the Kings because they weren't raided as much by pillagers and thieves.
The Valley of the Queens
The ancient Queens of Egypt also had a burial area, and their tombs can be visited as well. There are more than 75 tombs of queens and princesses, with more being discovered on a regular basis. Like the Tombs of the Nobles, the Valley of the Queens is significantly less busy than the Valley of the Kings and definitely worth a visit. At this time, there are 4 tombs here open to the public including the tomb of Nefertari.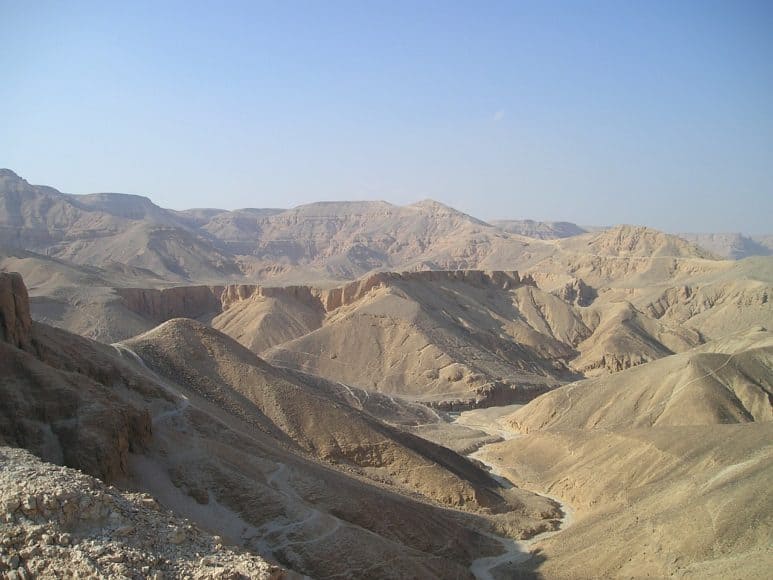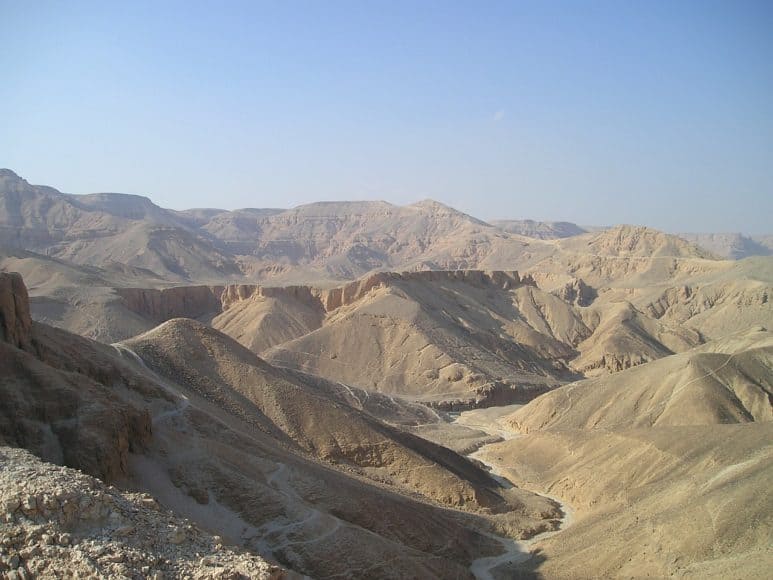 Queen Hatshepsut's Temple
Queen Hatshepsut, the woman who ruled as a king, is one of the most fascinating historical figures in Egyptian history. She became queen after marrying her half-brother, and upon his death, she acted as regent, then Pharaoh since her son was just an infant at the time. Most images of Hatshepsut show her depicted as a man; a decision of her own making as she believed it would make her appear stronger. During her rule, Hatshepsut extended the Egyptian trade and oversaw many construction projects. She was an impressive ruler and, unsurprisingly, had an equally impressive mortuary temple.
Located on the west bank of the Nile River, Queen Hatshepsut's Temple is considered to be one of the top monuments in Egypt. The temple is built from limestone and set against the base of a cliff close to the Valley of the Dead. The temple is rumored to have been designed by her lover (who was found buried nearby) and faced a lot of destruction over the years but has been restored to show its former glory.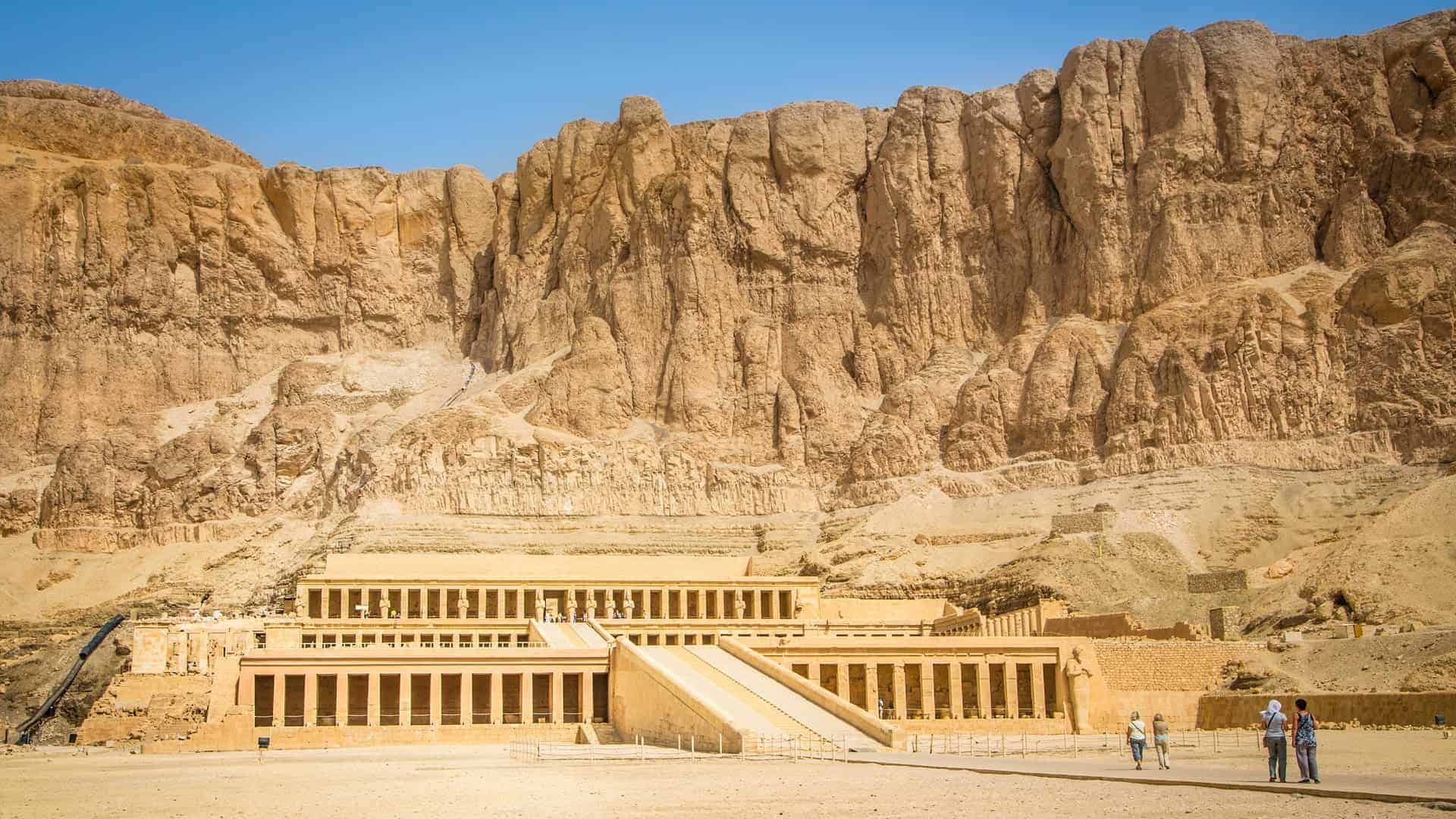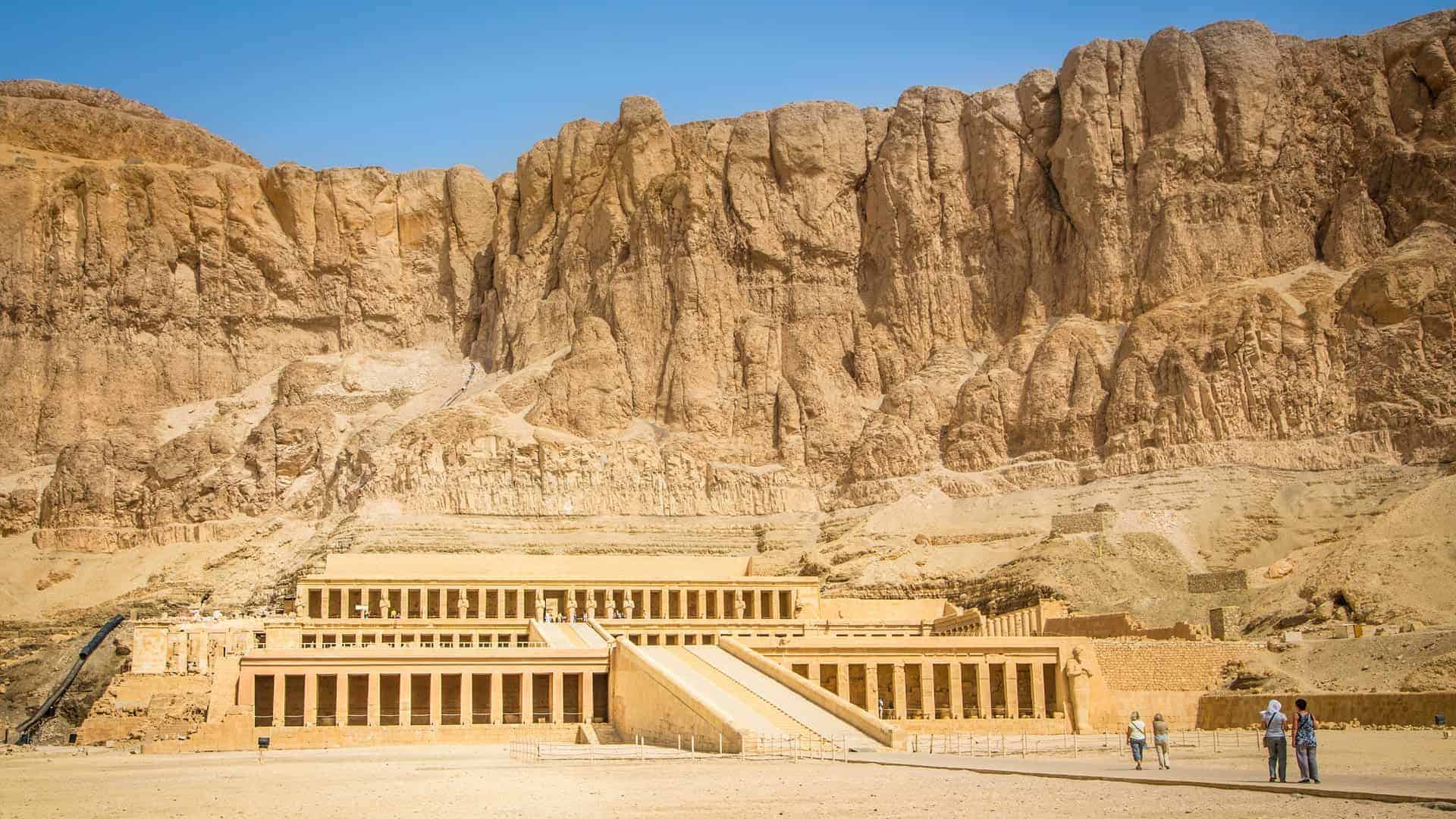 Colossi of Memnon
The Colossi of Memnon are two massive statues that stand on the west bank of the Nile River. The Colossi originally guarded the entrance of Amenhotep's mortuary temple which, at the time, was the largest and most opulent complex in Egypt. Unfortunately, given its proximity to the Nile River, very little remains of the temple today. The Colossi of Memnon, however, can still be found in the area and while they have been damaged over time, they are still impressive to see.
Deir Al-Medina
Deir Al-Medina is a workman's village. It was created based on the need to house and shelter the workers and craftsmen who built and created the royal tombs. It's interesting to visit to compare tombs made for royalty versus tombs made for commoners. However, despite their simplicity, some of the tombs here are incredible to see and very well-preserved.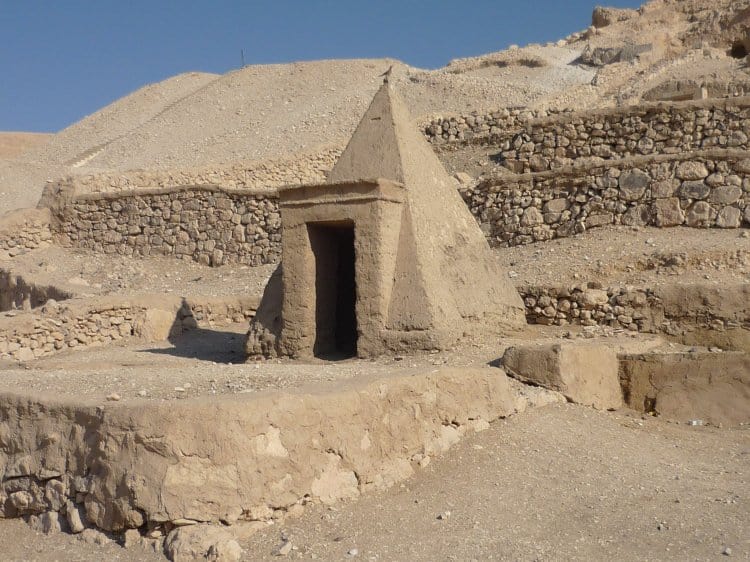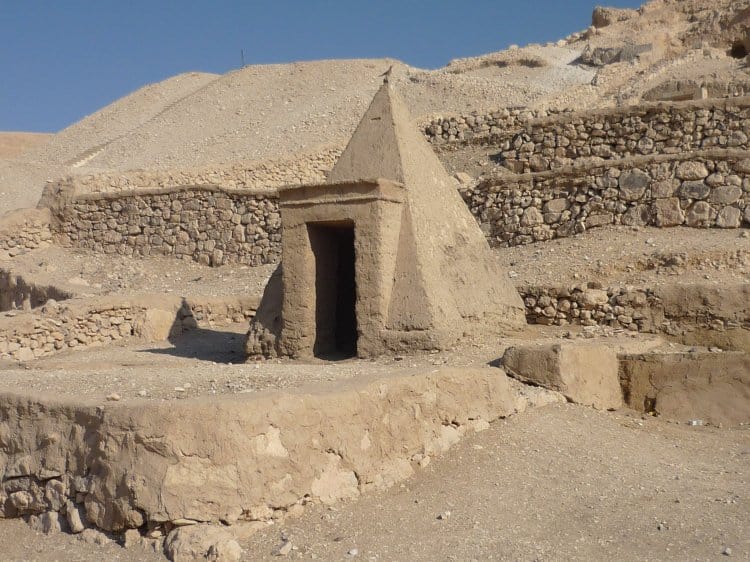 Habu Temple
Habu Temple was the memorial temple for Ramses III, one of the most well-known and important pharaohs of ancient Egypt. Unfortunately, much of what remains of the temple is now in ruins, but the aspects that remain are still pretty impressive. Including the deeply-engraved hieroglyphics that have stood the test of time. Another interesting aspect of this temple is the fact that it is covered in graffiti dating back to the 19th century.
The Mummification Museum
The mummification process is something that fascinates most of us. If you visit the mummy rooms in the Egyptian museum in Cairo, you'll have seen the final results of this process. However, if you are interested in learning more you can visit the mummification museum in Luxor. It's a small museum located near Luxor Temple where you can learn about embalming and see all kinds of interesting mummies including mummified cats and crocodiles.
Shop the Souks of Luxor
Egypt is full of souks in the main cities, however, the souks in Luxor are a great place to pick up souvenirs. It's smaller and quieter than the souks of Cairo (especially compared to Khan el Khalili) which makes shopping here a little less intimidating. The souk is divided into two parts; the first part in the heart of the city has vendors offering souvenirs and wares meant for tourists, while the section a little further down caters more to locals. The tourist area is best for picking up trinkets like lamps or even camel figurines, while the local sector is better if you are looking for spices and teas. Whatever you choose to shop for, don't forget to haggle!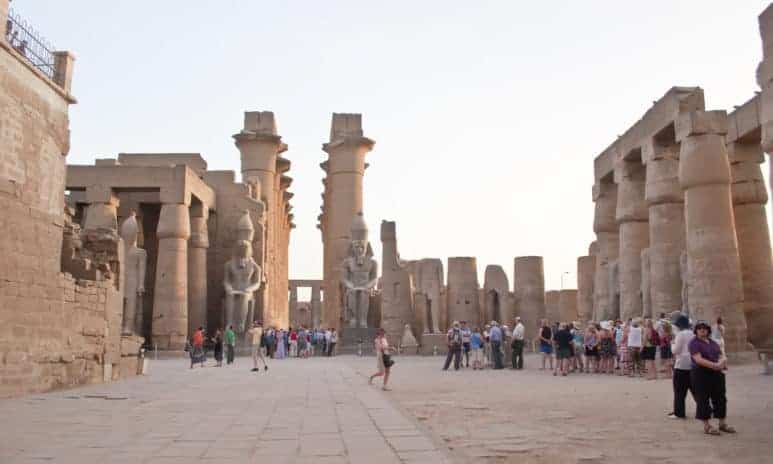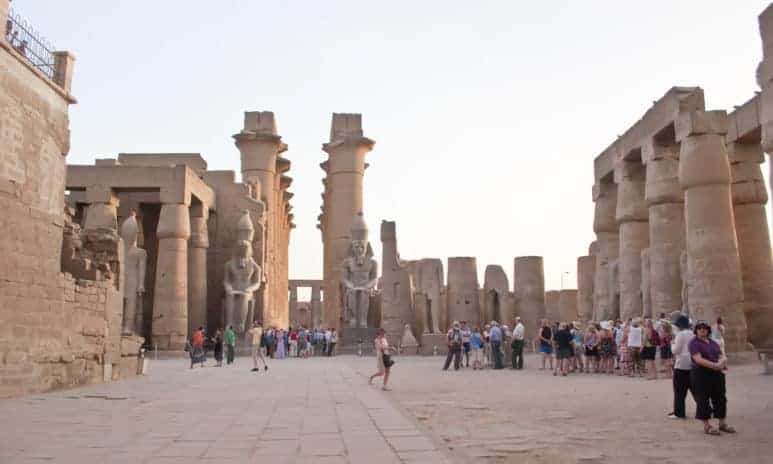 Take a Hot Air Balloon Ride
One of the most unique experiences that you can have in Luxor is to take a hot air balloon ride over the Valley of the Kings at sunrise. It's a once in a lifetime experience that promises to impress. You'll leave your accommodation early in the morning to meet at the starting point just as the sun starts to peek over the horizon. The lighting at this time of day is stunning on the landscape below; highlighting the temples, tombs, and buildings below without being too harsh on your eyes.
From your vantage point in the sky, you'll get a birds-eye view of the Nile River and lush green fields surrounding it, Queen Hatshepsut's temple, The Colossi of Memnon, and more. It will be one of the most memorable experiences of your Egypt vacation.
Hot air balloon rides in Luxor need to be booked in advance but can be arranged by your tour provider. Since they do take place at sunrise, they can easily be combined with Nile cruise departures or any other site-seeing you have planned during the day.
Nile River Cruise
Many Luxury Egypt tours offer a Nile Cruise segment between Aswan and Luxor which is truly one of the best ways to explore the county. Many of the most impressive monuments and historical sites in this part of the country lie alongside the Nile between these two cities, so travelling down the Nile by a river cruise offers a unique way to see them. Plus, it's much more relaxing and enjoyable than travelling by bus or car and allows you to enjoy not just the archaeological sites, but also the Egyptian landscape as you travel.


Those who choose to include a Nile cruise in their Egyptian vacation will stay on board the ship during their time in Luxor. However, the port area is still within Luxor city meaning that you can get out and explore at your leisure when you are not on your guided Egypt tours. It's a fun, easy, and exciting way to travel. Plus, you'll be surprised to learn that Nile cruises in Egypt are also quite affordable. For more on Nile cruises and how to choose the best Nile cruise in Egypt, read this post.
Ready to book your trip to Egypt? Get in touch with us and contact Osiris Tours to learn more about our Egypt tour packages in 2020. Who knows? Maybe you'll even get an opportunity to see these newly discovered coffins!